The teams that will travel to Cincinnati are set.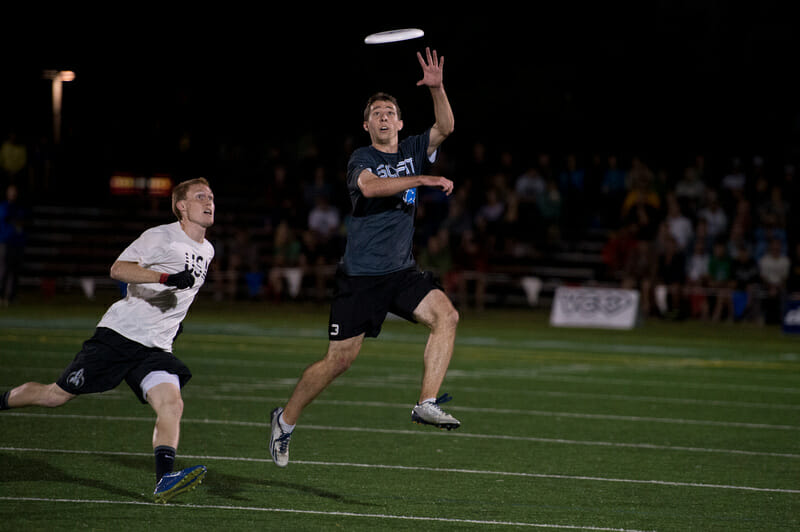 This article was written by Sean Udow, a medical doctor and ultimate fan. Don't miss our recap of the CUC Women's Division final between the Toronto 6ixers and Vancouver Traffic.
From August 13th through 20th, sixteen teams in each of the Men's and Women's Divisions battled for glory at the 2017 Canadian Ultimate Championships in Ottawa, the national capital of Canada. In the end, the exciting games played on championship Sunday have significance for the ultimate world at large as players from professional, club, and international levels competed for gold.
The Men's final, featuring Toronto's GOAT and Winnipeg General Strike, was adorned with some intriguing story lines. 2017 was the second consecutive year that General Strike faced a team from Toronto in the Canadian championship game. Last year, however, GOAT did not compete at CUC, and Strike lost to Grand Trunk, a team that develops and feeds talent to GOAT. In fact, Connor Armstrong, a starting offensive handler for GOAT this season, caught the winning point for Grand Trunk in 2016.
Compared to General Strike, GOAT has a stronger history of Canadian success. Their last national championship win was in Winnipeg in 2015 when they beat Vancouver's Furious George at the tournament for the first time ever. Mark Lloyd, who was recovering from his ACL injury at the time, was on the GOAT sidelines but did not play. This year, GOAT was also missing Mark Lloyd: he had returned to the roster of General Strike. Lloyd, a native of Winnipeg, last played with Strike in 2014 at the World Ultimate Club Championships in Lecco, Italy.
This added a bit of intrigue for Canadian Ultimate fans, and on Saturday night, Lloyd tweeted, "I'm pretty sure that tomorrow's CUC final will be the first game I've ever played against GOAT #thatwillbeweird."
Despite the absence of Lloyd – and Adrian Yearwood, out with an injury – the GOAT ranks were deep with talent. With a core of Toronto Rush players who were peaking together for AUDL Championship Weekend, the chemistry and experience on GOAT are undeniable. GOAT also benefited from the return of Nathan Hirst and veteran defensive handler Anatoly Vasilyev.
However, Strike was also more deeply seasoned this year at Nationals, bolstered by the return of Lloyd, offensive handler Yacine Bara, and the development of young cutters Matthew Ladyman and Nick Dacquisto. Captain Cam Burden – who had a high-impact performance at the World Championships of Beach Ultimate and won a silver medal with the Canadian mixed team – continued his strong play as a defensive handler.
"Throughout the tournament, our D line really dictated games," said Burden. "We have a lot of great, athletic young talent that can make big plays. Having Lloyd back and moving me over to D-line gave more of a veteran presence to solidify that talent into a dangerous squad."
Burden and his teammates were hungry for the championship win this year, as 2017 marked Strike's third shot at a gold medal. They lost their first championship game to Furious George in 2012. Burden describes that game as "a heartbreaking collapse, one I still haven't gotten over. The silver last year was also tough."
In the semifinals this year, Strike faced a strong Mockingbird team from Montreal. Strike jumped to an early lead in the first half and led 12-9 with the game hard-capped at 13. But Mockingbird, with many players from the AUDL's Montreal Royal, showed grit and some trademark flashy hammers. Mockingbird scored two late breaks to stay in the game, with Kevin Groulx and Quentin Bonnaud connecting twice to bring the game to 12-11. After Mockingbird had several opportunities to force double game point, a shot from Burden to veteran Jordan Chochinov sealed another finals berth for General Strike.
The other semifinal saw Ottawa Phoenix give GOAT a close first half. Toronto seemed to buckle down in the second half of the game and cruised to the gold medal game. Phoenix had lost to Strike earlier in pool play, marking the first time Strike had beaten the Ottawa team.
Missing from the Canadian Championships this year was Furious George, the winningest team in Canadian Open ultimate history, as they were competing at the Elite-Select Challenge in the USA Ultimate Triple Crown Tour. This was unusual, since this year's CUC decided the Canadian bids to the 2018 World Club Championships in Cincinnati.
Big Plays In Big Wind
GOAT started the game on offense, with veteran handler Thomson McKnight anchoring the backfield. After good defensive pressure from Strike generated a turnover, Lloyd launched a full-field flick huck that was just out of reach of his receiver. With a second offensive chance, GOAT quickly worked the disc up the field and rookie Ben Burelle connected with Hirst for the first point of the game.
Strike's offense looked shaky as they turned it over early and with poor field position in their first point. Mike MacKenzie found Jason Huynh for the GOAT break. Down 2-0, Strike brought Lloyd off of the D-line for their next offensive possession, but his second huck of the game was incomplete. After the GOAT defense failed to convert, Bara hit Hugh Wichenko with a buttery flick huck.
The GOAT offense took the field up 2-1 and one of Strike's young defenders awed the crowd with a layout block. Unfortuantely, as many inexperienced players do after making a big play, he turned the disc over right away. Each team ate another turnover before Burelle and Hirst connected again, with Burelle going horizontal for the score.
At 3-1, GOAT was up one break and the Strike defense was generating turnovers but not converting as both teams were still settling into the swirly stadium wind. It took several unforced turnovers from each side for the Strike offense to play some finally small-ball with their handlers as Bara hit fellow handler Jesse Greenberg for the goal.
Up 3-2, GOAT received the next pull but a McKnight drop gave Strike the disc in the red zone. After some back and forth between the handlers, Lloyd dished it to Burden and immediately cut upline. Burden flipped a backhand to complete the give-and-go goal, but the disc began to fade out of bounds. Lloyd was all over it, jumping from in-bounds, catching the disc high, thumb under the rim and completing a chicken-wing greatest to save the disc and swing it across the field. Strike scored their first break off the continuation throw into the endzone.
"Lloyd is two miracles away from being canonized!" exclaimed Dan Mooney over the livestreamed broadcast, as it looked like Strike might build some momentum. However, GOAT responded quickly to the break, as Andrew Carroll and Cam Harris connected off a give-and-go.
To spectators, it looked like Strike was taking too many risks, looking deep again and again in the swirling stadium wind. On second thought, though, some credit for these risks goes to the GOAT defense.
"As good teams will do, they challenged unders and clamped down on resets," said veteran Strike handler Yacine Bara. "To a certain degree, you expect to have to change your style of play against good defensive teams, but, unfortunately for us, the shots weren't connecting in that game."
Those shots were certainly affected by the wind, which was so wild that at one point the flags on the goalposts were pointing towards each other. "The wind in that stadium was very bizarre," said Burden. "Something neither team really seemed to figure out until the second half. Unfortunately, they adjusted quicker and better." As so many of the GOAT players have played in AUDL stadiums, perhaps that was the secret to GOAT figuring out the wind.
A huck from Burden to Wichenko stopped the bleeding for Strike at 7-5, but unless they generated a break score, Winnipeg would go in to halftime down by three. Obviously aware of the need for a stop, Strike came out in a zone defense. GOAT advanced but then forced a deep throw to Carroll that was easily picked off by Lloyd. Burden then launched a massive outside-in backhand that flew deep, fast and directly into the outstretched hand of Lloyd, who didn't even jump to make the difficult catch look effortless.
Strike was unable to capitalize on another GOAT turnover, and Isaiah Masek-Kelly bombed a backhand huck for Burelle to take half 8-6. Aside from unforced offensive errors, everything was going to plan for GOAT.
"We were able to roll out fresh D-lines while their O-line started to fatigue," said GOAT head coach Sachin Raina. "That was part of our game plan. The more their O-line had to be out on the field, the better. Even some of those multiple turnover points early in the game that we didn't punch were still wins for us, because it tired out their O-line. Even though it was only a one-break game after the first, we were confident we'd pull away in the second half."
An imposingly athletic Toronto defense came out to start the half, and excellent dump coverage by Huynh generated a turnover near the end zone. Again, the GOAT D-line scored using the width of the field.
The teams traded points again, Lloyd with a scoober assist on one end and Burelle at the other end, going every-other, scoring his third goal of the game. At 10-7 for GOAT, the GOAT D-line went on another run, registering two more breaks in a row. Down 12-7, their biggest deficit of the game, Strike relied on their best two players as Burden threw a 50-yard hammer across the field and into the endzone for Lloyd.
Time was running out and Strike was desperate for a break, but Burelle and Hirst put on a two-man show, giving and going until Burelle dropped a lefty backhand into Hirst's hands for the goal and his third and final assist. After Lloyd couldn't come down with a huck that hung a bit too much, the GOAT D-line scored another break, with Jaret Meron at quarterback. Strike would make one final push, as they scored the next offensive point on the backs of their young players, and the crowd cheered to see Nick Daquisto sky Masek-Kelly for the goal. Strike registered one last break as Lloyd scored his third goal of the game, but GOAT held on the next offensive point to win 15-10.
Veteran players on General Strike will look back on this game with regret. "We absolutely believed – with all due respect to GOAT – that we had a shot at gold if we executed in this year's final," said Bara. However, he sees a silver lining, taking pride in "in being legitimate contenders in a field of great clubs who continue to raise their level of play – via AUDL participation or otherwise… not to mention: qualifying for Cincinnati [WUCC] next year was not a bad consolation prize."
Strike certainly seemed to be having fun at CUC this year. Check out their rhyming score updates on their Twitter account.
Looking Ahead
GOAT and Strike were not the only Canadian teams with young, talented rosters. In the Women's Division, sophomore team 6ixers from Toronto — with heavy contributions from their young stars — beat a veteran Vancouver Traffic team. Anouchka Beaudry was masterful as a handler, Laura Kinoshita seemed to get open at will for either deep shots or under cuts and Miriam 'Mingle' Tingle was a defensive standout. "Mingle played great defense against some of the top players in the country," said 6ixers captain Sarah Bobak.
With their successes at CUC, all four Canadian teams – Traffic, 6ixers, GOAT, and General Strike – earned bids to the 2018 World Club Championships in Cincinnati, Ohio. But before then, they will be gearing up for the USA Club Championship series, especially GOAT. After failing to qualify for the USA National Championships for the first time in many years, GOAT looks to rebound back this year and fight their way to Sarasota.
For 6ixers, their club season has started on a high note. "It's an amazing feeling to win with this team. We were playing our game and having fun which is what it's all about," said Bobak. "Sectionals are in a couple of weeks, so we're going to continue to fine tune our systems, roll out some new defenses, and keep motivating and pushing each other at practice in order to reach our goal of qualifying for the 'bigger' show, US Nats."
Burden also looks forward to the future with General Strike. "We will be attending [the USA club series] with a full squad for the first time since I've been on the team," he said. Strike will compete in the North Central region, which has only one bid to Nationals. "With Sub Zero looking so good and other teams like Prairie Fire and Madison Club to battle, we're looking to secure a Select Flight bid and earn our spots at some higher quality warm up tournaments leading into WUCC next year."
The future is bright for these young Canadian teams. Many of these players will have even more high-level opportunity as they compete for Canada at the 2018 WFDF U24 World Championships in Australia next year. A strong cohort of Men's and Women's players from Winnipeg will join the Canadian Mixed team, including Quinn Snider and Hugh Wichenko. Matthew Ladyman and Nick Dacquisto will both play in the Open division along with Ben Burelle, Connor Armstrong, Bretton Tan, Mike Mackenzie, and Nathan Hirst. Anoushka Beaudry, Laura Kinoshita and Miriam Tingle will reconnect on the women's team along with five of their 6ixers teammates and four women from Traffic.
No doubt the competition from the American and other international teams will be fierce, but look for these players to bring their big-game experience to the world stage.