Sockeye was cooking.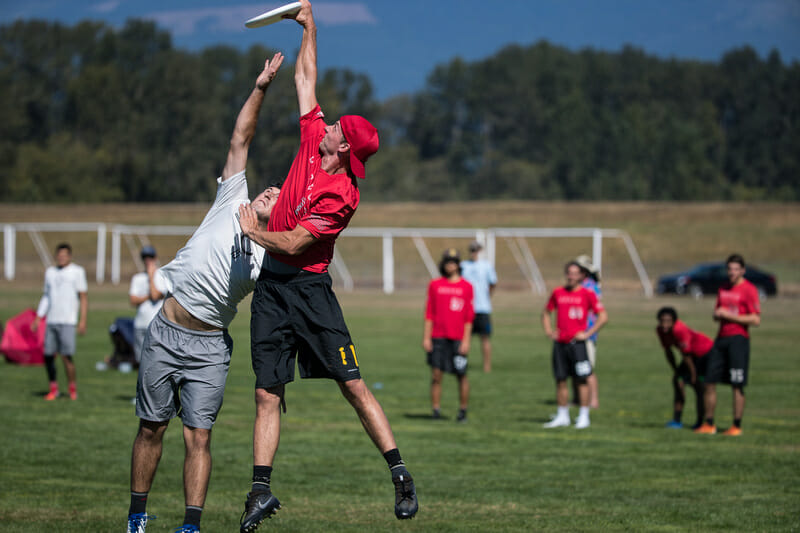 Men's Division coverage of the Pro Championships is presented by BE Ultimate. Please support the brands that make Ultiworld possible and shop at BE Ultimate!
BURLINGTON, Wash. — Pool play has wrapped up for the Men's Division at the 2017 Pro Championships, and quarterfinal matchups are set. Here's a look at the bracket for Sunday: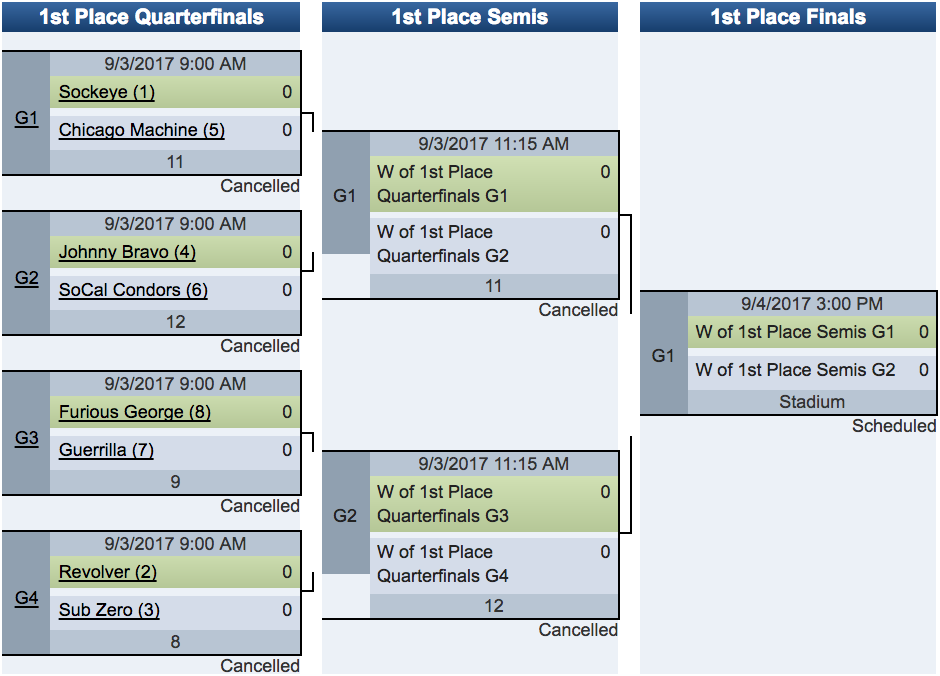 Here are some quick hits about the action on Saturday:
Revolver Chemistry Still Up For Experiment
It was a tough day at the office for San Francisco Revolver. Though they secured the top spot from Pool B, they didn't do so in convincing fashion. The star-studded squad began the day by losing a stunner to Chicago Machine 15-12. That scoreline in itself says a lot, but that game was 13-7 at one point before Revolver was able to salvage a couple late breaks.
How did it happen? For one, Machine threw a diamond zone at the Revolver O-line that stifled their attack. Ashlin Joye, George Stubbs, and Jordan Marcy led the way, but it was tough sledding. But that wasn't the only issue. Execution mistakes, position miscues, and miscommunication plagued both Revolver lines, and the high-pressure defense they showed off at the US Open was only intermittent. Machine played good defense but also gave Revolver plenty of chances with the disc: Revolver simply didn't capitalize.
Things stabilized a bit in the first half of their win over Guerrilla, with the offense finding some spacing and rhythm, but the second half saw the return of bit of sloppiness. By their third game against Bravo, Revolver had switched Nick Stuart to the D-line and the team showed signs of improvement. A close game out of half quickly turned into a rout as the Revolver defense capitalized on Bravo mistakes to close out a 15-9 win.
While the day didn't inspire mountains of confidence, Revolver seemed to improve each game. It's also worth noting that they played without key offensive pieces in Joel Schlachet and Grant Lindsley, both of whom seemed to pick up injuries in the AUDL Championship game. Both serve as crucial outlets for the offense, and their detrimental effects of their absence were very clear.
Machine's Big Moment More Exception Than Rule
Despite their impressive win over Revolver, Machine is essentially the same team we thought they were coming into the tournament. The Chicago squad plays good defense, which keeps them around in most games, but gives away too many turnovers to regularly beat quarters-level teams. Yes, they beat Revolver today, but Revolver was handing out turnovers themselves. In their subsequent games against Bravo (loss, 15-10) and Guerilla (loss, 15-13), Chicago continued to be careless in possession and came out on the short end. Relevant note — Pawel Janas earned the AUDL Midwest Division coaches' award for 'best hucks,' and he backed up that reputation today. Machine seem reliant on their deep game, and their deep game certainly runs through Janas.
Can Anyone Beat Sockeye?
It was easy money for Sockeye today as they cruised to a 3-0 Pool A title. Sockeye is not a team anyone wants to play right now. While their O-line isn't flawless (they still occasionally take riskier shots that they don't need), there are moments of virtuoso play where the disc moves from player to player seemingly without stopping. They downfield spacing is beautiful, their handler motion is deadly, and whenever they get in trouble, Dylan Freechild always seems to get open. In some ways, Sockeye is everything we expected Revolver to be by this point in the season: a star-heavy team that has gelled into a daunting matchup for any opposing line. Oh, and they're playing without Matt Rehder and Danny Karlinsky. Yikes.
Condors & Guerrilla Show Nationals Quality
The SoCal Condors came into the tournament as relative unknowns. Their success at the Select Flight Invite put them on the rankings map, but it was mostly against middling competition. But on Saturday, they acquitted themselves well at the Pro Champs, sticking with Sockeye until late in the game (11-10 at one point) and beating Sub Zero 14-13. The Condors have historically been a streaky team, but they managed to keep their offense collected and for the most part avoided yielding big runs of breaks — until their game against Furious George. The Monkey took a 9-5 lead on Condors that they never relinquished. But Furious seems to be a top-tier team again themselves, so it's hard to hold that against them. With the Southwest looking to be a 2-bid region again, both Condors and Oakland Guerrilla (who beat Machine 15-13) showed that they have the talent to take a game or two off of Pro and Elite teams.