The final is set.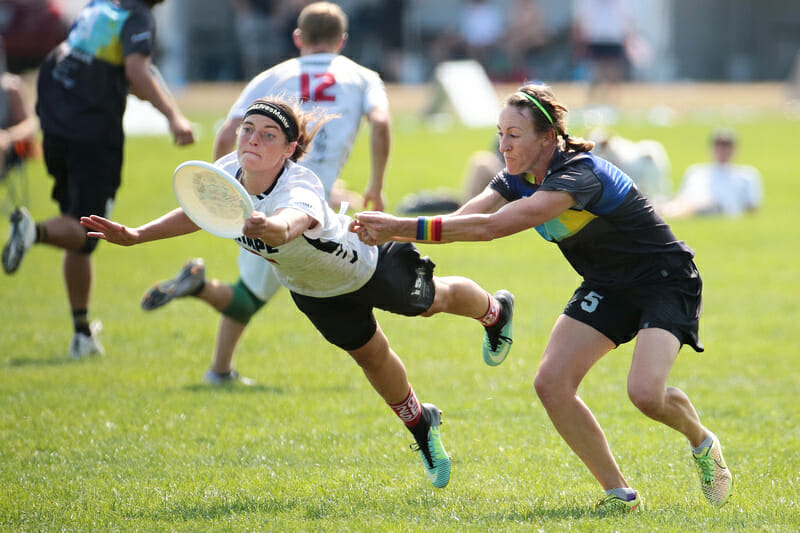 BURLINGTON, Wash. — Seattle Mixtape and San Francisco Blackbird will square off for the Pro Championships title tomorrow in a pool play rematch, after some impressive performances today. Mixtape held on to win 15-14 on double game point against local rivals Seattle BFG, while Blackbird took control in the second half against Minneapolis Drag'N Thrust to win 15-10.
Seattle Mixtape Wins This Round Of The Battle Of Seattle
Seattle Mixtape came into their quarterfinal matchup as the only undefeated team in the division at the Pro Championships. They made quick work of an underperforming San Francisco Mischief team to lock up a berth in the semis, winning 14-9 in the quarterfinal round.
Seattle BFG, meanwhile, found themselves in a close matchup with Iowa Chad Larson Experience. They did just enough to seal up the game 13-10, despite CLX's efficient deep game.
While many were hoping for a televised Battle for Seattle in the final tomorrow, those who made the trek to Burlington were treated to a back and forth thriller between two of the best teams in the division.
BFG got out to a fast start, holding despite a few sloppy turns and then capitalizing on two straight Mixtape drops in the end zone from cutters who had good separation on their defenders. BFG established their deep game early, particularly on defense. BFG ran their D-line offense through Tommy Li, relying on him to push the disc deep to their stable of tall defensive cutters and look for size mismatches while avoiding giving Mixtape any short-field turnovers.
BFG's early success forced a timeout from Mixtape to settle down. They regrouped, held, and rattled off two breaks of their own to tie the game at 3-3. From there on out, the teams traded to 7-7 before Mixtape broke to take half.
Mixtape worked on several different offensive sets, trying out a vertical stack, a sidestack isolation set, and the occasional horizontal stack throughout the first half. The variation did not giving BFG's defense a chance to key into any specific matchups. However, across these sets, Abbie Abramovich seemed to be the first look for all of Mixtape's handlers. She showed excellent quickness in getting open on several BFG defenders whenever Mixtape needed an out and always seemed to make the right decision with the disc.
BFG's Brian Stout got going early and often in the deep space, trying to create height mismatches whenever possible. While Mixtape certainly has the athletes to keep up with Stout, very few of them can challenge him in the air; BFG took advantage.
BFG also relied on strong handler work from Crystal Koo, Kerry Chang, and Jeff Pape to keep the disc moving for their offense, keeping an eye out for Stout when he was open. Mixtape's Henry Phan dialed up his handler defense in response, hassling BFG's defenders into several turns and playing a key role in a break for half.
In the second half, BFG answered with breaks of their own. The teams traded to 12-12 before a Mixtape break put them ahead and in control for a game capped at 15. The energy only intensified from there, but both teams gave up turnovers and earned the disc back with stellar athleticism.
Overall, neither team really showed much to the other beyond what was already known, resulting in a tight game with little margin for error.
Mixtape showed great versatility on offense, but when the game tightened up, they tapped into to their signature athleticism to make up for some questionable deep looks. Their vertical stack movement looked particularly smooth, switching the field at will with some visionary throws from Drew Johnson. BFG looked to isolate out of a side stack on each offensive point, with Chang, Lindsay Simon-Fox, and Bryson Simon-Fox each taking on the role of initiator. Neither team tried any defenses beyond straight person, relying on each defender to win their matchups. It seemed like a workshopping tournament for both groups, looking to iron the kinks out before Regionals without revealing anything.
Blackbird Continues To Improve, While Locking Up A Second Bid
San Francisco Blackbird arrived at Pro Championships with a bid for the Southwest region on the line. They were ready to play from the start and capped the day with a big 15-10 semifinal win over Minneapolis Drag'n Thrust.
From the outset, their sidestack offense looked methodical. VY Chow was a tireless cutter, using space to bait her defender away from where she wanted to go so she could pick up big yardage chunks and set Blackbird up for easy scores. She was often the first look for Blackbird's offense, and it did not seem like Drag'N Thrust had an answer for her. Minneapolis had more success when looking to poach under and play tight handler defense, earning turns through constant pressure. New Blackbird pickup Tim Gilligan helped maintain possession across the field, but whenever he took a break, Blackbird had a much tougher time holding onto the disc.
Drag'N Thrust adjusted to missing one of their prime deep threats in Brian Schoenrock by switching the field at any opportunity out of their vertical stack. Austin Lien was at the center of the Drag'N Thrust offense, distributing to Sarah Meckstroth and Mike Clark to pick up yards, while constantly pushing the pace and forcing Blackbird into footraces.
Minneapolis found success through small ball, but whenever they looked deep, Blackbird was ready. Mac Taylor played on the D-line almost exclusively, generating blocks in the deep space and providing a constant downfield threat after turnovers. Sally Mimms and Ryan Scribner anchored the Blackbird defensive handler line, combining well to maintain possession and giving Blackbird ample opportunity to convert breaks.
Defensively, Blackbird forced backhand throughout the game, pushing Drag'N Thrust into the wind and forcing some tricky reset throws to provide chances for blocks. Drag'N Thrust seemed content to play person defense throughout, opting to focus on handler defense to generate turns. While successful, Blackbird had enough of a size advantage to contest any deep looks and prevent Drag'N Thrust from converting any quick break chances. Despite keeping the game on serve going into half, Drag'N Thrust found themselves pressured into more and more short-field turnovers, allowing Blackbird to extend their lead quickly and close out the game comfortably.
Looking ahead to tomorrow's rematch, Blackbird will remember that they took half in their pool play matchup against Mixtape 8-5 before the Seattle team tightened their game up. If the San Francisco squad can convert their break chances like they did today, we may see an upset in tomorrow's final. However, if Mixtape can turn the game into a track meet, relying on their athleticism to carry them forward, they would have the advantage over an older Blackbird team.
Quick Hits
It is unclear whether Metro North were able to play their way back into a bid. A fifth place finish over Mischief could be enough to push them past the idle Pittsburgh Alloy in the rankings and back into a third Northeast bid. They definitely looked more prepared on Sunday, so perhaps their sluggish day one was the result of a long travel day.
At the same time, CLX may have played their way out of a bid. The team went winless Sunday, and while the games were relatively close, they rarely reached 15. Capped games may come back to haunt them when the bid picture is finalized. Look for a detailed breakdown from Ultiworld's Cody Mills soon.
The final between Seattle Mixtape and San Francisco Blackbird will be aired live on ESPN.com/watch today at 1 PM EDT.