Seattle teams sweep the major stops on the Triple Crown Tour.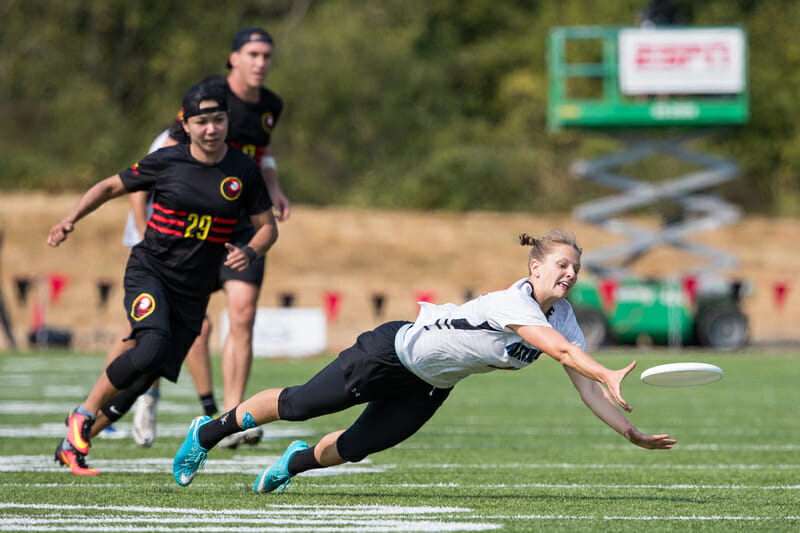 EVERETT, Wash. — In the final of the Pro Championships, No. 1 Seattle Mixtape prevailed 15-13 over No. 14 San Francisco Blackbird in a tightly contested game, punctuated by moments of incredible athleticism. In their semifinal matchup against Seattle BFG and their pool play game against Blackbird, Mixtape dropped behind by several breaks in the first half, before refocusing and coming back to win. The final rematch was no different. After dropping two early breaks, Mixtape stormed back to take half 8-7 and pulled away just enough to win it.
Seattle's Handler Defense Turns The Tide
Mixtape set the tone early on, playing tight handler defense and pressuring every Blackbird reset to prevent any easy swings. They identified Blackbird's isolation offense early on: a pattern of swings designed to give top cutters VY Chow and Barrs Lang swaths of space to work. Mixtape relied on the lateral quickness of Henry Phan and Casey Ikeda to chase the Blackbird handlers across the field and force them into tight resets and contested downfield throws, providing block opportunities.
San Francisco began the game with three straight holds, even in the face of Mixtape's notable defensive pressure. At 3-2, it was Seattle's offense that ran into trouble, with an open deep look bouncing off the hands of the receiver and an upline shot to no one resulting in two straight turns. Blackbird capitalized on the second break chance, finding Mac Taylor deep before an easy dish to Alexandra Hasan.
In the ensuing point, Claire Revere was well overthrown and Blackbird immediately went deep off the turn, finding an open cutter in the end zone for the break and forcing a Seattle timeout. Out of the stoppage, Jesse Bolton showed off his incredible deep speed, running down a low huck for a hold. Bolton was a matchup problem for the entire game, getting open at will against Blackbird defenders and breaking Mixtape out of stagnant offensive sets. His three goals and three assists kept the O-line clicking and provided the athletic spark they needed to earn their breaks back and tie the game at 5-5.
Both offenses settled in over the next few points, and Seattle worked through a number of offensive sets. Blackbird's D-line was forced to adjust each point, as Mixtape rotated through vertical, horizontal, and isolation looks. "We had some new sets we wanted to work on this weekend. We knew we'd have a target on our backs going into Regionals and Nationals, so having a variety of looks to use was one of our goals for the tournament," said Mixtape captain Bert Abbott.
Abbott's squad used their entire roster throughout the final and the weekend. "Our O- and D-lines together are two chains of strong players with great depth, and we can rely on that depth to win games," she said.
That depth kept Seattle fresh as the game wore on, allowing them to get key blocks and a break to take half, 8-7. The San Francisco D-line managed to earn back one of those breaks early in the second half, but the O-line buckled under pressure and gave it back to Seattle. Mixtape's athleticism and depth helped them close out the game, 15-13.
Some of the best offensive flow for Mixtape came from clearing space and allowing their female cutters to show off their speed and cutting ability in one-on-one matchups. Revere, Drew Johnson, and Abbie Abramovich were all difficult to limit in one-on-one coverage, and their team committed to giving them the room to win matchups. This worked especially well out of their side stack offense.
Mark Burton showed that he can be a complete player in Seattle's offense, distributing the disc confidently while also providing a strong downfield threat when striking from the handler set. Mixtape looks like a confident team putting all the pieces together at the right time, knowing they have one of the top teams in the Mixed Division in Seattle BFG in their own region to push them.
Blackbird can claim a successful tournament. They arrived in Burlington in need of strong results to claim a second bid for the Southwest and looking to come together as a team after a long layoff.
"We had three goals in mind for this tournament: play well regardless of the result of the game, be supportive teammates to one another, and to have fun playing together," said Blackbird coach Bhavin Parikh. "Some games we may try to win more than others, but we still want to keep these goals in focus, and I think we did well against all three."
For a team notorious for putting it all together at Regionals, this was a strong regular season performance against some of the best mixed teams in the country. Tim Gilligan and Ryo Kawaoka play an incredibly confident two-player handler game, swinging and resetting for each other with ease.
The downfield threats provided by Chow, Lang, and Malina Wiebe allow Blackbird to find isolated cutters and move down the field efficiently by picking up 30-40 yards on an in-cut. Blackbird kept Mac Taylor primarily on the D-line shadowing the top opposing cutters, closing down the deep space, and giving the San Francisco D-line offense one of the best downfield targets to convert quick breaks.
This is a team that is beginning to show its potential and will get one more chance to iron out the kinks before Regionals, as the team elected to play in Sectionals next week. Keep an eye on this group going into the postseason, as they look to be in prime position to hang onto the bid they earned to Nationals.
Workshopping The Last Big Regular Season Tournament
For a tournament bringing together some of the best teams the mixed division had to offer, many teams used the Pro Championships to prep for Regionals and Nationals and work on what they needed to for high-pressure conditions. No. 8 Cincinnati Steamboat was one of the most dedicated practitioners of this mindset, working on a sideline trap junk look on defense despite the lack of wind early in the day both Saturday and Sunday. Knowing that their region was unlikely to gain a second bid to Nationals, they spent their games working on a defense that should see regular use in Sarasota as well as Great Lakes Regionals.
By the same token, some teams were also wary of revealing too much going into the postseason. Despite Steamboat's willingness to work on a particular defense, most mixed teams this weekend played straight person defense, maintaining a single force. The final match between Seattle and San Francisco was the perfect example of this. Mixtape threw a 2-3-2 zone look once, which slowed down the Blackbird initial pull play, but primarily leaned on an initial poach in the throwing lane followed by a hard backhand force for the rest of the point.
Blackbird almost exclusively forced to their home sideline, preferring to keep defenders close enough to Mixtape's cutters to pressure the lanes and force the Seattle handlers to move the disc laterally. It was rare to see teams make too many defensive adjustments this weekend, which led to a lot of close games, but few moments of interesting defensive strategy.
Bid Watch
As hinted in Sunday coverage, No. 12 Connecticut Metro North likely played their way back into a third bid for the Northeast. While their Saturday results knocked them out of the top 15, stronger showings on Sunday should boost them above an idle No. 16 Pittsburgh Alloy team, dropping the Mid-Atlantic region down to a single bid to Nationals.
With rankings as tight as they are around the Nationals cutoff, there is certainly room for more movement, and it will be interesting to see if that prediction holds. It seems unlikely that enough shakeups will occur to push No. 19 San Francisco Polar Bears back into the top 15, however, leaving the Southwest with only two bids and three strong teams in contention for it. Given how tightly matched the mixed division is, Regionals looks exciting. There are potential fireworks in the games-to-go around the country.