Revolver bounced back to claim another tournament crown.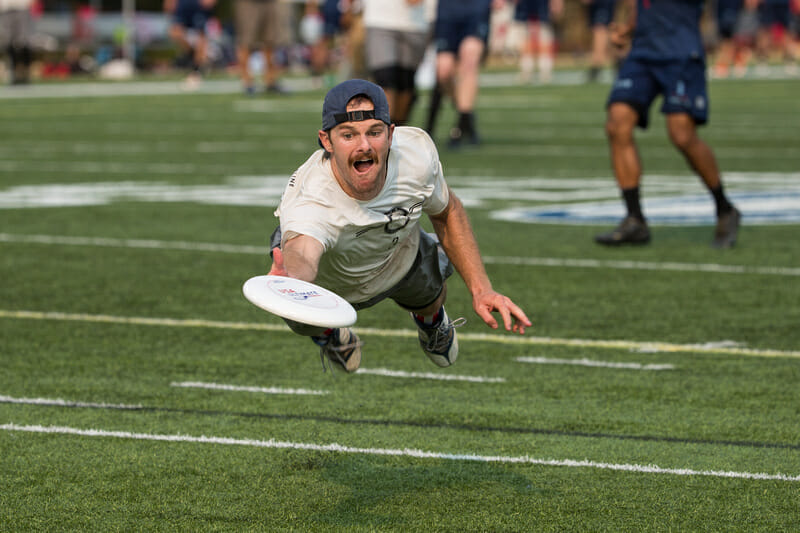 Men's Division coverage of the Pro Championships is presented by BE Ultimate. Please support the brands that make Ultiworld possible and shop at BE Ultimate!
EVERETT, Wash. — Smoke from nearby wildfires laid an insulating cloud cover over an already warm turf as San Francisco Revolver wrapped up the Pro Championships with a commanding 15-10 win over Chicago Machine in the final on Monday. The victory marked vengeance for Revolver's loss to Machine in pool play two days prior.
While San Francisco left Washington looking more the part of the dominant powerhouse expected for this season, they returned home without playing a point against the high-octane hometown team, Seattle Sockeye, who also took a loss to the surging Chicago squad.
And in spite of the blistering pace of play on the field, the pomp and circumstance of the ESPN3 broadcast, and the looming postseason, the absence of many elite men's teams (who were instead competing closer to home at NY Invite) left the weekend feeling inconclusive. More so than in recent years, the Men's Division will need Nationals to put all the contenders in one place, to decide who's the best in the country.
Revolver Shows New Discipline While Machine Shows Strength, Even Without Numbers
San Francisco Revolver reclaimed their intensity in Monday's final. With a full day of rest behind them1, they took down a short-staffed Chicago Machine in a performance dominated by their athleticism, their marks, and one or two crucial defensive adjustments. Revolver had tried to play fast, loose, and big against Machine earlier in the weekend and gotten careless. The division's marquee team wasn't about to make the same mistake twice.
"Machine came out and humbled us a bit. It's exactly what the team needed," said San Francisco captain Lucas Dallman after Monday's finish. "And that's the beautiful thing about sports in that sense: when you take these losses, it's how do you react?"
Revolver reacted with greater discipline in the final, locking into a force middle early with defenders backing cutters and ready to drop off the back of the play at a moment's notice.
On the game's first point, Nathan White got a block on a Machine throw and found Christian Johnson for an immediate break. His team never relinquished the lead. They were ready to outplay Chicago, regardless of circumstances.
Machine took the field missing a suite of D-line veterans, including Alex Evangelides, Michael Schwenk, Andrew Sheehan, Jesse White, and Stephen Mance.
"You're playing with house money when the deck is stacked a little bit against you. There's nothing to lose," said Chicago captain Kevin Kelly after the loss. "If anything, it had a negative effect where it took too much pressure off us. Guys knew that we were not playing with the full squad."
Kelly and Chicago leadership delivered the message before the game. "Stay disciplined, stick to your role, and that'll carry us, and unfortunately it wasn't enough in this game. We looked pretty sloppy," he said.
Eli Kerns struck like lightning on a big Revolver pull a handful of points later, nearly beating the pull down the field and running through the centering throw for a tip-away block. Michael Spear picked up the disc with a short field and rewarded Kerns with a goal and the game's second break for a 4-2 lead.
Machine's Von Alanguilan answered Kerns with two amazing run-through blocks of his own2 on separate points off Kelly's humongous pulls, both of which gave Machine breaks but were never good enough for a lead.
"We're a team that'll stretch the field, but we were a little too cavalier with our decision making on some of our hucks early, especially throwing into double coverage where you weren't seeing an extra poacher deep, and instead of identifying that guy and trying to hit his man, we threw it into double coverage. And [Revolver] have some big athletic guys who [can grab] jump balls," said Kelly.
Thanks to heroics from Alanguilan and some standout offensive work from Tim Fergus and Pawal Janas, Chicago stayed within striking distance, down 8-7 at half. Then, the dam broke.
Five points later, it was 12-8. Lindsley made up for his turnover with a big time skying goal over Bradley Bolliger for 13-9. George Stubbs did his best Lindsley impression two points later, chasing down an overcooked outside in flick tailing to the breakside from Dallmann and diving for a triumphant hold and a 14-10 lead.
https://twitter.com/USAUltimate/status/905557562530996224
Sawyer Thompson lofted the game's final flick on the next point, and Nick Stuart climbed the ladder to end the game with an emphatic catch.
It capped a return to form for Revolver and a new beginning for a team so packed with talent (and almost all of its health)3 that it could spell doom for the rest of the division. While they were nowhere near flawless this weekend, they showed the resilience they needed to shore up their mistakes in the final.
"There are some kinks to work out, " said Dallmann. "We took [the final] very seriously, in terms of this is the last time to check in before Regionals. And that's a huge deal for us. We're going to be going at each other, and those are kind of my favorite times, when you are just sick of each other."
If anything does define Revolver, it remains their defiant dedication to improvement. The turnovers that showed like pockmarks on their loss to Seattle Sockeye at the US Open and to Machine earlier in the weekend were fading blemishes as the crowd left the stands and cleanup began. And while cold beer cans snapped open, staff picked up signage and supplies, and players hustled to catch flights, Dallmann walked to the middle of the field with a disc — no partner — and started working on flattening out the flick he'd botched to Stubbs, diligently retrieving each throw and walking back to the spot to try again.
Chicago flew home with more to work on, but plenty to celebrate. Revolver, Sockeye, and Denver Johnny Bravo gave Machine breaks over the course of the weekend. Although each team earned them back to close the gap to within one point, Chicago held each opponent off with booming hucks to Travis Carpenter and smart junk looks that hadn't come together much before this tournament.
"I mean the whole season has been up and down," said Kelly. "It's hard to know which team is going to step out on the field, but I think this weekend more than anything, was a success for us in that we learned a lot about the team, especially yesterday. In some of the earlier games we had played in the season, if we got up on somebody we could be front runners, but if they came back we had trouble getting off of tilt. Yesterday we had some leads and Bravo, Sockeye — they came back and got their breaks and instead of wilting, we became harder and fought back."
Machine's strategy is on the radar now, but that won't change their size, speed, and gritty wins against three of the division's best. "We feel like we're on the right one to get us to our ceiling for Nationals," said Kelly.
Sockeye Takes Fifth, Shows Poise In The Face Of Loss To Machine
All the scrambling to analyze Revolver's defensive adjustments and lineup tinkerings, and Machine's junk looks and deep game was nearly enough to distract from the fact that it wasn't Seattle Sockeye lining up across the field from San Francisco in the final. The Fish cruised through pool play on Saturday to build a five-game winning streak since the US Open, before taking a surprising 15-11 loss to Machine in quarterfinals first thing Sunday morning.
As stocked with their rivals in the Bay Area are with talent, Seattle has their own flashy additions to match, and they perhaps fit the pieces together faster to take advantage. Sockeye plays at a pace that has been more than Revolver can handle (and perhaps will be again) but made the same mistakes against Chicago.
"They did a good job adjusting to our deep game. Actually, they played their offensive game and we played into a little bit," said Seattle captain Trent Dillon. "They did a really good job capitalizing on some good deep shots, ran a transition junk that slowed down our [offense]. I think we figured out how to play them on the defensive side of things, didn't quite get there offensively, we got up to 10-9. And I think they just rattled off some breaks."
The proof though, isn't in the loss, although Dillon tipped his hat to Chicago. ("Kudos to them for having a good game plan that they executed," he said.) It was in the next two rounds. Sockeye picked up their stuff, switched fields, and promptly put away two 15-12 wins over talented squads in Minneapolis Sub Zero and SoCal Condors, good enough for fifth place. Not blowouts, but solid wins that showed resilience and—perhaps more importantly—a willingness to let the loss go and to keep trying to improve.
Sockeye has now come up short now two years in a row at this season ending tournament4 and the work that it takes to be one of the top two teams in the division wasn't lost on Dillon or the rest of the leadership. He spoke about the team's last huddle on Sunday.
"We gotta put in the work, you know? Coach Roger Crafts said, 'These are the guys here the next two months that are going to put in the work. Not just at practice, outside of practice. Every day.' Simon [Montague] actually said, 'It's not just going to happen magically at Nationals. We're not just going to get there and be like, alright it's time to turn it on.' No, you earn that every day until then," he said.
With newcomers Dylan Freechild and Jacob Janin slotted into the roster and humming right along, it might be safer to go on expecting big things from Seattle in the postseason than it was last year when they nearly as much talent but looked more vulnerable.
Quick Hits
Denver Johnny Bravo put together a 4-2 weekend, but they failed to work their way back into the game in their semifinal matchup and lost 15-14 to Machine, though they had won the previous meeting the day before 15-10. They still look like the fittest team in the South Central — Nick Lance and Jimmy Mickle are still a game-breaking combo, and Ben Lohre and Henry Konker are still top notch talents — but they were lacking their powerful defensive punch and offensive flow late this weekend. They got a nice 15-9 win over Vancouver to finish third, though.
Vancouver Furious George didn't have a bid on the line this weekend, and maybe that was a good thing. While they lost to Revolver, Sockeye, and Bravo, they beat Sub Zero, Oakland Guerrilla, and Condors. That's the sort of resume that puts them right in the race to take a bid in the Northwest, although not good enough to take it away from Sockeye. At least for now, contenders Eugene Dark Star and Seattle Voodoo will need their best stuff to stay in the race against Vancouver's smart system and experienced leadership.
SoCal Condors got the job done this weekend, if you thought the job was keeping a second bid in the Southwest. They snagged a 14-13 win on the weekend and lost by no more than four points to all other opponents. That kind of a performance is missing the glint of a statement win, but with Sarasota on the brain, Pro Championships might end up just an important footnote in their otherwise solid 2017 season.
Oakland Guerrilla picked up two wins that should be good enough to land them just behind Condors in the rankings at No. 17. Unlike Condors, they did pick up a nice trophy for the 2017 case: a 15-13 win over Machine that should act as a testament to the kind of athleticism that the young team can bring to the elite field.
Minneapolis Sub Zero melted in the Labor Day heat. Sporting the tournament's third overall seed coming into the weekend, they opened with a gritty 17-15 loss to Furious and never really recovered outside a win over Guerrilla. They're fine in the rankings. They'll need to defend that bid with Madison now free of the AUDL season and poised to challenge for a spot in Sarasota.
And a big shoutout to the impressive work from DiscNW and their volunteer staff. The tournament was well-planned, well-managed, and professionally run –no departure from previous years' premier events.
---