A look at the favorites to win this year's Player of the Year awards in each of the three club divisions.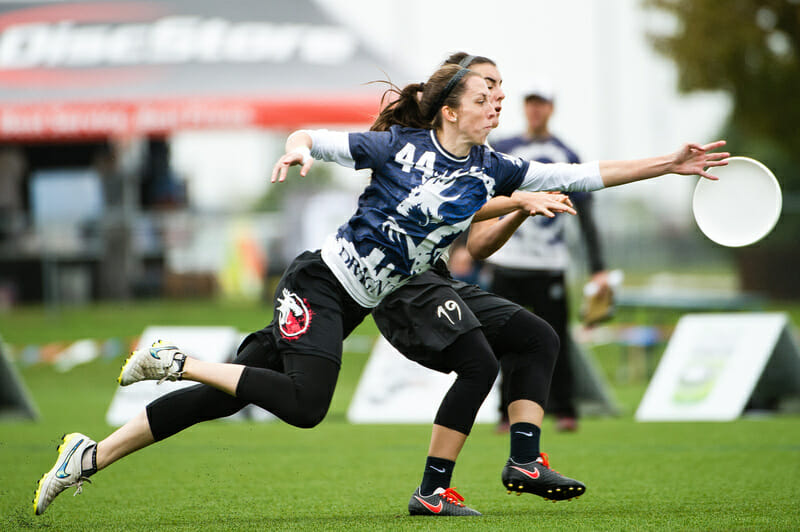 The club regular season is complete. While Nationals truly defines the club season, these past few months have given us plenty of star performances. Across the divisions, we have some stalwart elites and new names. Some Player of the Year races are wide opens and others have heavy favorites.
With nearly all of the season's important games still to be played, there's plenty of opportunity for players to make their final case. Here's who has stood out so far.
Mixed Division
Sarah Meckstroth (Drag'N Thrust) is having another exceptional season, firmly and deservedly established as one of the best players in the division. Her athleticism has always been a big part of her game, all the way back to her college days, but her disc skills have taken a leap on offense. Her understanding of timing and spacing on both sides of the disc makes her a dangerous defender1 and the key to giving Minneapolis's offense rhythm and efficiency.
Mark Burton (Mixtape) is both a workhorse and a show stopper for Mixtape. He's an all-around dominant offensive force who can single-handedly take control of possessions. His speed, hands, and lane vision allow him to carve up defenses from various angles and his big time throws mean he can attack the endzone from nearly anywhere on the field. He's led Mixtape in assists at both the US Open and the Pro Championships, while coming second and third (respectively) in goals at those events, making him the team's leading scorer. Burton's energy, exuberance, and playmaking feed perfectly into the hype machine that is Mixtape's play style.
Lexi Zalk (Slow White) is fresh off an All-Club 1st Team selection in a season in which she was a key contributor to Slow White's first National Championship. She brings an imposing playstyle to the field and has picked up right where she left off. She's one of Slow White's main endzone threats and possibly their top offensive contributor overall — and that's on a line with Tannor Johnson and reigning Player of the Year Jeff Smith. With her size, speed, and nose for open space, Zalk is virtually matchup-proof.
Evan Klein (Mixtape) is the lynchpin of the Mixtape D-line, using his length and explosiveness to harass top male offensive threats from Seattle's opponents. Klein has the quickness and size to go toe-to-toe with players most would label "matchup problems," balancing the scales quickly for Mixtape's D. A versatile player who can attack all spaces with his cutting or throwing, he is also a key cog on the D-line offense.
Brittany Winner (Steamboat) is perhaps one of most underrated players in club ultimate. Like her team, Winner isn't a big name or flashy pick each year. But she gets the job done time and time again, able to outrun and outwork nearly anyone forced into the task of trying to match up with her. Winner's a primetime athlete, with great size, and she knows how to use her physical prowess to outmaneuver the opposition. Especially dangerous near the end zone, Winner will likely be one of the division's goal scoring leaders at Nationals.
Jake Juszak (shame.) is what you think he is at first impression. He's hulking: a big, strapping, broad-shouldered guy with a smile on his face. And Juszak will flex that muscle to cannon hucks downfield, still with that smile. He can handle physicality and dish it out. And those shoulders have certainly demonstrated they can bear the weight of his teammates when necessary. But he's more than that first impression, too. If you think he can only catch jump balls and throw hucks, you'll be sorely mistaken and his all-around ability will punish you. With a smile.
In The Conversation: VY Chow (Blackbird), Tannor Johnson (Slow White), Kieran Kelly (BFG), Barrs Lang (Blackbird), Tommy Li (BFG), Jack McShane (Love Tractor), Linda Morse (AMP), Anna Thompson (AMP), Calvin Trisolini (AMP)
Men's Division
Dylan Freechild (Sockeye) has been tearing his way through the elite club season for years, and joining the school of fish has done nothing but up his game. Freechild's style is pretty well-documented, but few players have such a powerful on-field identity and even fewer can be so influential on any given moment. That's the explosiveness Freechild brings to the table. It's not a surprise, but the consistency he's added this season has been, and it's all that separated him from greatness in previous years.
Jon Nethercutt (Ring of Fire) is in the throes of joining the game's true elites. If you haven't been paying attention, you might think "Nutt" is still just a daring chucker, ripping bombs and blades with gusto. To be fair, he still is that guy, but he's evolved into so much more. He's a plus defender and very capable of attacking downfield. But what's amazing is how efficient he is given the difficulty level of his choices. The percentages just aren't the same when he's the thrower as they are for everyone else.
Nicky Spiva (Truck Stop) continues to deliver the high quality of all-round play that has become his standard. Spiva can function well in any role and in any matchup, even if he isn't the best at a single individual element of the game. But Spiva is going to get his. He's poised when the pressure ratchets up. Spiva can expect a lot of that at Nationals without Alan Kolick to help carry the load, but if he can get Truck Stop through in those conditions, he has a strong chance of taking home the hardware.
Andrew Carroll (GOAT) is probably the most surprising name on the list, if you're not from the Northeast. Or Canadian. But both of those cohorts are very familiar with the former D-line star, a speedy harassing defender capable of generating big blocks. Carroll's game has evolved as he's garnered a better understanding of cutting lanes and developed his throwing skills. Carroll is blowing up into one of the best cutters in the division, an in-out threat with blazing speed and crisp throws.
Ben Sadok (Dig) is hav- wait, the UMass kid? The short lefty guy? "Londy"? Yep, that guy. The reigning College Men's Player of the Year has carried that momentum right into the club season. Sadok's stock is climbing at an insane rate, and Dig's shares are becoming more and more valuable. He is the offensive centerpiece for the young Boston team, quickly establishing himself as the threat defenses are forced to gameplan for. His break throws and ability to capitalize on presented weaknesses have vaulted him into the conversation surprisingly quickly. 
Jimmy Mickle (Johnny Bravo) hasn't been forgotten, even if this season has been his quietest in memory. But make no mistake that he's still one of the most complete players on the field. Bravo's offensive scheme, which focuses on utilizing all seven players on the line, has taken some of the focus off of Mickle, but he still dominating the throwing load, tossing a large majority of the team's assists at the US Open and Pro Championships while also leading the team in goals. Nobody would be surprised if he bulldozed through the competition at Nationals.
In The Conversation: Trent Dillon (Sockeye), Kurt Gibson (Ironside), Goose Helton (Ring of Fire), Simon Higgins (Revolver), Pawel Janas (Machine), Ashlin Joye (Revolver), Ben Lohre (Johnny Bravo), Josh Markette (Ironside), Simon Montague (Sockeye)
Women's Division
Claire Chastain (Molly Brown) has dominated the Player of the Year conversation this year, and for good reason. You can decide if you want to buy the revenge narrative of Chastain out to set the division aflame after being spurned for a World Games team spot. Whatever the source, Chastain hasn't looked this commanding since her Callahan-winning season in college. She's an elite defender, vicious cutter, and perhaps the best thrower in the division in the prime of her career.
Sarah Griffith (Riot) is back to her ways as a triple threat that impacts every point she plays. Griffith excels on both sides of disc, capable of crushing foes in just about every facet. She's great in the air, has quality break throws, and has freakishly efficient footwork. Away from the highlights, however, Griffith is adept at blending all of these skills into her system. There may not be another cutter who understands how to create space for herself and her teammates as well as Griffith.
Kami Groom (Brute Squad) hasn't slowed down after claiming Player of the Year last year. Groom's explosiveness cannot be contained, making her a constant source of blocks and an equally frequent presence around the disc after that. While she isn't the division's most dynamic thrower, she gives the disc back far less than she takes it and is incredibly dangerous going up the line when she winds up in the backfield.
Jenny Fey (Scandal) remains one of the most effective offensive weapons with a disc in her hands. Capable of an endless array of ways to move the disc, Fey is an offensive centerpiece unlike any other. Her deep game is impeccable and her break throws inspire awe. However, it'd be foolish to write off Fey's ability to make a play without the disc. She's a gifted athlete in her own right with strong footwork and great hands, and a nose for when the defense is weakest.
Robyn Wiseman (Heist) brings a ferocity to the field that has always made her stand out. Whether that's flying through air on defense, making an upline cut, and unleashing one of her gargantuan hucks, what Wiseman may lack in subtlety, she makes up for in unapologetic power. She's long been a shooter, but has the throws to enable that style, and the defensive capabilities to get back an unfair percentage of what she gives away.
Liza Minor (Molly Brown) has been on the breakout path, becoming an All-Club selection last year playing for Heist. The stage has grown as her game has, and now Minor's aggressive and physical gameplay has attracted a great deal of attention in Denver. It's almost a cliche now to tell a player that every disc in the air is their disc, but Minor plays with that type of aggression. And it works great. She racks up run through blocks and churns in the cutting lines until she either jettisons or crushes her defender. Minor will have to come through at Nationals, but she's staked her claim.
In The Conversation: Katey Forth (Showdown), Cree Howard (Fury), Catherine Hui (Traffic), Sandy Jorgensen (Scandal), Becky Malinowski (Brute Squad), Anna Nazarov (Fury), Maggie Ruden (Fury), Katie Ryan (Fury), Amber Sinicrope (Brute Squad), Shira Stern (Riot), Georgia Bosscher (Heist)
---
2016 Mixed DPOTY Runner-Up ↩