The best of the best in the Mixed Division.
Ultiworld's 2016 Club Awards are presented by BE Ultimate; all opinions are those of the authors. Please support the brands that make Ultiworld possible and shop at BE Ultimate!
With Nationals over and the winners crowned, it is time to take a moment to recognize the top performers in the Mixed Division this season. While the talent of the division reaches far beyond short lists, the All-Club teams are meant to honor those players who put together what we believe to be the best seasons in the Mixed game this year.
While we consider both regular season and postseason performance, because of the nature of the club division, we weight success in the Series and at Nationals above all else. The All-Club teams are selected based on input from Ultiworld reporters, contributors, and editors.
Jeff Smith (Boston Slow White)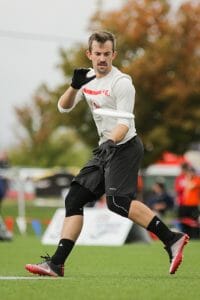 The 2016 Mixed Player of the Year tallied an impressive five goals, ten assists, and three blocks at the Club Championships — playing a key role throughout Boston's title charge — but it's Smith's qualitative traits just as much his quantitative productivity that really solidified his place in the elite tier of players this season. He brings a playful goofiness to the sidelines but is incredibly focused on the field. He gets fired up when his teammates score or get blocks, but doesn't get down on them for mistakes. And when the mistakes are his own, he accepts them immediately and moves on, never getting down or second guessing his decisions.
While many of the division's top handlers struggled in the strong wind in Rockford, Smith helped his offense knife through even the stiffest gusts both with his ability to power deep shots into the wind and, more importantly, utilizing his deadly throw-and-go motion that allowed Slow White to move up the field without needing to take as many longer, low-percentage upwind chances.
Navigating the balance between being fun and being competitive has proved extremely difficult for many teams in the Mixed division, but Slow White proved that it can be a formula for success this year when you get the balance right. On a team whose care-free attitude helped earn them their first National championship, a player with Smith's combination of personality and skill is invaluable. He sets the bar high with his playing contributions and perhaps even higher with his attitude.
Chris Mazur (Connecticut Metro North)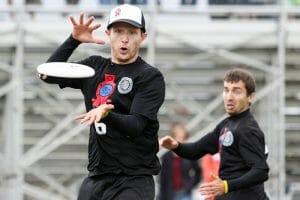 Chris Mazur was a man on a mission this season. While many of his WUGC US National teammates flagged in Rockford after a long and grueling double-peak summer, Mazur still had more than enough energy to barrel through the mixed division, leading his squad all the way to the brink of a national title. Beyond just his gawdy Nationals stats — six goals, twenty assists, and six blocks — it was the manner in which he controlled games with his movement that earns him 1st team honors. After single-handedly orchestrating a Regional final victory over eventual national champs Slow White — all while battling a brutal bout of food poisoning — Metro North's leading man left his mark on every game they played at the Club Championships.
Whether sprinting back and forth across the field to collect every other pass or powering the disc through Rockford's stiff winds, Mazur's all-world talent was on display all weekend and proved to be one of the most unstoppable forces in the mixed division.
Miles Montgomery-Butler (Boston Slow White)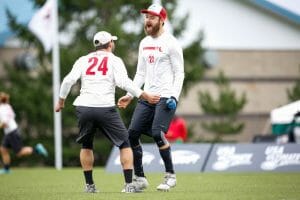 It speaks volumes when the assist leader for the National champions (13) plays primarily for their D line. Montgomery-Butler threw eight assists on 17 D points between the semis and finals, including the championship winning shot to Dave Truesdale. And that's not including a pivotal 65-yard bomb to Davis Whitehead that set up the first of Slow White's five breaks in the second half against Metro North.
Montgomery-Butler was a calming presence for Boston's D-line offense all season, serving as the primary handler and pivot for a unit that was ruthlessly efficient and punished opposing offenses that played even a little loose. On top of his ability to shoot from the hip, he also served as Boston's primary puller, often pinning teams deep in their own end zone to start possessions — a brutal position made even more difficult by Slow White's swarming handler pressure and Montgomery-Butler's gargantuan mark. His gritty, DIP defense flustered handlers and cutters alike, taking them out of the game altogether. And at 6'1", he can play against height as well, demonstrated on the first point of the finals where he bodied out 6'3″ stud receiver John Korber on a huck to force a turnover.
Sarah Anciaux (Minneapolis Drag'n Thrust)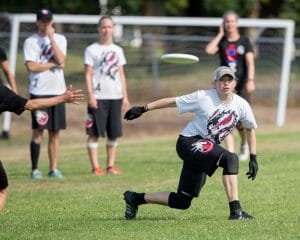 One of the most consistent players in a "down" year for Minneapolis Drag'n Thrust, Player of the Year runner-up Sarah Anciaux brought the fire every minute she was on the field. She has a well-rounded game that allows her to serve in any role her team needs. Opposing player giving you trouble? She'll shut them down with her defense. Need a block in a low turnover game? Anciaux will find a way to generate one. Offense stagnating? She'll go make a play — either with the disc in her hands or roasting her defender deep.
Her stats at Nationals (seven goals, three assists, and eight blocks) are a testament to that diversity. Three of those blocks came in Drag'n Thrust's 14-10 win over Cincinnati Steamboat, their closest game in pool play. In their semifinals loss to eventual champions Boston Slow White, Anciaux contributed to three of Minnesapolis's nine goals and earned a block, all without a single turnover.
As one of three Drag'n Thrust women who earned a spot on the US National teams for WUGC this summer — and the only one who played on the women's national team — Anciaux proved that her skills and versatility stack up against anyone in the world.
Drew Johnson (Seattle Mixtape)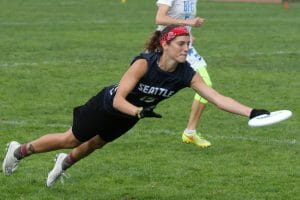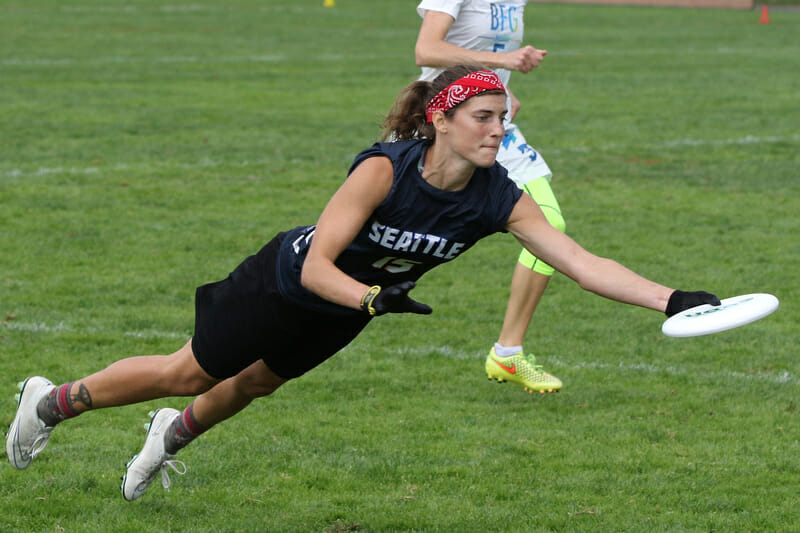 After a year away from Seattle Mixtape, Drew Johnson returned in 2016, much to the chagrin of other Mixed club teams in the Northwest region. Despite missing out on the US Open in July, Johnson was a standout performer for Mixtape throughout the regular season, dominating individual match-ups as a first cutter, forcing defenders to chase her deep before beating them back under with her tremendous speed to generate long upfield gains. Once the Series began, she moved to another level. Johnson was instrumental in helping Mixtape earn the region's single bid to Nationals and was drawing huge attention from opponents even before their games began at Nationals.
Johnson has the athleticism to shred most elite-level defenders, but her throwing mechanics further set her apart from most of the pure cutters in the division. In Mixtape's first pool play game in Rockford against Fort Collins shame, she threw hockey assists on their first three O points, ripping mid-range shots through the wind and breaking the mark in the red zone.
Emily Shields (Philadelphia AMP)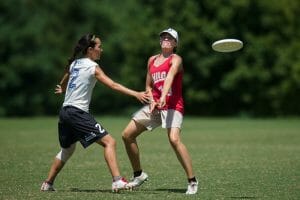 How exactly does one enter the conversation for Offensive Player of the Year? Being a low-turnover primary cutter and one of the leading goal-scorers for the Pro Flight Finale Champions and #1 seed at Nationals is a great start. Philadelphia AMP's Emily Shields was a nuisance for opposing defenses all season long, and continued to be one at Nationals, posting what for her is a somewhat modest stat line of six goals and three assists.
Shields seems to only operate at one speed: fast. It's not that her top speed is particularly blinding, but she doesn't have that lag period most players undergo when changing directions or cutting off a stoppage. Any defender who looks away from her to find an opportunity to poach gets burnt like toast.
After watching her catch wide open goals early in games, more than one team this season tried to contain the lefty with a deep cushion, only for her to consistently rack up big yards for the AMP offense underneath. Shields is more than capable of going every other throw in the short field until a defender clamps down, only to watch her bust deep yet again.
Lexi Zalk (Boston Slow White)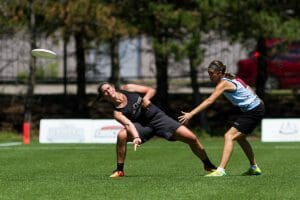 Returning to her former team after a few seasons with New York Bent, Lexi Zalk was undoubtedly one of the biggest contributors throughout Boston Slow White's 2016 championship season. Zalk's size and athleticism terrorized opponents on both sides of the disc, owning nearly every matchup she faced in the air and never hesitating to attack up the field with her throws and her cutting.
At the US Open in July, she played a crucial role in their semifinal win over Connecticut Metro North as well as the in the finals against Seattle Mixtape. In Rockford, she threw the first upwind assist in their quarterfinal dismantling of Philadelphia AMP, and put on an impressive all-around game in the semifinals against Minneapolis Drag'n Thrust.
Her final stat line at Nationals (six goals, three assists, one block) vastly understates her contributions to a team that dominated most clubs all season. Zalk led Slow White in points played in Rockford by a wide margin, one of the few players on a deep roster that was utilized on both O and D lines. On defense, she would take on the assignment of the most involved female on opposing O lines, often taking them out of the game altogether. On offense, she was an imposing cutter downfield, winning foot races against defenders in both directions and, when necessary, using her powerful 5'9" frame to box them out. Zalk was just as dangerous with the disc in her hands; confident that she could get back enough blocks to justify her aggression, she fearlessly attacked with her flick huck, punishing offenses that transitioned poorly with devastatingly quick breaks.