The stories we're talking about after pool play.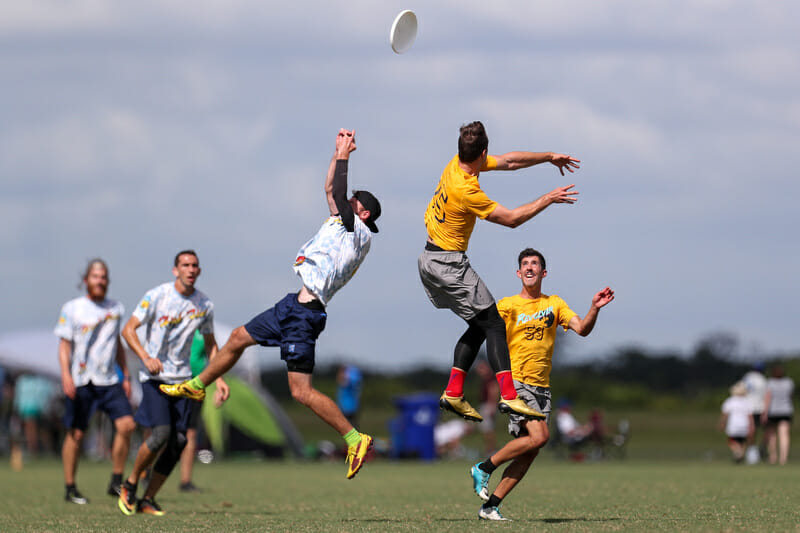 Ultiworld's coverage of the Men's Division at the 2017 Club Championships is presented by Spin Ultimate; all opinions are those of the authors. Please support the brands that make Ultiworld possible and shop at Spin Ultimate!
Here's a look at the biggest stories from pool play in the Men's Division.
Pool A
Revolver Quietly Goes Undefeated
Unlike the #2 overall seed Sockeye, Revolver had a smooth day, going 3-0 to remain undefeated in pool play since 2006. They were tested on their as-yet suspect zone offense early in the day by Doublewide, who threw a variety of zones at them, but they stayed calm and yielded just one break against zone (and only three total on the day). They also took half 8-1 on Sub Zero in ~24 minutes. The High Five game was tighter than expected, but more as a function of the D-line's inability to cash in breaks; the offense went unbroken. The increased pressure of bracket play looms, but San Francisco looks to be rounding into form.
-Cody Mills 
Pool B
Yes, Mischa Freystaetter Is That Good
At least for Florida United, the steady Sarasota wind was welcome. Cole Sullivan relentlessly muscled hucks toward his 6'7″ cutter for most of the day and Mischa Freystaetter walked away leading the tournament across all tracked statistical categories: nine goals, nine assists, and four blocks.
He was everywhere for Florida. Downfield as a the big target, open on break side arounds, throwing continuation goals, and gobbling up dishes over the open side cone.
It helped that Florida's big zone made hay in the wind. When Freystaetter couldn't snag a throw —especially against Sockeye— both his O-line and D-line teammates were ready to set a four-person cup on the turn. They fell into it easily, and it baffled opponents trying to work their way upwind without cranking out difficult hammers.
Thanks to Freystaetter, gamesmanship, and maybe a little bit of home-field advantage, Florida United gets a round off this morning and will play the winner of Johnny Bravo vs. Doublewide prequarter matchup.
PoNY Plays Hard, Plans & Adjusts Well
Harper Garvey, Chris Kocher, and Sean Keegan led a well-coached New York contingent to second in the pool, completing the flip flop of the initial seeding. In the first round, the defense battled their way into just a few breaks. It gave the PoNY O-line the room they needed to work, and they staved off a Chicago Machine team that had their hucks stifled by the steady wind blowing diagonally down the field.
Against Sockeye —who were already reeling from their first round loss— they went toe to toe with the full depth of Seattle's roster and won the game going away.
By the time the end of the day rolled around, the original No. 4 seed in Poll B was playing with house money, and close an 11-7 gap with Florida to 13-12, before losing the last point.
-Simon Pollock 
Pool C
Ironside Ramps Up Throughout The Day
Hopes were high for the reigning National Champions, but an early morning stumble had fans of Boston Ironside worried.
In the first round of pool play, Philadelphia Patrol quickly realized that forcing Boston to grind out long offensive points could keep things close. Ealy in the game, Ironside worked for 15-20 minutes after multiple turnovers just to score an offensive hold and tie the game at 3-3.
Cutters were moving into the same space and throwers were holding the disc for nearly full stalls. Sloppy play almost resulted in disaster. Patrol received on offense going downwind on double game point. Another score and they might've advanced out of pool play, having they've thrown the reigning champs into disarray.
Boston escaped with the win and had a chance to improve against GOAT. Already, improvements were being made on both sides of the disc. The Ironside defense played with fire and intensity that was lacking in the first round, led by Christian Foster and Mac Hecht. Despite the strong play, they trailed GOAT 6-5 in the first half.
The Ironside offense began to click in the second half of that game. Boston threw zero turns in 13 points, on a 10-3 run to close the game. They carried that momentum into their final game of the day.
Against Ring of Fire, Ironside played their best ultimate yet. After being broken on the first offensive point, the Ironside offense was near-perfect for the rest of the game. The second half required multiple upwind breaks, which Boston handled with ease. They faced one of the best defenses in the men's game and came away with a 13-11 victory.
Ironside began their Nationals campaign with a shaky performance, but they're trending upwards. It's scary to think that the reigning champs could be getting better with each and every game they play, but that seems to be the case. Watch out.
Ring Shows Off their Young Studs … Again
There was a moment early in Ring of Fire's day when the cutter wearing the number four jersey was isolated in the middle of the field. The crowd collectively searched through their event programs to find out who it was. Dillon Lanier, at 19 years old, was being isolated in the middle of the field against some of the best defenders in the game. And it worked.
On an ensuing offensive point, Ring of Fire's number ten was isolated as he cut deep for a huge gain. Again as spectators searched they found the young Henry Fisher willing the number three seed forward.
Add in Jacob Fairfax, Sol Yanuck, and Terrence Mitchell, and you have a star lineup of players all under the age of 22. This is not a new phenomenon for Ring of Fire. Justin Allen broke onto the scene for Ring when he was 22 and 23 year old Jack Williams has been a standout cutter for them for the last three years. But now, several Ring players have high-level college experience under their belt. Yanuck, Fisher and Lanier are fresh off of a national championship, and Matt Gouchoe-Hanas led North Carolina to a semifinals appearance.
What makes Ring of Fire dangerous isn't just their youth; it's that in any game a player under 23 could take control of a moment. The potential is always there, and they have a few more games to put it together.
-Preston Thompson 
Pool D
Every Point Matters For Boston Dig
Boston Dig came in seeded third in Pool D but ended Thursday No. 1 after staging three consecutive heroic comebacks. Two resulted in victories; one over Truck Stop in the morning and the other over The Condors in the afternoon. One fell a hair short, as they dropped a game to Johnny Bravo 14-13 on hard cap. Even that loss to Denver proved to be an important part of Dig's conquest of Pool D, as they needed every point to come out on top in the pool via tiebreaker.
Trailing Bravo 14-9, Dig tacked on four straight to pull within one. Unfortunately for Boston, hard cap had gone off a point too soon. While Dig ended the game with a goal on a huck from Jeff Babbitt to Tim Schoch, time had run out and Bravo limped away with a win.
When the dust cleared at the end of the day, Dig, Truck Stop, and Bravo were all tied at 2-1, but Dig was tied with Truck Stop for best point differential. Because Boston had the head-to-head advantage over Truck Stop, they won the pool and the bye to quarterfinals. Without that consolation point against Bravo, meaningless in the context of the individual game, Truck would be atop the pool and not Dig. It just goes to show that at Nationals, every point can matter.
Mark Lloyd Showing Signs of Life
One of the big questions heading into Nationals was how Mark Lloyd would fit into Johnny Bravo's scheme, and how much the Toronto legend had left in the tank. After a tentative start to the day where Lloyd show some flashes – a nice grab here, a layout block against Dig there – he opened up the throttle against Truck Stop in Johnny Bravo's final game of pool play.
Gigantic skies over packs of opposing players, teammates putting him trust throws in double coverage, slick continuation throws after a massive in cut; Lloyd was looking like his circa-2014 self again. The performance clearly emboldened his teammates to continue seeking out Lloyd when they had the disc. There was one sequence in which Jimmy Mickle locked in on Lloyd on almost every throw, finding his Canadian teammate in the endzone for back to back goals.
Lloyd's stat line was respectable, three goals and an assist. But what really resonated was the feeling that he was back. That when a disc went up in his general direction, there was no doubt about who was going to come down with it. Even with this performance, Bravo couldn't overcome Truck Stop, and they'll need even more from Lloyd in bracket play tomorrow if they're to return to semifinals.
Truck Stop Still Building
Some teams try to peak over the course of a season, but Washington DC Truck Stop look like they are cramming a whole season's worth of growth into one tournament. After falling apart at the hands of a furious comeback from Dig, they took care of business against the Condors before looking very impressive in their win over Johnny Bravo.
Against Bravo, despite windy conditions, the Truck Stop offense was crisp and able to win with small ball and aggressive downfield looks. Following the season ending injury to Alan Kolick, D.C. has given the keys to the backfield to Nicky Spiva. Not quite as fluid as Kolick in the handler space, Spiva makes up for it with perfect touch on his throws and a sense of creativity combined with superb field vision. Tyler Monroe has grown into his role as the main initiating cutter, and Markham Shofner was one of the best throwers in the wind across the division.
Despite finishing second in the pool, Truck Stop looked like the best team by the end of the day. Their offense faltered under pressure in the morning, but by the end of the day they were able to nail in holds whenever Bravo started to cut into their lead. If D.C. continues to improve, they'll be a real handful in the bracket.
-Patrick Stegomoeller