AMP v. BFG. Mixtape v. Slow White.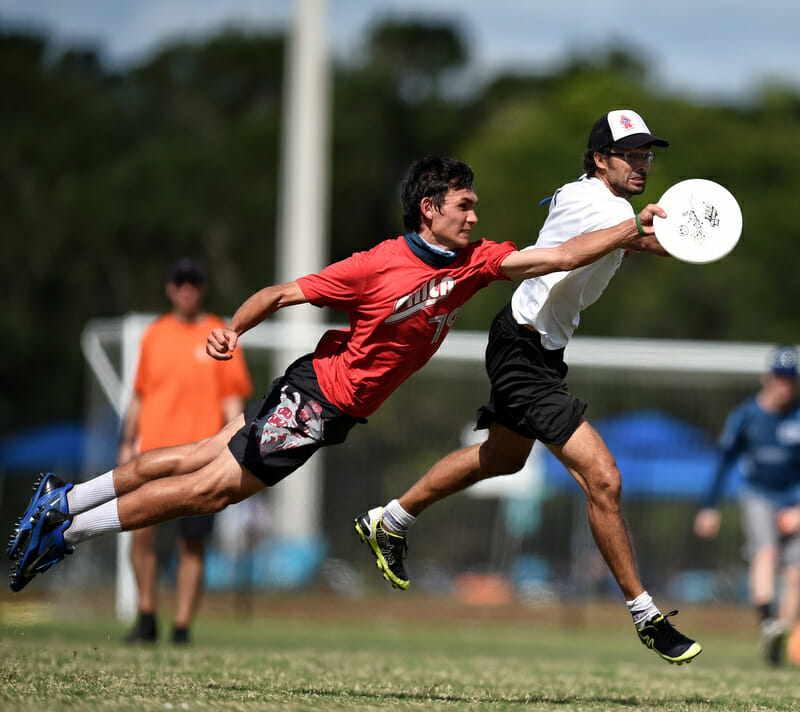 Ultiworld's coverage of the Mixed Division at the 2017 Club Championships is presented by Tokay Ultimate; all opinions are those of the authors. Please support the brands that make Ultiworld possible and shop at Tokay Ultimate!
The semifinals are upon us! Here's a look at the two matchups in the Mixed Division.
Philadelphia AMP vs. Seattle BFG
Head to Head: 1-1 (AMP won at Pro Elite Challenge 12-7, BFG won at Pro Elite Challenge 12-10)
How They Got Here:
– AMP 3-0 in Pool B (40-31), d. Public Enemy in quarters (15-10)
– BFG 2-1 in Pool D (42-34), d. Mischief in prequarters (12-10), d. shame. in quarters (12-11)
Line: AMP -1.5
Game Time: Saturday, Oct. 21 at 5:30 PM
How To Watch: ESPN3
In the first semifinal, two of the deepest teams in the Division face off, though each has depth in different ways. AMP has the best women in Mixed, and they rely on them to make plays on every occasion. Raha Mozaffari headlines the list with her all-around contributions, initiating the AMP offense and being a great distributor of the disc, but Emily Shields (8G, 2A) and Anna Thompson (4G, 6A) have also stood out as key contributors. Combined with Michael Ing and Calvin Trisolini, the AMP offense verges on unstoppable, especially when their female cutters get into a smooth offensive flow. They play some of the cleanest offensive points in mixed, and that efficiency can carry them through to the final. AMP's depth took them comfortably past a surging Dallas Public Enemy squad.
BFG also boasts great depth, but in specific areas. They have a big group of athletic defenders who can make big plays in the air and have the speed to fast break on a tired offense. Tommy Li headlines this group, bringing fiery defense and a willingness to throw deep to get the disc downfield and increase BFG's chances at getting breaks. Andrea Coleman is their top female defender, bringing the strength to force opposing cutters into changing how they approach a point, and the quick hands to force difficult throws from the women she is matched against. On offense, Adam Simon and Jeff Pape have been racking up assists at an incredible rate, throwing BFG out of trouble spots and defying the windy Sarasota conditions. Defensive depth can carry the day for BFG, and if Simon and Pape have clean throwing days, we are in for a great first semifinal.
Seattle Mixtape vs. Boston Slow White
H2H: Slow White 2-0 (13-12 at Pro Elite Challenge, 15-8 at US Open)
How They Got Here:
– Mixtape 3-0 in Pool A (43-30), d. Wild Card in quarters (13-12)
– Slow White 3-0 in Pool D (44-32), d. Drag'N Thrust in quarters (15-8)
Line: Pick
Game Time: Saturday, Oct. 21 at 8:00 PM Eastern
How To Watch: ESPN3
The second semifinal sees the overall number one seed in the Mixed Division take on the reigning National champions. Seattle Mixtape has survived two close calls against Dallas Public Enemy and Boston Wild Card, relying on athletic defensive plays from Khalif El-Salaam and Ari Lozano to earn them break opportunities. Mark Burton (5G, 12A), Jesse Bolton (6G, 3A) and Paige Kercher (3G, 3A) have been dazzling crowds with their creative throws to the end zone. Drew Johnson, smoothly transitioning between cutting and handling, and Brad Hauser are matchup problems downfield, finding open spaces underneath throwing deep to continuation cuts. Mixtape plays with a swagger that sets them apart from other divisional opponents. They don't rely on scouting reports, instead trusting their chemistry and playmaking abilities to win games.
Despite entering Nationals as a lower seed than Mixtape, Boston Slow White must feel confident in their matchup, having beaten Seattle twice this season already. Last year's Breakout POTY runner-up Tannor Johnson (9G, 5A), who played a major cutting role for Slow White's O-line in their championship run, has mostly played for the D-line this season, suffocating opponents' top cutters and providing offensive spark after turnovers. Boston still relies heavily on Jeff Smith (4G, 13A) and Alex Trahey (3G, 11A) to fuel their offense, with Todd Herman (9G, 5A) dominating the cutting space, but Lexi Zalk had a standout regular season and could feast against Mixtape. With a reloaded roster and boasting some of the top throwers in the division, the defending champions should be ready for whatever Mixtape throws at them. For a prime time game, you can't ask for a better matchup.