The best of the best.
Ultiworld's 2017 Men's Club Awards are presented by Spin Ultimate; all opinions are those of the authors. Please support the brands that make Ultiworld possible and shop at Spin Ultimate!
With Nationals over and the winners crowned, it is time to take a moment to recognize the top performers in the Men's Division this season. While the talent of the division reaches far beyond short lists, the All-Club teams are meant to honor those players who put together the best seasons in the Men's game this year.
While we consider both regular season and postseason performance, because of the nature of the club division, we weight success in the Series and at Nationals above all else. The All-Club teams are selected based on input from Ultiworld reporters, contributors, and editors.
Jonathan Nethercutt (Raleigh Ring Of Fire)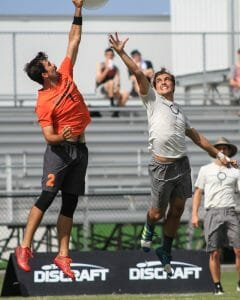 Jon Nethercutt has had quite the year: an AUDL MVP award, eye-popping stat lines, an Ultiworld Player of the Year award, and his first All-Club selection.
"Nutt," as he's known to most, leveled up his game this season, moving beyond being a power thrower into a well-rounded offensive weapon. Even more importantly, he played the best defense of his club career, leading Raleigh Ring of Fire in blocks (8) despite playing mostly on the offensive line. Oh, and he was first in assists (18) and sixth in goals (6).
But it's not just about the numbers. Nethercutt has always been a high volume guy that gets assists (and turnovers) in spades. It's about his improvement as a facilitator and a decision maker. He was able to allow the game to come to him instead of forcing the issue.
RELATED: Jon Nethercutt On Ultiworld's Sideline Talk Podcast
The most exciting part of Nethercutt's game is that he still has room to grow. He's still got a tendency to make an unnecessarily risky throw, and he can improve his slipperiness as a reset. But his all-around skills and athleticism made him an obvious choice for the first spot on the All-Club First Team.
Dylan Freechild (Seattle Sockeye)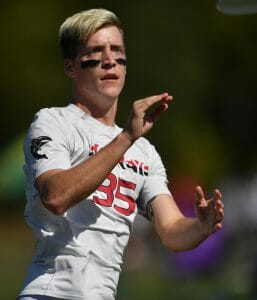 Even with an injury and a dearth of Nationals stats, Seattle Sockeye rookie Dylan Freechild more or less locked up his first First Team slot with one of the best regular seasons our staff has seen. He was everywhere for Sockeye —breaking marks for the O-line, chasing down hucks as a cutter, and hustling into blocks for the D-line.
Freechild's individual style seemed like a perfect fit for Seattle's approach to ultimate —as important as hucks should be with Simon Montague booming them and Matt Rehder snagging them, Freechild's signature throw-and-go speed and Sockeye's small ball motion were destined for each other.
It looked as though his turbocharged game would put Seattle over the top in 2017 —the only team that looked like they could find San Francisco's number and own it. And even as the team's pool play collapse sunk their chance to prove themselves in the post season against Revolver, Freechild needed just about a half of feeling lost against Florida United before he was able to shake off the pall and start dashing around the field to jolt life back into his team. That misstep shouldn't go forgotten, but neither should Freehild's overall contribution to the team this season.
Nicky Spiva (Washington D.C. Truck Stop)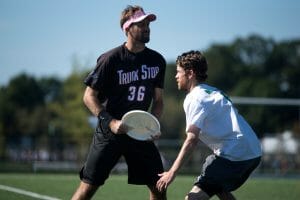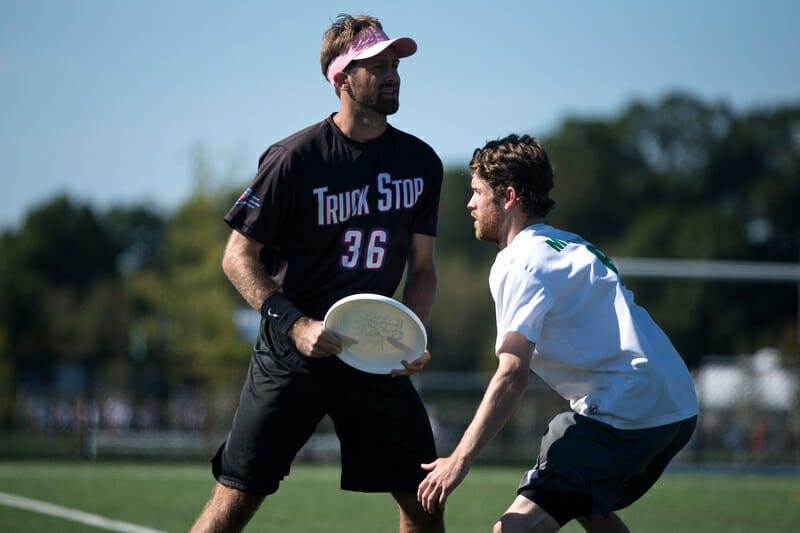 Truck Stop's first appearance in semifinals in club history was a team effort —no question. But at crucial moments in their 2017 run, Nicky Spiva put the team on his back. No game felt more monumental than the quarterfinal matchup against defending champs Boston Ironside. With Boston's top lines bearing down on D.C., Spiva took over, scoring two goals, tossing five assists, notching two blocks, and registering only one turn in the 14-10 win.
Since his move to D.C., Spiva has slotted into crunch time roles with ease. Even with Sarasota wind threatening to knock his faded pink visor off, he was gunning hucks into the wind, charing downfield for catches, and barreling his way into crucial resets —often with a top defender in tow. He did it all with poise.
That leadership should also reflect his placement on this team. Truck took a big hit when focal point Alan Kolick suffered a season-ending knee injury late in the regular season. Losing a keystone like that can sink a team. But along with a steady coaching staff, Spiva led by example, played with heart, and earned his place on the First Team for the second year in a row.
Ashlin Joye (San Francisco Revolver)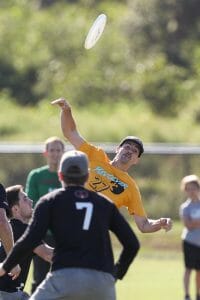 Don't let the middling assist numbers at Nationals fool you—San Francisco Revolver's ace center handler was his nigh-untouchable self in 2017, scampering all over the field to move the championship-level offense and partnering beautifully with new reset man Jordan Marcy.
Hucks, resets, breakmark throws, and hammers—Joye did it all for the O-line backfield, helping break down defenses across the division. Especially facing the steady wind in Sarasota, Joye was an offensive gamebreaker when the team needed it. He took the shots they needed to get the disc to deep receivers and outsmarted zone when any team dared to show it. Alongside his talent, Joye seems to get better and better using his length as a thrower. His trademark shimmy broke ankles again this year, as he returned to the Men's Division First Team after his last appearance the last time Revolver won a title in 2015.
Joye is simply the best pure handler in the world right now and hasn't shown any signs of slowing down, even after taking a year off in 2016.
Mischa Freystaetter (Florida United)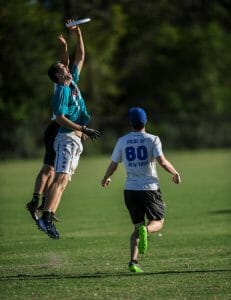 After a few standout years in the AUDL, Mischa Freystaetter has finally made his presence felt in the club scene. Freystaetter finished 4th in both goals and assists at Nationals, leading Florida United to a surprise quarterfinals appearance.
The best teams in the country had no answer for the 6'7″ Florida star. In their upset over Sockeye, United's game plan centered on contested deep shots in the wind and using their athletes to fight through a sloppy game. Out of the mess emerged Freystaetter, who, with five goals, five assists, and three blocks, was the driving force behind one of the tournament's most surprising wins.
This is Freystaetter's first appearance on the All-Club 1st team, after a few years with Orlando's club team Omen. His presence with the disc and massive frame make him a unique threat in the Men's Division, and his continued presence with Florida United could make them a consistent staple at Nationals.
Jay Froude (Austin Doublewide)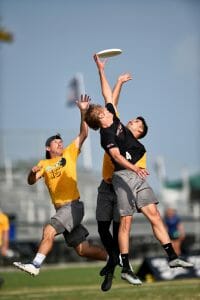 Doublewide's run to the National Finals is one of the most surprising storylines of the last few club seasons, and anyone who watched them knows that Jay Froude was a huge part of their success.
After some consistent performances with the Madison Radicals and Kansas City Prairie Fire, Froude's star has been rising the last three years. He began his career as a freak athlete that pressured some of the division's best players on defense. But after a move to Doublewide this offseason, Froude's offensive capabilities elevated him to new heights.
As the main downfield threat for Austin, Johnny Bravo and Truck Stop struggled to contain Froude on his way to ten goals and ten assists for the tournament. He even managed two goals and three assists in the final against Revolver, a game where most of his team struggled to find the end zone.
Doublewide's appearance in the final secures their spot in the World Club Championships next year, giving Froude an opportunity to keep his train rolling. But for right now, he's secured his spot as one of the nation's best all-around players.
Chris Kocher (PoNY)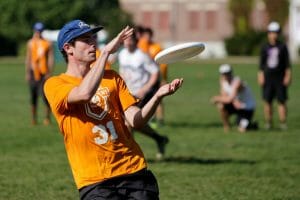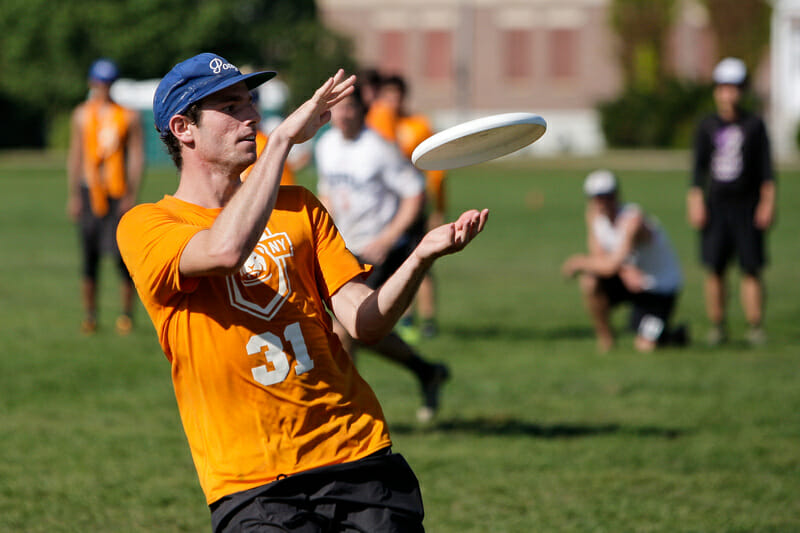 2017 was a banner year for New York PoNY. They earned their first quarterfinal berth in team history with smart game-planning, strong mental preparation, and grit.
Those latter two qualities were embodied by Chris Kocher, who played both offense and defense for PoNY in crunch time. There were a few moments at Nationals when it looked like he was guarding two or three players at once in the reset space, darting between passing lanes with his head on a swivel, locking onto marks when the time was right, and registering huge blocks under pressure (like stuffing a Trent Dillon flick huck late in the game versus Sockeye).
On offense, Kocher's motor hummed. He cruised around the field to help distribute the disc, making sure it found the hands of Harper Garvey and Sean Keegan and slotting into a beautiful two-man game with Sam Little. His efforts landed him just inside the top ten for assist-getter and goal-scorers at Nationals.
He truly was one of the most impressive players at Nationals, doing all the little things right to help his team be successful.
With multiple gold medals on the world stage and a push to quarterfinals under his belt, Kocher's ceiling doesn't feel like it's quite in view yet. This is his first career appearance on the All-Club roster.
Correction: A former version of this article said that Nicky Spiva's visor was red. It is pink. We regret the error.