And the award goes to...
The Ultiworld 2017 Men's Player of the Year award is presented by Spin Ultimate. All opinions are those of the authors. Thanks for supporting the brands that make Ultiworld possible!
Ultiworld is pleased to announced our third annual Men's Club Player of the Year award. While we consider both regular season and postseason performance, because of the nature of the club division, we weight success in the Series and at Nationals above all else. The All-Club teams are selected based on input from Ultiworld reporters, contributors, and editors.
2017 Men's Club Player Of The Year
Jonathan Nethercutt (Raleigh Ring of Fire)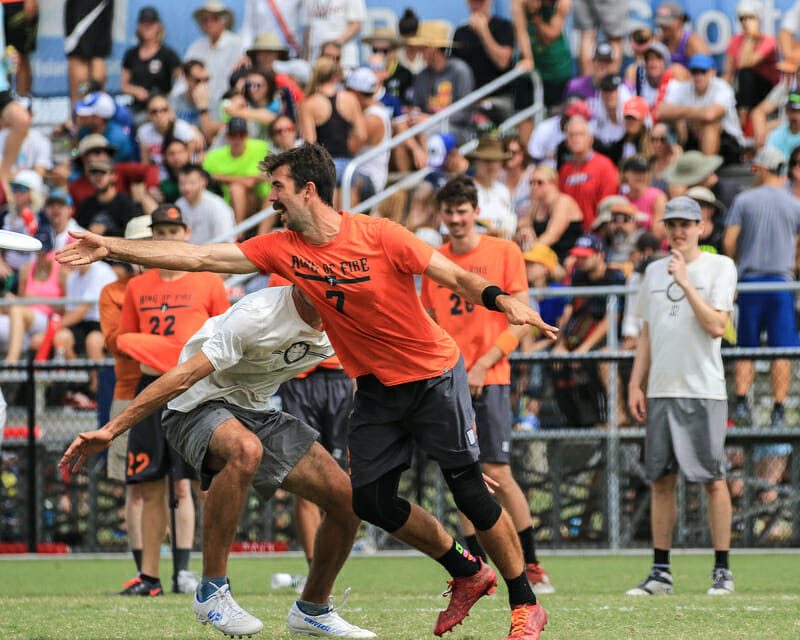 It's been a banner year for Jonathan Nethercutt. Two years after receiving accolades for his collegiate performance at the University of North Carolina (2015 Offensive Player of the Year, 2015 Callahan Award), he led the Raleigh Flyers to an AUDL-best 13-1 season and took home the league's MVP honors. Now, he completes the sweep of the top individual awards in 2017 with his first Player of the Year award in the Club Division.
Nethercutt led Raleigh Ring of Fire to another high point in the team's trajectory. While they have made semis in a number of recent years, a close loss to San Francisco Revolver (the champion's only close game of the tournament) and a strong win over Washington DC Truck Stop in the third place game to qualify for the 2018 World Club Championships marked them as arguably the second best team in the country this year. Nethercutt was also instrumental in their first major regular season tournament victory (at the New York Invite) since 2014.
RELATED: The Humble Superstar: Can Jon Nethercutt Keep On Winning?
Nethercutt has long been a talented thrower — it's impossible to forget his 2014 College Semifinals 2nd half performance — but his game has progressed well past being able to rocket a forehand huck. He was the key cog in Ring's offensive machine, able to initiate from downfield or operate in a more traditional center handler role. He finished Nationals with 18 assists, good for third in the Division behind PoNY's Harper Garvey and Ironside's Kurt Gibson (each with 19), and six goals.
"He brought a lot of versatility to the offense and he was a difficult matchup because it's hard to defender to stop him both in backfield and upfield sets," said Ring of Fire head coach Mike DeNardis.
At Nationals, though, he was more than his usual offensively-productive self. It may have been his defense that stood out, as he finished the tournament with eight blocks, including this monstrous layout takeaway vs. Machine in prequarters.
In Ring's semis loss to Revolver, he was clearly the team's most important weapon, as he was asked to launch hucks in a gritty field position battle. He finished the game with a goal, four assists, and a block.
The knock on Nethercutt has to be his turnover numbers — he had five v. Revolver and 23 total during Nationals — but they aren't out of line for what high usage center handlers on other teams put up in the Sarasota wind. His turnovers were almost a necessity, considering that his ability to challenge defenses in the upwind direction was a key part of their ability to get to semis.
Perhaps most important for Nethercutt's level up this year was his greater consistency. With David Allison coming on board to coach the offense, Nethercutt had less responsibility as an offensive coordinator and was freed up to just play. Along with the influx of other talent to the O-line, including Jonathan "Goose" Helton, Brett Matzuka, and Bob Liu, the offense was more dynamic and opened up Nethercutt's ability to be more than a chucker.
Despite the increasing talent on the team, Ring would not be where they are without the contributions of Nethercutt. His flexibility as an offensive player paired with his absolute cannon of an arm led Raleigh to new highs this season.
1st Runner-Up: Sockeye's Dylan Freechild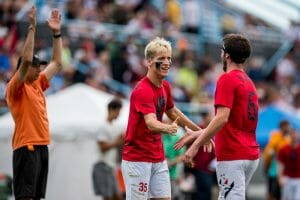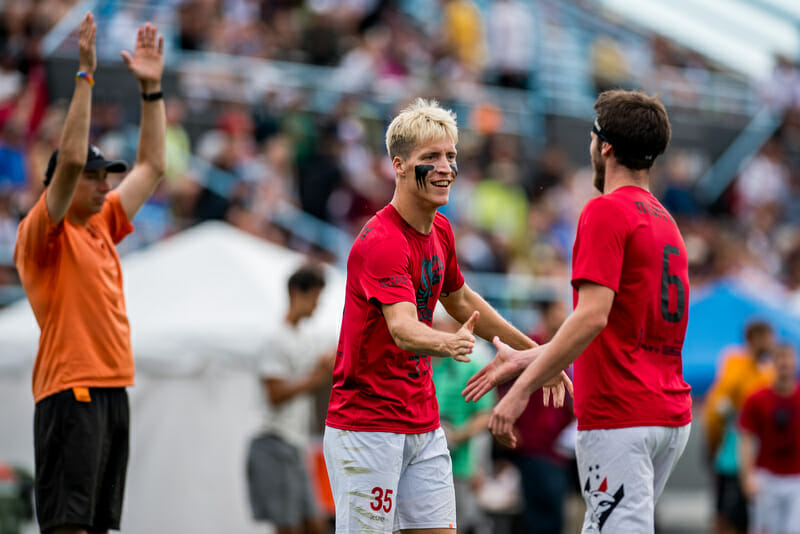 Dylan Freechild was the best player during the regular season — really, nobody else even came close — and helped lead Sockeye to a US Open title. His blend of defensive IQ, speed, and unstoppable quickness helped him carve out the most impactful role on Seattle's team this season.
Freechild started on the D-line and was generally the first player to cross over onto offense, thanks to his ability to simply get open on command. While he had flashed similar skills for years on Portland Rhino, the bigger stage and greater talent around him opened up his game to new heights.
Freechild also helped lead the United States to World Games gold in the early part of the club season.
Sockeye's huge underperformance at Nationals was in part due to an injury to Freechild on Thursday during pool play. He got banged up bidding for a block vs. PoNY and didn't play the rest of the day, including in their must-win game against Machine. That came after some incredible plays against PoNY to keep Sockeye in the game.
While Freechild's injury hurt his candidacy for POTY, he was still clearly one of the most impressive performers this season.
2nd Runner-Up: Truck Stop's Nicky Spiva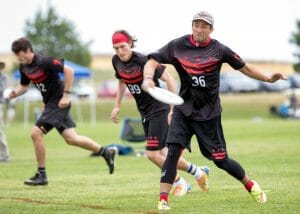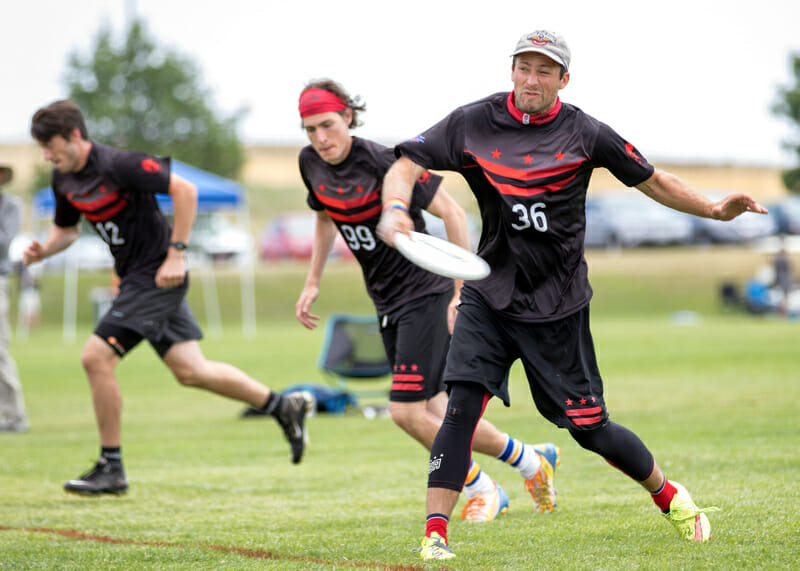 With Alan Kolick out at Nationals due to a knee ligament injury, Nicky Spiva had to face long odds. Truck Stop had never reached the semifinals of Nationals, and now, despite a strong regular season, everyone was counting them out again in 2017.
Spiva had already delivered an excellent regular season, serving as his usual versatile self with sharp cutting and pinpoint throws. He and Truck Stop had a bit of a bumpy path through their pool and into the bracket, and they ended up in a matchup with Boston Ironside — a team that had literally never missed the National semifinals. Truck was toast, right?
Wrong. Spiva caught fire on a level that we didn't see from any individual player in any other game at Nationals. He dropped a stat line of two goals, five assists, and two blocks with just a single turnover to lead Truck to a 14-10 drubbing of Ironside, qualifying DC for a semifinal matchup with Doublewide.
Of course, one game is not enough to land as a Player of the Year runner-up. Spiva was a vital part of the Truck offense all season and tied for 4th in assists at Nationals with 17.