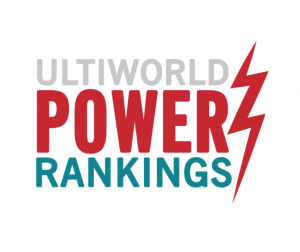 We are excited to present the 2018 preseason College Power Rankings! These rankings are based holistically on a number of factors: last year's performance, roster changes, conversations with coaches and captains, fall results, and assorted other factors.
For this years's rankings, we'll be publishing five teams a day until we hit the top five teams in each division; come back tomorrow to see teams 20-16!
Men's Division I
25. Georgia Jojah (2017 finish: 2nd in Southeast)
Parker Bray has graduated. Nathan Haskell isn't playing this year. It's a new-look Georgia team focused on building a more team-based system instead of relying heavily on its stars. They've still got plenty of talent: John Langstaff, Jon Ross Ingley, and Sam Batson had strong performances at CCC as Georgia lost only to UNC, Pitt, and Cincinnati.
24. Central Florida Dogs of War (2017 finish: T-3rd in Southeast)
In the final year of Andrew Roca's coaching tenure, UCF is looking to make one last run to the show. The Dogs might still be a team looking to huck, but they're not the same kind of team as in most recent years: they're short! They will look to a more systematic offense with no more Michael Fairley bailouts. Look for Adam Vinson to grind out unders and hit continuation looks.
23. Cincinnati Ultimate (2017 finish: T-5th in Ohio Valley)
With Keegan North and Jacob Turner back this season, Cincinnati has the horses to be a legitimate challenger in the Ohio Valley — and for a Nationals bid. North seems poised for a breakout season after a great CCC and a forthcoming appearance at U24 Worlds in Australia. Cincinnati's biggest challenge may be the team's lack of coaching, but the talent is for real this year.
22. LSU Ultimate (2017 finish: T-9th in Southeast)
Is this finally the year that LSU puts it all together? The program continues to gobble up talent from the 2017 High School National Invite champion Catholic, giving the team sneakily one of the best rookie classes in the country this season (watch for Dylan Reviere and Matt Freeburgh). With Tom Echols taking a fifth year, they are arguably the most talented team in the region. But talent has never been the issue for LSU; it's been between the ears.
21. Virginia Tech Burn (2017 finish: 3rd in Atlantic Coast, T-17th at Nationals)
Virginia Tech may have gone winless at Nationals last year, but they got out of a super strong region and got a chance to get that crucial experience at the Championships. Considering that their best player, Joe Freund, was just a sophomore, they may be ahead of schedule. Rhys Bergeron, the team's #2 goal scorer at Nationals, is back this season as well. Is a four bid Atlantic Coast a possibility? VT could make it so.
Women's Division I
25. BYU CHI (2017 finish: Last at Conferences)
There's a talented team at BYU that finished last in their Conference last year and never makes it to Regionals. They don't play on Sundays, but they play darn well on Saturdays. CHI had some tight losses to good teams last year, and beat Southern California this fall with a strong returner group and a pipeline flush with the high-powered Lone Peak high school program. If given the opportunity, BYU could surprise.
24. Iowa State Woman Scorned (2017 finish: 4th in North Central)
While they haven't spent much time in the national spotlight, ISU has been on the fringes of that conversation for years and is still a central figure in the North Central story each season. Megan Halverson brings skill and experience to the table for a characteristically scrappy Woman Scorned squad that went to MLC semifinals and notched a big win over Texas at the same tournament.
23. West Chester Ultimate (2017 finish: 3rd in Ohio Valley)
If there's a team in top 25 that will garner the question "Who?", it's WCU. But they earned their stripes in 2017, with a Conference Championship win over Pittsburgh, who they also beat at Blue Ridge Finale. There, they also beat Ohio State and Virginia. Athletic Danielle Byers, fresh off a rookie season with Philadelphia Green, leads the way along with Melissa Cantasano, Liz Hart, and Lindsay McKenna.
22. Minnesota Ninjas (2017 finish: 3rd in North Central)
After a couple of years of benefitting from strong recruiting classes, expecations are on the rise for Minnesota. They've come up short in recent seasons, but an army of effective cutters makes them a threat to take another bid back home. Downfield weapons like Makella Daley and Rachel Elbing are joined by freshman Cassidy Kummrow and U20 tryout Erin McCann. They'll be counting on handlers Louise Beck and sophomore transfer Lilly Shapiro to get them the disc when and where it counts.
21. Notre Dame Womb (2017 finish: 1st in North Central, T-9th at Nationals)
This season will be a real test for Notre Dame, who will be without players like MK Andersen and Julia Butterfield, who helped guide them to national prominence. But with 2017 Breakout Player of the Year runner-up Sarah Lipscomb still in tow, and a more well-rounded program than they are given credit for, it's not time to count them out. The quick-footed Lipscomb is one of the division's most dangerous cutters, but ND will have to develop the throwers to make use of their athleticism.
Men's Division III
25. Brandeis TRON (2017 finish: 4th in New England)
After an incredible 2016 season, expectations were down for Brandeis in 2017. However, TRON proved that they've established a program last spring, finishing the regular season just outside of bid earning territory and losing in the game-to-go at Regionals in a competitive New England region. Results this fall were hot and cold, but Brandeis's track record suggests that they'll peak at the right time and be in the hunt for a Nationals bid once again.
24. Lewis & Clark Bacchus (2017 finish: 3rd in Northwest)
Long time the dominant force in the Northwest region, Lewis & Clark Bacchus missed out on Nationals last year for the first time since 2013. Despite beating eventual Regional champions Portland in pool play, L&C was denied an opportunity to play in the game-to-go after losing to Whitman in the semifinals on DGP. Look for Bacchus to bounce back and be in contention for Nationals again this season.
23. Claremont Braineaters (2017 finish: 2nd in Southwest)
For the first time in the history of D-III ultimate, the Claremont Braineaters were not in attendance at Nationals. A strong fall season, which included a 12-10 win over UCSB and a DGP loss to Cal Poly SLO at Sean Ryan, indicates that the Braineaters should recover from their disappointing 2017 season and be nationally relevant in 2018.
22. Occidental Detox (2017 finish: 15th at Nationals)
It was a banner year for Occidental in 2017, making Nationals for the first time since 2011. Their reward for qualifying for Nationals was a spot in the Pool of Death, but Detox held their own, losing close games against Air Force and Dartmouth. Detox only graduated four players from last year's team, and the experience from Nationals should pay off in 2018; look for senior Adam Grammer to have a big year.
21. Union Jaxx (2017 finish: 2nd in Southeast)
Union was strong in 2017, but they failed to get over the hump that was Alabama-Huntsville; UAH beat them five times last year, including Jaxx's only loss at Regionals. With UAH out of the picture1, Union should have a strong case for winning the Southeast and making their first appearance at Nationals in 2018. A 13-5 loss to Colorado College at MLC indicates they're not quite ready to compete for a National Championship, but the experience of playing out of region competition in the fall should pay off for Jaxx in the spring.
Women's Division III
25. Oberlin Preying Mantis (2017 finish: 4th in Ohio Valley)
Oberlin missed out on 2017 Nationals after going into Ohio Valley Regionals as the number one seed, and will have a long road to make it back to Nationals against a competitive region. One thing on Oberlin's side — should they make it to Nationals in Rockford — will be the exposure to playing in the relentless Ohio wind.
24. Rice Torque (2017 finish: 3rd in South Central)
2017 was a rebuilding season for Torque after serious roster attrition in 2016, and their third-out-of-three finish at South Central Regionals cemented that. Expect to see this program continuing to build itself back up this season with the memory of two recent National Championships still bright for their veteran players.
23. Claremont Greenshirts (2017 finish: 16th at Nationals)
In a very similar boat to Rice after a strong 2016, Claremont finished last at Nationals in 2017 without a win to their name. Claremont will be returning a majority of their 2017 roster this spring and, with the right focus from their trio of senior captains, could see some serious growth this spring against their Southwest competition.
22. Luther Freya (2017 finish: 4th in North Central)
Freya spent their 2017 developing a large rookie class that accounted for half their roster and came away with a respectable fourth place finish at North Central Regionals. Spring will continue to see Luther cut their teeth against in-region D-III powerhouses Carleton and St. Olaf, building their program now buoyed by players with more experience and confidence than seen last season.
21. Allegheny Hellbenderitas (2017 finish: 3rd in Ohio Valley)
A first year program making a surprise run at Regionals to get Nationals is always a possibility, and that's nowhere more likely than in D-III. Allegheny missed their chance in 2017, losing to Haverford by a single point and then collapsing against Lehigh in the game-to-go for the final bid. In their second year, no one in Ohio Valley–or the rest of the division–should discount what new heights Allegheny will hit by building on last season's experience.
Five more teams will be revealed each day this week!
---
UAH has been reclassified as a D-I school for 2018 ↩