Your chance to weigh in on the highlight grab of the year!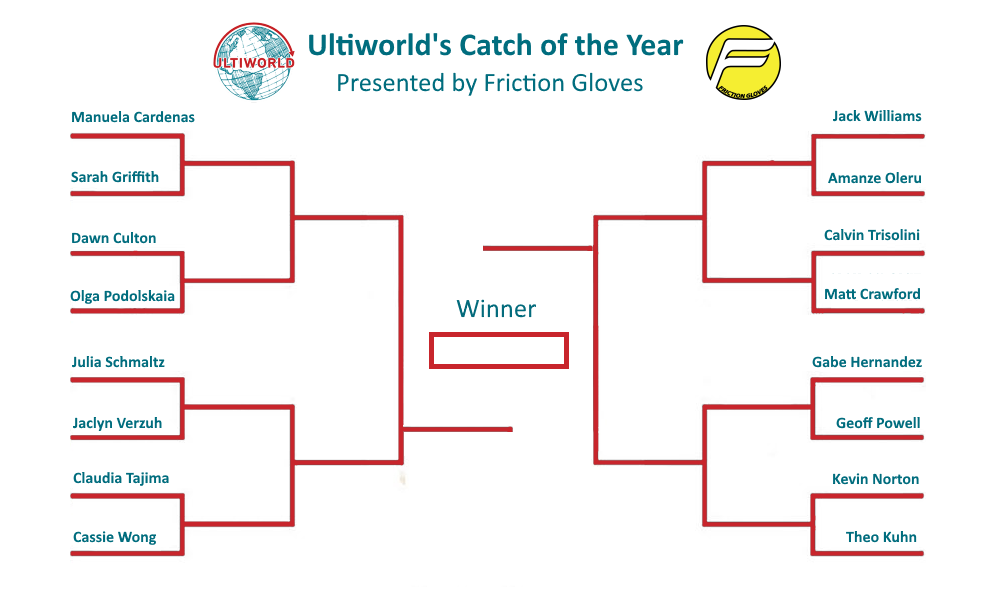 Another year, another set of insanely impressive catches. 2017 produced a plethora of jaw-dropping highlight snags, both from big name stars in the season's biggest tournaments and from previously unknown players whose moments of individual brilliance happened far from the limelight. We've done our best to surface them all and went through the brutal process of culling them down to a list of 16 finalists — and truthfully, there were some absolutely stellar nominees that didn't make the cut. But now it's your turn to weigh in.
Over the next week, we're inviting you, the Ultiworld readers, to select the Catch of the Year. Check out all of the nominees and vote below, then check back to see which clips advance for another opportunity to vote.
The first round of voting starts now and closes on Wednesday, January 17th, at 5 PM Eastern.
Round 1
Matchup 1: Cardenas vs Griffith
Manuela Cardenas – Colombia (World Games)
The success of the Colombian women against North American opposition was one of the biggest and most surprising story lines in the sport in 2017. Perhaps no single moment better encapsulates that story line than Manuela Cardenas winning a battle against a bidding Mark Lloyd to seal Colombia's double game point pool play victory over Canada at the World Games.1
Sarah "Surge" Griffith – United States (World Games)
The Colombians weren't the only impressive women at the World Games. At the same tournament, the US's Sarah "Surge" Griffith ran down a long George Stubbs huck and set the Americans up for a goal against their South American foes with a massive layout grab just outside the endzone.
Matchup 2: Culton vs Podolskaia
Dawn Culton – Triangle Warhawks (YCC U20 Girls)
In the final of the Youth Club Championships, the Triangle Warhawks were in a tight game against a DC Rogue squad that had previously handed the Seattle girls their first-ever loss at YCC. Midway through the first half, with North Carolina on the hunt for a break, Kate Lanier sent a forehand to the corner of the endzone that appeared destined to be blocked by Rogue's Caroline Tornquist. But Dawn Culton bid past her defender to snag the goal. Culton's catch earned Triangle a one-break lead they would not surrender the rest of the game en route to the program's first title.
Olga Podolskaia – Russia (WCBU Women's)
Sometimes, highlight plays are lent extra weight based on the moment and context. While it's never easy to catch a disc off a deflection, it's even harder when it's on double game point in the final of a world championship tournament when you're trying to upset the country that has utterly dominated international competition since the sport's inception. Podolskaia managed just that, bidding to snag a disc off of the US's Cree Howard, sealing a victory for the Russian women and preventing the Americans from sweeping yet another world championship event.
Matchup 3: Schmaltz vs Verzuh
Julia Schmaltz – Texas Melee (USAU Women's D1 College)
In almost any other era, Julia Schmaltz would be far and away the most physically imposing player in women's college ultimate. This past spring at the Stanford invite, Schmaltz flexed her considerable athleticism to pluck away a pass she had no business catching, going up, over, and around a defending Naomi Morcilla who held a far better position and line to the disc. The play was captured in a series of photos from Steve Kotvis that became one of the iconic images of the college season and cemented Schmaltz's bona fides as a POTY frontrunner and surefire first team All-American.
Jaclyn Verzuh – Dartmouth Princess Layout (USAU Women's D1 College)
At this point, it is nearly impossible to pick just a single Jaclyn Verzuh highlight catch as her "best" of the year. In her 33 goal haul (!!!) at the 2017 College Championships she made dozens of grabs that dropped the jaws of fans and opponents alike. But her trailing edge layout in the final may have been the only one where she surprised even herself. Check out her face as she pops up from what may have been the play of the tournament.
Matchup 4: Tajima vs Wong
Claudia Tajima – Boston Brute Squad (USAU Women's Club)
Claudia Tajima's toe-the-line grab from the final of the Pro Championships is the type of catch many people dream of making as they start playing ultimate. The fact that it was so perfectly captured and framed on film — from multiple angles no less — made it one of the more indelible plays from the club season and saw it climb all the way to #1  on espnW's weekly top 10.
Cassie Wong – Boston Brute Squad (USAU Women's Club)
With Brute Squad's season on the line in Sarasota, Angela Zhu sent a high-stall forehand to the back of the endzone praying a teammate would come down with the desperation look. Up against one of the toughest, most athletic defenders in the country, Boston's Cassie Wong elevated over Fury's Opi Payne and absorbed body contact to come down with a grab that sent the women's national club final to double game point.
Matchup 5: Williams vs Oleru
Jack Williams – UNC Wilmington Seamen (USAU Men's D1 College)
Few will forget the one-man show Jack Williams put on under the lights in Mason, OH last May, as he dragged his UNC Wilmington team back from a 12-8 deficit to claim semifinal victory over his toughest rivals. For the first break of the Seamen's epic comeback, Williams gave us the poster-worthy highlight of the game, skying to come down with a huck while sandwiched between two defenders, Matt Gouchoe-Hanas and Nick Macleod helpless to stop Wilmington's talisman.
Amanze Oleru – Seattle Bankroll (YCC U20 Mixed)
The stars of YCC may not yet be terrorizing the college division, but their exploits are no less impressive. After sneaking free deep, Seattle's Amanze Oleru went WAY up to haul in a sailing huck, allowing his squad to punch in a game-tying score late in the YCC U20 Mixed final's first half.
Matchup 6: Trisolini vs Crawford
Calvin Trisolini – Philadelphia AMP (USAU Mixed Club)
Not all catches require a huge layout or sky to be extraordinary; being able to read and adjust to a disc's flight in a swirling wind is equally impressive. In a mixed division semifinal in Sarasota, Calvin Trisolini was preparing himself to leap for a huck when the wind suddenly pushed the disc straight down, leaving it short of Trisolini's cut and now in reach of two trailing defenders. The AMP star youngster2 made a quick adjustment to come back toward the throw, squeeze through traffic, and snag the plummeting disc; his casual demeanor both during the catch and with a lefty backhand flip into the endzone to complete the point made the difficult play look downright routine.
Matt Crawford – San Jose Spiders (AUDL)
In a display of focus and dexterity reminiscent of Josh Markette's Catch of the Year nominee last season, the San Jose Spiders' Matt Crawford makes an incredible grab off a blocked dump pass in a game against their local AUDL rivals, the San Francisco Flamethrowers.  With the disc tumbling end over end toward the turf, Crawford was able to time his layout perfectly to snag the leading edge and save possession.
Matchup 7: Hernandez vs Powell
Gabe Hernandez – Stanford Bloodthirsty (USAU Men's D1 College)
When Stanford's Gabe Hernandez found himself caught in the open side lane, he took off deep to clear the space. Despite a poaching defender helping over the top, a huck went up anyway, traveling fast and low and tailing toward the covering deep defender. Not only was Hernandez able to find and read the trajectory of the disc as it whizzed directly over his head, he was able to adjust his cut, get beyond the last defender, and then maneuver around him back toward the disc for a fantastic grab he was never favored to complete.
Geoff Powell – Canada (World Games)
When Mark Lloyd cocks back to rip a forehand, few throwers can power the disc from one end of the field to the other quicker. Against Australia at the World Games, Lloyd unleashed an absolute cannon of a huck off a stopped disc — endzone to endzone — that pushed Geoff Powell to the absolute limits of his speed. Going full tilt for nearly 50 yards, Powell was able to track down Lloyd's bomb, saving it just millimeters from the grass and putting Canada up 12-8.
Matchup 8: Norton vs Kuhn
Kevin Norton – New York PoNY (USAU Men's Club)
For all the subtlety and situational context that makes other nominees in this bracket noteworthy, sometimes a catch is dramatic by dint of pure, raw athletic power. At the Pro Elite Challenge, PoNY's Kevin Norton proved just that with this ridiculous layout grab against Sockeye. After a half second of stunned silence, the audible "oohs" emanating from the crowd3 as Norton descends from high earth orbit convey everything that needs to be said about this catch.
Theo Kuhn – Yale Superfly (USAU Men's D1 College)
Theo Kuhn's similar disregard for gravity earned the Yale junior a spot on Sportscenter's Top 10 in October. His amazing layout goal against Boston University was a game-winner at the Cayuga Classic.
---
Kudos also to Lloyd who made an incredible block attempt with a perfectly clean bid in a situation that could have been pretty dangerous. ↩

one of many, really ↩