Our Friday Five takes a look around what's caught our eye in college ultimate, including Carleton Syzygy's rookies, the QCTU Men's format, and how we look at D-III upsets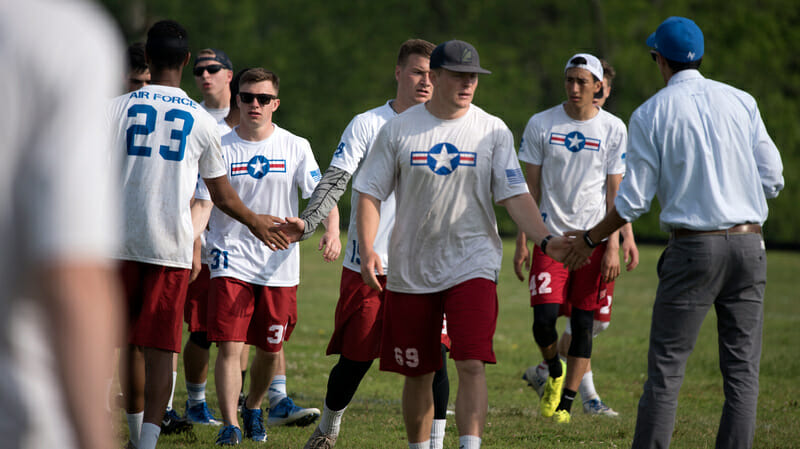 This season, we're trying something a bit different. Every Friday, our team will look at the exciting stories, teams, players, events, quirks, and all the inbetweens, and highlight five that have them hyped for the weekend of ultimate to come. Check out what's caught our eye and let us know what you're looking forward to in the comments.
This Week's Roster
Simon Pollock, Managing Editor
Sam Echevarria, D-III Women's Editor
Mike Ball, D-III Men's Editor
Keith Raynor, College Content Manager
Pat Stegemoeller, D-I Men's Reporter
The Five
Simon: Rools Korner
Working my away across the men's fields at the Santa Barbara Invite last weekend, I paused near an endzone to watch a couple of points between teams I'd yet to see. A huck came flying my direction and tailed out of bounds. A player for the team now with possession hustled to retrieve the disc and stepped onto the field with his mark approaching. The thrower squared himself downfield. The mark reached out his hand to tap the disc into play.
And then the thrower moved the disc away and avoided the tap. He kept his eyes downfield. Shouted something. The mark, whether entirely aware of what was happening or not, waited patiently. Two or three seconds passed idly by.
The thrower rotated the disc back in front of his body, received a tap from the mark, and the stall count began. I slowly walked away, spiraling into a short existential crisis.
I know it's early in the season everyone. But c'mon. Teach your team the rules.
Sam: I Heard it Through the (Google Forms/Twitter) Grapevine
This week I've been largely focused on getting our D-III Women's Primer ready to pump up the community for the oncoming season of college ultimate—spoiler alert, the road to Nationals is going to be more intense and exciting than ever. Putting together the Primer means a lot of reaching out and info gathering about the teams we cover, and you never quite know what to expect captains, coaches, and players to put in their Google Forms responses. In general, I enjoy and hope for a combination of the good (exciting rookie pickups), the bad (injuries, the slow march of time known as graduation), the novel (new coaches, bold strategies), the realistic (setting a reachable goal of making Regionals a priority), and even the heartwarming (no, Truman State, you and everyone else who filled out my survey 'da real MVPs').
Of course, one bit that caught my interest: mentions by a few different teams of a rumor that the Middlebury Lady Pranksters are electing to go D-III in 2018. Could the rumor be true? Will another team join the fray in a stacked New England region? Or will it turn out to just be a bunch of random words on the internet? Goodness knows I've done my fair share of Twitter, Facebook, and USA Ultimate archive stalking to try to determine the truth; if you have any details or a Lady Prankster is reading this, leave a comment or drop me a line. And to any D-III Women's team I didn't manage to reach, is brand new, and wants to get on our radar (or in general wants to help push our coverage to be better for the division), I prefer to get my public callouts via Twitter.
Update: and we are #confirmed!
Mike: Time To Drop The Inferiority Complex
It seems as if, every year, there are several moments throughout the season where a D-III school beats a notable D-I program, and everybody flips out about it being an upset. I understand the sentiment; there's an inherent "David vs. Goliath" feel every time a small school faces off against their large university counterparts.
However, I'm challenging my D-III community to expect more out of themselves this season. Upsets should certainly be celebrated, but here's the thing: there are some legitimately good teams playing in the division now, and it's not an upset when these teams win. We shouldn't allow our status as small schools to create this inferiority complex where we feel the need to have a huge celebration for every win over a top 50 D-I opponent.
These wins are going to occur this season. A lot. It wasn't an upset when #1 Air Force beat Oregon State to win Flat Tail Open two weeks ago; Air Force is the third best team in all of the South Central this year, in my opinion, and can contend with any D-I program. Going back and watching the film, I don't even think #8 Carleton GoP's win over Central Florida was an upset. GoP missed some real chances to make that margin of victory much larger.
We're going to see more of these wins this weekend. #14 UNC Asheville is going to beat some teams at Queen City Tune Up. #4 Richmond, #10 Dartmouth, and even unranked Williams (who we have just outside our top 25) are going to beat up on some D-I teams at Mid-Atlantic Warmup. I'll be keeping an eye out for all of these wins.
And they won't feel like an upset to me when I see them. Not one bit.
Keith: Carleton Syzygy's Rockin' Rookies
Carleton is no stranger to bringing in pre-assembled freshmen players with heaps of youth experience. It's kind of the Carleton way, really. Last year's rookie class was already strong and is a big reason why they sit at #7 in the Ultiworld Power Rankings. But this year's crop, featuring the dynamic duo of Nariah-Belle Sims and Isabel Arevalo, is worthy of your attention. I know they'll have mine at Queen City Tune Up 2018.
Sims and Arevalo are going to be impact players from day one. Each represented USA with the U20 National Team in Poland in 2016. While they hail from disparate places – Sims from Seattle and Arevalo from Atlanta – they are both from powerhouse ultimate programs, Lakeside and Paideia, respectively. There might not be more talented and accomplished freshmen in the entire women's division (other than Dartmouth's Claire Trop). And these two will be cleating up, together, for a team that made prequarters at Nationals in 2017.
Syzygy lost a lot of vets from that team and that means plenty of opportunity for both rookies. Both can cut or handle. Last year's rookies were also versatile, and this team has some interesting potential role permutations. I'm looking forward to seeing how they fit in, and if they can help break the streak of Carleton's season opening losses, which stands at three. We'll find out when they face Michigan in round two tomorrow.
Pat: The "No Five In a Row" Rule
Can't decide which part of the "five games, no byes" pool play format at Queen City Tune Up I'm more excited about: exhaustion-fueled injuries or shortened rounds getting time capped at scores like 9-7.
It's just not acceptable for a tournament, particularly one of this magnitude that is trying to attract high caliber teams, to have this sort of format. The health risks to players are clear – check out the stats from the AUDL showing the connection between playtime and injuries – and the product is terrible, as teams tank games to save legs, or don't and simply run out of gas.
The only silver lining is that it could lead to some weird results and let an underdog team into the bracket if a higher seed decides to rest their players for a game and takes a surprise loss. But even that will mean that we get fewer high profile matchups in the bracket on Sunday. Thumbs down all around to this format.