Your definitive guide to the 2018 D-III men's division.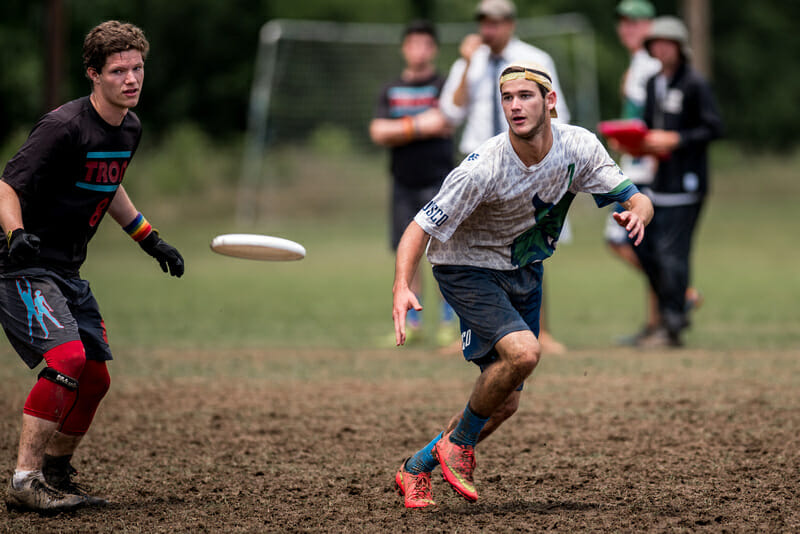 This article is presented by Spin Ultimate; all opinions are those of the author. Please support the brands that make Ultiworld possible and shop at Spin Ultimate! 
The 2018 season is off and running. With it comes a list of headlines, players to watch, and regional storylines. We've argued over top teams to watch, asked the questions that most bugged our reporting staff heading into the year, and sorted all of it into a one-stop shop. Who's going to stop Air Force Afterburn? What will Nathan Vickroy's return mean for Georgia College? How will the bids shake out this year?
We present to you the 2018 D-III College Men's Season Primer.
Stories To Watch
Bid Watch: Distribution Of Wealth?
Top college teams enter the season every year with the same goal: earn a bid for your region, then keep that bid to earn a ticket to Nationals. This arduous task is even more difficult for D-III teams since only 16 teams go to Nationals, meaning there are only six strength bids as opposed to the ten available to D-I teams.
In 2017, these limited resources were cornered by just three regions: the Atlantic Coast, New England, and South Central. Each earned two strength bids last year, and it looks like they'll be in contention to do it again in 2018. Ten of our preseason top 14 teams come from one of those three regions. The Ohio Valley and North Central barely missed out on landing a second bid last year; can they take some of the wealth this year?
Teams Deciding Between D-I & D-III
As the quality across D-III ultimate continues to rise, more and more teams who are eligible for the division but have traditionally played D-I are making the switch to D-III. In 2016, it was Colorado College Wasabi who made the switch. In 2017, Dartmouth Pain Train and the Shippensburg Scapegoats made the late decision to take the D-III path. In 2018, the Whitman Sweets have announced that they'll be competing with an eye on a D-III national championship.
While teams making the change from D-I to D-III have historically either made Nationals or been in serious contention for a bid, it's important to note that none of the above teams made it further than quarterfinals of Nationals. Will the Sweets be the ones to break that trend? Led by Seattle Voodoo and Seattle Cascades player Robbie Farwell, the Sweets will certainly enter the season as the favorite in the Northwest.
Dynasties Coming To An End?
The last few years have seen a few dynasties arise. The departure of some incredibly strong senior classes in 2017 leave us wondering what the futures of those programs look like, particularly for #6 Bryant Craze and #17 Franciscan Fatal.
It's been an incredible four years for Bryant. Led by Jacob Garfinkel, Thomas Belger, and the rest of a strong class of 2017, Craze went to Nationals four straight years, reaching the semifinals twice. Entering this fall, we had no idea where Bryant would stand. A strong performance at Lobster Pot shows that Craze has perhaps reloaded. They are one of the few D-III programs to field a B-team. This developmental asset creates depth and continuity, and senior Alex Kenworthy will more than ably fill Garfinkel's shoes as the team's star. Bryant should be firmly in the conversation for a return trip to Nationals once again.
Unfortunately for Franciscan, the immediate future of the team doesn't look quite as positive. Dominic Schuster, Stephen Babcock, and Jay Ratajczak carried an incredibly large workload for Fatal last year. Combine that with the loss of JP Bort and four other seniors or graduate students, and Franciscan is returning just twelve players from the 2017 roster. James Downs leads a solid class of six seniors in 2018, but these players are going to be asked to play roles well beyond their comfort zone. Until Fatal proves otherwise, it looks like there will be a new champion in the Ohio Valley this year.
Connectivity On The Rise
One of our storylines heading into the 2017 season was the concern across the division for where connectivity would come from. Tournaments like D-III Warm Up and D-III Easterns ceased operations last year, leaving a major void for tournaments focused on bringing together elite D-III competition from across the country. In 2018, a couple of tournaments have risen to the challenge of providing this connectivity. Their projected fields look competitive.
D-III Midwestern Invite is a tournament that has been good in the past, but a move backwards in the calendar to the middle of March has seen an uptick in participation from teams around the country. This year's tournament, taking place March 16-18, features teams from eight of the 10 regions, including six teams from our preseason Top 25. Hosting the tournament several weeks later than usual should lead to better weather and bid implications for several regions.
Hosted by defending national champions Richmond, D-III EastUR is shaping up to be the most impactful tournament for bids to Nationals. Taking place on the last weekend of the regular season and, up to this point, featuring four of the top 12 teams from our preseason rankings, bids could be won or lost for regions on a point-by-point basis. As the rest of the team list gets filled out, we'll get an even more clear idea of the bid implications coming from D-III EastUR.
Factor in the various tournaments that feature a handful of D-III teams mixed in with D-I competition, and we should see a decently high level of connectivity in the division in 2018.
The Donovan Award Returns For Year Two
In its inaugural season, Ultiworld had realistic expectations for the Donovan Award. We hoped for a few handfuls of nominees and maybe a few solid videos. Instead, we ended up with 35 male nominees and a bunch of good videos that highlighted just how much talent there is in the division. Henry Babcock deservingly took home the first ever Donovan Award; who will take home the award in year two?
Most teams (rightfully) nominated a senior for the award this year, but there are a handful of returning nominees that should be in the conversation for the award if their teams choose to nominate them again. Georgia College's Nathan Vickroy and Mary Washington's Zac Norrbom both return for their fifth year of eligibility. Shippensburg's Zac Sands will be looking to lead the Scapegoats to D-III Nationals and should get his team's nomination again. We'll be excited to see who all of the nominees are for this year's award and how their teams will promote their candidate.
Regional Storylines
Atlantic Coast
2017 was the best season we've seen from the Atlantic Coast. Richmond won its first national championship and its first Donovan Award. Davidson finished strong in a competitive final that wasn't decided until late in the second half. All of this was accomplished by a region that was rewarded with three bids to Nationals for the first time. The Atlantic Coast should have plenty to look forward to this season.
The #4 Richmond Spidermonkeys remain on top of the region for now, and a solid showing by #5 Davidson DUFF this fall suggests the potential for more success this season. Behind them are #9 Mary Washington Mother of George and the #14 UNC Asheville Bulldogs, two teams boasting two of the most talented players in the region in Zach Norrbom and Jacob Warshauer. The Atlantic Coast remains a strong favorite for three bids this year and potentially four if Mary Washington and UNCA perform well during the regular season.
As with the past two years, the Atlantic Coast will likely offer some of the best offensive systems in the country. The solid coaching of Matt Graves (Richmond), Kyle Silva (UNCA), and Ken Porter and Eric Hillis (Davidson) creates the potential for excellent games at Regionals and beyond. EastUR will be the biggest in-region tournament to watch this season before Regionals, and it will be a critical point for teams to earn or lose strength bids. As in seasons past, it will be interesting to see how teams cater their seasons to fit into the bid picture. Anything less than four bids is going to result in a deserving team being heartbroken on Sunday of Regionals.
Great Lakes
Just two years after sending three teams to Nationals, the Great Lakes has, for the most part, become a one-bid region. Only two teams, the #11 Wheaton Mastodons and the Knox River Rats finished the season in the USAU Top 40 last year. Wheaton dominated the region and looks likely to do the same this year. Laramie Aspegren returns as an explosive, playmaking cutter who will fuel the team downfield and looks to be a key component for Wheaton continuing success this year. In addition to Aspegren, Wheaton returns a boast of talent in guys like Jonah Karls, Holden Thompson, and Jacob Van Dyke. With team goals beyond just qualification, Wheaton looks destined for a third straight Nationals appearance.
A handful of teams stand in Wheaton's way. The North Park Lost Boys played the Mastadons within just a couple of points in the fall and are a historically strong team who have been lacking over the last couple of years. With a couple of YCC players entering for their first season, North Park has the talent to be impactful on the region. After barely missing Regionals last year, the Olivet Nazarene Black Penguins return as a large, well-coached team, hoping to make an impact on the region.
Metro East
For the most part, the Metro East is an unknown slugfest. Last year, #15 Army West Point emerged from the Metro East brawl as champions, and represented the region well at Nationals.
Montana Bilger returns to provide leadership and athleticism to the Army team that won last year. As a team that thrives on athleticism, Army will almost always be able to rely on the long ball when things get a bit hairy on the field. Wesleyan Nietzsch Factor and the Hamilton Hot Saucers look to both be growing programs who came up just a bit short of taking down Army at Regionals last year. SUNY-Geneseo Snail are perennially solid and will be in the mix once again, and RPI Trudge had a strong fall under the coaching of David Ferraro.
The Metro East has traditionally been the region with the most turnover from year-to-year. The region has sent a different representative to Nationals for each of the last three years. Since 2012, six different schools have represented the Metro East Region at Nationals. Will we see another school join that list?
New England
New England has offered plenty of great teams but no national title since Bentley Icehouse clinched a championship in 2014. #6 Bryant Craze has had excellent runs over the last four years, but once again came up short in the semifinals against Richmond in 2017. New England has had teams knocking on the door, though, and with #10 Dartmouth Pain Train joining the pack in 2017, the depth of New England has continued to expand. Whether the region will offer a championship contender remains to be seen, but fall results were promising, particularly for Bryant.
With Jacob Garfinkel out of the picture, Bryant's direction now lies in the hands of seniors Alex Kenworthy and Cameron Jack. Craze's conditioning has helped make them a fearsome defensive squad in years past. Their athletic four man cup and love for the fast break was a trademark of the team in 2017. This season, Bryant will need to find its form on offense and become more versatile on defense in order to seize its title dreams. We know they can play zone, but that hasn't gotten Craze past the semis, and New England squads will no doubt be on the lookout for Bryant's telltale defense this season.
Alongside Bryant, #3 Middlebury Pranksters, #7 Amherst Army of Darkness, and Dartmouth are poised to be in the bid picture for the NE region. Middlebury finished the regular season as the #2 team in the country in 2017, but couldn't navigate a tough NE Regionals to qualify for Nationals. Dartmouth made the transition to D-III last year and thrived with a very effective horizontal offense until they ran into Richmond in quarterfinals. Amherst will be looking to return to nationals and more after losing out in pool play with many of their seniors missing nationals for graduation.
The New England region probably boasts the most depth from top to bottom, and Regionals are always madness. They'll be hoping to land the maximum four bids this year to send as much of that depth as possible to the big show in Rockford.
North Central
St. John's squeaked by #8 Carleton GoP in a double game point victory in the regional championship in 2017, largely in part to the strength of Charlie Schuweiler. This year, with the departure of Schuweiler, the region is once again up for grabs.
As usual, the Carleton GoP program looks strong. Senior Abe Eichner leads the team, loaded with additional fourth-year talent. Carleton has a history of putting out strong programs, and this year looks no different. GoP have already made an early season splash, defeating Central Florida at Carolina Kickoff to start the year. With a load of talented juniors and seniors, it is hard to imagine Carleton GoP missing Nationals again.
St. John's looks to set up for a competitive year, led by seniors Colton Motschenbacher and Alec McFarlane. The big question for SJU is whether or not they will be able to replace the throwing prowess of Schuweiler. Filling that role will be a key part of a complete season and a run at Nationals.
The rest of the North Central is growing in strength and competition. This year four teams are traveling to D-III Midwestern Invite in search of a bigger challenge and more program experience. The St. Olaf Berzerkers were very competitive within the region last year but missed Sunday of Regionals to attend campus protests of institutionalized racism. Michigan Tech Discotech is a growing program, led by Brendan McCann, who took fifth in the region last year. The Grinnell Grinnellephants struggled for a lot of last year, but they have a longstanding program with a lot of tradition backing it.
If the region once again only lands one bid, then expect GoP to dominate on their way to Rockford. But if they can manage a second bid, the competition for spots in the game-to-go will be fierce.
Northwest
Last year, #18 Portland UPrise knocked off perennial Northwest powerhouse Lewis & Clark Bacchus to win the region and claim the lone spot at Nationals. There was more in-region parity than ever last year.
The biggest news out of the Northwest in 2018 has to be the addition of the #19 Whitman Sweets to the mix. Whitman boasts D-I experience, playing in high level tournaments like Stanford Open and D-I Regionals last year. Combine the experience of playing D-I teams with talented players like Robbie Farwell, and Whitman certainly seems to be the new face of the Northwest region.
The rest of the region is filled with potential, looking to take down Whitman. Last year, Portland showed that they can compete with anybody, took down Lewis & Clark, and qualified for Nationals. Lewis & Clark has proven themselves year after year as a powerhouse in the Northwest region, and the team looks to play a factor in the postseason. The #20 Puget Sound Postmen, Whitworth Bangarang, and Pacific Lutheran Reign are all teams that were competitive with one another at the Conference Championships and could play a huge factor in deciding who qualifies for Nationals.
With yet another strong program in Whitman joining the fold, the Northwest will hope for a strength bid this season. Teams are showing they're willing to put in the work necessary to earn that bid, with Whitman and Pacific Lutheran making the trip to D-III Midwestern Invite this year. How will they match up with the rest of the country before Nationals?
Ohio Valley
After years of dominance by #17 Franciscan Fatal in the Ohio Valley Region, it finally feels like the region is up for grabs again. The departure of division stalwarts Dom Schuster, Jay Ratajczak, and Stephen Babcock opens a window of opportunity, at the least. Last year, #12 Shippensburg Scapegoats made a splash on the scene, finishing 16th in the USAU rankings, just outside of earning the region a second bid. At Regionals, Shippensburg played Franciscan in an epic semifinal game that saw Franciscan squeak out a 16-14 victory.
Despite the new faces for Franciscan, they still seem to be the talk of the region. Returners James Downs, John Clemente, and Matt Mirabello look to play a large part in leading the team.
The rest of the region is filled with talented teams looking to take the next step. Haverford Big Donkey took second in the region last year but might slide after the graduation of their star Donovan finalist Calvin Trisolini. Cedarville Swarm, Xavier BLOB, Messiah Falcons, and Wooster RamJam are all established programs looking to make moves this year. If the region can finally land that elusive second bid, Regionals will be even more intense than usual.
South Central
The South Central is set to, once again, be one of the strongest regions in the country. With #1 Air Force Afterburn and #2 Colorado College Wasabi topping the Ultiworld Rankings, all eyes should be on be on the South Central.
Air Force looks to be one of the nation's best teams, returning a load of talent including Alan Villanueva, Trevor Browning, Matt Moshea, and Noa Chun-Moy. With the goal of winning Nationals, Air Force has their sights set as high as possible this season. Newcomers Connor Grant and Robert Warner have proven themselves throughout the fall and look to be solid contributors.
Colorado College also returns loads of talent and experience. Fifth-year cutter Phillip Korolog returns as a key-piece in their system, along with powerful handler Justin Bair. This year, Colorado College is looking to put a lot of time and effort into player development. Freshman YCC players Ben Brandt and Chris Pleasance should add a lot to the handling core for Colorado College.
#13 John Brown Ironfist lost a lot of top-end firepower but have proven themselves time and time again as one of the nation's strongest programs.
Outside of those three, there wasn't much competition within the region last year. Rice is a consistently strong program and could prove to be tough competition for anyone who doesn't bring their their A-game. However, expect the region to boil down to the big three once again.
Southeast
The departure of Alabama-Huntsville to D-I, the return of Nathan Vickroy to #16 Georgia College Disconnected for a fifth year, and the growth of the bottom end of the region sets up a tight contest for the Southeast title.
Nathan Vickroy returns as an elite talent for Georgia College. In 2016, he burst into the elite level of the DIII game. Throughout the 2016 College Championships, he made huge plays, leading Georgia College to a National Championship. But last year, a shorthanded Georgia College team and a hobbled Vickroy fell to #22 Union Jaxx in the semifinals of Regionals. Now, with semi-pro experience from a season with the AUDL's Atlanta Hustle and a trip to Club Nationals with Florida United, Vickroy returns better than ever, and the team looks to make a return to Nationals.
Union has been a growing program for the last few years and finally look to be ready to compete at the national level. This fall, they traveled out of region to gain experience competing against top programs they hadn't seen before. This spring, they will attend D-III Midwestern Invite and take advantage of the chance to play against some of the nation's top teams before Regionals. Last year, they fell just short of a Nationals appearance, losing to Alabama-Huntsville in the Southeast Regional Championship. With UAH out of the picture, Union enter this season as the favorites to win the region and make the trip to Rockford.
The rest of the region has seen tremendous growth in recent years. With more and more teams popping up in the region, the level of competition has continued to grow. The North Georgia Nighthawks and Samford Dogma are just a couple of teams with growing programs in the region. As the floor of the region continues to rise, look for the top teams to improve even more.
Southwest
The smallest region in D-III Ultimate, the Southwest only had three teams compete last year: #23 Occidental Detox, #24 Claremont Braineaters, and Caltech Aftermath.
Dominated by Claremont from 2012-2016, Occidental finally made the breakthrough last year to claim the Southwest regional championship. The team hopes to continue that success after graduating just four players from last year's Nationals roster. Adam Grammar was an impactful player for Occidental, and a large part in keeping games competitive. Grammar returns for his senior year and hopes to push Occidental for a second straight nationals appearance.
It's hard to imagine Claremont falling off the map for too long, though. Expect the team to return to their normal form this year and have a strong chance of winning the region. With very little connectivity to other regions, the Southwest is a bit secluded. The winner of the Occidental-Claremont matchup will likely end up being the one to get a spot in Rockford this year.
Player Of The Year Watchlist
Alan Villanueva (Air Force)
Last year, Alan Villanueva burst onto the scene with a terrific sophomore year. He became a leader for Air Force and a major contributor to the team's success. With a variety of skilled throws and excellent prowess in the air, Villanueva should be in consideration for Player of the Year this season.
Phillip Korolog (Colorado College)
As a fifth-year senior, Phillip Korolog will be very valuable for Colorado College. The extra year means that Korolog will bring a wealth of knowledge to the field. Combine his experience with his top-level speed and throwing ability, and Korolog is a force to be reckoned with. Watch Korolog throughout the season as he powers the O-line of Colorado College Wasabi.
Dylan Salzman (Middlebury)
Entering his junior year, Dylan Salzman's strengths are well-known. He's slippery in the reset space, and he has every throw in the book. Where Salzman's game can take the next step is by cleaning up his decision making; for every few stretches where Salzman took over a game last year, there would also be a stretch where his choices would dig Middlebury into a hole they couldn't get out of. If Salzman can become more consistent and lead the Pranksters back to Nationals, he'll be in POTY contention.
Alex Kenworthy (Bryant)
Bryant graduated an incredibly talented senior class in 2017, but Alex Kenworthy is ready to step into the void they left. Already incredibly productive at Nationals last year with 13 goals, nine assists, and four blocks, Kenworthy should only see a statistical increase with the additional responsibility he'll have in 2018. Kenworthy is an athletic 6'1″ who can play both ways. Look for him to be the force behind Bryant's return to Nationals in 2018.
Abe Eichner (Carleton GoP)
To put it simply, Abe Eichner is one of the best handlers in the division. He has all of the fundamental throws you'd want from a center handler as well as some of the trickier shots that really open up the field. Eichner isn't particularly athletic, but he's crafty and intelligent with his movement, allowing him to get open for resets in a variety of ways. His throwing ability in the erratic weather of the North Central will be key for GoP to return to Nationals, and even more important in the winds of Rockford once they get there.
Zach Norrbom (Mary Washington)
Zach Norrbom has proven himself as a player to watch in the Atlantic Coast. This year, with sights set on Nationals, Norrbom has the chance to make a name for himself on the national level. A great player all over the field but particularly dangerous in the handler space, Norrbom can really take control of the game. He returned for a fifth year with the goal of getting Mary Washington to Nationals; should Norrbom play to his potential, we should see Mother of George in Rockford.
Nathan Vickroy (Georgia College)
Anybody who was in attendance for the 2016 D-III Championships will understand why Nathan Vickroy is on this list. Simply put, when he's engaged and playing at 100%, there's not a matchup in the division who can stop him. He has the ability to throw his receivers open by hitting spaces defenders just can't cover, and he's one of the best athletes in all of college ultimate. If he can stay healthy and lead Georgia College back to Nationals this year, the Player of the Year award will be his to lose.
Keep An Eye On:
Chris Selwood (Richmond)
Laramie Aspegren (Wheaton)
Grant Bruner (John Brown)
Zach Sands (Shippenburg)
Robbie Farwell (Whitman)
Fawzi Itani (Amherst)
Jacob Warshauer (UNC Asheville)
Major Tournaments
If your team has their 2018 tournament schedule set, please email it to [email protected] to help build our comprehensive list for tournament coverage. Thanks!
Stanford Open, February 10-11
Notable Teams: #1 Air Force, #2 Colorado College, #8 Carleton GoP, #19 Whitman, Lewis & Clark
Bring The Huckus 9, February 24-25
Notable Teams: #3 Middlebury, #15 Army, Williams
D-III Midwestern Invite, March 16-18
Notable Teams: #1 Air Force, #2 Colorado College, #11 Wheaton, #19 Whitman, #22 Union, #25 Brandeis
D-III EastUR, March 30-April 1
Notable Teams: #3 Middlebury, #4 Richmond, #9 Mary Washington, #12 Shippensburg