Despite a rainout on Sunday, there's plenty to talk about coming out of QCTU.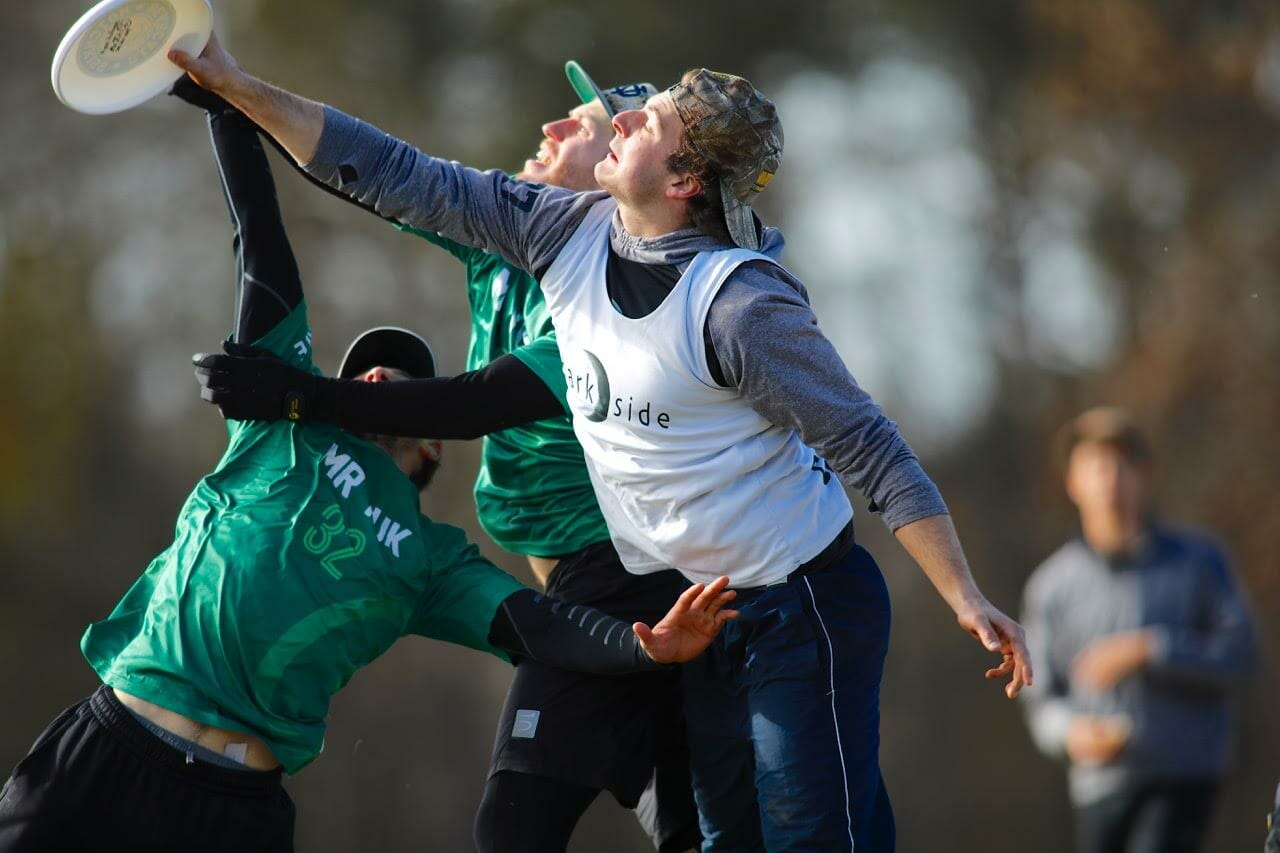 This article is presented by Spin Ultimate; all opinions are those of the author. Please support the brands that make Ultiworld possible and shop at Spin Ultimate! 
CHARLOTTE, N.C. — Championship Sunday of the 2018 Queen City Tune Up was a wash, literally, as near-freezing temperatures and pounding rain forced the TDs to cancel bracket play about an hour into the first round of the day. Without meaningful games in the championship bracket and only a few big matchups actually playing out on Saturday, what can we take away from the abbreviated tournament? Here are a few points.
UNC Is Really That Good
The number one seed at the tournament, #2 North Carolina Darkside, are living up to the hype and then some. The defending QCTU champs cruised through Saturday, and there were points when their offense was literally jogging down the field and scoring. There were some early season issues with decision making, particularly from their huck happy D-line offense, but any struggles the team had seemed to be more a product of boredom from the lack of a real challenge than anything else.
It's hard to tell what can be taken away from Sunday's games, as they were played in absolutely horrid conditions, but UNC faced their toughest challenge of the tournament in #6 Massachusetts and were on top when the game got called. The difference maker was a clear edge in overall throwing ability from Darkside, even in the torrential downpour. The skill level and talent all the way down the roster was evident, and relatively unheralded players had a huge impact for the team. Alex Davis, in particular, stood out, showing his speed to haul in goal after goal in the deep space.
Perhaps the most impressive thing about this weekend is that Carolina did all of this without their best player, Matt Gouchoe-Hanas, as well as Walker Matthews, Anders Juengst, and the nation's top recruit, Liam Searles-Bohs. Integrating these players back into the team may be an interesting problem for the Carolina coaching staff, but it's the kind of problem you want to have.
AC Could Get Four Bids
With North Carolina, UNC Wilmington, and Virginia Tech all winning their pools while NC State went undefeated against out-of-region opponents, it was a good tournament for the Atlantic Coast.
#8 UNC Wilmington showed they have talent across the squad, and that their defense is going to a be a problem for opponents all season. The Seamen are replacing top talent with depth this year, and there doesn't seem to be a weak link anywhere on their D-line for other teams to target. On narrower than usual fields and in chaotic playing conditions, Wilmington's defense thrived.
Their record might slightly oversell their performance, especially because that Sunday result against #5 Michigan Magnum showed more about their sheer grit than their skill and ability. The offense still needs some work, but if they can improve on that end over the course of the season, they will be in good shape.
#25 Virginia Tech Burn might be the biggest team in the college division. With All-American Joe Freund setting the tone, Burn made the most of their athleticism and size to win Pool C by upsetting UMass and coming back from three breaks down against Maryland. Tech rolled out an impressive 3-1-2-1 zone–that was admittedly benefited by the smaller than regulation fields — to jumpstart their revival against Maryland. Putting their most athletic players behind the cup, Tech racked up a number of fantastic layout blocks and towering skies when Maryland tried to find soft spots downfield. Rhys Bergeron was all over the field making plays and led the team off the turn. A loss against Pitt exposed Burn's offensive limitations: the execution of their handlers and general organization of their stack needs improvement, but Burn has all the pieces to build a tenacious defense that could bring them back to Nationals.
#23 NC State got smacked by Carolina on Saturday and by Virginia Tech in the muck on Sunday, which is the bad news for the Wolfpack. The good news is that they passed the eye test, and against lower level opponents played some of the most attractive ultimate of the weekend. The skill level is high across the board, and with a freshman class full of local area youth players, they figure to improve as the season goes along. Their results weren't spectacular this weekend but the potential to earn another strength bid, and hold onto it this time around, is there.
East Coast Teams Off To Slower Start
The quality of play across the board at Queen City was a notch or two below that of the teams out west at the Santa Barbara Invite. The weather and the tournament format may have contributed to some of the lethargy, but the general level of execution was low. It was uncommon to see turnover-free points, and more than one coach was left frustrated.
"It's going to take some time," said J.D. Hastings, a new assistant coach for UNC Wilmington after games wrapped up on Saturday. Michigan coach Tyler Kinley remarked that his team was getting to play outside for the first time all year on Saturday, and it was clear from their throws that Magnum had been confined to indoor play for the past several months.
If East Coast teams are a step behind right now, the big question is whether they just need some outdoor reps to catchup, or if West Coast is poised for an up year. Once cross-coastal play picks up in a few weeks, we should get a better idea.
Good Luck, Fields
Some Surprising Depth, But Few Dominant Teams
In perhaps the most surprising result of the weekend, unranked Northeastern won Pool B and will challenge Brown as the second best team in the Northeast region this season. They brought intensity from the first point of the weekend and showed higher levels of energy and execution than many of the other teams at the tournament. 
"With games to 11 [in pool play], you can't mess around. You've got to come out hard and take care of business," said Huskies cutter Ben Goossen, reflecting on their good performances against UConn (11-7 win) and Michigan (9-7 loss).
"We start out our practice with hard games to three," added Northeastern captain Justin Tran. "I think that helped us come out here with fire."
Winning a pool over two ranked teams is a big moment for a program trying to find its footing in the national landscape. We'll get a fuller picture of what they can do at Warm Up in a couple weeks.
Maryland impressed despite missing out on the bracket. They upset Pitt and played just a hair worse than even with Virginia Tech and Massachusetts. New coach Darryl Stanley (coach of the DC Breeze and Truck Stop) brings some energy to a program that has been backsliding since they made Nationals in 2015. The Space Bastards might not be an immediate threat to make Nationals again, but their performance at QCTU is an indication that they are definitely on the right track.
While some teams from the middle of the pack played surprisingly well, few of the highly ranked teams were able to distinguish themselves.
#12 Pittsburgh were, by their standards, a mess. Suffering a double game point loss to Maryland after their D-line repeatedly failed to take advantage of several turnovers foreshadowed a second defeat to UMass. Those two losses knocked Pitt down to fourth in Pool C and out of bracket contention. They did look sharper in a 10-8 win over Virginia Tech, but after one shortened tournament, Pittsburgh now has only one fewer loss than they had during the entire regular season in 2017.
Pitt was missing two important O-line cutters in Andrew Lehmberg and Noah Robinson, but their cutting core wasn't the problem. The handling core really struggled with execution and decision making, and the coaching staff will need to figure out who they want to put next to Jonah Wisch in the offensive backfield.
Massachusetts had a decent Saturday, highlighted by that win over Pittsburgh, but playing entirely open lines never allowed them to lock in and build serious momentum over the course of a game. Zoodisc actually played relatively better on Sunday against Carolina despite the conditions, as the opponent and the need to overcome the elements brought a fire out of the team that wasn't always there during pool play. Brett Gramann had a strong weekend.
While UMass's play was up and down, they will have to be happy with their ability to rise to meet a challenge on Sunday morning, and there is no reason to think that Massachusetts won't be the class of the Northeast for another season.
All-Tournament Team
Joe Freund (Virginia Tech)
Daniel Lee (Michigan)
Jacob Fairfax (UNC Charlotte)
Brett Gramann (Massachusetts)
Elijah Long (UNC)
Eric Sjostrom (Auburn)
Connor Russell (UNC Wilmington)
Photo Gallery