We may have not gotten a bracket from Queen City Tune Up, but with so many good teams in the field, we offer our buy, sell, or hold status for every team.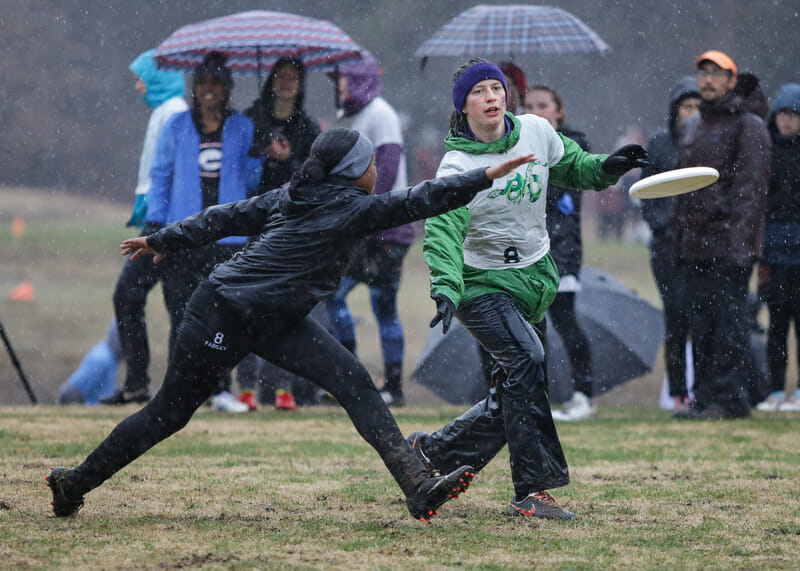 Coverage of the Women's Division at Queen City Tune Up is presented by VC Ultimate as part of their season-long support of our women's coverage. All opinions are those of the authors. Please support the brands that make Ultiworld possible and shop at VC Ultimate!
One of the biggest weekends of the college women's ultimate season was an unsatisfying meal that left us wanting more. With only five games to work with–four from day one and half a round in frigid, wet conditions on Sunday morning–it's tough to decipher what's real and what's just small sample size. Without the fully realized storylines of a complete Sunday of play, we'll have to look at the results at Queen City Tune Up from a different angle.
Let's take stock of the weekend's teams, and close with a look at the top players.
Queen City Tune Up Stock Report
MK: BUY. They have depth and experience. Some of their newer players might not be stars just yet, but when put on a line with any one of the top players, they are automatically learning and growing. The depth this team has and will continue to build this year is just as problematic for opponents as any one star player–and we all know how tough that one star player is. Every player in this squad is fast and they utilize their speed not just on deep runs, but handler cuts and in cuts as well. Their movement is quick, challenging defenses to stay on their toes and play smarter rather than harder.
Every player is willing to put their body on the line for Princess Layout. Even good teams get a little lax with the disc sometimes, while Dartmouth's hard work leads to tons of playmaking, setting them apart from other teams. Opponents will need to really step up and bring their A-game when playing against Dartmouth. And even that may not be enough.
Keith: BUY. No Jaclyn Verzuh, no Piper Curtis, and limited play from Julianna Werffeli would sink most teams. Dartmouth kept on ticking. Caitlyn Lee is a sparkplug for them and would be the best player on most teams in the division. You probably could say the same about freshman Claire Trop. The Rookie of the Year frontrunner was as good as advertised at QCTU; she's got an impressive understanding of timing and spacing, and already seemed very comfortable in an offensive system she's never played a real game in.
You're not exactly getting in low by buying now, but this blue chipper is still a very safe bet.
Keith: BUY. There is no team that surpassed my expectations this weekend to the level that Carleton Syzygy did. They came out of the gates swinging with the most disciplined offense at the tournament. Clearly, the addition of Nariah-Belle Sims and Isabel Arevalo injected some juice into them, but they've also benefited greatly from the development of last year's sophomores and juniors. Carleton is deep, and perhaps best of all, knows how to use it. It's wild to see how far along they look despite losing ten seniors from their 2017 team.
"We had a really excellent recruit class. We definitely had a lot of talent coming in," said captain Madeleine Preiss after pool play concluded. "The freshman class has this energy and enthusiasm for the sport, plus a lot of experience that obviously helps, and everyone is so eager to learn."
My only concern here was that they didn't display a ton of athleticism or explosiveness, so I wonder how they'd cope with an opponent that can push the pace more, particularly someone with the defensive chops to pressure the disc. But there simply aren't many teams that have enough athletic defenders to disrupt Syzygy, who can turn to so many players to generate offense.
MK: BUY. They were very clean all weekend, and nobody they played could really keep up.
MK: BUY. The downpour of rain on Sunday meant nothing to North Carolina. While other teams were dropping discs and fumbling in the tattered fields, UNC ran their offense and defense as usual. They were throwing hucks and players were coming down with the disc. They're tall, aggressive, and know how to challenge various offenses, all things we saw on Saturday. Jenny Wei is back, and was the key to many of their quick transitions and vital blocks. UNC capitalizes on turns by immediately picking up the disc and getting their offense moving; this leaves their opponents scrambling to get a proper defense set up, and by then UNC has already scored.
Keith: HOLD. I'd like to see more of them, but the price is high right now, the only reason I'd hold. This team is definitely good. Wei's confidence and aggressiveness is being replicated elsewhere on the roster. Bridget Mizener flashed some smooth break throws, and her arrival as a dangerous thrower is exactly the type of talent UNC needs to live up to their billing.
Best of all is that the rest of their roster looks strong. That depth will serve them well. Mary-Catherine Adams and Rebecca Fagan demonstrated sticky hands and necessary athleticism. If you're seeing top players and solid role players as the basic functions of a high level team, well, you can put two and two together.
MK: BUY. I've somehow found myself to be a big Pitt fan and I'm not ashamed of it. They are aggressive in the air, super quick, and tactically sound. Watching them is fun because you see their strategic thoughts forming; playing them is always a hard-fought challenge.
Talent is proven in the depth of teams, and I think Pitt is a great example. Linda Morse may be gone, but instead of trying to create another Morse, they're asking other players like Sarah Russek to step into greater roles and shine in their own way.  With a deep roster of vets and newcomers, they are going to continue to challenge every team they face.
Keith: BUY. It was a treat to watch the Danger defense go to work this weekend. Russek, Abby Bomberger, Victoria Smith, Gabby Doran, and Jessie Sun were all generating blocks. The team applied pressure to resets and were active on their marks. While opposing offenses aren't refined right now, defenses are not usually this focused and dogged. Pitt's defense was hunting in Charlotte. Last year's team wasn't this sharp at this point.
Offensively, they are still looking to find a downfield playmaker. Russek, Bomberger, and Ilango were consistent targets, but they miss Morse's ability to come under and open up the field. They experimented with putting Normile into the cutting lanes, letting Sun, Miranda Kosowsky, and Hannah Blizzard manage the backfield. It's a clever way to utilize their experienced handler group. Their inefficiency buried them against a disciplined Tufts team, but that's fixable given their experience and skillset.
MK: BUY. Although UNC looked good during the Sunday rain, Tufts looked better. They went on a streak of four breaks against Pleiades during their only game of bracket play, earning a 7-5 lead as the horn blew to end play. Both teams were completing full- and half-field hucks, but Tufts was taking their time to run endzone plays and slow down because of the conditions. With their appearance at Nationals last year and their ability to stay calm and collected this weekend, I do not foresee them taking a nose dive in performance.
Keith: HOLD. It's a shame we didn't get a more informative Sunday from Ewo, because they could have easily convinced me. They improved a lot over the course of their first tournament, going from an ugly first round loss to NC State to beating Pittsburgh and, for whatever it was worth in the rain, overcoming UNC. It's clear that, offensively, they miss the duo of Jojo Emerson and Rachel Kramer, but Hannah Crowley was piling up yardage on unders in their vertical stack set.
Where they shine is in the half field. With good depth, they were adept at getting to second or third options, and generating cutter-to-cutter looks. Claire Dunn and Margo Urheim shined at setting up continuation cuts in the Ewo offense. Tufts is disciplined and looks like they've earned a lot of trust from one another, another benefit of having a large returning class. They don't field many weak links.
Also noteworthy is Valerie Willocq's defense. Her offensive skillset gets the job done and she has more responsibility there than she used to, but she still makes her bones as one of the best handler containment tools in the division. She swarmed Carolyn Normile against Pitt, holding strong against fakes and presenting a big bothersome obstacle to the offense. She doesn't get a ton of flashy blocks, but she's a great positional defender with a hard mark to break.
MK: HOLD. I'm not buying it. They're good, yes, and they're doing well right now, but how sustainable will it be? On Saturday, we saw UNC take away their deep game and they fumbled, throwing stall four hucks to no one. Their game is dump-dump-huck; I've played that style and, eventually, more skilled and developed teams shut it down. They have four or five players that are extremely talented, but Lindsay McKenna seemed to be slightly hurt during their pool play game against North Carolina and we quickly started to see their offense break down.
At more regional tournaments, this offense will dominate and, even if it's not the smartest offense, they'll beat teams with their talent and athleticism. They just have to be ready to face those more complex teams when the time comes.
Keith: HOLD. If this were the beginning of the season, it'd be a huge buy, but I think the word is out that this team is not a fluke. MK's right that they rely on their deep game and their athleticism, but teams knew that all weekend and still had trouble handling the West Chester attack. This wasn't a team just chucking and praying–they were launching pinpoint deep shots to isolated cutters beating defenders.
Perhaps the thing that provides the most hope for them is that they were excellent at finishing their possessions following completed hucks. Liz Hart, Danielle Byers, and Lindsay McKenna can kill you in one-on-ones, and they create them through attacking uplines and countering resets. These skills and the team's ability to gain and maintain momentum give them ways to attack even zone defenses, a common response to their deep game.
My biggest concern, however, is that lack of strong fundamentals past the team's top end. They have four or five women with size, athleticism, and disc skills, but the throwing ability seems to drop off a bit from there. Depth, both of strategy and personnel, is going to remain the question, but I don't think they are a one-hit wonder.
Keith: HOLD. This weekend is the second straight tournament that Ohio State has shown us some ceiling and some floor. A double game point loss to Michigan, coupled with a loss to Carleton, put them in the passenger's seat when it came to making the bracket. When Sadie Jezierski is electric, they look great. She's instant offense and made many of the best plays of the weekend. But other times, they struggle to get the disc moving, missing deep shots or just turning the disc over too generously. The jury is still out.
MK: HOLD.
MK: HOLD. They lost some offensive powerhouses from last year's team, but they're still pretty solid, having beat Ohio State in pool play. They play fast and have a lot of great fundamentals, which seems at odds with this season of hucks and skies. They've never been a super tall team, so they'll have to work together as a unit to beat the taller teams.
MK: SELL. It doesn't seem like 2018 will be a banner year for Florida, after losing Danielle Cordes, Tori Taylor, and other impactful players. Their roster seems fundamentally sound, but they lack the grit FUEL has possessed in years past. That may not be enough, even in the Southeast.
MK: HOLD. I'm new to alum status, but from what I know about the returners and the new additions, I have some hope, so I can't quite sell just yet. Unfortunately, this weekend was not the type of ND flair we've seen in the past. To compete against Michigan at Regionals, Womb will really need to perfect their plays, decision making, and their defense to take down an always-composed opponent.
Keith: BUY. Georgia is a contender in an underwhelming, albeit competitive, Southeast. There's a definite argument they are the favorite. Athena is an athletic group that can really harass on defense. Gayeon Ko, Amy Strozinksi, Courtney Vickery, Alex Fairley, and a feisty defense put pressure on teams throughout the tournament, even giving Dartmouth a run for their money, bringing it as close as 7-5 before Dartmouth booted UGA out of the game.
"We played defense at an elite level this weekend from start to finish," said Georgia coach Edward Stephens after the tournament. "Our offense really needs to catch up if we're going to hold our own against the best teams in the division, though."
This young team is going to keep getting better on offense. I'm not sure Josie Veal or Fairley are ready to be dominant offensive weapons yet, and the team put a lot of pressure on Ko to play mistake-free. They push to 8-5 on the year and there's a lot to like about this team's pieces and potential.
MK: HOLD. They're stable, they play hard, and they look refined. They just need the points to prove it. It could be a hard fought game, but what separates BUY and HOLD for me is if they can convert when it matters most. Unfortunately, there were many times when Georgia came up short there. However, UGA is back on the scene as a contender. It definitely won't be easy to beat them, and their star players are juniors so they'll be learning and developing for a while.
MK: HOLD. A huge chunk of their team was out sick with the flu, yet they still managed par for the course. It's not clear they'll be Nationals-level again, but they didn't do a major flop. We'll have to wait and see what the whole team looks like when they play at Commonwealth Cup. Development has been a hallmark of Hydra during their past few successful seasons.
Cornell
Keith: HOLD. Being able to get a win over a wounded UVA and suffering a close loss to Notre Dame might not look like much, but in the maligned Metro East, it could be Nationals-caliber.
MK: SELL.
Keith: BUY. Their successes on the weekend–a huge win over Michigan chief among them–came sporadically, but there was every reason to expect them to take a step back, and they held their own. Georgia Tech is very young, asking returning players to step up in a big way. They are probably a year away, so you can get in on the ground floor, because this weekend hints at a strong upward trajectory.
MK: SELL.
Keith: HOLD. It's certainly unorthodox to throw a HOLD on a team that went 0-4, but they lost three of their pool play games by two goals or less. Talking to the other teams in their pool, it was clear that they came away with a healthy respect for Strata's athleticism and grit. While they couldn't pull out any wins, not a game went by where you didn't see them making a wild play, usually in the form of a layout grab. It's a crowded region in the South Central, but they won't go quietly.
MK: HOLD. They could be contenders in New England if things go right. Ari Nelson is a great player but she'll need someone to throw to or to feed her the disc. You can see fundamentals on display and they gave West Chester a real run for their money, but they still need some development before I consider them Nationals contenders.
Keith: HOLD.
Penn State
MK: SELL. They looked slow. Most teams couldn't defend West Chester's deep shots, but most could keep up with the runs and the short field defenses. Penn State looked sluggish and like they were still learning a lot of the game, allowing much of their pool to simply run right past them.
MK: SELL. Ah, I want to believe so badly! They have some solid players, understand their system, but overall, they do not properly execute. I watched multiple hucks go up that shouldn't and you'd think after the first or second, players and coaches would reel it in; then I saw it some more and figured execution and decision-making errors will be their downfall this season. If they tighten up, I would reconsider. They have time to develop discipline.
Keith: HOLD. The win over Tufts was a demonstration of the ceiling of this team and evidence that this team's knowledge of the game is growing. But they have been a bit inconsistent–a dangerous trait in a region with the depth of the Atlantic Coast.
Kennesaw State
Keith: HOLD. It was obviously a poor showing for the trendy Southeast team, but they were playing without two of their best and most experienced players, Lexy Emanuel and Rachel Mez. It was very clear their depth could jeopardize their best shot at Nationals if they don't improve their level of execution and defensive tenacity against more seasoned opponents.
MK: SELL.
All-Tournament Team
Sarah Russek (Pittsburgh)
Russek has made a name for herself as a hard-working cutter with sticky hands. Her growth in ultimate IQ has allowed her to make more plays and be more involved as a reliable option for the Pitt offense, and she still can generate blocks on the other side of the disc.
Sadie Jezierski (Ohio State)
Three of the five best plays I saw all weekend were from Jezierski. Insanely enough, one was a block, one was a catch (and the follow-up throw), and the last one a laser-guided backhand huck. That's a trifecta of starpower.
Hannah Crowley (Tufts)
With the focus, determination, and the precision of T-1000, Crowley breathed life into the Tufts offense whenever stagnation threatened it. That infusion of energy is exactly what a skilled team like Tufts needs.
Jenny Wei (North Carolina)
Perhaps individually the most influential player at the tournament, Wei's ability to turn opposing throws into interceptions that jump-start the North Carolina offense exemplified her strengths.
Lindsay McKenna (West Chester)
She has every throw possible. The top players for West Chester are skilled and know exactly where to put the disc, and McKenna leads the pack. Her puts were perfectly spaced, handler cuts were fast, and most grabs were barely contested because she was just that spot on.
Maya Powell (Carleton)
Powell typifies Carleton's strengths: a balanced threat who seems just as comfortable making a swing pass as she does popping in a zone or pushing downfield. She plays with a pleasant unselfishness that makes her teammates better.
Claire Trop (Dartmouth)
Yeah, Princess Layout's freshman phenom is that good. Trop has an incredibly well-developed sense of timing, often resulting in her catching wide open throws that looked easy, but most players wouldn't have even lined up properly.