Stanford Open was the key invite in a quiet weekend, but a big one is on the horizon!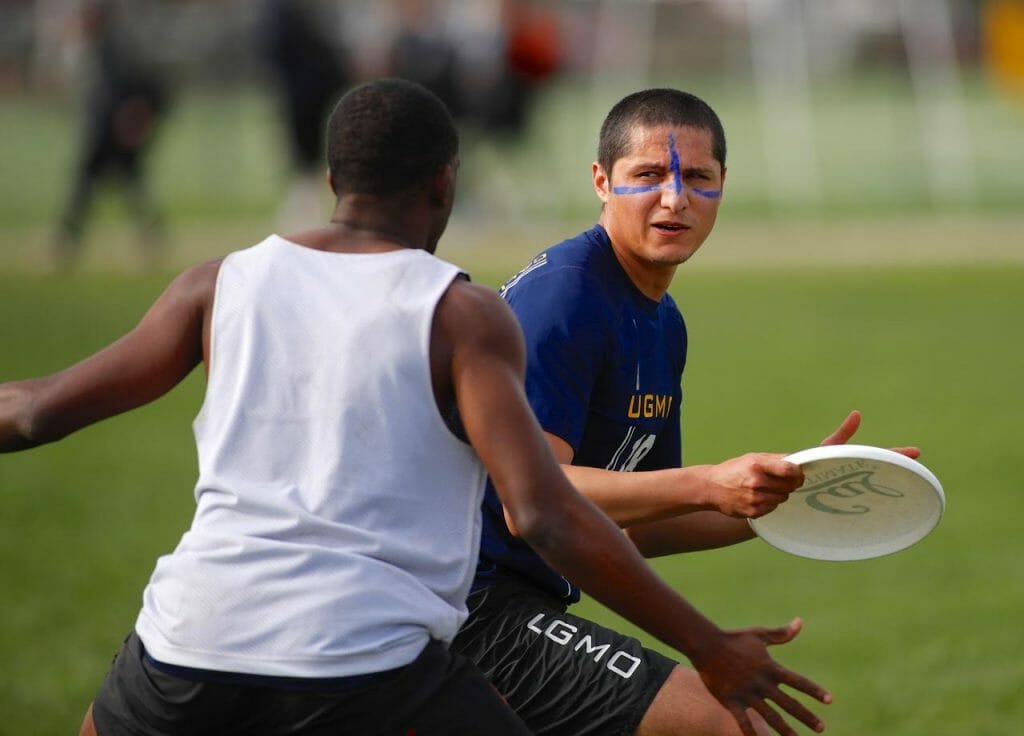 College Update is presented by VC & Spin Ultimate; all opinions are those of the author. Please support the brands that make Ultiworld possible and shop at VC Ultimate and Spin Ultimate!
During the spring season, we will publish a bite-sized weekly recap of the action across the College Division. This will serve as a supplement to our standard tournament reporting and will offer a high-level look at the latest happenings and the biggest stories of the week.
Want your tournament listed here? Submit a recap of what happened right here.
Men's
California Advances to Stanford Invite with Open Win
Despite entering the weekend as the no. 6 seed, California's impressive 7-0 run through the Stanford Open locked them up a coveted bid to the Stanford Invite. Ugmo faced little resistance on the way to the final, carving through their pool, averaging a margin of victory in excess of eight goals a game. They took care of business against University of Texas-Dallas in the final, winning 11-8.
There was a little buzz around Cal regionally entering this spring, and while their Santa Barbara Invite muted that a bit, this win will grant them numerous more opportunities to reignite the talk. Now at 10-4 on the season, with two of those losses coming close to top West Coast teams, they'll head into the Presidents' Day Invitational this weekend with some momentum and plenty to prove.
In other news from the Open, UT-Dallas Woof continued a strong start to the current campaign; the loss to Cal was their second of the season. Through two tournaments, they are an impressive 13-2. A number of key D-III teams were in play, so check out our D-III update below for more out of Stanford.
D-III Update: Air Force and Carleton GoP Fare Best at Stanford Open
Eight D-III men's teams took to California for the Stanford Open, seven of whom were ranked, including #1 Air Force and #2 Colorado College. There were expectations that those teams could make a play to the final or to win the tournament. Air Force got to semifinals unscathed, despite some close calls, but fell to UT-Dallas, 12-9. Colorado College was ransacked by the other eventual finalist, California, 13-3 in quarterfinals. More importantly, however, Colorado College lost to #9 Carleton GoP in the 5th place game, 10-9. GoP closed the weekend 6-1, with an astounding four games won by a single goal each.
The rest of the field had mixed results, as well. Claremont was 2-5, with closes wins and losses, including a one point loss to GoP, and a surprising 10-6 loss to Lewis & Clark. After going 0-3 in pool play, #21 Puget Sound managed to grab a pair of wins before the weekend ended. #18 Whitman posted an impressive 5-3 record, including victories against #23 Occidental and Lewis & Clark. Occidental did lose to Whitman, 11-5, but went 3-4 on the weekend, a sizable take considering the squad only sent nine players.
There's no reason to slow down all of this D-III action, as we bounce back to the East Coast for Easterns Qualifier this coming weekend, where #4 Richmond and #5 Dartmouth will both be taking the field.
Women's
UC Davis Wins Stanford Open to Qualify for Invite
It wasn't a surprise to see no. 1 seed UC Davis claim the valuable invitation up for grabs at the Stanford Open to it's championship event. It marks the third straight year they've won this tournament1 and earned a spot in the elite Stanford Invite field. This time, they closed the weekend as they started it: with a victory over Utah. The no. 9 seed Utah couldn't put up the same fight in the final that they did in pool play, falling 12-3. Davis played close on Saturday, beating Utah and Brown by a combined three goals, but turning it on come bracket play.
Like in the men's division, there were some big names from the D-III ranks in the field, so read on to check out our D-III update for more on the events in Morgan Hill, CA.
Southeast Tournaments Rained Out
A pair of key Southeast events were rained out over the past weekend. Mardi Gras and Luminous, hosted in New Orleans and Atlanta, respectively, both faced wet and field-damaging conditions that halted play before it began. It endangers some regional-level teams getting in their 10 games. Additionally, some teams traveling from further away will have to delay their season openings.
I'm thinking fair amount of teams aren't going to get their 10 games in for bid allocations to Regionals. Out of 22 teams, 5 haven't played games + there aren't any in-region tourneys aside from the 3 in the Gulf Coast. Unless everyone is hitting Vandy and then MSU back to back?

— Adjustment Bureau (@hydr_fins) February 12, 2018
Quick Hits
Maryland and D-III #8 Georgia College crushed the competition in 7-team round robin play at Black Pearl Invitational. They had a great fight in the final, with Maryland taking the title in a narrow 8-7 victory.
D-III Update: Carleton Eclipse Struggles at Stanford Open
The Sunday results of Stanford Open raised more than a few eyebrows–the major culprit a 13-3 loss by #3 Carleton Eclipse to Pacific Lutheran Reign. For a windy weekend where most games were won by a point or two, that kind of point differential can't be ignored, even though Carleton started Saturday with a 2-1 record. Eclipse is the kind of team where trusting the process has resulted in dividends (and national championships), but it may take the Carleton women longer to click as they fill the gaps left by last year's standout personnel. Pacific Lutheran brought high energy on and off the field, paired with smart matchups that let them shut down teams. If they can continue the momentum from Stanford Open, expect them to continue their rise in the Power Rankings.
#24 Claremont Greenshirts and #5 Puget Sound Clearcut both had successful weekends as well. Clearcut had tight wins over Claremont and Pacific Lutheran before a strong 11-5 finish over D-I Santa Clara to take home 7th place, the highest finish of the D-III contingency at Stanford Open. Claremont took a solid 8-4 win against Pacific Lutheran in pool play, before a losing in the 9th place game after injuries decimated a significant portion of the upperclassmen on the roster. #20 Lewis & Clark Artemis had a less successful showing than their last tournament, going 0-3 in pool play before cleaning up and taking home two wins on Sunday outside of bracket contention.
Carleton will have a lot to work on before they play at Georgia Southerns and have another chance to show the division what they're packing this year; some of the Northwest teams will reconvene at Pacific Lutheran's PLU BBQ at the end of the month, which will give a better picture of the strengths and talents of that region.
Out on the east coast, #8 Georgia College Lynx Rufus went 5-1 on the weekend, losing to Maryland by a single point in the final of Black Pearl Invite. At the same tournament Christopher Newport University Airbenders failed to bring home a win in their six games.
Looking Ahead
Florida Warm Up (M) kicks off a huge weekend early, with play starting on Friday. 10 ranked teams, including the three top-5 ranked North Central teams, and a host of others on the fringes are set to battle it out in the non-traditional format that makes for some awesome matchups in a tone-setting tournament in the men's division.
Presidents' Day Invitational (M/W) features 36 teams across men's and women's, with a lot at stake for regional power-grabbing and early bid implications.

In the women's division, #3 Stanford tops the seeding, but it's the debut tournaments for #4 Colorado and #6 Texas, among other teams. With #5 Oregon also playing their first big event, and a solid field down the line, we'll learn a lot about what the western regions have to offer.
In the men's division, will #4 Oregon and #7 Washington renew their rivalry in the final? This tournament has generated plenty of surprises, and there's a real chance for their collision course to get derailed in pool play or power play action.

Easterns Qualifier (M) pits 24 teams from 6 regions against one another, all trying to earn the glory of a spot at Easterns. #22 NC State and #25 Maryland sit at the head of the class, but nobody is safe2 with five pool play games on Saturday.
---
maybe four, there's no data on who won the final between them and USC ↩

Maybe too literally ↩