The semis are set!
TAMPA — A dense fog in the morning gave way to more hot sunshine as match play and the early rounds of bracket play unfolded at Warm Up. While the final round lacked the usual excitement due to the 10 team bracket format, the prequarter round had some fireworks as Wisconsin edged past UCF on double game point and LSU topped Harvard.
Here's a look at what happened today and what's still to come.
Final Pool Play Standings
Minnesota (6-0)
Virginia Tech (6-0)
Brown (6-0)
BYU (7-1)1
Carleton (5-1)
Florida (5-1)
Northeastern (4-2)
LSU (4-2)
Central Florida (4-2)
Wisconsin (3-3)
Harvard (3-3)
—
Northwestern (3-3)
Texas A&M (2-4)
Texas (2-4)
Auburn (2-4)
—
Michigan (2-4)
Connecticut (2-4)
Arizona State (1-5)
Illinois State (1-5)
Cincinnati (1-5)
Oklahoma (1-5)
Florida State (0-6)
South Florida (0-6)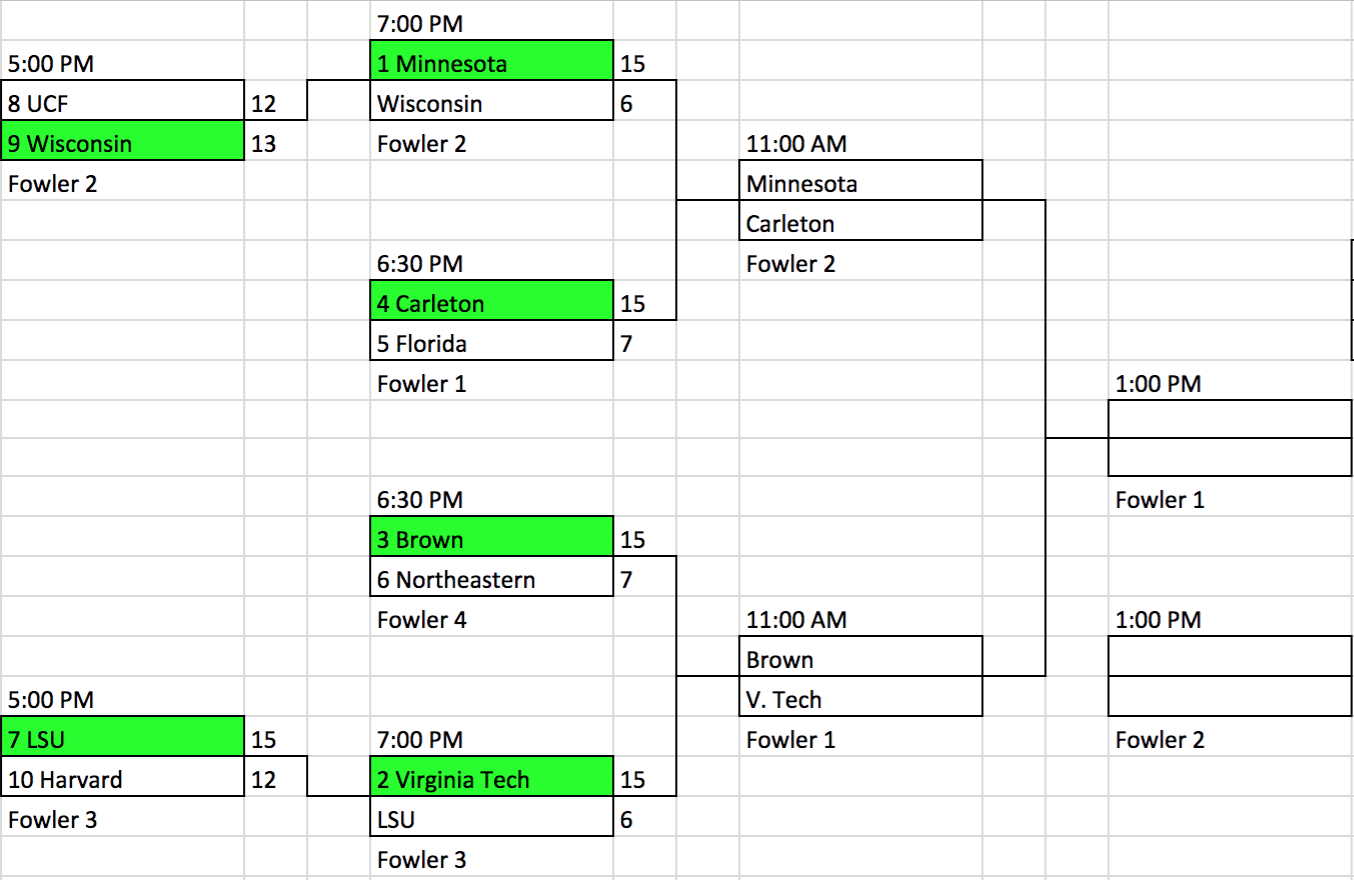 Notes On The Quarterfinals
Virginia Tech 15-6 LSU
Both Virginia Tech and LSU came out looking for the long ball early, each with their own style. Virginia Tech sought to use their considerable size advantage; LSU attempted to use their speed. In the game's early stages, the two styles were evenly matched. For LSU, Matt Freeburgh was rocking in the backfield, Jeff Oravic made plays deep, and Tom Echols was just about everywhere. Joe Freund, Rhys Bergeron, and Tommy Cianciolo helped run the show for Tech. When LSU broke to get things back on serve at 4-4, it looked like the two teams were in for a long battle.
Instead, it was all Virginia Tech for the rest of the game. Tech's height was key, but really it was Tech's superior depth that was the biggest difference. As the game began to get away from LSU, they had to send out the same players, simply hoping they could turn it around, but they were already tired after a prequarter play-in against Harvard. Virginia Tech, meanwhile, just kept trotting out two full lines worth of tall, athletic playmakers. Tech scored eight points in a row to make it 12-4. LSU grabbed a couple of scores late, but after yielding four or five breaks, it was clear they were demoralized beyond the point of being able to mount a comeback.
It was another impressive performance for a Virginia Tech team that has been one of the top teams in Tampa all weekend. For LSU, it was a tough end to their run, but their start did show a glimpse of some of the heights they achieved throughout pool play and prequarters.
Carleton 15-7 Florida
After a sluggish start to Saturday in their final two match play games, Carleton showed up ready to play under the lights against Florida in the quarters. With a smart zone defense and a clinical offensive attack, they picked apart Florida, taking a commanding early lead and yielding just a single break. CUT sophomore Ethan Bloodworth was a force on defense as Alex Olson, Dillon Lanier, and Henry Fisher ran the O-line.
Carleton used zones and poachy looks to take away Florida's deep game and, on many points, limit touches for Billy O'Bryan. Florida had some success with a dominator look and some zone-breaking scoobers, but almost every mistake was instantly punished. CUT got four breaks in the first six points and lead 8-3 at the half.
Carleton hasn't played every game at Warm Up with the same kind of intensity they brought to the Florida game, but it is clear that, when they do, they are going to be exceptionally difficult to beat.
Minnesota 15-6 Wisconsin
After a double game point win against Central Florida, Wisconsin fell victim to mounting injuries and diminishing energy as Minnesota easily eliminated them from bracket play.
There were lots of Hodags without cleats on during the quarterfinals, like captains Tommy Gallagher and David Yu, as well as assistants Nick Vogt and Jeff Maskalunas. After coming back on UCF (Madison trailed 11-9 before winning 13-12), there was nothing left in the tank.
Of course, it was no help to the banged-up Wisconsin team that they were playing a 6-0 Minnesota team that has rolled everyone thus far at Warm Up. Grey Duck jumped Madison from the start and dispatched of them as they had all other challengers. It's only February, but this is still a classic North Central rivalry.
"Coming out in that game with fire," junior captain Sam Kaminsky mentioned as a key for his team. "I think every time we play Wisconsin or Carleton that's important, because it's a big energy battle more than it is on the field."
Minnesota defenders fed off of a loud sideline and got takeaways. By halftime, they were up 8-4 and would never look back. Both teams subbed deep into their benches, including an "all freshmen line" by Grey Duck at 14-6 (when this incredible Hodag catch took place).
Grey Duck advanced to semis with their starters only really playing one half of ultimate. They're healthy, well-rested, and should be capable of delivering their best game of the tournament in semis against Carleton in what will be a preview of the likely North Central regional final.
Brown 15-7 Northeastern
Northeastern's run at Warm Up came to an end in the quarterfinals as Brown dominated from wire-to-wire.
Northeastern could not match Brown's top end talent, including Mac Hecht and John Randolph, and was only able to land a single break. Brown pounced early and never looked back.
The two New England teams (alongside Harvard) could well meet again at Regionals: one of this weekend's biggest impacts could be on the bid picture, particularly for the NE which will seek multiple bids again after missing out last year.
Brown moves on to challenge Virginia Tech for a spot in the final.
Looking Ahead
#1 Carleton v. #3 Minnesota
It's tough to find a "bad" or "boring" matchup in the semifinals of Warm Up, but this is a particularly fun pairing. These are the last two college champions (Minnesota '16, Carleton '17), they are storied North Central regional rivals, and CUT narrowly ended Minnesota's season at Nationals last year.
Perhaps the only thing not to like about this game is that it's only the semifinal.
Minnesota has been automatic this weekend. At 7-0 and +43, they have blown out all comers – and subbed fairly deep in the process. Their handlers – Wyatt Mekler, Sam Kaminsky, Tristan Van de Moortele, and Codi Wood – have been dominant and, overall, their games have not been close.
Meanwhile, Carleton has looked sleepy at times. CUT started the tournament with a loss to Brown. Cincinnati (1-5) took them to 9-9 before they pulled away. And CUT only managed a two point win over a 2-4 Texas. Slow starts at Warm Up are not unusual for this team, but the results, the quality of opponent, and the sheer pedigree of Carleton – the defending national champs – cause the eyebrow to raise ever so slightly. But they also crushed a 5-1 Florida team and embarrassed Central Florida 13-1 on Friday night.
Both teams have some self-imposed rules and parameters they've been following to maximize the reps outdoors. Just like the previous two Warm Ups, Grey Duck is running strictly person-to-person defense (though, again, they have not needed to adjust). CUT has been letting their lines work through adversity and growing pains naturally without drastic personnel adjustments. Even as the offense struggled in the face of a stingy Brown zone, head coach Phil Bowen didn't start taking guys off the D-line to bail them out.
Not surprising strategies from either team…in pool play, anyway.
This leaves a few burning questions for the semifinal (or the North Central Final Preview, as it probably should be billed). Will anyone stray from the weekend game plan? Does it help either team from a mental standpoint to go out and do whatever it takes to get a win tomorrow? Do they keep it extra simple to avoid putting anything on tape that people might learn from?
This is the chess game before the chess game in the North Central.
The good news is, for as many "one game at a time" and "we want to peak in May" sports clichés as you can throw out there, somebody has to win this game. They both want to. How much the winner is be willing to do will be the game within the game.
#14 Virginia Tech v. Brown
The Virginia Tech-Brown semifinal may not have the cachet as CUT-Minnesota, but it's an intriguing matchup in its own right. Both teams have been stellar (and undefeated) this weekend, and each will be a good barometer for the other. How will Brown's effective offense match up with Tech's dominant defense?
Priority number one for Brown will be to value possession of the disc. For the most part, they've done that this weekend, but they can have a tendency to give away cheap turnovers. Virginia Tech has had one of the most impressive D-lines of the tournament and will earn their share of turns on their own. If Brown is to avoid giving up game-killing break runs, they can't afford to give Tech any extra break chances.
Virginia Tech needs to do what they can to get holds without pulling over top players from their D-line. Brown's offense is the best unit that they have come up against, and draining energy out of the legs of their defensive stars could be costly.
Considering that this game is coming after seven others (and two hot days), the game could well be decided by the two squads' supporting casts. Virginia Tech has the advantage on that front, and they will be the favorite to advance to the final.
---
BYU was not eligible to make the bracket ↩