UNC to move to #1 with undefeated weekend.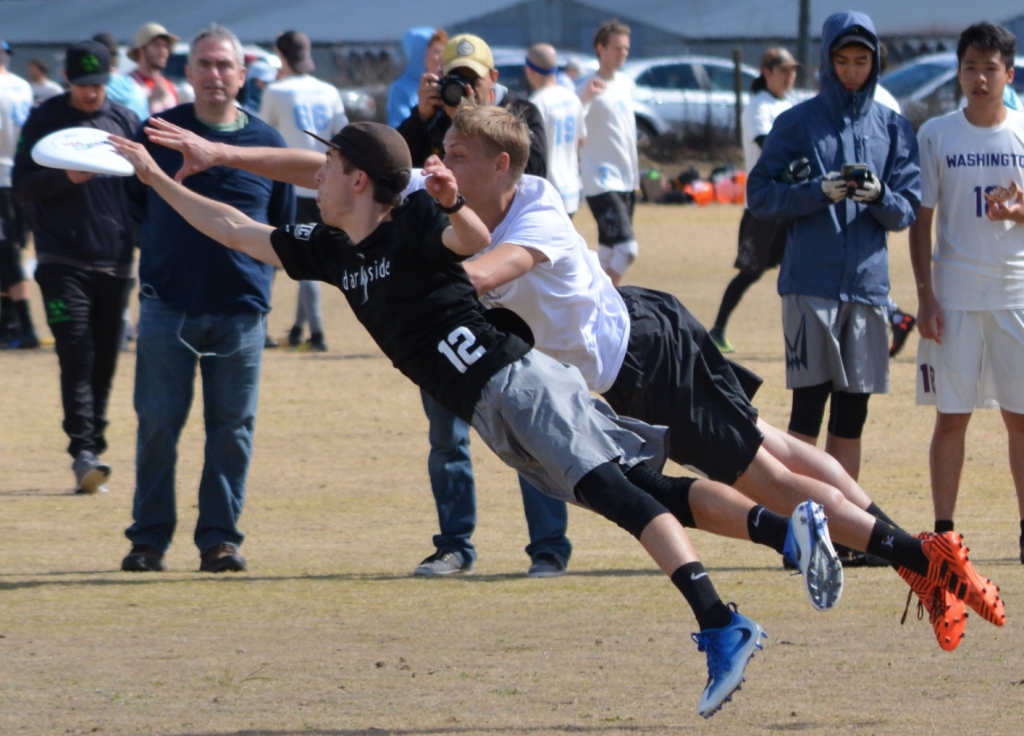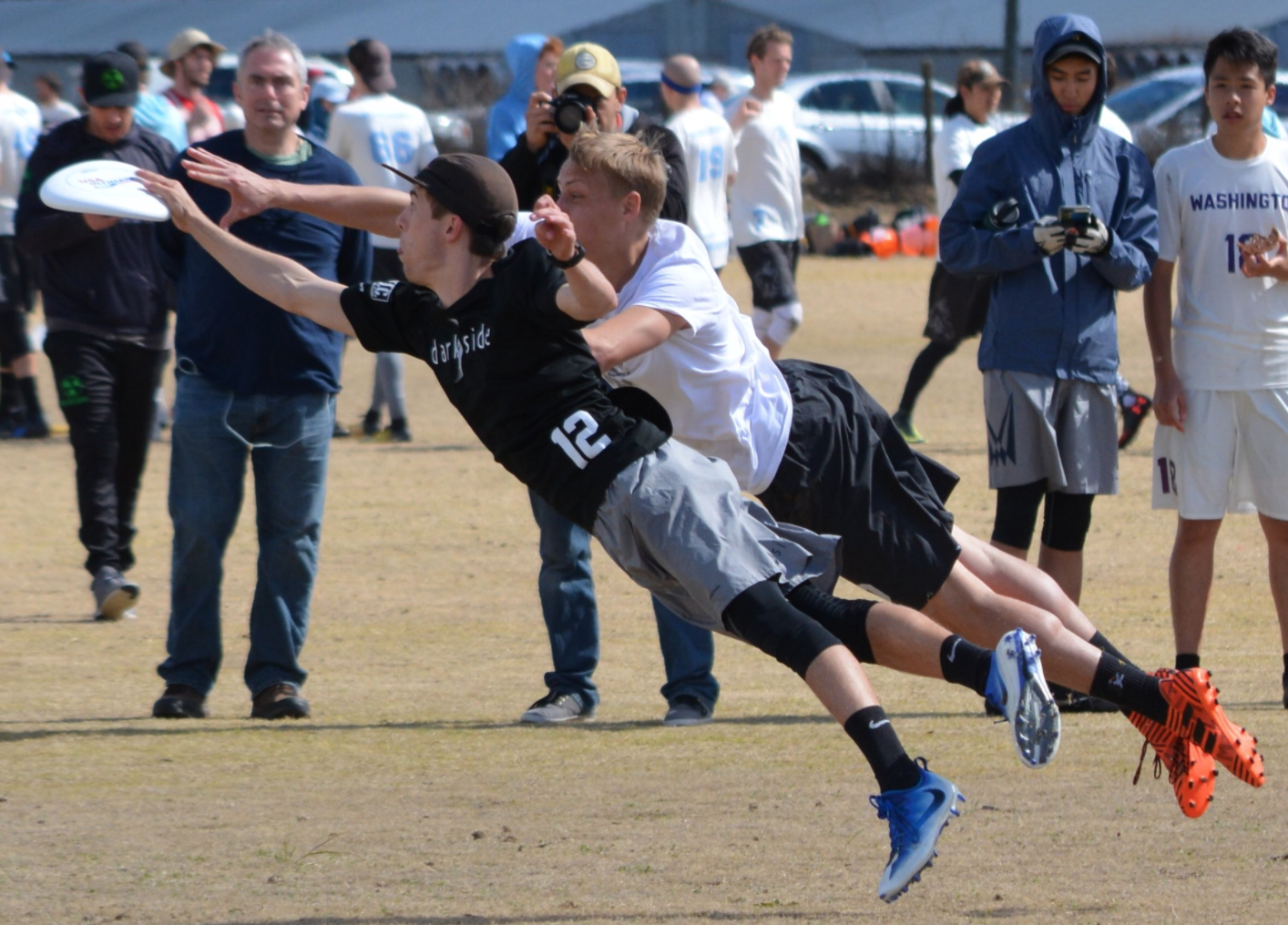 This article is presented by Spin Ultimate; all opinions are those of the author. Please support the brands that make Ultiworld possible and shop at Spin Ultimate!
STEVINSON, Cal. — Sports psychologists and top coaches say the best teams don't worry about the uncontrollables. A lot of ultimate teams like to think they don't. North Carolina Darkside doesn't.
At Stanford Invite 2018, the top competitors put on a mental toughness clinic. Hours away from the planned field site and through all kinds of weather, Darkside reclaimed the tournament title after a four-year absence1. The Chapel Hill competitors calmly dispatched Carleton CUT 13-8 in the final, capping an undefeated weekend after sneaking out of a breathtaking double game point semifinal against Oregon Ego.
Here's a look at some of the weekend's high points.
North Carolina And Oregon Play A Nationals Game In March
The 2018 college season had felt a little uninspired before Stanford Sunday. QCTU Sunday got rained out. Warm Up and Prez Day offered a glimpse of good teams going head-to-head, but most games still felt a little unpolished. Great performances like Carleton's at Warm Up came in blowout games.
But that all changed in the Stanford semifinals. UNC and Oregon played one of the great regular season games of the decade — an instant classic that blended rapid pace, elite offense, clutch moments, and a double game point stunner. Considering Carleton's collapse against UNC, it felt in hindsight like the de facto final.
Neither team had faced a truly elite opponent before their matchup in semis. It would be their first real test against another title contender.
You'll want to watch the entire game to really appreciate it, but here are some notes:
There were four total turnovers in the first half, two from each O-line. All four were converted into one possession breaks. Oregon took half 7-6, on serve.
The second half featured no turnovers until overtime (13-13), when Oregon had two O-line turns against the best pressure UNC offered all game. Oregon got both back and scored to get to game point.
Obviously, considering the lack of turnovers, the two O-lines were exceptional. Adam Rees, Will Lohre, and Colton Clark controlled the blistering attack for Oregon, while Matt Gouchoe-Hanas and freshman Liam Searles-Bohs, both playing in their first tournament of the season, led the way for UNC.
After UNC held to make it 14-14, Oregon received on double game point. They flowed down the field smoothly into the red zone before a surprising timeout call. Out of the timeout, Rees got the call in a zipper out of the front of the stack, caught the pass, and immediately fired a pass to the breakside. But UNC's Elijah Long was ready and laid out at full extension along the goal line for a game-saving block. Moments later, the smallest player on the field, Nathan Kwon, skied for the game winning score.
There were nine total turnovers in the game.
Rarely do you see a college game this well played, particularly this early in the season. While certainly both teams' defenses could have done a better job (and will by the time Nationals rolls around), it was not from lack of effort: the opposing offenses were just that good.
Game of the season so far, easily. Give it a watch.
Carleton Unprepared For The Final
"I don't think we saw CUT's best today. Actually, I have no doubt," said North Carolina's Matt Gouchoe-Hanas after his team beat Carleton 13-8 in the final.
By the time fate came crashing into Carleton Sunday afternoon, Harry Wolf-Landau was on the deck. He took Nick Macleod's shoulder to his face in an endzone set, when Macleod was after a block. Once Wolf-Landau was helped off the field, CUT finally had their first goal. That made it 4-1. The rest of the team seemed unaware of what had hit them.
Carleton came into the final +26 in points through five games, easily connecting on hucks and outplaying all previous opponents at every position. Play looked easy. CUT looked relaxed.
Then Norman Archer came down to cover Alex Olson, spreading his arms wide and using his frame to force Olson to attempt much tougher angles on his hucks. Archer converted two turns for goals in the first four points of the game, with the smaller Olson in tow.
Through the first half, wide flat marks and smart poaching from Darkside encouraged CUT turnovers, and suddenly the tournament favorites looked lost. It felt a little like the 2017 regular season campaign, when—for all their talent and chemistry—Carleton would pick up a weird loss while having an emotionally timid game. This year was different, until the final.
"I haven't gotten that sense all season long, that we could come out like this. And that's been a positive of this season is that with the expectations, with the mental of being the favorite, we've responded well that way. It doesn't look like the moment gets to us ever," said coach Phil Bowen.
Big man Henry Fisher got wise to the Archer-Olson cross match later in the game but not until the second half. By that point, Alexander Davis, Gouchoe-Hanas, Anders Juengst, and Kai Marcus were getting it done for UNC's O-line. Archer had done his damage in the first half. Darkside kept their lead at four points or more for two thirds of the game. CUT never got a break.
"It's up to us to be mentally stronger," said Bowen.
And no doubt CUT will be, perhaps even by Easterns at the end of this month. The team got their wakeup call almost a year to the day and went on to win the National title. It gets a little repetitive hearing it, but good teams use gut-check loss like this to build. And CUT is good—very good.
"Make no mistake. They'll be back, and we'll be ready," said Gouchoe-Hanas.
Oregon's Love Affair With The Open Side
Another tournament, another set of games where Oregon Ego looked comfortable jamming the disc down the open sideline for the first three or four throws after the pull, then running a fearless endzone set for scores. It worked against everyone, including North Carolina.
It's not as if they had a cupcake schedule, either. Other than the one loss to the eventual tournament winners, Oregon picked up wins over Washington, Wisconsin, Tufts, Colorado, and Cal Poly, all of them by two points or more.
Ego has some practiced offensive sets and some burgeoning defensive intensity that was lacking this time last year, but they seem to have talent at every position on lock. Will Lohre, Braedon Petrus, Adam Rees, Colby Chuck, and Xander Cuizon Tice won every foot race and piled up stats. With just about everyone comfortable making tight throws into small windows, there wasn't much need for the break space until the red zone this weekend. It's not like UNC was piling up blocks and giving the disc back.
It's a plus for Oregon to win these marquee battles early and build confidence, but one has to wonder if they'll get another full weekend of challenges like Stanford before Nationals. Will they have another weekend of playing teams that are talent equals?
Maybe the next test is figuring out how to stay hot. Ego makes their next appearance at Northwest Challenge at the end of the month. As nice as another tournament title might look on paper, the real win would be three days full of stiff competition.
For now at least, the season is progressing nicely for the favorites to win the Northwest Region.
"I think, overall, we kind of felt the weekend went really well," said Rees when games had wound down on Sunday.
Wisconsin Pleasing The Algorithm Gods
After a hampered performance at Florida Warm Up, the Wisconsin Hodags needed a strong weekend in California to relieve some mounting postseason pressure. If only two bids landed in the North Central, the Hodags would likely have to take one from Carleton and Minnesota to return to College Championships.
It's not out of the question, but it's not an easy task either.
By the time Wisconsin put away Brown 13-11 to take fifth this weekend, they could at least rest a little easier on the flight home.
"Really, it's just been great to have everybody here and healthy," said coach Andrew Brown. "At Florida Warm Up, we had like 17 guys, and here we're here with 27 or 28 healthy bodies. So it's just been nice to finally play at full strength–have a deep team, actually."
What a relief to have southpaw captain David Yu back on the field, wreaking havoc in the backfield for opposing handler sets and breaking marks with his zippy flicks.
It took a couple of games for the Hodags to get their bearings. They opened the weekend with a 13-9 loss to Oregon and a grindy 11-10 win over Tufts.
"We need to make the ranking algorithm happy this weekend," said Brown. "Losing that Tufts game would have put us in a pretty deep hole. Second half of that Tufts game, we really turned around and really bought in on defense. We started playing real, physical man defense and turned it around on many levels."
Then, the Hodags rallied, losing only to Carleton in quarters and picking up a regionally diverse set of wins over Colorado, California, Cal Poly, and Brown. The trendline is now creeping upwards toward a third bid.
"We want to go into Easterns with hopefully a little bit of cushion and not have our season or Nationals bid riding on Easterns. We'd rather help ourselves out now rather than have the pressure on us at Easterns," said Brown.
Washington's Library Cheer And Assorted Silliness
The Washington Sundodgers have all sorts of looks on offense and defense, but they also seem to have studied the Hank Womble Sideline Playbook.
Energy was positive and running high all weekend for the Sundodgers, who flooded the field after scores with their pool inflatables and kept each other in stitches before the pull with their YouTube-inspired sideline cheer, "HEY, HEY, HEY, THIS IS LIBRARY."2
The effort paid off, said veteran Sundodger Manny Eckert after his team placed fourth on the weekend and broke seed.
"Our sideline was probably the biggest difference I think. Our first game today versus Pitt, our sideline had fantastic energy and I felt like we maintained that throughout the day," said Eckert.
The 13-10 win over Pittsburgh in quarters bookended a 4-0 start for the Sundodgers, a feather in their cap after blowing out Brown 13-7, helping themselves to win a competitive Pool D. And though they took a 13-10 loss to Carleton in semifinals, the team stayed engaged; they even got two late breaks on CUT with their second D-line on the field.
Along with the silly stuff to keep the mood light, the Sundodgers also benefited from the returns of big man Reed Hendrickson and the versatile Lucas Chen. Hendrickson bolstered the D-line's potency and efficiency, while Chen was a release valve for Steven Benaloh and Nick Roberts on offense.3
In spite losing to Carleton and then Oregon in the third place game (where they blew a slim lead late), the weekend was a solid turnaround after a disappointing finish to the Presidents' Day Invitational.
"It feels much better than Prez Day," Eckert confirmed.
The team has been focusing on conditioning lately, pushing themselves physically and mentally in practice to stay engaged. As it is for any team, understanding what good energy feels like as a group is crucial to keeping the team afloat. Eckert felt like the constant energy all weekend was in part due to the work in practice.
Next, the Sundodgers have another tough three-day tournament: Northwest Challenge. Hopefully the library joke will stay funny, or they'll come up with another silly Internet meme or pool animal to keep the good vibes afloat and spur themselves to more wins.
Pittsburgh, Brown, Colorado With Work To Do
Three teams with Nationals (or better) hopes had rocky weekends.
Pittsburgh En Sabah Nur recorded a 4-3 weekend. They battled through Colorado Mamabird for a 13-10 win in prequarters, and then gave up a lead to Washington and lost by the same score in the ensuing round. The longstanding Ohio Valley competitors have more to work on this year, and they know it.
"We have a longer growth arc this year," said Mike Ing after the loss to Washington.
Ing, an ace defender, is playing offense for Pittsburgh so far this season, perhaps a signifier that the team is in short supply of confident offensive talent to get the holds they need to stay competitive for an entire game. Pitt needed Dan Goldstein and the D-line to help out during tough stretches. Ing said the offense needs cleaner possessions and improved intensity after the turn.
"Execution and defensive fire. Our D-line came on and saved us a couple points, and we gotta bring the same energy as them," he said.
Pitt finished the weekend seventh, a seed below their starting point but with a gritty final game to beat Cal Poly. With Easterns next, maybe the next Pitt man up will make it over to the O-line and give the defensive-minded Ing a break.
"O-line sucks," he joked before consolation play. "O-line sucks forever."
***
Brown Brownian Motion cooled off at Stanford Invite after a hot start to the 2018 season a couple of weeks ago. They headed back to Providence 4-3 on the weekend, taking losses to Washington (13-7), North Carolina (13-7), and Wisconsin (13-11)—all teams with talented defenses and good gameplanning.
That's what it took to lock onto Mac Hecht, Eli Motycka, John Randolph, and Dylan Villeneuve and make the offense run through the rest of the team. Those teams were also able to work though Brown's zone defense, a signal to focus on matchup sets.
This weekend shouldn't imply that Brown isn't a Nationals-worthy team, but it did show some regression—that always seems to happen to a team that was hot at Warm Up.
***
Colorado Mamabird struggled on Saturday (1-2) and made some progress on Sunday (2-1), walking away with a 3-3 weekend.
"Lot of losses on Saturday. Felt low energy, felt unfocused. It's a lot harder to grow from games like that. Lost to Pitt. Felt a lot more focused, a lot more intense," said fifth-year veteran Erik Hotaling.
The offense is still under construction. Mamabird had more trouble putting together clean possessions in Stevinson, especially against teams with good-looking zone defense. The defense, however, is strong and getting stronger. Colorado is focused on the long term, so while their results register as underwhelming in comparison to previous seasons, Hotaling wasn't too concerned.
"We don't need to win games at this point in the season. We just need to be able to get better and just have solid takeaways from games," he said.
Rapid Fire Thoughts
Emory Juice went 1-4 at their first Stanford Invite appearance in program history, but they didn't go down easy. Three of those losses game on double game point, to Washington, Brown, and British Columbia. The team also took a four-point lost to hosts Stanford Bloodthirsty and snagged a last-round win 12-8 over Tufts.
Speaking of hosts, Stanford Bloodthirsty put in a 3-4 weekend, playing without Nick Hirning4 and losing Gabe Hernandez to a head injury on Sunday. They still look like a top Southwest team, but the level of perceived Southwest talent earlier on the season started to normalize in the presence of top 10 teams. The scarier news: the Southwest is staring at another one bid year.
The injury bug bit Cal Poly SLOCORE again. Jeremy Dolezal-Ng, Nate Pettyjohn, Justin Ting, and Dillon Whited all sat for chunks of the weekend. When that many top guys are nursing overuse injuries, Cal Poly struggles to move the disc with confidence. It's time for SLO to get some rest.
In spite of the two-hour drive, crazy Saturday weather conditions, and teams pushing their Sunday afternoon games up early, the tournament staff made Stevinson's Central Valley Polo Club work well as a field site. The grass may have been a color somewhere between straw and dried mud, but the fields drained quite well and were perfectly flat. Sunday's (mostly) light wind and sunny weather almost felt normal, until we drove past more rusting farm equipment.
All Tournament Team
Matt Gouchoe-Hanas (North Carolina)
Elijah Long (North Carolina)
Adam Rees (Oregon)
Braedon Petrus (Oregon)
Derek Mourad (Washington)
David Yu (Wisconsin)
Dylan Best (Pittsburgh)
Correction: A previous version of this recap misidentified the Carleton player injured during the final with North Carolina. 
---