The Washington Sundodgers have tied their season series with Oregon Ego 1-1 and Stanford looks to secure a second bid for the Southwest.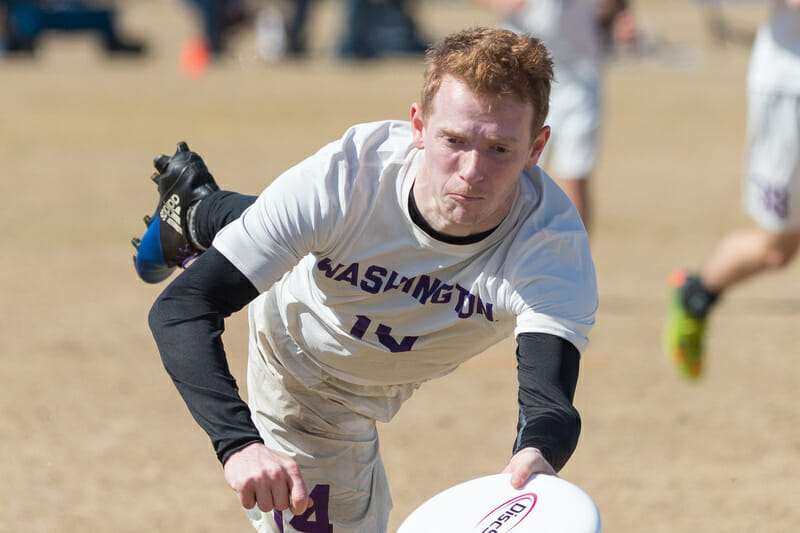 Coverage of the men's division at Northwest Challenge is presented by Spin Ultimate; all opinions are those of the author. Please support the brands that make Ultiworld possible and shop at Spin Ultimate!
SEATLLE, WA—Top contenders the Washington Sundodgers and Oregon Ego put on a show Friday night here in the Pacific Northwest, while Stanford Bloodthirsty made a strong case for a second bid to land in the Southwest.
Oregon and Washington Separate Themselves From The Pack, But Washington Wins Bragging Rights
Both #2 Oregon and #5 Washington proved to be the class of the field after the first two days at the Northwest Challenge. Both teams looked poised with the disc, and showcased an athletic edge that the rest of the field couldn't match. Neither team struggled in their first games on Friday, with both teams dispatching #18 Brigham Young without too much of a challenge, and set the stage for the Friday night showcase game between the two powerhouses.
Both teams flashed their speed early, with Oregon working the Colton Clark-Will Lohre connection as much as they could. Lohre was the safety valve for the Oregon offense, streaking deep at every opportunity. When Washington's defenders were able to keep up, Lohre would hit the brakes and win free in cuts. After getting burned by this combo, as well as the speed of Xander Cuizon Tice and Adam Rees, Washington switched tactics and ramped up the pressure on the Oregon handler set.
Reed Hendrickson in particular was a terror in the Oregon backfield and, combined with Derek Moruad's consistently excellent pulls, Washington's athletes kept the pressure on the Oregon handlers. Clark was forced to work harder and hard to find space as the showcase game wore on, and on a rare zone point from the Washington defense, he fumbled an inside throw and Washington had the break chance they needed to turn the tide. Washington's O-line and D-line offense showed excellent poise and discipline with the disc, rarely forcing throws or missing open cutters, and that proved to be the difference in the end. Oregon could not generate the blocks they needed, and Washington would not give up the disc. Steven Benaloh and Jakob Steen proved to be an untouchable combination in their own right, with Steen dominating in the air against the shorter Oregon players and helping to push Washington to a 15-13 victory.
On Saturday, the story was much the same. Both Oregon and Washington went 3-0 on Saturday, and despite a bit of a scare for Oregon from #15 Colorado State, neither looked like they needed to work too hard to dispatch their competition. The two look to be in line for a repeat of the showcase game for Sunday's final and bragging rights for the two regional rivals heading into the postseason.
Stanford On The Verge Of A Second Southwest Bid
#17 Stanford put their early season inconsistency behind them, thanks in part to the efforts of the healthy-again duo of Gabe Hernandez and Nick Hirning. Both were dominant for an athletic Stanford squad, with Hernandez piling up blocks on defense, and Hirning running the handler set with aplomb.
Bloodthirsty's path to a 4-1 record was not spotless. They had to recover several breaks against both BYU on Friday and UBC on Saturday, but they played well enough to make the semifinal bracket and push the team to the verge of a second bid for the Southwest region. While they were outclassed in their final game of the day against Oregon, the team showed they could still hang with the best in this weekend's field.
Contributions from Kevin Tien on offense and athletic defense from Sergio Licon and Allen Ndovu ensured that no opponent scored easy points.
With Oregon able to limit the impact Hernandez and Hirning could have on the game, getting these contributions from other sources will be crucial if Stanford wants to challenge Washington for a spot in Sunday's final. Look for Washington to put some of their faster defenders on Hirning to deny the disc, and force Stanford's role players to step into the spotlight.
Stanford, for its part, needs to have a good showing tomorrow in order to have a chance at sealing a second bid for the Southwest. They sit just a few rating points behind BYU for the final regional strength bid, and will need good results to push them over the cusp.
BYU Recovers To Hold Onto A Third Northwest Bid (For Now)
BYU came into the weekend holding a third bid to Nationals for the Northwest region, but a disastrous first day at the Northwest Challenge threatened to jeopardize that bid. BYU went 1-3 to start the tournament, and dropped their first game on Saturday to #16 Colorado 13-6.  "That was the worst loss we've had as a team since losing to Carleton back in 2015," said coach Bryce Merrill.
Merrill acknowledged that the team had been a tough start to the tournament, but that he saw some good things from his players. "It's been great to see some of our quieter, younger players really step up against some of the best teams we'll see all year. We had a choice between coming to this tournament or heading to Trouble In Vegas, and what we wanted was to play some genuinely tough teams." After that stumble against Colorado, the team refocused and looked explosive against Colorado State, running away with a 12-8 victory. BYU closed out the weekend with strong wins over #23 Southern California and Oregon State.
Those late wins kept BYU on the bubble for a third bid for the Northwest, just barely above a resurgent Stanford. If Stanford cannot hold onto their form, BYU just might hang on to that third bid. A big win from Washington in the semifinals over Stanford could seal it for BYU.
Notes From Around The Division
Colorado looks like they are finally putting it all together. Erik Hotaling was a force on all sides of the disc for Colorado, and Sam Hammar made a name for himself with his speed. Combined with the aerial abilities of Jack Ziemer and Mathieu Agee, they have the athletic ability to make a splash in the semifinals. While Washington handled Colorado soundly on Saturday, Colorado has the size to give Oregon a tough test. If the deep game is firing for Colorado, they could challenge for berth in the final.
It's been a rough two days for #19 Western Washington. Aside from a lone win against Tulane, the team lost three tight games against BYU, Victoria, and Colorado, along with a blowout loss to Stanford on Friday. A disappointing first two days for a team that had a chance to earn a fourth bid for the Northwest.
Colorado State looked a bit out of sorts so far this weekend. Despite the best efforts of Cody Spicer and Lucas Beal, the team never seemed to hit its stride until the end of the day against Oregon. While they still should hang on to a  bid for the South Central region, poor results in the ninth-place bracket could put that in jeopardy. A few good results should carry them forward, but that's another bid that could be in danger of going to another region.
The Championship Bracket