Who is in the best position to win the D-I Player of the Year after the regular season?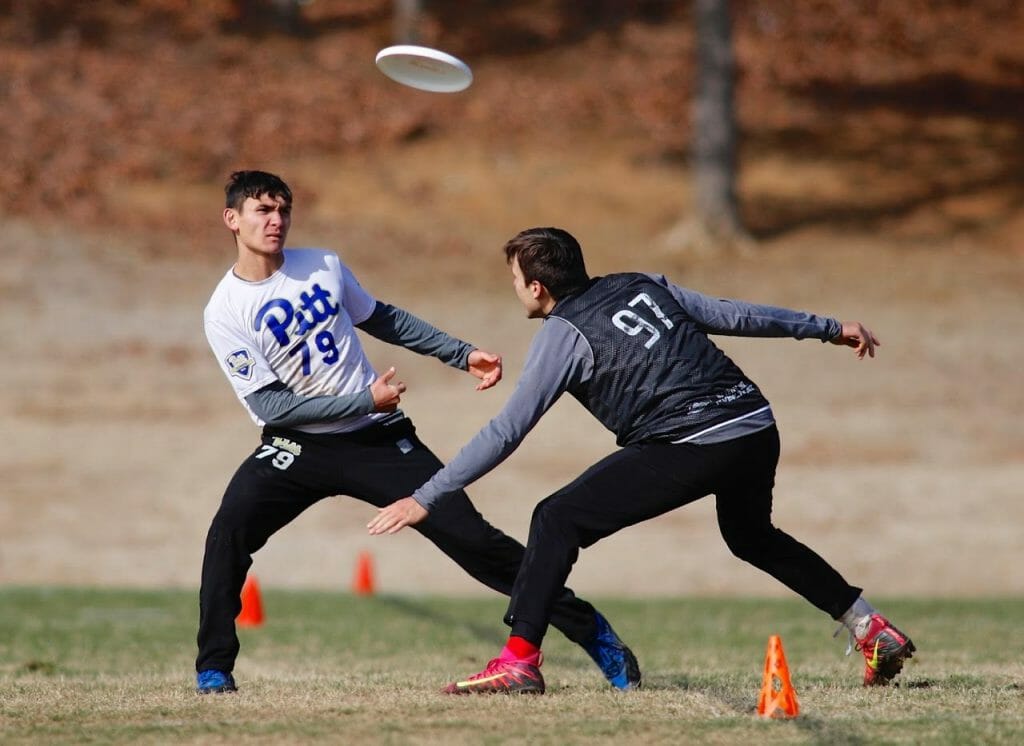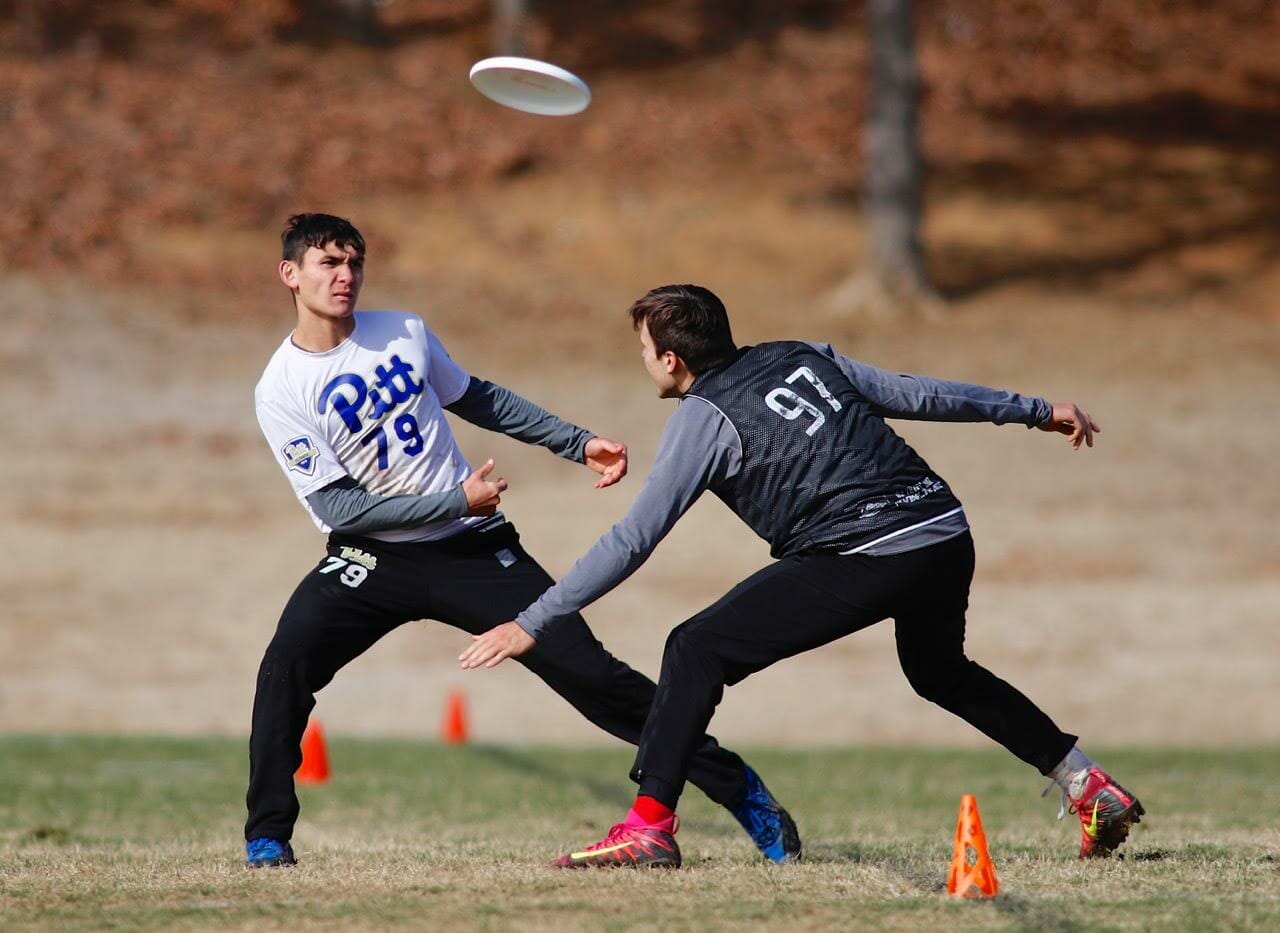 Coverage of the 2018 Player of the Year Award is presented by Spin Ultimate; all opinions are those of the authors. Please support the brands that make Ultiworld possible and shop at Spin Ultimate!
With the postseason under way, and Regionals and Nationals within sight, it's time to take a look back at the individuals who outperformed the competition this regular season and are in the conversation for Player of the Year. Both regular season and postseason performance are taken into account when deciding the award, with a lot of weight given to Nationals. As we near that critical evaluation period, here's where the stocks stand after the regular season.
Women's
Remaining at the Top
Pegged as frontrunners from the beginning of the year, these three have weathered the ups and downs of a volatile season to remain on the POTY shortlist heading into the postseason.
Ella Hansen (Oregon)
The most recent in the long line of Fugue playmakers, Ella Hansen adds much of the pace to #4 Oregon's attack. And like many of her predecessors, she does it with her throws and her vision. You want to up the tempo? Try scoring in one throw, a specialty of Hansen's with her rocket-powered forehand. In the NW Challenge showcase game against rival Washington, Hansen effortlessly tossed this assist, hard and flat, for the easy catch.
https://gfycat.com/ComplicatedCriminalKittiwake
Of course, it's easier to initiate the offense when you're jump-starting your possessions. Hansen patrols the downfield lanes like a huntress stalking prey, picking off weak passes like injured ungulates, particularly in the deep space of Fugue's zone. Even when she doesn't catch the turnover, you can often spot Hansen rushing to pick up the disc and restart play before the opposing offense has even become the defense.
Jaclyn Verzuh (Dartmouth)
Verzuh is still the game's living cheat code. She's a force of nature on the field that most can only hope to survive and even the best can't tame. Simply put, she's the best receiver in college ultimate and by generous lengths. Her throwing ability is maturing, catching up to her incredible talent away from the disc. Verzuh's offhand backhand is still being honed, as she finds the balance between beating up an opponent with it and over-reliance. But most of it's window dressing when she can still make catches like this with frightening regularity:
https://gfycat.com/TemptingImaginativeBlacknorwegianelkhound
POTY is her award to lose. She's not a shoo-in, though. She's already missed time for injury this season and during the U24 World Championships. And while her performance is often incredible, she is susceptible to slip ups, as nearly happened at Northwest Challenge against Julia Butterfield, Shayla Harris, and a well-equipped Stanford team.
Carolyn Normile (Pittsburgh)
Perhaps we're cheating here, since Normile wasn't on our initial list, but as soon as her fifth year return was confirmed, she slid right back into her top spot. Normile is perhaps the most traditional college star in this year's crop, the archetypal power thrower who typically takes the center pass, but has the athleticism and grit to do damage downfield. Her experience has granted her remarkable poise and earned her total trust from her teammates and respect from her opponents.
https://gfycat.com/ReliableQuickHorse
And when it comes down to it, she might be the best thrower, defender, and cutter on her team, a classic total package player and near-lock for Callahan finalist. The one thing Normile is missing is guiding Pittsburgh to a big-stage run–and perhaps she gets some slack for that considering her role in the Club Mixed division with AMP and their success. This year is her best and last chance to check that box.
Jumping Into Contention
These players have forced their names into the conversation and head into the postseason with a very real shot at coming home with the award, despite not being top of mind to begin the season or even on the map.
Jenny Wei (North Carolina)
The bona fides for Wei were never really in question. Her accomplishments in college, club, and with the All-Star Ultimate Tour and US U24 National Team provided a good body of evidence coming into the season. But with the help of a very strong #5 North Carolina team, Wei's status as one of the best in the country has thrust her into the center of the national conversation. She's fierce in the air and a key defender for UNC.
https://gfycat.com/GlumVictoriousHoopoe
Offensively, she has the versatility to attack with and without the disc. Her development as a thrower over the past few seasons has, as is customary, converted her from deep threat to a polished handler who can break the mark or put touch on throws to make her receivers' jobs easier.
https://gfycat.com/DecimalAjarAmericancurl
Dena Elimelech (UC San Diego)
No players stock this season has ballooned as much as Elimelech's, who went from a regionally known top end player to one of the most effective individuals in the division. She's a highlight darling; you've seen the massive layout handblock and the Disrespectful Sky from Stanford Invite. Great physical tools, strong hands, and a nose for the disc make her a posterizer. I mean, how does she even do stuff like this?
https://gfycat.com/ClearcutInsistentCrow
But no, she's not just hype and highlights. Elimelech takes on a division-leading workload and functions as her defense's last line of the defense. On offense, she grinds under cuts, moves the disc to the break side, and puts up hucks of her own. She's best one of the most productive players of 2018.
Shayla Harris (Stanford)
Known for her downfield defense and deep cuts after the turn, Harris has glowed up into a well-rounded threat who excels past most of the field in those specific aspects. So she still is piling up run through blocks and goals, but now she's also picking up the disc to start play, tossing offhand backhand breaks, and putting up well-spotted hucks in the flow of the play. Watch as she gets a heads-up block, streaks deep to initiate the offense, and then smartly times a continue cut for the four-throw goal from nearly 70 yards out.
https://gfycat.com/SoftMeekChihuahua
While she has teammates battling to take the spot of lead POTY candidate, Harris has proven to be incredibly valuable for one of the division's best clubs.
Falling Off the Map
Whether it's injuries, lack of support from their team, or just a disappointing season, these players will need to have massive performances in the postseason to turn their stock around.
Nhi Nguyen (Colorado)
Anna Thompson (UPenn)
Jackelyne Nguyen (California)
Alissa & Linnea Soo (Whitman)
On the Radar
Some names to keep track off as the Series heats up:
Julianna Werffeli (Dartmouth)
Ellen Au-Yeung (British Columbia)
Julia Butterfield (Stanford)
Laura Gerenscer (Texas)
Sadie Jezierski (Ohio State)
Maddie Gilbert (Western Washington)
Men's
Remaining At The Top
Pegged as frontrunners from the beginning of the year, these three have weathered the ups and downs of a volatile season to remain on the POTY shortlist heading into the postseason.
Matt Gouchoe-Hanas (North Carolina)
It was a slow start to the season for MGH, as he was sidelined for both Carolina Kickoff and Queen City Tune-Up. UNC was undefeated without him, and his name started to fade from headlines. Was Gooch overrated? Did UNC really need him to win a championship? A triumphant return at the Stanford Invite was all the reminder we needed for why Gouchoe-Hanas is essential to UNC's title hopes.
https://gfycat.com/InfantileFatalAnemone
He might be the most well rounded player in the nation, and is the perfect piece for the versatile UNC O-line. Not only is he key offensive fulcrum, but when the chips are down he also might be Carolina's best defensive player. Missing the first third of the season puts MGH slightly behind some of his competitors, but it's ground he can make up if he stays healthy through the series and leads UNC to their fifth straight semifinal.
Mike Ing (Pittsburgh)
On a recent episode of Deep Look, Charlie mentioned that Pittsburgh has improved the most of any team in the country. That's a credible claim based on the rough beginning to their season, but at least one Pitt player has been excellent from the jump. The only problem with Mike Ing this season has been his team's indecision on how best to use him. A monster downfield, Ing has had to take on a share of handling duties because he is also a very capable thrower. A fearsome defender, he's played lots of O-line because Pittsburgh has needed him to steady the offense.
https://gfycat.com/TotalFilthyDungbeetle
As Pitt has gotten better and better over the course of the year, Ing has been able to flex his talents more effectively. A fully unleashed Ing at Nationals is a scary prospect.
Tannor Johnson (Massachusetts)
Johnson has had a lot of weight put on his shoulders this year for UMass, and during the first half of the season, there was some question of whether or not he was up to the task. But after a dominant display at Easterns, Johnson proved that he can be the number one option for an elite offense. Whenever UMass ran into trouble, Johnson was almost Beau Kittredge-esque in his ability to be a downfield reset. And when UMass really ran into trouble, he was also Beau-esque in the air, keeping possessions alive by coming down with swill in the deep space.
https://gfycat.com/BlushingJauntyBeardedcollie
Last year, Ben Sadok rode an excellent Easterns into an explosive showing at Nationals to lock up the POTY award. If Johnson can replicate that path, he might find his name on the award next to Sadok's.
Jumping Into Contention
While not expected to be POTY contenders for one reason or another heading into the season, these players have forced their names into the conversation and head into the postseason with a very real shot at coming home with the award.
Henry Fisher (Carleton)
With historically dominant teams, it's always tough to single out one player as the most valuable. Carleton have been so good this year, it seems like you could take out any one individual piece and they would keep humming along. In fact, they sort of already have, as Joe White hasn't played a single point all year and they are still atop the power rankings. So why does Fisher get the nod here over all the other superstars on CUT? He has the least replicable skill set (especially in White's absence), and when push comes to shove, is the player most capable of taking over a game.
https://gfycat.com/WillingWetHedgehog
Fisher is not only a towering 6'6", but a CUT player recently told me that Fisher is also the fastest player on the team. That's one of the reasons their favorite look off of the pull is Lanier under to their big man out, as seen above where Fisher simply blows by his defender. "Unguardable" is term that's overblown and used too casually, but when he really puts his mind to his cutting, Fisher makes us want to reconsider that specific descriptor.
Joe Freund (Virginia Tech)
Freund might be the toughest matchup of anyone on this list. Freund is a handful all over the field. He's excellent at using his size to create space in the handler set and then taking off into the deep space to abuse tight handler covers.
https://gfycat.com/FakeLargeAmericanpainthorse
On defense, he is a key part of Virginia Tech's zones, as the sheer amount of ground he can cover behind the cup allows the front of the zone to play aggressively. If Burn doesn't have a more successful Nationals than last season, Freund probably doesn't have much of a shot at POTY. But if they are able to bully-ball their way deep into the bracket, then Freund will likely be a big reason why.
Mac Hecht (Brown)
Hecht takes the role of "high volume shooter", previously held by Parker Bray, on the POTY ballot this year. He has led a talented but shallow Brown team into a strength bid and a top 10 spot in the power rankings. After a lights out Warm Up, Hecht and Brown have cooled off a touch, but they have put themselves in great position to return to Nationals for the first time in ages. College ultimate is, and always will be, about getting buckets.
https://gfycat.com/TautPointlessGalago
If you have someone with Hecht's throwing ability and an offense that gives him a big green light, you're going to do pretty well. It helps that he has enough touch to make plays at short and medium range, too.
https://gfycat.com/JubilantPotableCow
Adam Rees (Oregon)
At the start of the season, we thought that it would be hard for any member of Ego to rise above the others. But the fifth-year Rees hit another level this season, and propelled Oregon into a three-way title race that was supposed to be only two teams deep. Breaking the hegemony at the top of the division alone is worth a spot on the POTY shortlist. Like many other players on this list, Rees is a full five tool star who defies traditional positions. His quickness, vision, and versatility make him an ideal initiating candidate, and you can see him below connecting with his O-line partner in crime, Will Lohre.
https://gfycat.com/FlamboyantWatchfulApe
Falling Off The Map
Whether it's injuries, lack of support from their team, or just a disappointing season, these players will need to have remarkable performances in the postseason to turn their stock around.
Cody Spicer (Colorado State)
Jake Steslicki (Michigan)
Wyatt Meckler (Minnesota)
Nick Vogt (Wisconsin)
On The Radar
Some names to keep track off as the Series heats up:
Davy Jones (NC State)
Gabe Hernandez (Stanford)
Brett Gramann (Massachusetts)
John Langstaff (Georgia)
Billy O'Bryan (Florida)
Tristan Van de Moortele (Minnesota)