Nine bids to the D-III College Championships are on the line!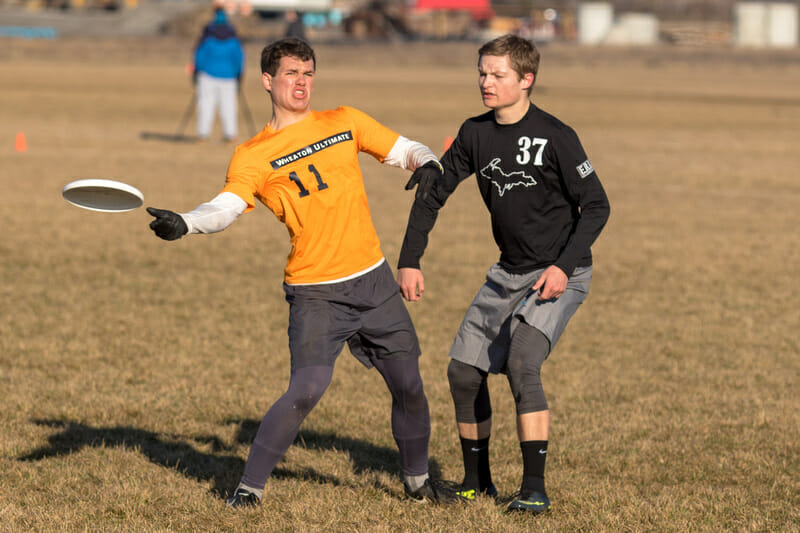 Ultiworld's 2018 Men's college coverage is presented by Spin Ultimate; all opinions are those of the author. Please support the brands that make Ultiworld possible and shop at Spin Ultimate!
A handful of invitations to D-III College Championships have already been handed out, but twelve remain. This weekend, six of the seven remaining Regionals will play out, allowing nine more teams to secure their spot in the season's finale in Rockford. Here's a rundown of all the action on tap for the next couple days.
Atlantic Coast (2 Bids)
Score Reporter
Location: Elon, NC
Top 25 Teams: 2
Weather: High 60s to high 70s; mostly sunny; light winds all weekend
Excitement Level: ?
All-Region Discussion Thread
A three-bid region in 2017, the Atlantic Coast saw a drop off in depth but still managed to retain two bids in 2018. The two teams who earned those bids are the favorites to claim the bids, but the field behind them is more than capable of pulling off the upset should the favorites have a mental lapse.
#7 Mary Washington Mother of George spent the regular season looking like not just the favorite to win the region, but also a favorite to make the semifinals of Nationals. Two surprising losses in bracket play of Conferences certainly raise some eyebrows, but MoG still enters this weekend as a near certainty to take one of the two bids to Rockford. Zach Norrbom is the best thrower in the region and his partnership with Joe Richards will create problems for opponents all weekend. Combine these two with impressive depth that includes guys like Harper James and Robert Blake, and Mary Washington should roll to a championship this weekend.
After beating MoG in the championship game of Conferences two weeks ago, the #8 Richmond Spidermonkeys enter Regionals as the number one overall seed. Despite losing last year's Donovan Award winner Henry Babcock, the defending national champions have had an impressive 2018 season, rolling through almost every D-III opponent they've seen this season. Their only losses are to #3 Middlebury and Mary Washington, and they've picked up blowout wins over regional rivals Navy and Elon. Senior Justin Keller is solid and reliable as a cutter, and Chris Selwood is mesmerizing to watch in the handler space. A 1-2 record against MoG means that Richmond won't be favored to win the region, but they will be heavy favorites to take the second bid.
The rest of the region is comprised of teams who, quite frankly, haven't shown an ability to beat the top teams in games that matter. Led by Spencer Cobb, Navy Poseidon picked up a win over Mary Washington in a meaningless second place game at Conferences, but their two losses against Mother of George this year come by a combined fifteen points. Elon Big Fat Bomb enter Regionals off the momentum of an undefeated showing at Carolina Conferences, but suffered large losses to both Mary Washington and Richmond to end the regular season at D-III EastUR. Davidson and North Carolina-Asheville are two programs in similar situations: both went to Nationals in 2017 but have struggled to replace talented senior classes. If the favorites come out lackadaisical and unfocused in a game-to-go, it's possible to see one of these teams pull off an upset; however, smart money is on the two favorites to handily take the bids to Nationals.
Great Lakes (1 Bid)
Score Reporter
Location: Brighton, MI
Top 25 Teams: 1
Weather: Low to mid 50s; cloudy on Saturday, sunny on Sunday; winds up to 14 mph
Excitement Level: ?
All-Region Discussion Thread
Just two seasons ago, the Great Lakes powered up and claimed three bids to the College Championships. Star power lined the Great Lakes, with the likes of Indiana Wesleyan's Travis Carpenter, Knox's Harper Garvey, Valparaiso's Jesus Osorio, and Wheaton's Laramie Aspegren. Since then, much of the region's talent has graduated, and the region has fallen to a point where not a single team finished in the top 25 in the USAU rankings.
Two years later, Aspegren is the region's only remaining superstar and #12 Wheaton stands as the undisputed powerhouse of the Great Lakes. Thanks to the cancellation of Old Capitol Open, Wheaton was unable to get to 10 sanctioned games this year and we did not get a real look at how they finished in the USAU rankings. The Mastadons have been a team consistently in the Ultiworld Top 25 over the past two years and should not be taken lightly. Aspegren and Holden Thompson lead this team of athletes. Look for the two of them to be making huge plays to help Wheaton capture the Great Lakes lone bid to Nationals.
With Wheaton failing to reach the game-minimum, North Park Lost Boys finished as the region's leader in the USAU rankings and head into the weekend as the tournament's top seed. A canceled Sunday of the Illinois Conference Championships means we didn't get a chance to see what the Lost Boys can do against elite D-III competition, including Wheaton. Regionals will be the first matchup between the two teams at full force and will likely determine who gets the lone bid to the National Championships. Backed by a handful of freshman with YCC experience looking to make an impact, North Park look to score an upset at Regionals and steal a birth to Nationals for the first time since 2015. No matter the result, this weekend will no doubt be a growing point for the young North Park team going forward.
Knox look to continue growing and developing since the loss of Harpey Garvey. They have developed a lot of players with disc skills and try to impact games using their depth. At D-III Midwestern Invite, they picked up an impressive win over Brandeis, but missed out on the championship bracket by just a single point. Knox has the ability to compete with high-level teams when they are at their best, but lack the top-end talent to pull out close games.
Valparaiso come into Regionals after handily winning a three-team East Plains Conference Championships. But they have had an up-and-down season to this point, taking tough losses to both Union and UNC Asheville at Music City Tune-Up. Coming off their strong conference championship performance, they'll look to ride their momentum and challenge at Regionals.
For the rest of the field, they look to prove themselves and grow as a program. Although it is a long-shot to see any other squad make a deep bracket run, teams in the bottom of the pools will look to spring some upsets and play villain for the weekend in Ann Arbor.
Metro East (1 Bid)
Score Reporter
Location: Oneonta, NY
Top 25 Teams: 2
Weather: High 50s on Saturday, low 40s on Sunday; cloudy with rain likely Saturday night into Sunday
Excitement Level: ???
All-Region Discussion Thread
There's two perspectives that one could have on the D-III Metro East. The glass half-empty outlook is that the highest ranked team from the region according to the algorithm is only #26, making the winner of this region irrelevant to the national picture. The glass half-full perspective is that all of these teams are competitive with each other and the region is fairly up for grabs, creating excitement in every matchup. Call me an optimist, but in my opinion, the competitiveness of this region makes it one of the most exciting.
The story for the Metro East is the general lack of results to analyze across the region. Despite being a ten team event, only five teams got to the ten sanctioned games threshold this season, with brutal weather across the Northeast limiting playing opportunities. The number one overall seed, #16 Wesleyan Nietzsch Factor, is one of the few teams to put together a real regular season. Led by Christopher Moetell, Wesleyan played in three tournaments this year, building chemistry through repetition that paid off with a dominant victory at Conferences. Most importantly, they are 5-1 against teams they'll be facing this weekend, highlighted by a 3-1 record against RPI. They will be favored to earn the region's lone Nationals bid.
The rest of the region totes either flawed or unconvincing resumes. #17 RPI Trudge had an up-and-down showing at Conferences, losing to Marist in the first game of the weekend and struggling against Vassar before rolling through everyone other than Wesleyan. Stevens Tech's resume is rather incomplete, only playing at a shortened Bring The Huckus and a weak Jersey Devil 7. The Hamilton Flying Saucers only played at Bring The Huckus in the regular season, but an undefeated weekend at Conferences gives them momentum coming into Regionals. SUNY Geneseo and Colgate have both failed to notch a win this year against notable opposition, but have a history of performing well at Regionals. The rest of the teams in attendance will simply be hoping to notch a few wins and get valuable reps for the younger players on their roster, with an eye on competing for the Regional crown in future years.
The wild card here is the weather for the weekend. If any teams will be comfortable in cold, wet conditions, it's those from the Northeast who are more accustomed than most. Still, with an outside chance of rain turning into snow on Sunday, the weather could level the playing field even more than it already is.
North Central (1 Bid)
Score Reporter
Location: Oshkosh, WI
Top 25 Teams: 3
Weather: Mid to high 50s; sunny; light wind
Excitement Level: ????
All-Region Discussion Thread
A region that was going to be interesting enough with just one bid and three quality teams, the North Central is made even more interesting by the trial of a new format for twelve-team events. With four pools of three, winning the pool becomes even more valuable than usual, setting teams up to potentially win the region while only playing five games. Some new programs in the region add a wrinkle to this weekend that will provide a high-level of intrigue.
The number one overall seed, #5 Carleton GoP, enters the tournament with by far the most impressive resume in the field. GoP travel more than any other team in the division, testing themselves at tournaments in North Carolina, California, Missouri, and Georgia; these reps have them battle-tested and ready to return to Nationals after missing for the first time in 2017. Led by senior captain Abe Eichner, GoP will enter this weekend with a chip on their shoulder, ready to prove that last year was simply a fluke.
Nipping on their heels is #11 Michigan Tech DiscoTech. Announcing themselves with a huge victory over Brandeis in the Friday night showcase game at D-III Midwestern Invite, DiscoTech caught everyone off guard this year, coming incredibly close to earning a second bid for the Region. Brendan McCann is one of the best handlers in the country and he has several big athletes to put his throws up to. Tech stands to gain the most from this new format; if they can win their pool and limit how many points their top guys like McCann have to play before the game-to-go, they'll stand a real chance of pulling off the upset over GoP.
Trying to crash the party for the top two seeds are #24 St. Olaf Berzerkers and Luther LUFDA. St. Olaf has had a strong season thus far; led by Grant Marolf and Drew Otterlei—who played Sub Zero in 2017—they've shown an ability to rack up wins against teams they're supposed to beat. However, they've failed to beat top opposition, most evidenced by their 13-4 hiding from GoP at Conferences. Luther is playing in Division III for the first time and they haven't made the splash that many anticipated. LUFDA doesn't have any notable wins on the season and it would be surprising to see them pull off the upset over Michigan Tech in semifinals, should everything go to seed. The rest of the teams in attendance at this tournament will struggle to hang with these top four. All eyes on this tournament will be on the championship game.
Ohio Valley (1 Bid)
Score Reporter
Location: Columbus, OH
Top 25 Teams: 2
Weather: Low to mid 50s; cloudy on Saturday, sunny on Sunday; winds around 10 mph all weekend
Excitement Level: ????
All-Region Discussion Thread
If it's excitement you want, look no further than the Ohio Valley. With multiple ranked teams, a perennial powerhouse lurking, several other squads capable of making a run, and just one bid, there is no clear favorite entering the weekend. The 12-team format calls for five pool play games on Saturday followed by three rounds of bracket play on Sunday, so whichever team survives the gauntlet is sure to have earned it.
#19 Shippensburg entered the season with a lot of hype. Last year, they challenged Franciscan in the regional semifinals before falling 16-14. But it has been a lackluster 2018 season for the Scapegoats. They struggled against top-tier competition at DIII EastUR, and took losses to lower tier teams at CWRUL. And yet they enter the weekend as the top seed and nominal favorite after cruising through the West Penn Conference. If Shippensburg is able to put it all together like thye did last year at this time, they have as good a chance as anyone to earn an invitation to Rockford.
#18 Oberlin has had an up-and-down season to this point. At Oak Creek Challenge to start the year, they took a tough loss to Brandeis, and finished the weekend with a 2-4 record. At DiscThrow Inferno, they took second place, picking up a win over Franciscan, but taking a loss to regional rival Wooster in the championship game. At D-III Midwestern Invite, Oberlin showed that they were on the verge of being a top-tier team, earning a win over St. Olaf and avenging their loss to Brandeis. At their Conference Championships, Oberlin showed they could compete with the region's best, taking down top-seeded Franciscan and Xavier. They'll be looking to repeat that performance against Fatal during pool play in order to put themselves in the best possible position heading into Sunday.
Much like Oberlin, Xavier has been inconsistent this spring. They notched wins over a handful of D-I teams that saw them enter Ultiworld's Top 25 for a few weeks. At D-III Midwestern Invite, however, they struggled to pick up wins against the top teams in attendance, falling twice to Brandeis, who pulled away late in hotly contested games. Xavier has the talent to contend for the region's lone bid, but will need to put together a more complete weekend performance than they've managed so far in 2018.
Once again, Franciscan enters Regionals as USAU's top-ranked team in the Ohio Valley. Unlike previous years, however, Franciscan will not be a favorite to earn their fourth consecutive trip to Nationals. Franciscan has not been seen against top-tier competition yet this year, thanks in part to the cancellation of Layout Pigout where they would have expected to measure themselves against teams like Williams and Bates. Fatal had dropped only one game prior to the Series—to D-I Miami (Ohio)—though they picked up two losses at Conferences and enter the weekend as the no.4 seed. Though they are not as talented as previous iterations, it's hard to count out the experience on this roster.
Perhaps the most intriguing squad outside the top four is Cedarville, a team looking to make the jump into upper-echelon. As a middling team for the past several years, they have been building with consistent Regionals appearances that have no doubt shaped their team. Cedarville have shown themselves as a team with mental toughness, willing to put their bodies on the line.
South Central (3 Bids)
Score Reporter
Location: Tulsa, OK
Top 25 Teams: 4
Weather: High 70s and sunny; winds up to 15 mph on Sunday
Excitement Level: ??
All-Region Discussion Thread
Air Force, Colorado College, and John Brown enter the Regional Championships as some of the nation's most elite teams. With three bids in the region, it is hard to imagine any of those getting stolen.
After a dominant season, Air Force enters Regionals as the number one team in the country—a spot they've occupied all spring. Despite a target on their backs since Day 1, they have continually proven themselves all season, with their only loss coming to D-ITexas-Dallas in the Stanford Open championship. Against D-III teams, their closest game of the season has been a 12-10 win over Colorado School of Mines. On the backs of stud athletes Trevor Browning, Matt Moshea, Alan Villanueva, and a handful more, Air Force is the team to beat not only in the South Central, but in the entire country.
#15 Colorado College Wasabi has been silent since the early portion of the season. They went over a month without sanctioned competition, before entering their conference championships, where they shockingly fell to Colorado School of Mines, 10-9. Surely, the team was shaking off some rust, as Wasabi proved themselves early on, picking up a win against powerhouse #4 Whitman and playing close with Carleton GOP. As a perennial powerhouse in the region, Colorado College knows what it takes to compete at the highest levels. This will be an advantage throughout the weekend, as they look to claim their bid back to the D-III College Championships.
For #6 John Brown Ironfist, the season has been rocky. A roster scare had many believing John Brown wouldn't even be able to compete in the Series. After being reinstated, they earned a third bid for the South Central Region. Grant Bruner carries the load for the team. Without Bruner at Dust Bowl, Ironfist looked inconsistent and struggled to pull away from low-level teams throughout the tournament. At Huck Finn, Bruner played a majority of the team's points and John Brown saw loads of success. They picked up wins over Purdue, Illinois State, WashU, and played close with both University of Chicago and Harvard. The experience of playing big-time D-I schools will translate well into the regional championships. They will look to fend off a handful of competitors and claim a bid to Nationals yet again.
For #25 Missouri S&T Miner Threat, it has to be a disappointment after the initial bid allocations showed they would earn another strength bid for the South Central. With just three bids ending up in the hands of the region, it is up to S&T to pick up an upset or two to advance. S&T has rode the success of big wins against lower-level competition and close games with top-tier teams throughout much of the season, but outside of a 12-11 win over Illinois State, they have failed to finish off the big games. If they want to steal a bid to Nationals, it will take finishing off some of those tight games against elite competition.
Colorado School of Mines scored an upset victory over Colorado College at their conference championships, showing that they can compete against the region's best. But outside of that surprise win and playing close with Air Force at Air Force Invite, Entropy has had an otherwise average year, picking up few notable wins. If they can repeat their conference championship performance against Colorado College, however, Colorado School of Mines has the chance to steal one of the region's bids.