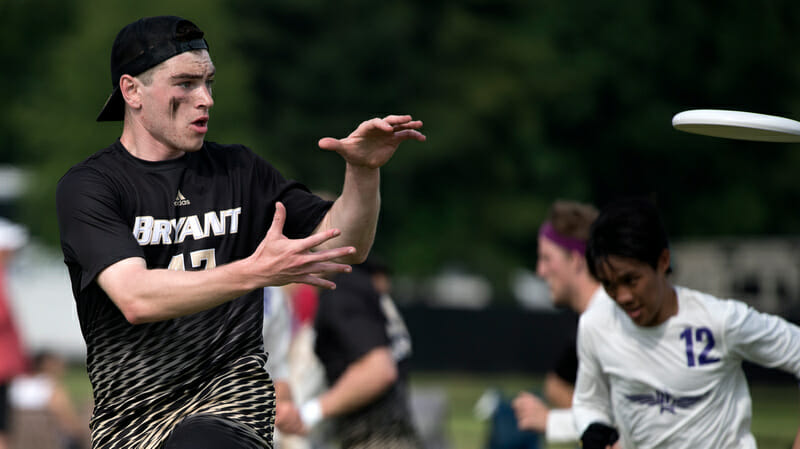 Coverage of Men's Division of the 2018 D-III College Championships is presented by Spin Ultimate. All opinions are those of the authors. Please support the brands that make Ultiworld possible and shop at Spin Ultimate!
The top teams from all around the country will be converging on Rockford, IL this weekend to determine who is the best of the best at the 2018 D-III College Championships. Regionally diverse pools lead to matchups we haven't seen before, and a better than expected forecast (knock on wood!!!!) has set the stage for the teams in attendance to duke it out with little influence from the elements. Let's take a look at how the pools break down:
Pool A
Written by Mike Ball
The Teams
Favorite to Win the Pool
For the third consecutive year, Bryant enters Nationals as the number one overall seed and the favorite to win Pool A. However, Craze failed to win the pool in 2016 and 2017; will 2018 be the year they finally justify their ranking?
This year's iteration of Bryant is coming in to Rockford more battle-tested than the last two years. In 2016 and 2017, Craze blew away the competition at New England Regionals, going undefeated both seasons and winning comfortably in all of their games. This year, Bryant dropped a pool play game to Bates and faced a difficult battle against Middlebury in the semifinals, which they went on to win 13-11. Of course, every team wants to win in a blowout every game, but there's value in learning how to play from behind and win close games, and Craze is better off this year for the experience they had at Regionals.
Bryant's personnel and system are both set up to succeed in Rockford. Craze is famous for their intimidating zone defense, keeping four big bodies around the disc at all times and daring you to throw something over the top. We all know what the weather can do in Rockford, and any bit of inclimate weather feeds into the style of play in which Bryant thrives.
They'll face tough battles throughout the pool, but Craze is ready and suited to succeed in Rockford, making them the favorites to win the pool.
Players To Watch
Alex Kenworthy (Bryant) – The guy Bryant calls "Sharkboy" might as well pay rent in the endzone. Kenworthy has led Bryant in goals at Nationals the last two years, and there's little doubt he'll do the same in Rockford. The Donovan nominee has also expanded his game this year, making more throws and stepping up to make more plays defensively.
Nathan Vickroy (Georgia College) – Plenty of words have been written about Vickroy's talent, so at this point, we'll let his numbers do the talking. At Nationals in 2016, Vickroy had 13 goals, 30 assists, and 8 blocks. He's only improved since then.
Chris Selwood (Richmond) – Richmond's most dynamic playmaker has shown a new wrinkle in his game this season. While last year Selwood served as the center handler on offense, this year has seen him start many points downfield, using his quickness to generate yardage before resuming his threat with this disc.
Toby Harvey (Oberlin) – Oberlin's star is essentially what you would get if you asked a mad scientist to create a handler defender's nightmare. Left-handed? Check. Complete arsenal of break throws? Check. Relentless energy? Check. Oberlin drew a tough pool, but if they're going to succeed, it will be in no small part because of Harvey.
Game To Watch
Richmond vs Georgia College
The last two National Champions. Two different styles of play. Elite talent. High stakes. This game has it all. Richmond and Georgia College will face off at 1 pm CST on Saturday in a game that will likely decide who finishes second in the pool, and with a prequarters matchup against a loaded pool D, this game could very well be the difference in who qualifies to play meaningful games on Sunday.
Styles make fights, and the styles of these two teams couldn't be more different. Richmond is one of the deeper teams in the division. Coach Matt Graves has done an excellent job of creating a program with buy-in up and down the roster. Guys like Justin Keller and Harris Cannon are great defenders who will churn out yards after a turn. Ben Weinstein and Graydon Cowan are handlers who play within themselves and don't take shots they can't hit. Chris Selwood is the closest thing they have to a star, but that's more of a testament to his skill level rather than the role he's asked to play.
On the other end of the spectrum is Georgia College's star-driven style of play, and with the level of players that Disconnected has, it's hard to argue with their strategy. Nathan Vickroy is capable of being the best player in the division, as evidenced by his performance at Nationals in 2016. Jacques Perivier is the Robin to Vickroy's Batman; while Vickroy is more likely to make the spectacular play, Perivier is the steady handler putting him in the positions to make those plays. These two will play as many points as they can handle for Georgia College, and Disconnected will go as they can carry them.
The clash between Richmond's system and Georgia College's stars will be the most interesting game in this pool.
Pool A Hot Take
Oberlin will beat Bryant. This take is rooted in respect for Oberlin rather than a slight on Bryant. The Flying Horsecows are one of the hottest teams in the division and the strongest pool four seed, and I struggle to believe they won't pick up an upset in pool play.
Oberlin is a team that's built to handle Bryant's strengths. Harvey and Noam Fisherman are the kind of patient handler duo that can work through Bryant's zone. Julian Bregstone and Lucian Fitzpatrick have the athleticism to compete with Bryant on defense. Most importantly, this is the second game of pool play. Bryant will be concerned with their looming matchup against Richmond, and Oberlin will have worked through the nerves that come with playing in Nationals for the first time.
Unfortunately for Oberlin, I don't think this will matter, as I think Bryant still wins the pool and Oberlin still misses out on prequarters.
Pool Prediction
Bryant
Georgia College
Richmond
Oberlin
Pool B
Written by Zakk Mabrey
The Teams
Favorite to Win the Pool
Air Force Afterburn has consistently proven themselves at every tournament they have attended. They enter the D-III College Championships with a record of 33-2 on the season, and only one loss to D-III competition, in a relatively meaningless regional championship game against Missouri S&T.
With a ton of firepower across the roster, Air Force is a team that is hard for anyone to match up with. Donovan Award Finalist Alan Villanueva leads the team with a strong variety of throws, explosive athleticism, and outstanding defense. Matthew Moshea led the team in goals last year, Trevor Browning was a POTY candidate that missed the College Championships, and Kinoa Chun-Moy was D-III's Breakout Player of the Year last year. Air Force is a team filled with accomplished athletes, and loaded with experience.
Last year, Air Force fell victim to a combination of a schedule change and a military ball that caused their juniors to miss Saturday. Fortunately for them, the military ball won't be an issue this year, and the team will be at full strength. Air Force already holds a win over Pool B two-seed Whitman on the season, 15-11 at D-III Midwestern Invite. This weekend, they are not only a pool favorite, but a tournament favorite.
Players to Watch
Alan Villanueva (Air Force) – Alan has proven himself as one of the nation's elite players. Successful in both the deep space, and operating as a handler, Villanueva controls the flow of any Air Force game. Recently, he earned a spot on Denver Johnny Bravo. Look for him to make big plays all weekend.
Robbie Farwell (Whitman) – Robbie Farwell has developed a name for himself on the AUDL circuit playing for the Seattle Cascades over the last three years. That experience has helped lead Whitman to a very successful season in D-III. His combination of talent and experience should help Whitman through any adversity they face on the weekend.
Kainoa Chun-Moy (Air Force) – Last year, Noa exploded onto the scene at Nationals. He proved himself as a lockdown defender in many of the team's games. Often times, he took the matchup with opposing team's best players, and dominated the disc offensively. Kainoa Chun-Moy showed up in a big way on the biggest stage last year, and we'll have to see what he can do this year.
Game To Watch
Whitman vs Bowdoin
Whitman has been a hot ticket since their announcement to play D-III at the beginning of the year. Throughout much of the season, they saw themselves at the top of Ultiworld's Top-25. They took home a second-place finish at D-III Midwestern Invite, relatively uncontested until their matchup with Air Force in the final.
Bowdoin came out of a tough three-bid New England Region and see themselves ranked 10th in the country by Ultiworld. They have played close with Bryant this season and had a nice showing at Regionals to find their way to the National Championship.
This matchup features two of the top teams in the country, and a matchup of East vs West. Whitman, from Washington, and Bowdoin, from Maine, are over 3,000 miles apart. This is a matchup that is only possible at Nationals, and is what makes this tournament great.
Pool B Hot Take
Pool B is the toughest pool at the tournament–this is the real pool of death. Air Force and Whitman have been at the top of the power rankings all year, and Bowdoin has shown spurts of greatness. Whoever finishes third in the pool will win their crossover matchup in prequarters. Whichever team ends up finishing second in Pool C must be on high-alert for their crossover match. Even the pool's bottom seed, RPI Trudge, will give the other three teams all they can handle. Trudge fought their way out of the one-bid Metro East and they've proven the ability to hang with the other teams in this pool, evidenced by their double game point loss to Bowdoin at New England Open. Coached by former Ironside player David Ferraro, Trudge will be disciplined and well-prepared. They'll push every team in this pool and, if overlooked, are capable of an upset.
Pool Prediction
Air Force
Bowdoin
Whitman
RPI
Pool C
Written by Mike Ball
The Teams
Favorite to Win the Pool
After a couple years of disappointing performances at New England Regionals, the Middlebury Pranksters return to Nationals as the number three overall seed and the favorites to win Pool C.
The Pranksters have traditionally been a team that performs well during the regular season, and their 2018 campaign was no different. Middlebury compiled an impressive 15-1 regular season record that included two 15-9 victories over Nationals teams Mary Washington and Richmond at D-III EastUR. They kept this momentum going into the Series, where they accrued a 12-2 record. Their only loss this season to a D-III opponent was a 13-11 loss to Bryant, and they have a 4-1 record against Nationals qualifiers with a point differential of +21 in those four wins. There aren't many resumes at Nationals more impressive than the Pranksters'.
The only worrisome aspect of Middlebury this weekend is also the thing that makes them terrifying for the future: their youth. Only three members of Middlebury's roster are seniors, and 17 of their 24 players are freshmen or sophomores. The team's top contributors, Dylan Salzman and Kai DeLorenzo, are a junior and sophomore, respectively. The Pranksters graduated 10 seniors last season, but they've replaced those players seamlessly with a strong freshman class, highlighted by Ian Hanson and Josh Sims-Speyer.
Luckily for the Pranksters, they drew what is probably the weakest of the four pools, and they'll have two games against equally green opposition before facing an experienced team in John Brown. Expect the young guns on Middlebury to have shaken the nerves by then and take the pool with a strong showing in the last round of pool play over Ironfist.
Players to Watch
Dylan Salzman (Middlebury) – Expectations were high for Salzman before he even stepped on to Middlebury's campus. The 2016 WJUC Tryout Invitee and 2018 U24 Tryout Invitee is one of the best handlers in the division, and in his junior year, he finally has the chance to show it on the biggest stage.
Kai DeLorenzo (Middlebury) – The other half of Middlebury's star duo, DeLorenzo is the perfect compliment to his counterpart in Salzman. While still a strong thrower, DeLorenzo provides a little bit more athleticism to complement Salzman's elite throwing. He'll be crucial for relieving pressure from Salzman and could very easily end up having the bigger weekend of the two.
Grant Bruner (John Brown) – There will be plenty of opportunities to watch John Brown's workhorse handler this weekend, considering he'll rarely have the opportunity to take a point off. In the past, Bruner has had a tendency to be loose with the disc; he'll need to tighten things up to avoid marathon points that will waste Ironfist's limited legs. That being said, if the ten man roster makes it to quarters, Bruner will be the biggest reason why.
Brad Johnson (North Park) – North Park has a deep roster that receives considerable contributions from everyone who plays, but their star is center handler Brad Johnson. Johnson has shown throughout the season to be capable of making difficult throws in tough weather conditions, and if North Park is to make a surprise run this weekend, his throwing ability will be the driving force.
Chris Roach (Puget Sound) – In a division dominated by handlers, Roach stands out as one of the best cutters in D-III ultimate. Tall and athletic, Roach is a menace as a defender and consistently puts his body on the line. His most dangerous asset, however, is his flick huck. Roach has an unorthodox throwing motion that has a big windup, but he can throw his flick a country mile. Expect to see him initiate the offense with an under, then turn and bomb it to the end zone multiple times this weekend.
Game to Watch
Middlebury vs John Brown
It seems obvious to pick the game between the top two seeds in the pool as the game to watch, but this game is crucial to John Brown having any chance of advancing to meaningful games on Sunday.
It's common for D-III teams to have smaller rosters than their D-I counterparts; this is a natural occurrence from having a smaller student body from which to recruit. However, John Brown is taking this to an extreme this weekend, toting a roster of just ten players to Rockford. Playing three games to 15 in one day with a roster that small is already challenging, but adding a fourth game in prequarters feels like an impossible feat for Ironfist to overcome.
What Ironfist lack in quantity, they make up for in quality. There's not a weak link in the roster, and all ten players will need to contribute. The team is led by seniors Grant Bruner and Ethan Bolthouse. Bruner in particular will be the key to John Brown's success this weekend, and he's shown the capability to play a large number of points while maintaining a high level of play. At Huck Finn, Ironfist's most successful tournament this season, Bruner played all but five points on the weekend. He'll need to put in another superhuman effort this weekend, and Bruner and the rest of the roster will put everything they have into this game knowing that the bye into quarters will be crucial.
Pool C Hot Take
UPS will be the only pool four seed to qualify for prequarters. This might be my hottest take, but hear me out. This is the most top-heavy of the four pools; I don't think anybody is picking against Middlebury or John Brown to qualify for bracket play. However, the matchup for third in the pool between North Park and Puget Sound will be a great game between two teams who already shocked the country by qualifying for Nationals looking to keep their seasons alive.
The North Park Lost Boys came out of nowhere to dominate the Great Lakes and earn their bid to Rockford. Brad Johnson is a terrific handler, and Drew Swanson will be one of the best aerial threats at the tournament. The Lost Boys have a truly impressive core of cutters, with guys like Eric Lundgren and Curtis Pederson chewing up big yards on unders in the space created by Swanson. Nobody came within five points of North Park at Regionals and they're certainly the favorite to take third in the pool.
That being said, Puget Sound is battle-tested in a way that North Park isn't, and I think that will be the key to the Postmen pulling off this upset. Puget Sound played multiple bid-earning teams this season, and battled through the backdoor bracket of Northwest Regionals to shockingly earn the second bid to Rockford. Chris Roach has the athleticism to match up with Swanson, and Lucas Crowley is the kind of relentless handler that defenders hate matching up with over the course of a long game. It's going to come down to a close finish, but I think the challenges faced by the Postmen this season will payoff, and UPS will take third in the pool.
Predicted Finish
Middlebury
John Brown
Puget Sound
North Park
Pool D
Written by Hugo Sowder
The Teams
Pool D is unique for being the only pool with three teams ranked right next to each other in the Ultiworld Top 25. The pool seeding doesn't quite match up, but rest assured, any of the top three teams could earn a bye into quarters. Two potential Player of the Year candidates grace the rosters of Mary Washington and Carleton GoP, while Missouri S&T Miner Threat is probably one of the most exciting returners to Nationals this season after an impressive run at South Central Regionals to end a six year Nationals drought. Occidental fills out the pool as the 16 seed, drawing a tough line up of very good teams. Last season Pool D ended up with a three-way tie and it's not unreasonable to imagine a similar outcome this weekend.
Favorite to Win the Pool
This one's a bit of a toss up. Mary Washington and Carleton GoP are both really strong offensively. The safest bet might be on GoP. They've been steady offensively all season long and logged a win against Missouri S&T earlier this season at Midwest Throwdown. They've remained undefeated throughout the Series and have an excellent offensive core headed by one of the steadiest handlers in the division in Abe Eichner. Carleton's journey this season has taken them all across the country, and they have faced a great deal of adversity against some of the best D-I squads in the country. While Mary Washington and S&T both have a shot to take the pool, Carleton's discipline and positive, loose team energy gives them an edge.
Mary Washington certainly boasts an excellent season record, but they've also been vulnerable to moments of undisciplined play, as evidenced by their slip up against Navy at Conferences. S&T and Occidental are both wild cards heading into Saturday. While S&T showed that they are a force to be reckoned with by picking up a win over Air Force at Regionals, their loss earlier this year to GoP feels like a preview of what we'll see when they match up again this weekend.
Players to Watch
Zach Norrbom (Mary Washington) – No matter the conditions, Norrbom has all the skill to drive Mary Washington's offense to victory in Pool D. His backhand is lethal, but it's the arsenal of crisp break throws and agile footwork that make Norrbom so deadly against zones and in dump sets. The fact that Norrbom is a lefty changes the way he can attack the field and take on different defensive looks.
Abe Eichner (Carleton GoP) – Eichner has been a key thrower for GoP throughout his tenure and has been the centerpiece of their horizontal offense and dump sets this season. His arsenal may not be as flashy as Norrbom's, but it's Eichner's consistency and discipline that make him such a strong and reliable handler.
Adam Grammer (Occidental) – In the game to go against Claremont, Adam Gammer wracked up six assists and four goals to carry Detox to Nationals. Occidental may be hard to measure coming into the weekend against the other teams in their pool, but if Detox manages to pull an upset this weekend it will be in no small part due to Grammar's crafty array of throws and powerful forehand.
Game to Watch
Mary Washington v Carleton GoP
Both Mary Washington and GoP have thrived with excellent offense this season and posses two of the best throwers in the division. Abe Eichner and Zach Norrbom play somewhat different styles; while Mary Washington likes to isolate receivers in a vert stack and utilize Norrbom's range and agility to power their offense, GoP has shown a preference to go horizontal, patiently working into a flow with unders and resets and always keeping an eye deep for an open receiver. GoP's focus has been largely centered on using space on the field to create large cutting windows for all seven players on the line to throw into. The real question will be what kind of defense the teams employ against each other. Both squads have shown a preference to match up in simple person defense this season, but with forecasted conditions still up in the air, it will be interesting to see what wrinkles the two teams add to take advantage of the elements. Both teams will be coming off of two consecutive games and if both can fend off Missouri S&T and Occidental, this game will decide who earns a bye into quarters. I fully expect Norrbom and Eichner to be on fire for this one. Buckle up!
Pool D Hot Take
Missouri S&T Miner Threat is the real favorite to win the pool. Or should I say, major threat. The last time Miner Threat made D-III Nationals, they came in third. That's not lost on this South Central upstart. Missouri S&T went through the top South Central teams to get to Nationals, putting on a wall-to-wall performance that raised a lot of eyebrows–and their power ranking–and put them on the map as a team to watch this weekend. They are the only D-III team with a win against Air Force, arguably the best team in the division.
Their schedule has them slated to compete against Mary Washington and Carleton GoP in that order to start the day before finishing with Occidental. If they can steal a win early in the day against Mary Washington, they would put themselves in a very powerful position heading into their game against GoP. S&T has the size and depth within their roster to hang with any of the top squads above them, and their ability to challenge Mary Washington and GoP defensively will be a key element to locking up Pool D. They like to play zone and offer a different kind of style to the shiny offense of Mary Washington and GoP. Disregard S&T's singular loss to GoP this season–it doesn't matter at Nationals time. Miner Threat played for keeps at Regionals and came up with big wins. They are not a team to sleep on. They are not a minor threat.
Pool Prediction
Missouri S&T
Carleton GoP
Mary Washington
Occidental
---
This might be the best name at Nationals. At minimum, a strong contender. ↩