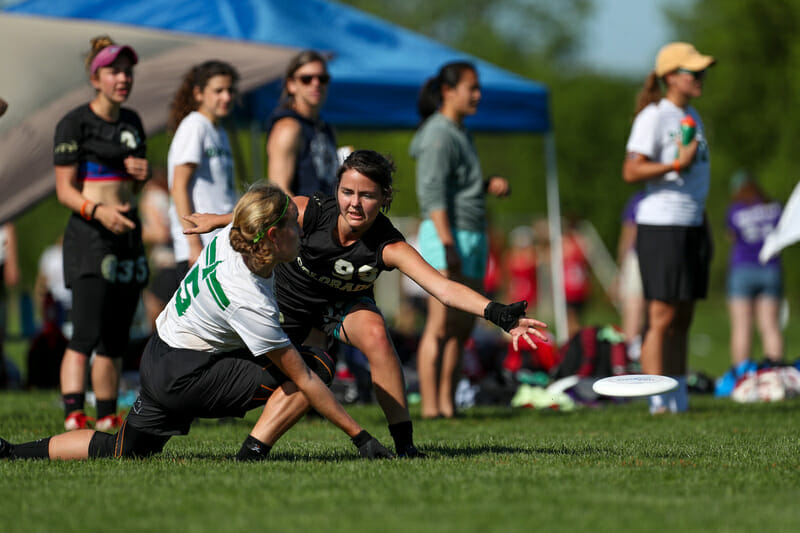 Coverage of the Women's Division of the 2018 D-I College Championships is presented by VC Ultimate as part of their season-long support of our women's coverage. All opinions are those of the authors. Please support the brands that make Ultiworld possible and shop at VC Ultimate!
In a game that has already drawn David and Goliath comparisons, No. 12 seed Colorado Kali will play No. 1 seed Dartmouth Princess Layout in the Women's College Championship game.
The two teams have had very different paths to the make it this far. Dartmouth has dominated their competition, allowing no team to score double digits against them. By contrast, Colorado has already suffered a defeat at Nationals — to Dartmouth by eight points — and has had two games decided on double game point. Unless disaster strikes for Dartmouth, they will repeat as National champions.
From day one of the college season, Dartmouth has had the best odds to win Nationals. They returned the majority of their stars from their 2017 championship season and traded Angela Zhu for Claire Trop, who's shown herself to be a worthy replacement. In the 25 games that they played before making Nationals, only two teams were able to score in the double-digits against them, and they've won their games by an average of nine points.
During pool play, Dartmouth cruised past their competition, which included Colorado. Dartmouth went unchallenged on Day 1, finishing with only 10 points scored by their competition in two games. Day 2 played out much the same. After defeating Colorado (15-7) and West Chester (15-6), Dartmouth earned themselves a bye to quarters and a straight path to the finals.
Meeting UBC in quarters didn't slow their momentum, either. Dartmouth was too clean on offense to get broken and too efficient after the turn to let UBC get in rhythm. UBC has always struggled to start games well this season and Dartmouth made them pay for it. Facing Stanford in the semis should have caused problems for Dartmouth, as Superfly was the only team to take Dartmouth to double game point this season, but, instead, Princess Layout smothered Stanford's offense and ran away with the game late in the first half.
By playing Kali in pool play, Dartmouth should be more aware and prepared for Colorado's offensive looks. Despite winning comfortably, Dartmouth struggled to stop Kali's cutters downfield and mainly caused turnovers by pressuring the handlers. But Kelsey Bennett and Jean Russell have been playing tremendous ultimate since that game, and Kali could be a completely different team than what Dartmouth saw on Saturday.
"We take Kali really seriously, and we're going to fight as hard as we can tomorrow, and we're not taking anything for granted," said Piper Curtis.
Their previous meeting has also given Colorado a chance to be better prepared for the rematch. Kali may have been soundly beaten, but the team has proven that they have the stamina to outlast teams that were seeded above them.
What's unusual about Colorado's path is that they actually haven't had to play many of the highest seeded teams at the tournament. Due to upsets during pool play, the 1st, 2nd, 3rd, 4th, and 6th seeded teams at Nationals all ended up on the same side of the bracket. After taking 2nd in their pool by upsetting Tufts, the highest seed Colorado could play before the finals was Oregon, the 5th seed. In their prequarter game, Colorado beat NC State, the 16th seed, to advance to quarters. Despite NCSU's admittedly impressive offensive unit, it was obvious that they were lacking the depth and experience of a team that had previously been to Nationals. This ushered them into a quarters game against Texas, the 8th seed. While Melee was one of the stronger teams at the tournament, Colorado has played them countless times over the past two years and knew exactly what it took to beat their in-region rivals.
Even after advancing to semis, Colorado still only had to face Pittsburgh, the 11th seed. Pitt had certainly been playing above their seed all tournament, but it was still a surprise to see two teams in the semi that were both outside of the top 10. In fact, Colorado is the lowest seed to make the finals of Nationals since the tournament expanded to 20 teams!
By making it this far, Kali has showed that depth matters. Colorado was only the only team in both Women's semifinal games to play the entirety of their roster. So when Kali says that they have the best depth in the nation, the stats back it up. Many teams like to brag about their roster depth, but Colorado walks the talk.
Beating Dartmouth will take more than depth, though. Colorado will have to rely on a few players to play the game of their lives if they want to beat the team. There are a few stars from Colorado's developed roster, who we've profiled here. Against Dartmouth, these players will need to make huge defensive plays while remaining efficient on offense.
Colorado's biggest challenge is stopping Verzuh. They have an athletic defensive line, but no one with the height or physicality to match Dartmouth's not-so-secret weapon. It's possible that they will try to stick Rachel Wilmoth on Verzuh, but it's just as likely that they'll rotate defenders on her all game in an attempt to find a matchup that works.
For Colorado to have any shot at winning this game, they can't make any small mistakes on offense. Dartmouth's D-line offense is the best in the nation. It may seem like a long shot, but so were Colorado's chances of even making the final.