Stanford mixed in a variety of defenses in an attempt to slow down the most dominant offense in the division.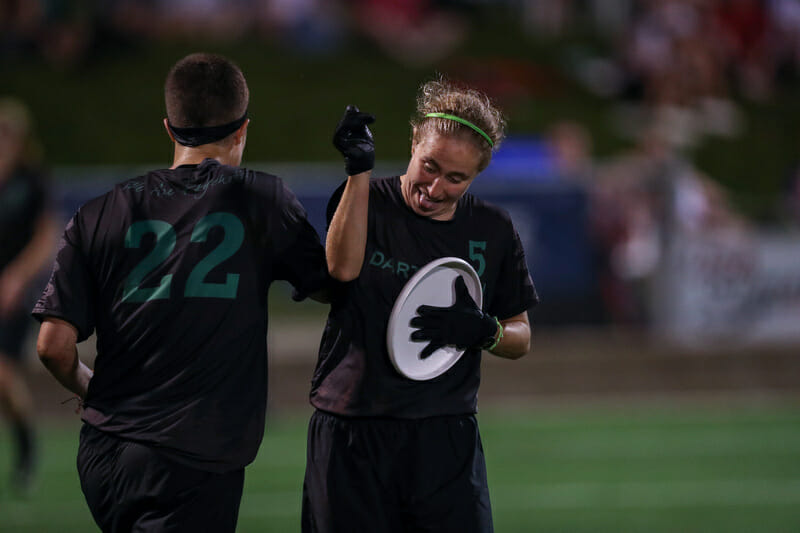 Coverage of the Women's Division of the 2018 D-I College Championships is presented by VC Ultimate as part of their season-long support of our women's coverage. All opinions are those of the authors. Please support the brands that make Ultiworld possible and shop at VC Ultimate!
Defending champions Dartmouth Princess Layout claimed their spot in the Championship final last night after a master class in offense against Stanford Superfly, winning 12-8. Like their last rematch, Stanford tried several defenses to fluster Dartmouth. Yet unlike that battle at Northwest Challenge, Stanford's offense couldn't find the end zone when it mattered.
Stanford Plays an Oregon Zone on Dartmouth
Stanford opened the game with person defense and poaches in the throwing lanes, but on their second defensive opportunity they threw a unique diamond zone with an interesting origin.
"We learned that [zone] because that's what Oregon played on us at Northwest Challenge," said Stanford coach Robin Davis, "…now we've only played that D the entire weekend."
Stanford spent weeks setting it against each other to practice so they could beat Oregon, and they decided to throw it for most of Nationals against other teams.
In an interesting twist of fate, this zone is likely similar to what Dartmouth faced from Oregon last year at Nationals, when Oregon upset them in pool play. The zone worked for Fugue in 2017, and it worked wonders on Dartmouth's starting line in last night's semifinal:
Rachel Gianforte, Cailin Hardell, and Aminata Kalokoh set an inverse cup on the handlers with two women behind the mark in the lanes. Shayla Harris guards the midfield space alongside Caitlin Go and Michelle McGhee while graduate star Julia Butterfield commanded the full deep space. Like their zones at Northwest Challenge, this zone can bend and shift as the disc moves without collapsing or breaking down.
Last year, Dartmouth sent Jaclyn Verzuh into the deep space to act as their escape valve in high stall situations. This season, Verzuh has been moving into the backfield to help facilitate movement with quick passes and disruption in the cup. The shift accomplishes Dartmouth's goal of maintaining possession, but it also slows the game way down.
The third point of the semifinal lasted 23 minutes and included more than 100 passes from Dartmouth star handler Julianna Werffeli. Every pass tested the patience of all 14 women on the field. Dartmouth doggedly took the easy options throw after throw, and Stanford's defenders protected their spaces in the zone without biting too hard on the long OI swings from Werffeli to Verzuh on the far side.
In 248 throws on the point, Dartmouth misfired only three times. Stanford marched each of these opportunities toward their endzone, but their away gainers were either dropped or blocked all three times. After 22 minutes, Dartmouth held on a short pass to Abby Ritterband.
The Dartmouth sideline erupted over the hold for only their second point. The score was early, but it was crucial and would define the rest of the game. Dartmouth proved they could throw hundreds of perfect passes without rushing, fumbling the disc, or even placing the wrong edge on a throw. If the rest of the semifinal was a game of attrition, Dartmouth was going to win it.
Stanford sent out many of the same women for the next offensive point, while Dartmouth recycled most of their spots for the defensive line, adding players like Caitlyn Lee, Claire Trop, and Mae Hardebeck. The point was over quickly: an errant pass from Hallie Dunham was blocked by Lee, and Dartmouth broke with ease.
Stanford set a 4-person cup in their next defensive point, a defense that worked well for them at Northwest Challenge. Dartmouth, however, would not be fooled twice. They added Trop to their O-line rotation, and they pressed Stanford's cup more with high release shots over the cup and quicker movements.
Trop added the aggressive push that Dartmouth needed in their offense, and she played an incredible semifinal with three assists, two goals, and one block across her 13 points played. She had the kind of stat line that would be shocking if her teammate Verzuh hadn't already permanently raised the bar for freshman performances.
Stanford fell back into person defense for a few points in the first half, and they relied on individual performances from graduate students Bridget Connor and Butterfield to earn opportunities to break once in the first half, their only break of the game. Stanford would also test some force middle in the first half, but they couldn't recreate the pressure from the game's third point.
Stanford's Offensive Troubles
Stanford's bigger problem, however, was their offense. Dartmouth is not a zone team, and they relied exclusively on person defense to apply pressure to Stanford's players. Athletic defenders like Hardebeck and Hannah Marr denied reset options for Stanford again and again, and most of Stanford's turns in the semifinal came from late stall deep shots.
"When we worked our butts off for the turn, we couldn't get anything going," said Davis after the game.
Superfly was 1 for 6 on break opportunities in the semifinal, and many of their turns were higher stall, higher risk away shots. Harris and Butterfield made big plays to save possession more than once, but their individual efforts weren't enough to convert the precious break chances Stanford earned.
Dartmouth Fixes Their Achilles Heel
In the second half, Stanford threw their Oregon zone, their poach defense, and person defense, but Dartmouth played their system with maddening and fascinating patience and skill.
"They got better at the zone," Davis conceded. "Especially with their second line that played it… they got better at it. We were also running out of time, so we knew we couldn't have marathon points, so we had to do it with man."
"…we realized that we could start taking shots downfield," said Dartmouth handler Lily Eisner, on her team's improvement in zone offense. "I think using that and going around the cup instead of trying to bust through it was an adjustment we made that made a really big difference."
Dartmouth mixed their lines throughout the game, although they kept Trop and Lee on all their O lines in the second half, when those lines usually feature just Eisner, Verzuh, and Werffeli in the backfield. Eisner explained after the game that the line mixing was also intended to keep Stanford on their toes since the Dartmouth players each have a different zone offense approach.
Whether in zone or person defense, Dartmouth played possession ball, and they played it well. The team had a 98% passing percentage across 471 passes. Werffeli had a third of Dartmouth's touches and had a 98% personal passing percentage. By contrast, Stanford had an 86% passing percentage across 101 throws.
In order to win their semifinal game – the toughest game they've played since Northwest Challenge – Dartmouth did what the best elite programs do: they evolved and adapted. They practiced zone offense constantly against each other, sometimes adding extra women into their zones. Dartmouth's practice and their patience paid off, when they needed it most.