Ultiworld's coverage of the 2018 WFDF World Ultimate Club Championships is presented by VC Ultimate; all opinions are those of the authors. Please support the brands that make Ultiworld possible and shop at VC Ultimate!
When I picked which clubs to preview for this series of articles, I tried to pick spirited teams from the region who were competitive, doing something novel or interesting, and promoting equal opportunities for male and female players. I landed on Havoc (Singapore) and Ellipsis (Melbourne, Australia).
Nomadic Tribe (Japan, Seed #10)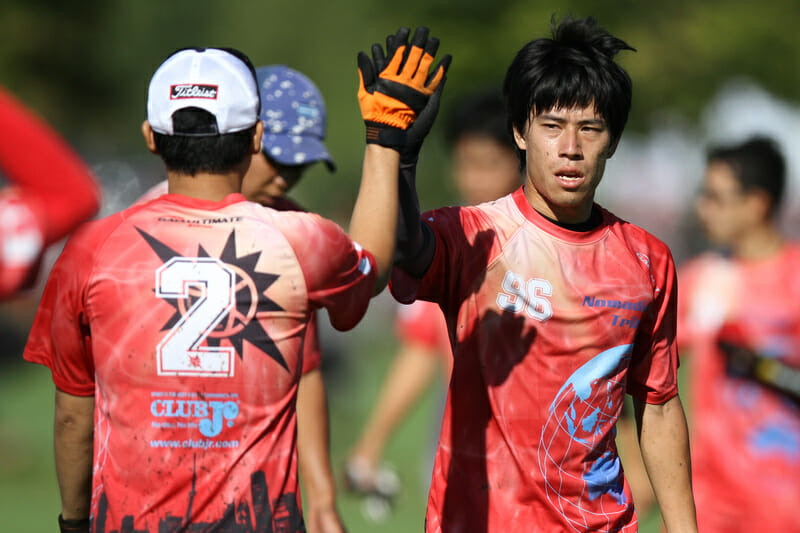 With Buzz Bullets failing to qualify for WUCC 2018, we turn our focus on the top Japanese men's team competing: Nomadic Tribe.
Nomadic Tribe just played against Buzz Bullets in the Japanese Championships this past week. Buzz got an early break and kept the pressure extremely high, and the game ended 14-8 to the Buzz Bullets, who claimed the men's division national title for 2018. (Watch the game here.) Nomadic, despite the loss, will still be a strong side in the Men's Division at WUCC.
At AOUGCC 2017, the team won Gold narrowly in a 15-13, one-break match against Singapore's Crackerjack. They also won on double game point against Australia's U24 Men's Team in the semifinals of the same tournament. At WUCC 2014, Nomadic Tribe finished a respectable 11th place.
I can't pretend to know the narrative or emotions of the athletes of Nomadic Tribe at this point in their campaign, but I firmly believe they can capitalize on their 10th place seeding and grow from the experience of this tournament. #91 Yuma-san was the head coach of the Silver medal U24 Japanese Mixed Team in Perth this year, and his experience will be valued by the team, who have a number of young athletes out of the Waseda University and Japanese Sports University ultimate programs.
Nomadic Tribe will be competing in Pool G as the second seed alongside Bad Skid (GER), Wildcats (NZL), Devon (GBR) and Daione Kumay (TPE). Bad Skid are 2017 European Champion Silver medalists and a tall team against which Nomadic Tribe will have to play smart defense to take advantage of their shot at an early bracket bye round. They will have a shot at reaching the quarterfinals.
 Colony (Australia; #Seed 4)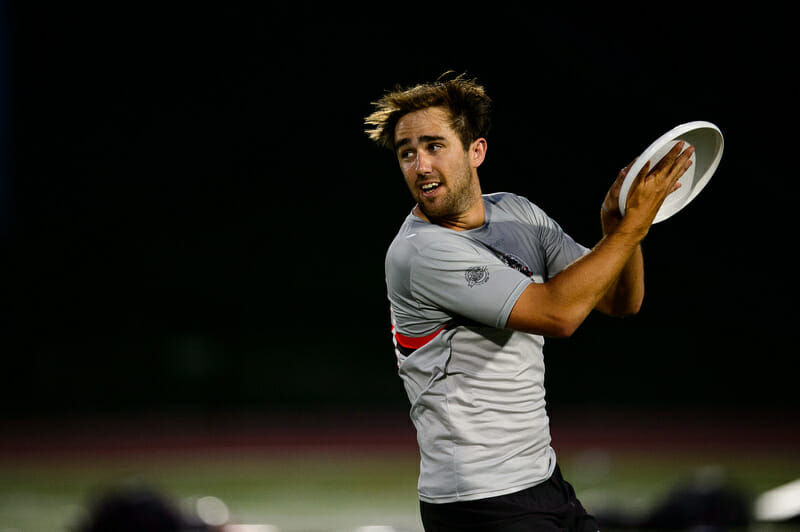 Colony has undoubtedly been the most dominant men's club in Australia for the better part of a decade. They are the highest seeded team in any division from the Asia-Pacific region and the reigning Australian national men's division champions. After a strong run to the semifinals in Lecco at WUCC 2014, the team is preparing to go deep once again.
Despite something close to a 50-0 record for the season (after a shock ninth place finish at AOUGCC 2017), the team has faced a number of close games against Australian and international clubs. This includes a 15-13 win over Brisbane Mammoth in the Gold medal match at Australian Nationals 2018, and DGP point wins over Heads of State and Chilly (both teams from Melbourne) at the WUCC seeding tournament in May. On July 6th, they posted a 13-10 win in a warm-up game played against PoNY, and this past Wednesday, the team beat DC Truck Stop on DGP.
Of course, everyone is wondering how Colony is going to look at WUCC with the addition of two USA World Games team athletes, Jimmy Mickle and Chris Kocher. 
I had the opportunity to speak with Colony captain Tom Tullet, Mickle and Kocher at Australian Nationals this past April. Mickle and Kocher said they were far more interested in living abroad than competing at WUCC after their respective home clubs, Johnny Bravo1 and PoNY, failed to qualify for the tournament.
There's no doubt that Colony will be looking to contend for the semifinals again this year. I know for a fact that Tullet is a huge frother2 and has been working hard for years to win a world championship for his team. Depending on how they manage the depth of their roster throughout the tournament, Colony can play ball with all of the top teams in the division, and they should have an outside chance to win.
As the first seed in Pool D, Colony will have to perform well in power pools that will likely involve Goat (CAN), Ragnarok (DEN) and Tchac (FRA) to get an automatic spot in pre-quarters. With captains and key shooters Tullet and Mark Evans both missing a portion of the domestic season with injuries, it will be interesting to see how the team will fit them back onto an elite O-line.
Watch Colony's preliminary pool play game against TCHAC (FRA) on Sunday, July 15th.
---
Mickle played for Bravo through 2017. This year, he will join Kocher on PoNY ↩

At one point during our first conversation at nationals he began streaming an ultimate game while watching another game in real life, while having a conversation about ultimate. "You think you love ultimate? I LOVE ultimate." ↩