The fireworks continue!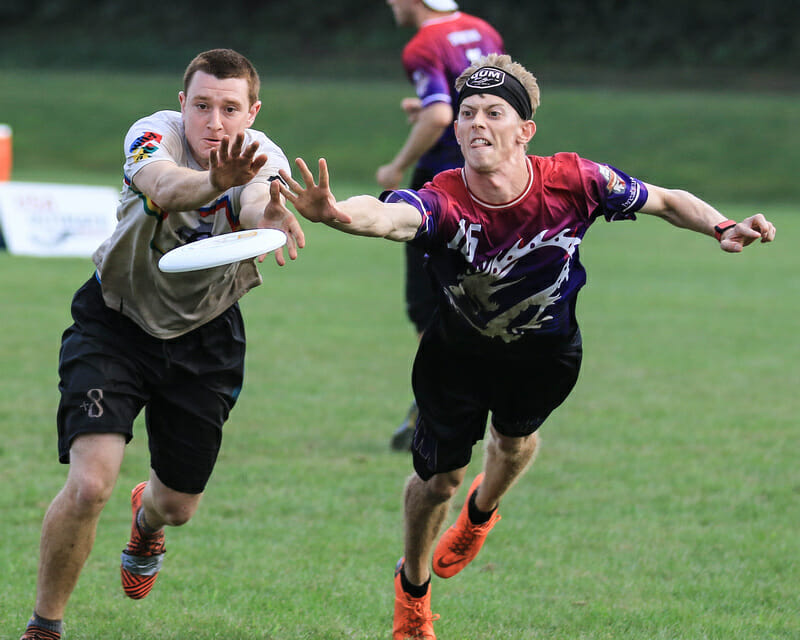 Ultiworld's reporting on the mixed division of the 2018 Elite-Select Challenge is presented by Universe Point cleats. All opinions are those of the authors. Please support the brands that make Ultiworld possible and shop at Universe Point!
Another wild day of action ends with just two teams remaining in the Mixed Division. Crosstown rivalries in Minneapolis and Seattle broke out in the process. This entertaining tune up has every team thinking about what adjustments will be needed heading into the series.
Final Round of Pool Play
Mixtape v. Slow White
After a surprisingly pedestrian start to the season, #5 Seattle Mixtape reminded everyone in the Mixed Division that they are still the reigning national champions. Seattle closed out pool play with a decisive victory over #4 Boston Slow White 15-8 to finish 3-1. The defense played at a different level in the game, stringing together breaks to end the first half and putting away the game in the second half. After being tied at two, Mixtape went on a 4-1 run to create some separation. Khalif El-Salaam patrolled the skies on both ends of the field and reeled in the goal to put Seattle up 6-3. Boston seemed to lack the same intensity and fight as Seattle in the second half, slowly fading as the game wore on. After taking half 8-5, Mixtape cruised to a 15-8 win, allowing just one break the whole game.
AMP v. Wild Card
#1 Philadelphia AMP took on #11 Boston Wild Card to determine the winner of Pool A. AMP jumped out to an early 3-1 lead, but Boston clawed back to tie the game at three. Wild Card slowly built a lead of its own with a pair of breaks to make it 7-5. AMP held then broke back to tie the game at 7, but Wild Card held to take half, still with a one break advantage.
Philly seemed to struggle a bit in the handler space, forcing the disc into tight windows early in the game. It settled down in the second half, but Wild Card's offense was tough to stop. Both teams traded until the score reached 12-11, when AMP finally earned the first break of the half on a deep shot to Linda Morse. The two teams traded holds with Wild Card scoring last in a capped game to 14. Philly knew it did not need the last point, though, because of the tiebreaker, as Boston won 14-13.
Despite the loss, AMP still won the pool on point differential.
BFG v. XIST
Saturday proved to be rocky for #2 Seattle BFG, as the team ended the day with a 1-2 record. The team bounced back with a dominating win over New York XIST to start Sunday, fueled by an incredible second half. Both teams took a few points to settle into the game with unforced errors on each side. Seattle earned a few breaks early to take a 5-3 lead. New York battled back with a break of its own to tie the game at six, but BFG scored the last two heading into half up a pair of breaks.
Seattle's sideline communication proved to be a vital element in the success the team had: there was more was to come in the second half. BFG forced XIST into some tough turnovers thanks in large part because of the information provided by the sideline. Spanning back to the final point of the first half, Seattle posted five straight breaks to put the game out of reach at 13-6, eventually coasting to a 15-7 final score. Despite both being 2-2, Seattle took second with the tiebreaker and XIST, after playing so well on Saturday, missed the bracket.
Drag'N Thrust v. No Touching!
After a big win over Seattle BFG on Saturday, #13 Minneapolis No Touching! looked to claim another massive victory over crosstown rival #3 Minneapolis Drag'N Thrust. This one was over pretty much as soon as it started. Drag'N flew out to a 6-1 lead, led especially by clinical offensive possessions for the defensive unit. No Touching! saw some injuries pop up and struggled to adjust. Drag'N took half at 8-2 and continued to roll after halftime. It punched its ticket to semis with a 15-5 finish and a 4-0 record in pool play.
Pre-Semis
Mixtape v. BFG
Because of a tiebreaker, Mixtape still finished third in the pool and crossed over with BFG for a semis play-in game. The battle for Seattle started with a spirit circle, as the two teams aimed to keep things spirited. Both teams traded blows in the first half, piling up breaks. Each Seattle squad ran matchup defense, displaying some physicality in the early going. In a 7-5 hole, Mixtape rattled off three straight scores to take half.
The second half belonged to Mixtape. They spread three breaks throughout the half to slowly pull away from BFG. Ellen Goldberg continued to emerge as a true downfield threat for Mixtape, finding tons of separation for hucks all weekend long. In the end, Mixtape finished with a 15-11 victory to set up a rematch from the day before with AMP.
Wild Card v. No Touching!
Momentum could not have been going any more in the opposite directions for Wild Card and No Touching! entering the game. Boston was fresh off an important victory over AMP. Minneapolis had just suffered a double-digit loss to Drag'N Thrust. That showed in the energy levels of the two teams early on. Wild Card was clicking on offense and forcing turnovers on defense. Before too long, No Touching! broke out the zone in hopes of slowing down its opponents. Boston avoided any real hiccups, taking half 8-5. Wild Card then opened the second half with relentless pressure to convert three breaks and a hold for a 12-5 lead. The two sides traded the rest of the way en route to a Wild Card victory, 15-8.
Semifinals
Drag'N Thrust v. Wild Card
Minneapolis met Boston for the first time this season in the Pro Championships semifinals. Drag'N Thrust was the lone remaining undefeated team in the tournament but struggled out of the gate. Wild Card built an early 6-3 lead, relying heavily on handler movement from Kyle Johnson and Ian Engler. Boston utilized both sides of the field, as Drag'N got caught over-committing. All of Minneapolis' early turnovers came on errant deep shots.
As soon as Drag'N settled down and got its defense on the field, the momentum shifted. Minneapolis went on a 5-1 run to close the half and retake the lead. Brian Schoenrock and Sarah Meckstroth generated seven blocks between them in the game. Drag'N's defense only had one turnover during the first half.
"It took us a little while to figure out our strategy against Wild Card," said Meckstroth. "We mixed in some zone and some person, really just different zones until we found one that worked."
The defensive intensity continued from both sides into the second half. Wild Card's offense continued to lack consistency, as Drag'N built a 13-9 lead. Boston finally punched in a hold and then won a marathon point to make it 13-11. After a pair of holds, Minneapolis closed things out on defense with the break for a 15-12 victory.
It was a strong weekend from Wild Card, though, despite the loss. The team's only losses came by one to Mixtape and three to Drag'N Thrust. The team also competed without coach Mike Mackenzie on Sunday, as he had to leave for personal reasons. Veteran player Katherine Sullivan, out with an injury herself, stepped into the coaching role. "Mike is an awesome coach. I think we all appreciate that," said Sullivan. "Having to do just a sliver of his job today, made me realize just how exceptional he is." Wild Card will now head into regionals feeling good about the progress it made since US Open, but knowing it still needs to build as the North East region in the mixed division looks deep.
AMP v. Mixtape 
Mixtape avenged a pool play loss to AMP with a 15-11 win in semifinals. A couple of breaks right before half gave Mixtape some breathing room that they did not relinquish after halftime.
Both teams had one break apiece in the first nine points, with Amp getting the first at 3-3. Mixtape got the break back on their next D point, though, to retake the lead at 5-4. AMP's offense then fell apart on the last two points of the half, missing Linda Morse on a huck and then giving up a quick Mixtape score to go behind 7-5. They were broken again on a marathon point after Calvin Trisolini called a timeout his team didn't have immediately after AMP had gotten a block to get the disc back.
The two sides traded holds until 11-9, when Amp were finally able to cut into the deficit. Claire Revere failed to find a reset high in the stall count, and AMP went the length of the field to make it 11-10. Like after their first half break, though, they surrendered a break on their next O point to fall behind 13-10. Another break on the next point put the game away, before the teams traded one hold each to the end of the game.
It was an improved defensive effort from Mixtape compared to their earlier game against AMP. Khalif El-Salaam credited a particular strategic decision with his team's ability to disrupt the AMP offense. "In my opinion, first off the lady triangle poaching in the lanes," he said. "They were throwing a lot of hucks to their women, because we all know AMP's women are strong, so we started running a lady triangle poach to junk it up. We forced them to play through it, and then get into an offense. Usually, they run quick pull plays: they would throw a huck and the point would be over. Just throwing a little junk to get them to actually play frisbee worked really well."
Bert Abbott said that the win wasn't a crucial one for the team but took it as a positive sign of the team's improvement. "I'm not so concerned about this particular win," she said. "It is always really good to beat a team that beat you earlier in the tournament and beat them by more than they beat you. What I'm more excited about is that as a team we are getting more cohesive this tournament and building off what we have been working on since Worlds and U.S. Open. We had some roster changeover before U.S. Open. Starting a season in August is a weird mentality."
Looking Ahead
Drag'N Thrust faces Mixtape in the final on Monday for a rematch from the U.S. Open. Minneapolis won 15-10, but Seattle has looked more like the team that won a national title last year over the course of the weekend. There is a lot at stake, but not as much for the teams competing. Dallas Public Enemy and No Touching!, separated by just a few points in the current USA Ultimate rankings, have strong rooting interest in this game. Ultiworld rankings expert Cody Mills says that a substantial win for Mixtape — six goals or more — would create the possibility for Public Enemy to steal the final bid to Nationals for the South Central, leaving the North Central with just one bid.