It was a battle on the field in the scorching New York heat!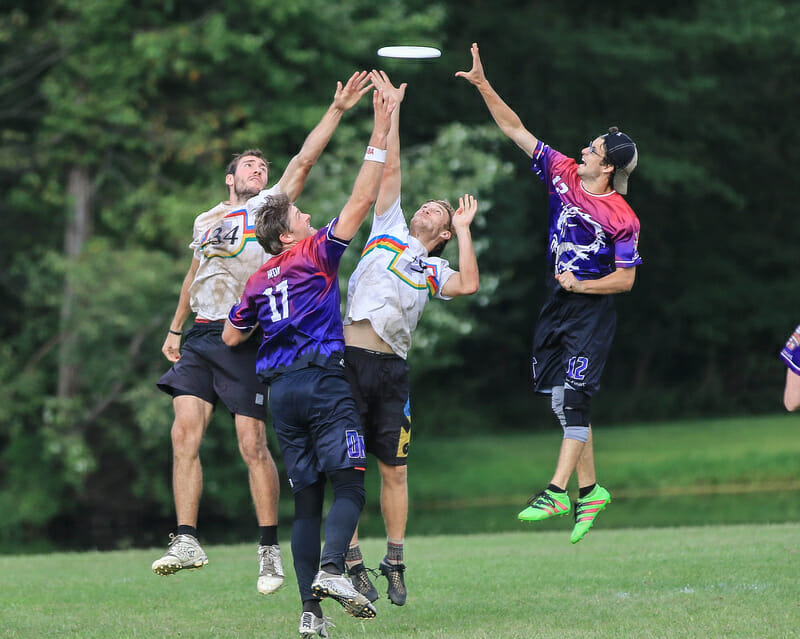 Ultiworld's reporting on the mixed division of the 2018 Pro Championships is presented by Universe Point cleats. All opinions are those of the authors. Please support the brands that make Ultiworld possible and shop at Universe Point!
NEW YORK, NY — It was a brutally hot day in New York City as #5 Seattle Mixtape faced off with #3 Minneapolis Drag'N Thrust in the final of the Pro Championships. Both teams had their eye on the top seed at Nationals and did not disappoint in a thrilling game. It was a rematch from the pair's pool play game at U.S. Open, where Minneapolis won comfortably 15-10. Drag'N Thrust emerged victorious once again but in a much closer contest, a 15-14 showdown.
One of the biggest struggles all weekend for Minneapolis was the play of their offensive unit. Drag'N dug itself a 6-3 hole against Wild Card in the semifinals before the defense turned the game around. The inconsistent play followed them into the final, where Mixtape took advantage. Seattle punched in their first break opportunity of the game to take a 2-0 lead.
Minneapolis finally earned their first hold to make it 2-1. However, the line that scored was actually the Drag'N D-line crossing over to play a point. Sarah Meckstroth, Caleb Denecour, and Brian Schoenrock did a lot of the heavy lifting. First-year Drag'N coach John Groess knows the value of being able to lean on defense to get a key hold.
"I think a lot of teams compartmentalize offense and defense onto different sides," he said. "We have no problem sending our defense out there to go get a hold."
Mixtape punched in another hold of its own to push the score to 3-1. It was on the ensuing point when the players started to show signs of the heat being a factor. It turned into a marathon point with six total turnovers and a timeout called by each team. Alicia Carr finally scored the point for Minneapolis, one of the few points the traditional offensive line managed in the game.
As much as the game proved to be a full team effort, there were some great matchups to watch when Seattle's offense and Minneapolis' defense took the field. Meckstroth was tasked with guarding Mixtape's Ellen Goldberg, who continued to emerge as a terrific deep cutter over the course of the weekend.
"With that height, as she grows more in her field awareness and throwing skill set, she is definitely going to be one to watch going forward," said Meckstroth.
Meckstroth won many of the early matchups. Denecour toed the line to score a break to level it up at 3-3 after Meckstroth blocked a huck intended for Goldberg. Then Denecour found Meckstroth upline to give Minneapolis their first lead of the game. It was the first of many lead changes to come.
"I think today we just weren't quite as consistent, but we just have a couple things to work out, especially on our offense," said Goldberg. "Our grit is there and our work ethic is there. We are just still working out some kinks."
After a heat advisory timeout, Seattle clearly wanted to settle things down, and succeeded on the following point as Mark Burton bombed a long ball to Evan Klein for the goal. The lead changed again as Mixtape earned another break with Khalif El-Salaam finding Reed Hendrickson to make it 5-4.
Mixtape was playing some of the best ultimate they has in 2018, but they still had no answer for the Drag'N defense. They punched in a hold playing an offensive point for Minneapolis as Meckstroth found Erika Baken for the score. Neal Hanke set up the ensuing break with an incredible grab before flipping it to Schoenrock for the goal to restore a Drag'N lead, 6-5.
It was a strong weekend overall for Mixtape, but Seattle consistently showed they could finish the first half. They scored three in a row to take half against BFG in their pre-semi. They broke to take half against AMP in the semifinals as well. That killer instinct showed up again as Mixtape punched in three straight against Drag'N. A pair of crossfield blades from Burton and Klein for scores followed by a goal from Lexi Gerrity gave Seattle an 8-6 lead at the break.
In most cases, receiving out of half with a two break lead is a good position to be in. Drag'N flipped that script very quickly though. Kathryn Ritzmann boxed out Claire Revere to earn a block. Bryan Vohnoutka reeled in a huck down the other end for a Minneapolis break. Baken then hit Schoenrock for another one. Drag'N broke again after a Burton push pass on the goal line was knocked away and Vohnoutka scored on a deep cut to retake the lead at 9-8.
"Drag'N has some very elite defenders. They have four or five world-caliber players. We kept trying to target the people they were guarding and allowing them to make plays," said El-Salaam.
Seattle righted the ship with a hold as Goldberg skied Meckstroth to set up a goal. Not wanting to be left out, El-Salaam skied Marty Adams in the end zone for an interception that set up a break opportunity. Klein hit Gerrity at the front cone for a 10-9 lead.
Meckstroth crossed over again and raced down a huck for the goal. The two teams traded holds, including one of the few conversions from the regular Minneapolis O-line. That group finished 2-8 on hold opportunities in the game.
"Obviously, our offensive efficiency needs to step it up," said Meckstroth. "I think that's going to be a good focus for us."
Both defenses stepped up as the game crept closer to a conclusion. Drag'N rattled off two straight breaks to take a 13-11 lead. Seattle responded with a deep shot to Brad Houser, who continued his amazing weekend, leading Mixtape in points. Some great individual effort from Emily Smith-Wilson tied the game at 13-13 as she elevated for a huge grab and then laid out to complete the give-and-go for the score.
Once again, Meckstroth crossed over and scored an important goal for Drag'N, chasing down a deep shot from Tavis Leighton. She finished the game with three goals, two assists, and two blocks. El-Salaam then crossed over for Seattle's offense and punched in a hard fought hold to force double game point.
Both sides had a chance to win in sudden death. Vahnoutka missed a throw in the end zone that would have finished the game, giving Seattle a chance to break for the win. Meckstroth came up with the crucial block though on an El-Salaam throw to win it back. Out of a timeout, Baken broke the mark to Schoenrock for his third goal of the game and the championship-winner.
For Mixtape, it was a humbling loss, but a sign of progress since the team's struggles at the U.S. Open.
"At the end of the day, I think we played well and we played better than we have at other tournaments," said El-Salaam. "The systems we are instilling are working and they are pushing towards where we want to be."
Seattle certainly looked more like the team that won a national championship a year ago. On the flip side, Drag'N Thrust makes a compelling argument to be the top seed at Nationals.
"Obviously it feels great to win the last tournament," said Meckstroth. "But that also puts a target on your back. One that we are accustomed to. So it's really about staying focused and pushing through those last few weeks."
Both of these teams will have a few weeks before taking the field again at regionals. Minneapolis will be the favorite in a two-bid North Central region. Seattle will battle with crosstown rivals BFG for the top spot in a two-bid Northwest Region.