We dive into the contenders and the drama of every regional championship in the exciting mixed division.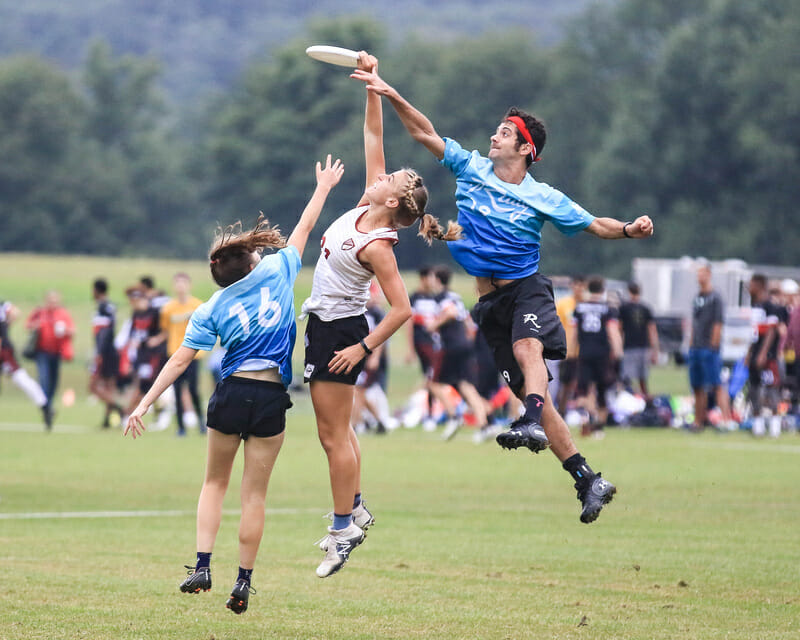 Ultiworld's reporting on the mixed division is presented by Universe Point cleats. All opinions are those of the authors. Please support the brands that make Ultiworld possible and shop at Universe Point!
Let's face it: the mixed division is the most exciting of the three divisions at the regional level this year. There's a wide spread of competitive teams and they have created some thrilling regional contexts. We've broken down every region, and even given you an handy rating to let you know where to focus your attention this regionals weekend.
Great Lakes
Competition Schedule
Location: Aurora, IL
Number of bids: 1
Excitement Level: ??
Before Sectionals, it would have been hard to drum up too much excitement for Regionals in Aurora. Despite Cincinnati Steamboat finishing the regular season with only three wins, they were comfortably ahead of all their competitors in the USAU rankings. Steamboat was the only Great Lakes team with Nationals experience and seemed destined to head to their fourth consecutive Nationals. East Plains Sectionals threw all that certainty out the window.
After cruising unchallenged to the final of Sectionals, Steamboat lost in dramatic fashion to Colombus Cocktails. That by itself would not be too much cause for alarm, but then Steamboat lost their very next game against a flaming hot Grand Rapids Toast squad. Both losses were close, but Steamboat will have a lot to prove at Regionals. Their Sectionals hiccup may be concerning, but it's no reason to jump ship just yet. Brittany Winner, Jeff Haney, and Daniel Khoe are three of the best players active in the Great Lakes mixed division and they'll have a point to prove in Aurora. It's important to remember that both of the losses Steamboat suffered at Sectionals were within two points. The Cincinnati team may not have the same stranglehold on the division that they once claimed, but they should still be considered the favorites to make Nationals.

If there's any team that could completely upend Steamboat's aspirations, it's Cocktails. After all, they already proved they could last week. The Cocktails had an outstanding Sectionals and beat out their perennial rivals to win the weekend. We're not saying that their success was a direct result of Sadie Jezierski going supernova after being snubbed for the USA U24 tryout roster, but if this is the beginning of her vengeance tour, we're on board. She's joined by Sion Agami, Ryan Kindell, and Ben Sever, who all were major contributors to Cocktails success this past weekend. The Cocktails have rebounded well since a disappointing Elite-Select Challenge and have already shown that they have the talent to claim the Great Lake's single bid.

Rounding out the top three is Grand Rapids Toast. If you haven't yet heard of this team, you would not the only one. But after a few years developing as a program, Toast has positioned themselves to be a real threat to the teams seeded above them. Their humble beginnings have made their second place finish at East Plains Sectionals all the more satisfying. Mya Hernandez has been torching her competition this season and is assisted by Brian Kragt, who is their most threatening player no matter where he is on the field. Toast still has not competed in a tournament outside of the Midwest, but the volatility of the Great Lakes Region has left them an opening to travel to San Diego in October.
Outside of the top three, Versailles Commitment Issues and Chicago Tequila Mockingbird are the two other teams that really stand a chance to shake things up at Regionals. Tequila Mockingbird has not won a game against any of the top three but won Central Plains Sectionals fairly handily. Their chemistry has been their calling card for many seasons, and it'll have to be the perfect mix if they want a shot at Nationals. Commitment Issues has chemistry problems of a very different nature. The team formed specifically for a postseason run, and is made up of stalwarts from the Ohio ultimate scene. While many of their players are obviously talented, they definitely were still working out out the kinks at Sectionals. They could prove to be a challenge if they have everything sorted by this weekend.
Mid-Atlantic
Competition Schedule 
Location: Frederica, DE
Number of bids: 3
Excitement Level: ???
With one bid for the Mid-Atlantic in 2017, regional action played out as expected with AMP winning the sole bid. This year, the region has three bids for the taking and a lot of new talented teams vying for a spot at Nationals.
#3 Philadelphia AMP should be able to secure at least one of the bids, with a solid regular season performance, including tournament wins at Boston Invite and U.S. Open; they return a lot of the roster that was a finalist at last year's Club Nationals and a semifinalist at Club Worlds this summer. With individuals like Carolyn Normile, Nicky Spiva, and Linda Morse, Philly's roster combines a lot talented and versatile players with trust in their system to help them get grinding wins. AMP's goal is surely to reach another Club National final, but they will have to get through a tougher Regionals compared to last year as they face some newly formed teams.
#21 West Chester Loco is one of those newly formed teams that gained a bid for the Mid-Atlantic region. Talent consolidation occurred this year in West Chester, PA, as the city's top two teams, Bang! and Dub Club, took some of the best players from each team and grabbed some other talent from around the area. With an incredibly strong regular season – tournament wins at Glazed Daze and Philly Invite, and a second place finish at Chesapeake Open – this team's only slip occurred at Founder's Mixed Sectionals, where Loco dropped both their pool play game and the final to Pittsburgh Alloy. These losses could mean that Alloy is peaking at just the right time, or that Loco has some weakness that regular season foes were finally able to take advantage of in the postseason. However, keep an eye out for big playmakers like Will Hoehne and Lindsay McKenna (who led West Chester University to its first Nationals appearance this year) to make an impact for this Loco team.
The last bid for the region was earned by #10 Washington D.C Space Heater. After an early season win over AMP at AMP Invite, Space Heater has been riding the rankings system to hold their bid. Their only other regular season tournament was Chesapeake Invite, where a very short-handed squad (notable absences include Claire Desmond and Pat Shriwise) went 3-3 with losses to Snake Country, Loco, and Union. However, at Capital Mixed Sectionals, despite still not bringing in their full star power, they cleaned up the competition. DC Rally put up the most points against them in the final, with a score of 13-5. No one has seen Space Heater in full force, so they are definitely the wildcard of the region, and beyond. While they can hopefully hold on to the last bid that they earned, could they also beat AMP again to win the region? With a universe line that could include Jenny Fey, Sandy Jorgensen, Claire Desmond, Georgia Bosscher, Joe Freund, Alan Kolick, and Pat Shriwise, it's definitely something people have been wondering since their roster was announced.
Other teams to look out for are two that have already been mentioned: Rally and Alloy. Former Nationals qualifier Ambiguous Grey renamed themselves to Rally this offseason. Only three players remain from AG's 2016 Nationals team, but #17 Washington DC Rally picked up a lot of the new and younger talent in the DC area including Cal's Anna Wysen, a USA U-24 Tryout Invite, and Xavier Maxstadt, who was in discussions for Player of the Year for UNC-Wilmington in 2016. Rally is probably very excited about the possibility of an upset with three bids up for grabs. They had some double game point wins against teams like Slow White, Birdfruit, Lochsa this season, which shows that they might be able to grit out a game or two to win a bid. Pittsburgh Alloy is also in the discussion after their two upset wins against Loco at Founders Mixed Sectionals. Veteran captain Christie Lawry might have figured some things out to help cause some chaos in this three bid region.
Additional reporting by guest author, Kelly Ross.
North Central
Competition Schedule
Location: Blaine, MN
Number of bids: 2
Excitement Level: ????
While the North Central has proven itself to be a formidable Mixed region this year, calling it a two-bid region is a little inaccurate. #1 Minneapolis Drag'n Thrust has all but claimed the first bid in the region. Most of the drama we'll see this weekend will come from the other strong NC teams vying for the second bid.  
Yes, it is technically wrong to take Drag'n Thrust's ascendance for granted, but the dynasty team from Minnesota has proven time and again that they are among the best teams in the nation. At this point in the season, they have about as good a chance at winning Nationals as any team. Sarah Meckstroth is having a POTY caliber season, Brian Schoenrock has been reliably brilliant, and Caleb Denecour has proven to be a firecracker for the team. With the level at which this team is performing, it would send a shock through the entire division for them to lose a game this weekend.
If there's any team that could snatch victory from the jaws of Drag'N, it's #13 Minneapolis No Touching. The Bluth family–err, "ultimate team" has shed the title of veteran, goaltimate-obsessed athletes and now look to be a daunting prospect for any team they face. That's not to say that they've stopped being a team of veterans who are goalti-obsessed, though. The team still maintains their slightly joking demeanor while taking on some of the best teams in the nation. This weekend, watch for Sam Valesano to continue proving why she's one of the best initiating cutters in mixed. Her imposing presence downfield makes it even easier for players like Paul Norgaard and Justin Simanson to operate in the backfield. No Touching plays fast and loose. Their game style doesn't seem dominant from the offset but it only takes a few points for their opponents to realize that they've made a terrible mistake.  
With only two bids on the line, #20 Madison NOISE has their work cut out for them. NOISE has had a bit of an uneven season, with an ever-changing tournament roster and difficulty maintaining consistency on offense. Now that they're firmly in the postseason, and have a set roster to match, NOISE will have to hope their team chemistry and raw talent is enough to overcome either Drag'N or No Touching. They'll need strong performances from players like Dayu Liu, Ian Hahn, and Josh Wilson. It's a tough road to Nationals for them, but they have all the pieces to make it to San Diego.
Sweeping into the top four from out of nowhere is Omaha Woodwork. The Nebraskan team has had a respectable 2018 season and upset CLX to earn their spot as the no. 4 at Regionals. The rivalry between these two teams remains strong, as Woodwork and CLX have played each other four times this season and are destined to meet a fifth time this weekend. While this is sure to be a good game, Woodwork will also have to beat out two other top-seeded teams if they want to represent Nebraska at Nationals. To do this, they'll need a strong performance from standout defender Chas Busch while allowing their offense –anchored by Jimmy West and Zach Mahler– to go to work.
Even though they may not have the same stellar reputation that they once claimed, Ames Chad Larson Experience still will prove to be a hurdle for any team with Nationals aspirations. In what's becoming a trend for CLX, the veteran team took the hard route to Regionals and dropped a game to a more inexperienced squad at Sectionals. This opens the door for them to be undervalued yet again, but don't be fooled. CLX has been a threat at Regionals since their inception and will happily overthrow any top-seeded team that doesn't show them an appropriate amount of respect.
There's a possibility that teams like Wisconsin Northern Comfort, Minneapolis Minnesota Star Power, and St. Louis Chalice could pull off an upset or two. The odds are against them, though. The likelihood of winning multiple games against some of the best teams in the nation is a daunting task.
Northeast
Competition Shedule
Location: Devens, MA
Number of bids: 3
Excitement Level: ????
While Boston teams Wild Card, Snake Country, and Slow White are the favorites to claim the region's bids to Nationals, a number of high-caliber teams are bound to make noise and provide excitement at Northeast Regionals.
#5 Boston Wild Card impressively stormed into semifinals the Pro Championships, with just two narrow losses to eventual finalists Mixtape and Drag'n Thrust. More impressively, Wild Card played the tournament without 2017 All-Club 2nd Teamer Hailey Alm and USA U-24 Mixed head coach Mike MacKenzie. With Alm and MacKenzie around, an already strong Wild Card team becomes even tougher to beat.
#7 Boston Snake Country is a first time team full of experienced talent. Led by Erin Rea, Lexi Zalk, and Peter Prial, the team convincingly won the Chesapeake Open, defeating bid-earners Space Heater and Loco along the way. While Snake Country lost in the final of Fruit Bowl with a limited roster on the opposite side of the country, they will certainly be excited to play Regionals in their home state with a more complete roster.
#11 Boston Slow White played the U.S. Open and the Pro Championships with a small roster, all while integrating ten new young players to their 2018 club roster. Yet the division stalwarts still managed to earn a bid for the Northeast. Slow White will certainly welcome veteran players back for Regionals, and the 2016 national champs led by assist-machine Alex Trahey haven't come up short at Devens in a decade and a half.
Ryan Drost is New York XIST's runaway team leader in goals and blocks (he also finished second on the team in assists). XIST's success will be dependent on how much help Drost receives from his teammates. Connecticut Metro North is a dangerous no. 5 seed, as they finished in the Top 8 at Nationals in each of the last three seasons.
Boston League of Shadows can be a threat if they can recapture their Boston Invite magic from June – they won their pool over Slow White and Wild Card. Leila Tunnell leads a talented Amherst Happy Valley squad full of former club Nationals players. And Toronto UNION might be the best no. 11 in the history of Regionals; they finished 28th in the country and added longtime star Cam Harris for the series.
Eight talented teams for just three bids to Nationals. No team has an easy pool, and Sunday certainly has the potential for some fireworks!
Northwest
Competition Schedule
Location: Olympia, WA
Number of Bids: 2
Excitement Level: ??
This seems familiar. Seattle once again boasts two of the best mixed teams in the division, with #2 Seattle Mixtape and #4 Seattle BFG leading the way. The Northwest Region boasts a slew of other teams in the top 25, but they will all be hard-pressed to take down last year's National Champions, and this year's Club World Champions. Who comes out on top still holds some intrigue, though.
Seattle Mixtape had a rocky start to the year. Mixtape followed a disappointing (for them) fifth place finish at WUCC in July with an uneven US Open performance, emerging with only two wins over USAU competition. The results had many questioning if the team burned itself out after winning the title last year.
Well, Mixtape responded the best way they know how. With their backs to the wall, they powered through the bracket at the Pro Championships, falling on double game point to Minneapolis Drag'n Thrust while proving that they were still among the teams to beat. Khalif El-Salaam turned in one of his best seasons to date, leading the Mixtape defense in blocks and punishing opponents on the turn. Brad Houser is in the midst of yet another stellar all-around performance on offense, leading the team in goals. Claire Revere is healthy again, showing off big throws and initiating the Mixtape offense with her speed and cutting sense. Downfield cutters Lani Nguyen, Lexi Garrity, and newcomer Ellen Goldberg all have an eye for the end zone, and paced by the veteran leadership of 2017 Mixed Player of the Year Mark Burton, Mixtape is in prime position for another title run. Expect them to emerge on top of the region for another year, though not without a challenge.
Expect that challenge to come from Seattle BFG, though the newly-crowned World Champions have some major kinks to work out of their own. After following up their WUCC victory with a run to the final of the US Open, two of their offensive standouts abruptly left the team prior to the Pro Championships. With both players no longer with BFG, the team looked out of sync in New York, struggling to a 3-3 finish marked by losses to Drag'n Thrust and Mixtape, but don't expect that to be the norm. This team is full of players who know what it takes to win, thanks to the immeasurable elite experience from Kate Kingery, Adam Simon, and Mario O'Brien. Lindsay Simon Fox is a goal scoring machine who can pick up the slack downfield. To be frank, any team would struggle after losing two standouts like Kieran Kelly and Rena Kawabata, but BFG has the depth and experience to get back to normal in a hurry. They represent the most likely challengers to the Northwest throne, and expect them to be back at Nationals.
Several teams will want to play spoiler this year, though. First and foremost are #16 Seattle Birdfruit. A grueling tournament schedule (four up to Regionals) has pushed this team hard, and they've improved throughout the season. They've gone from competing with the best in Colorado to defeating the best, winning their hometown tournament with a victory over Boston Snake Country, one of the emerging powers in the Northeast. Paced by the play of Laura Manson and Andrew Lynch, this is a tight-knit team that has the talent to push the powerhouses, but they'll need to peak at the right time. Similarly, #19 Boise Lochsa has pieced together a run of impressive performances this year. They've shown they can go toe to toe with teams like Denver Love Tractor and Washington DC Rally, and with a disciplined offensive core, can definitely push the top Northwest teams. Finally, #22 Seattle Lights Out showed that they're a team on the rise in their first season, quickly emerging as a team to be reckoned with in the Northwest region.
Unfortunately for the Northwest, this depth has not translated into a third bid, and so Birdfruit, Lochsa, and Lights Out need to walk a fine line of playing well enough to beat one another, while also keeping enough in the tank to take their best shot at Mixtape and BFG. It's a tricky position to be in, and should result in the two powers pulling away with the bids to Nationals.
South Central
Competition Schedule
Location: Denver, CO
Number of bids: 1
Excitement Level: ?????
If there is only one regional tournament to tune into this year, South Central Mixed makes a strong case to grab your attention. With three teams in the Ultiworld top 15 and only one bid to Nationals, there is no room for error and a tremendous amount of pressure.
#6 Denver Love Tractor has to be frustrated with how everything has shaken out. After finishing one of the most successful seasons of the team's career, they'll have to remain perfect this weekend to secure the bid they so rightfully earned. The good news is that Jack McShane and Jesse Roehm have been the most lethal one-two punch in the mixed division this season. They are complemented by Megan Henderson and Hilary Walker downfield. Those two women have provided a release valve for Love Tractor's handlers when they need it. With only one bid, Love Tractor is the team to beat.
#14 Dallas Public Enemy was a Mixtape victory away from earning a second bid for the South Central. Unfortunately, without that algorithm boost, the Texas team will be forced to work through some of the strongest teams Colorado has to offer. Public Enemy is no stranger to adversity, though. In the past three years, the team has gone through major roster transitions and has still found their way to Nationals despite the upheaval. This year, Public Enemy has really committed to going young, adding Caroline O'Connell and Jamie Eriksson while returning Dani Runzo and Kendra Hess. With their new core, the team has struggled to fit all the pieces together at times this season, but seemed to bring it all together by Sectionals, sweeping the tournament. Apart from one game against Love Tractor early in the season, Public Enemy has largely avoided playing their Colorado rivals. There's a chance that could work in their favor this weekend.
#15 Fort Collins shame. clocks in only one position behind Public Enemy in the Ultiworld rankings and faces a similarly difficult path to Nationals. shame. struggled at the Elite-Select Challenge, losing three games by three points or less and quickly fell from grace with the algorithm. After earning a free pass to Regionals, shame. will be looking to put their losses behind them and show why they've been such an effective team since their formation. It's no secret who shame. will rely on in Denver. Nick Lance, Marilyn Reich, Zackary Fleming, and Jacob Juszak have all had a major impact on the success of the team at times throughout their season. If their chemistry is on point, they could very easily be the most dangerous team at Regionals.
While there is a pretty clear top three in the South Central, Denver Mesteno has been making some waves in 2018. The young team has already defeated shame. once this season and was strong enough to earn a bid to both the Select Flight invite and the Elite-Select Challenge. Both of those tournaments were learning lessons for Mesteno but they cannot be counted out. If you're looking for an underdog team to root for, Mesteno, Austin Five One Two, and Austin Cosa Nostra are the most likely to cause a stir. 
Southeast
Competition Schedule
Location: Bradenton, FL
Number of Bids: 1
Excitement Level: ????
For the second year in a row, the Southeast is a one bid region, and the competition should be fierce throughout the weekend. At least five teams have a shot at coming away with a trip to San Diego, and there's no clear favorite for the title. With that in mind, let's take a look at the contenders.
#18 Atlanta Bucket is the top seed at Regionals, but doesn't necessarily have the easiest road forward. Steadily improving throughout the year, and capping off the regular season with a fifth place finish at the Elite-Select Challenge, Bucket's defense pushed them over the top. Emily Karoblis and Michael Arenson were both effective at disrupting opposing offenses, and ramped up the pressure to close that weekend with four straight victories. Combined with a Sectionals victory, Bucket is peaking at the right time for a return to Nationals, though a semifinal matchup against either Charlotte Storm or Durham Toro could throw a wrench in the works.
Last year's Nationals qualifier from the Southeast, #23 Durham Toro, had a strong start to the year, with a fifth place finish at the Pro-Elite Challenge to show what they were capable of. However, the team has fallen off a bit since then. A 2-3 finish at the Elite-Select Challenge, including a double game point loss to regional rivals Bucket, showed a bit of inconsistency for the team. That inconsistency returned at North Carolina Sectionals, where Toro finished third in the section after a loss to Charlotte Storm. Now seeded fifth at Regionals, and in the same pool as Storm, Toro has an uphill climb to return to Nationals. When their offense is clicking, Toro is a tough team to stop. Michael Pannone is one of the fastest deep threats in the mixed division, and with a thrower like Tristan Green feeding him, points come quickly. When they don't, Christine Bookhout takes over underneath to keep the disc moving. Big throwers and fast cutters are the name of the game for Toro, and they'll need to fire on all cylinders to get to San Diego.
Three teams are looking to crash the party and seal up the lone bid from the Southeast for themselves. Florida Weird, a new edition of Gainesville G-Unit, enter the weekend as no. 2, with a relatively easy path to the semifinals compared to their competition. With strong results over other teams in the Southeast, punctuated by a tournament victory at Club Terminus, Weird will be confident in their chances to make a run to Nationals. Defensive stopper Adam Carr is a player to watch on defense, and a strong defensive performance this weekend could be enough to navigate Weird through the field.
Asheville Mixfits and Charlotte Storm round out the list of contenders in the Southeast. Both teams feature several former Raleigh Ring of Fire standouts, and the teams finished 1-2 at North Carolina Sectionals two weeks ago. For Mixfits, their victory at North Carolina Sectionals, avenging an earlier loss to Storm, signaled their potential to make a run to San Diego. Late season pickup Hunter Taylor adds an athletic cutting threat to the team, but the team's growth through the season will be tested with a quarterfinals matchup against either Toro or Storm. Charlotte, keyed by Ken Porter's cutting and Brian Casey's handling, will look to build on their experience playing against some of the best teams in the country at the U.S. Open and the Chesapeake Open into success at Regionals. Both Storm and Toro face a tough road to the final, though. Their pool play match should be hotly contested to avoid an early face-off against Mixfits.
The North Carolina teams are all on a collision course, and that should only help Bucket and Weird make a run to the final, but there is no clear favorite in the Southeast. Bucket is likely in the best position to take the bid to San Diego, but with so many evenly matched teams, whichever squad can keep their players fresh for the final will have the inside track.
Southwest
Competition Schedule
Location: Tracy, CA
Number of bids: 3
Excitement level: ???
A great weight has been lifted off of Californian mixed ultimate as the Southwest finally secured a third bid in 2018. After years of duking it out for one or two bids, there is finally a little more room for error. There's even a possibility that one of the teams going to Nationals won't be from San Francisco! Don't bet on it, though. Between San Francisco Blackbird, San Francisco Mischief, and San Francisco Polar Bears,  the chances of another team breaking through are slim.
Every year we try to write off #8 San Francisco Blackbird, and every year Mac Taylor denies us the chance. The enduring heart and soul of Blackbird has consistently found strong teammates from the incredible talent pool available in the Bay. Thanks to San Francisco's depth as a city, the team has constantly been rejuvenated this squad over the years, and 2018 is no different. Despite a slow start to this year with blowout losses to teams like shame. and Drag'n Thrust, Blackbird has rebounded well with strong performances at Revolution and Elite-Select. At Sectionals, Blackbird firmly silenced the last of the naysayers with wins over Polar Bears and Mischief. There's no question that Blackbird's out for blood this year, and they seem to be peaking at the perfect time.
#11 San Francisco Mischief has had a similarly bumpy road to Regionals. From the beginning of the season, Mischief's talent was apparent. Their only problem has been fusing that talent into a disciplined team. Mischief mostly took care of business this season but had perplexing losses to lower-seeded teams and lost out on the chance to make bracket play in two of their three tournaments. They're clearly a Nationals caliber team, though. They entered the postseason with a 13-4 record, mainly due to players like Devon Williams and Nathan Young stepping up to help the team. The return of captain Han Chen helped strengthen their line after their early-season struggles and she joined Gina Schumacher as two of Mischief's strongest female contributors. At Regionals, Mischief's defense will have to step up and be the difference maker. They can take on any team pound for pound but have struggled to convert after the turn.
No other Southwest team started their season as strong as #12 San Francisco Polar Bears. The young squad was motivated and hungry from the offset. A confident tournament win at Select Flight set the tone for their season and put the rest of the division on high alert. While they couldn't match the same level at Elite-Select, they still made it to the final, capping off a very strong season. The Polar Bears are known for their high energy and fearless offense. They're not afraid to take shots and press any advantage that they have. Lest we forget, Blackbird may take the highest SW spot on the Ultiworld power rankings, but Polar Bears have the edge with the USAU algorithm. There's a very real chance that they could take the top seed this weekend.
Los Angeles 7 Figures is looking to break up the Bay Area bid party by stealing one for Southern California. With Nationals essentially in their backyard, 7 Figures is eager to ensure that there is a home team playing in Del Mar. This year, 7 Figures reinforced their roster with some of San Diego's best talent and it paid off for most of their season. Sadly, between some mid-season roster turnover and more than their fair share of injuries, 7 Figures doesn't have the same roster that earned them a spot in the final of Revolution. That's not to say that they cannot pull off an upset over their Northern rivals; Lu Wang and Dan Oettinger are as strong a backcourt for 7 Figures as they could hope. Nevertheless, 7 Figures has seen what can happen if any of their top players are missing or injured. The team came fourth at So Cal Sectionals. They simply cannot repeat the performance they had that weekend.
With 7 Figures dropping a few games, there are many eager So Cal teams eager to take their place. Tucson Instant Karma won Sectionals for the first time in program history and are hoping to ride that success into Regionals. Their only real challenge was Los Angeles Family Style, who met them in the final and took them to double game point. Family Style looked confident all weekend, with Caleb Ferguson and Sarah Kibler helping the team reach new heights. They eventually fell to third, with Phoenix ROBOS stealing the second place game. ROBOS also has the talent to take on some of the stronger teams at Regionals. They picked up Nathan Bridges and Daniel Bellissimo who will be huge advantages for them in Tracy.
But it's not just So Cal teams that are trying to make it to Nationals for the first time. San Francisco Classy is having a very solid season and always seems to hang tight with the best teams in the region. While they haven't been able to earn a win over any bid earning teams, they won't be an easy out. Other Northern teams looking to make a splash are Sunnyvale BW Ultimate, Reno Cutthroat, and San Francisco American Barbecue. All three had fairly impressive performances at Sectionals but didn't quite have enough to pull off an upset over the top-seeded teams.