How Jay Froude earned his elite ultimate status after years on the road.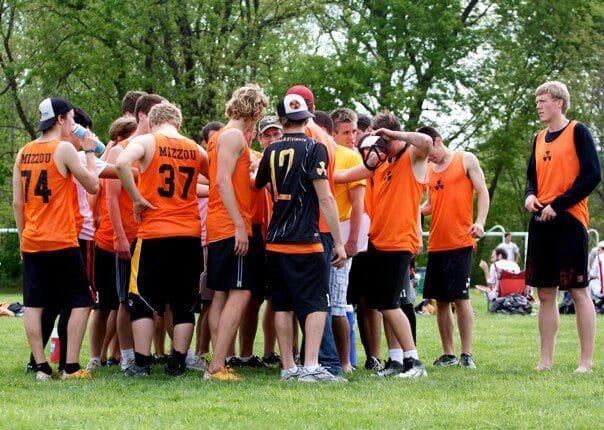 Ultiworld's coverage of the Men's Division at the 2018 Club Championships is presented by Spin Ultimate; all opinions are those of the authors. Please support the brands that make Ultiworld possible and shop at Spin Ultimate!
How does an ultimate player become an elite ultimate player?
The special sauce for many household names contains at least one key ingredient: consistency. Sandy Jorgensen chased down her notoriety for half a decade in a Washington DC Scandal jersey. Beau Kittredge reached full power in nine seasons with San Francisco Revolver. Jay Froude hasn't had the luxury of home games.
For seven years, he has piled up miles in rental cars and airplane seats to compete at the highest levels of the club division and the AUDL. He has played ultimate for five teams: Missouri (college men's), Kansas City Prairie Fire (club men's), the Madison Radicals (AUDL), the Dallas Roughnecks (AUDL), and Austin Doublewide (club men's). Save Missouri Loves Company, a fall college event, he's traveled for every game, every minicamp practice weekend, and every tournament.
Missouri rates as flyover country for most U.S.-based travelers. In ultimate, it's no different. There's no AUDL franchise in Kansas City, and the club team pulls from four states to get to 27 rostered players. For over four seasons now, Froude's weekends have been those of a road warrior.
It's over 400 miles from the University of Missouri to Breese Stevens Field in Madison, WI. It's 576 miles from Mizzou to the Roughnecks home field in The Colony, TX; add another 200 miles if Doublewide practices in Austin. Even Kansas City, MO—Prairie Fire's nominal home despite their multi-state draw—is 120 miles away. Think about that, 400 or 500 miles–for a home game.
And here he is, shortlisted for the 2018 AUDL Most Valuable Player award the same week that he is set to lead #10 Austin Doublewide with his co-captains at the Club National Championships in San Diego.
Froude's ascendance has been methodical and direct—a steep curve trending upward. He has relished every opportunity to play at a high level and has long been passionate about teaching and translating the game for his teammates. His rookie year at Missouri quickly turned into a standout debut season with Prairie Fire—he was a block-getting firework for the Radicals three seasons later. Two seasons after that, he was doing this for the Roughnecks:
https://gfycat.com/UnluckyVibrantEagle
In this second angle, it's clearer that Froude doesn't see the throw until after it's gone up. Only then does he turn on the jets to make this incredible full-layout grab.
https://gfycat.com/PhysicalMasculineBlesbok
Now in Texas, Froude's translated his acceleration, straight line speed, and verticality into a talent set that slots in anywhere on the field. He is a lefty with a break-happy backhand, easily pivoting into zippy throws that dissolve forces. And Froude doesn't need 55 yards do break free any more; he can make the play in small spaces, going from full speed to peak jump in a heartbeat.
Watch him steal this open side goal from Doublewide teammate Ethan Pollack in a tight window:
https://gfycat.com/FatLazyAnemoneshrimp
"He's got a knack for making those plays in the air. Some people, they really seem to just fly. And I put him in that space," said Doublewide coach Jose Cespedes.
Froude's nose for the game has dovetailed so well with his athletic talents, it's landed him on whatever line needs the firepower. He's played offense and defense for the Radicals, Roughnecks, and Doublewide.
"I think it's surprising how quickly I picked up the game, but I think playing and learning go hand-in-hand," said Froude not long after 2018 South Central Regionals. "I had a learning curve for sure. I put all my energy to understanding each new concept and skill so that I could carry that around for when I coached and captained teams. I wanted people to believe that I knew what I was talking about or ideas I had that could help us develop as a team and as experienced players. Much like many experiences, if you can teach concepts to others, then you refresh your understanding of it and expand on the knowledge base."
What may sound like a natural tendency to learn and give back has stood out to his teammates and coaches from the beginning. Through half a dozen interviews this club season, his current and former teammates, coaches, and general managers have all marveled at Froude's drive to be a great player and a great teammate.
"He has a really, really big passion for the game," said former Mizzou and Prairie Fire teammate Jesse White.
That passion has carried Froude all over the middle of the United States to play ultimate. It's taken long, tireless years with no offseason, no days off, and allowed for very little free time.
Duped Into Ultimate
Like the company he keeps in the upper tiers of the game, Froude came to ultimate with athletic gifts. From the time he was barely old enough for school in Parkville, Missouri, he's been an athlete.
"I used to like run road races with my mom just because she would run and then she wanted somebody to run with," said Froude. "She was a really good runner when she was younger.
By age eight, he was running, swimming, and playing soccer. Froude dropped soccer before high school but stayed on the track and in the pool. He loved the 800m race, powered through cross country, and swam until his early college years before he finally left the D-I sports world.
Froude, who Dallas Roughnecks owner and E.R.I.C co-founder Jim Gerencser remarked plays ultimate without an ego, has humble memories of being merely an above average swimmer and runner. He said that he wasn't as naturally gifted as the top competition and by college had figured himself unable to break into the elite tiers. After two decades, he disembarked from traditional sports.
"After I got to college, it was nice to have some free time to do the things I wanted," he said. "And especially after I was done swimming, for good. There were things I never got to experience because I was so heavily involved in sports going through high school. So it was nice to kind of find myself."
The switch to ultimate wasn't a full 180—Froude knew the sport from having participated some in the Show-Me State games, a nonprofit event hosted by the state of Missouri that included ultimate in a long list of other sports to promote fun and fitness for residents. But competitive ultimate was a different story. As he was stepping away from his other sports, Froude was mostly playing pickup at the recreational fields on the University of Missouri campus.
Some familiar faces from the Kansas City area were also at Mizzou pickup games, one of whom would really only talk to Froude when a frisbee was involved. In the spring semester of 2012, Froude remembered getting a message from this acquaintance.
"He sends me a message and says, 'Hey, we're going to play pickup at this time, can you make it?' I said, 'I'll do what I can to be there.' And it ends up being the first practice for Mizzou."
It's All About Who You Know
Froude never looked back. White remembers Froude from his first practice on the university's Stankowski Fields in 2013.
"He had on white shades, our black Mizzou jersey, and he was just super fast—unbelievable athleticism—and he introduced himself," said White.
Another former Missouri teammate and co-captain, Mitch Kulczak (Seattle Sockeye), recalled that, by White's first season, Froude was a primary cutter for the college team.
"I think he was always one of the dudes who was pretty welcoming on the team," Kulczak said.
White and Froude shared four college seasons together1 and Kulczak had three, culminating in a year of captaining the team in 2016. The two teammates remember Froude not just as a passionate captain and standout player, but one of the first Mizzou ultimate team members to venture out into the elite club world and bring back lessons to the college field.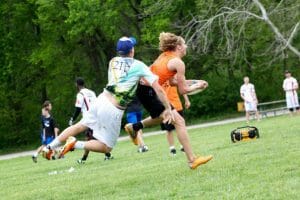 "He brought a lot to the program I think hadn't been there before," said Kulczak. "He brought a lot more knowledge to the program."
The knowledge didn't just come from club—in just his second full year of competitive ultimate, Froude made the U24 U.S. Men's National Team2 and booked a ticket for the 2013 competition in Toronto. There, surrounded by national-level talent, Froude was able to absorb even more high-level strategy and experience to bring back to Columbia and Kansas City.
That international team also facilitated Froude's first proper introduction his current Austin Doublewide co-captain, Dalton Smith.
"Him and I sorta just hit it off since we were both new to frisbee and didn't know a lot of people on the team," said Smith. "We basically did everything together for those two weeks and then would occasionally hang out after Worlds at different college and social frisbee tournaments.
Back in the heartland, Froude really started to stand out. Prairie Fire had accepted him just based on his ability to jump out of the gym and then enjoyed a standout rookie season from the blonde-haired college guy with a voracious appetite for ultimate. In 2014, Froude and White drove to Prairie Fire tryouts together.
"We rode together to try out and everything and he's said, 'Dude, you can make this team, like, you're capable of playing.' And this was after sophomore year of college and I was 19 years old and I'm like, 'These guys are grown adults playing and I'm trying to hold my own,'" said White.
"He [told me] 'You're for sure going to make it; we're going to play together and you're gonna get so much better and you're going to do amazing.'"
White is an athlete in his own right—a springy, turbo-fast deep defender and receiver who also brought clear athletic gifts to the ultimate field. Froude, already the consummate leader in his early 20s, knew what buttons to push to get his talented teammate to join him for the summer.
Sure enough, White made the team and the two continued to forge a friendship through what he referred to as "sky battles," challenging each other to chase down hucks on the field. White couldn't remember getting an in-cut block on Froude, but he did recall laughing together as they'd zoom off after hucks—just two crazy fast young players chasing plastic.
Radicals Reject
2014 wasn't all rosy for Froude. Like any good hero story, there were tests that the hyper-driven rising star out of Mizzou couldn't ace. At the Madison Radicals combine that winter, owner, coach, and general manager Tim DeByl pulled Froude aside after evaluations. DeByl, who makes no secret about his preference for farming local talent, had little wiggle room in the team budget for out of region players.
"He performed to the level that put him in the top 30, but when talked to him about how much you had to commit, I just didn't feel like it was a good fit at the time," said Debyl.
Froude, in spite his performance, was still relatively unknown in the Wisconsin community. He was barely three years into his career.
"I don't think Tim had ever heard of me," he said. "He was very sincere about telling me I would have easily made the team if I was relatively close, but he couldn't justify travel negotiations, especially since the next best person was likely from Wisconsin. I don't blame him."
It was 2014 in the AUDL—while DeByl sweated the cost of paying for a rental car and 900 miles worth of gas, teams elsewhere in the league were paying players in meals at Subway and promises.
"It would have been a huge risk from a business perspective, as I'm probably one of the more expensive players in the AUDL because of travel costs," said Froude.
Back in Missouri that summer, without a semi-professional season to divide his time, Froude helped Prairie Fire go undefeated at three tournaments3 and qualify for Nationals. Though he suffered a knee injury during North Central Regionals, the team still sent Madison Club packing in a 15-6 blowout game-to-go win.
Froude was sidelined for the big dance in Frisco, TX that year, but still intensely motivated. His injury—a MCL tear—didn't require surgery. Six months of consistent rehab later, he was back on the field for Mizzou, and he'd earned himself a place on the Radicals.
When Froude showed up in Madison that winter, DeByl was ready. He'd kept an eye on the rising talent since passing on him a year earlier and had his finger on the trigger. He also had a piece of the travel budget earmarked. Froude wasn't just an unknown walk-on from three states away; he was a primary cutter for a Nationals-level club team who could play both ways.
"It was pretty much a no-brainer and a really good fit for us," said DeByl.
Taking a young, out-of-region player is a risk teams only take when they have a strong feeling the investment will pay off. Lucky for the Radicals, it did, right away. In Froude's debut for Madison against the Minnesota Wind Chill, he went ballistic: four goals, three assists, and four blocks—a plus/minus that DeByl still remembers leaping off the stat sheet. He stayed hot that season. As Madison unleashed their menacing zone defense around the league—doing the most to innovate on the wide field—DeByl deployed Froude at on the wing.
"He's still one of the better players to have played that wing spot for us," said DeByl.
The Radicals quickly discovered that Froude's athleticism translated into the explosive plays they needed to shift games in their favor. But the real surprise was getting that kind of contribution from a player who was never at practice. For a team focused on showcasing local talent and developing strong team culture, courting a star from afar could have sewed locker room doubt. As much as Froude could do on the field, his attitude toward commitment and team success was a brilliant match for the Radicals.
"He's just such a unique talent that he fit in instantly, both off the field and on the field, with the team," said DeByl.
Froude's highlights piled up over the course of two strong seasons with Madison, enough so that it caught the eye of the recruiting team in Dallas in the aftermath of the 2016 season. They had seen Froude make the highlight reels and caught a glimpse of him at 2015 Championship weekend.
"We were looking for somebody to replace the big names," said Gerencser. "We had to replace Beau and Cassidy right off the bat. And to do that we thought, 'Hey, let's look around.'"
Gerencser didn't to fly in want solo stars for the same reason that DeByl had first chafed at spending what little travel budget he'd had in 2014 on one guy, 475 miles away from the practice facilities. They wanted package deals, players who had proven chemistry. "We were looking for synergy," said Gerencser.
Dalton Smith had one such group in mind.
"After 2016 Club Nationals I talked with Jay and Abe [Coffin] about coming to play for the Roughnecks and just kept nagging them about it and how it would be fun to play together again and get to play with some other Worlds friends," Smith said.
Coffin, a speedy handler cover out of the Ozarks, was another Prairie Fire and 2013 U24 National team compatriot. He and Froude had just finished their season with Kansas City alongside Matt Jackson, who'd spent his 2016 semi-pro season in Dallas.
By the time roster announcements rolled out in 2017, a large chunk of the talent responsible for bringing Prairie Fire to Nationals for three years in a row was signed in Dallas. Froude joined the Roughnecks alongside Coffin, Jackson, and Kaplan Maurer (another Prairie Fire alum).
Froude traded in a seven hour drive from Columbia, Missouri, to Madison, Wisconsin, for the significantly shorter flight to Dallas. It was Froude's second semi-professional team as a fly-in candidate—but this time was different, as he was bringing other pieces of the Midwest and Ozarks with him.
Smith, who had stayed close with Froude, had even bigger plans. Austin Doublewide—a team well-acquainted with the challenges of out of region talent and limited practice weekends—had their eyes on Froude and his Prairie Fire teammates.
"While I was nagging him I was just selling him on the team and what it was like, how much fun we had after games, how we have another great shot at winning a title and then began to throw playing Doublewide into the mix since a lot of Roughnecks players were on Dub. He knew a good amount of the Roughnecks players already and their personality so that helped out too," said Smith.
Two Years In Texas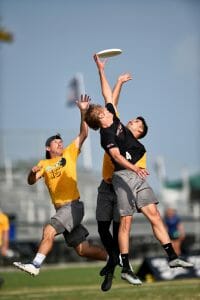 Though Dallas couldn't quite recreate the title-winning magic of 2016, the younger core was still good enough for a semifinals berth, with Froude making the game recap lead. And, even if they didn't win the AUDL championships, Smith's efforts had paid off in other ways—Froude, Coffin, and Maurer all made the 2017 Austin Doublewide roster.
With former Texas A&M coach Jose Cespedes at the helm for Doublewide, Froude headed up a fresher looking Doublewide that slogged through a brutal game against Florida United at 2017 Club Championships to make the semifinals.
Once there, Froude was part of an epic comeback against Washington D.C. Truck Stop that landed his team in the finals and secured a bid to the 2018 World Ultimate Club Championships. Froude's performance in 2017 earned him his first All-Club selection, on the first team.
"The success was awesome," said Froude. "Yeah, we came up a little short, but we went above and beyond a no. 12 seed at Nationals."
What couldn't be ignored was sense of almost-but-not-quite that may have been building for Froude. Save his gold medal from 2013, he had lost every title game he'd been in. 2018 promised a shot at a Club Worlds title and a club national title. Doublewide buckled down for a double-peak year. Froude strapped in for the most intense season of ultimate he'd ever experienced.
And Now To Chase The Title
Jesse White played his last season alongside Froude on Prairie Fire in 2016. At the Pro-Elite Challenge outside of Denver in 2018, the two met on the field again: Froude leading the offense for Doublewide and White in his second year playing defense for Chicago Machine.
It was early July and the Colorado summer temperature was pushing the mercury into the high 90s. Machine was playing solid4, while Doublewide was understaffed and spread thin.
Froude, now a Doublewide captain, was in the midst of an inhuman run that could end relationships, lose jobs, and fail classes. "I was pulling like 90-hour weeks. No days off," he said.
Back living in Columbia, Missouri, Froude was working full time, beginning his pursuit of a Masters in Chemical Engineering, flying for Roughnecks games, and traveling for Doublewide.
"Going to work at 8. Getting off at 5. Going to class at 6. Getting out at 9. Working out at 9:30, getting done by 10:30, and then going to bed. Rinse repeat. Seven days [a week] for four months," said Froude.
White saw the toll it was taking on his old teammate.
"I could tell when we were playing like, man, he's definitely feeling the pressure of the schedule. But…even then he still played really well and I was [thinking] he's at Nationals, he's going to have another great year," said White.
The schedule was brutal, the kind of workload that sends some players into a sabbatical the following season. By the week after Regionals, Froude said he looked forward to a month break in November, but that he expected a month off would do the trick. He'd get the itch again. All of it–the travel, the no-days-off grind–was worth it to play ultimate at the highest level. "Yes. I absolutely would do that again," he said. "No doubt in my mind."
Between the two teams, Doublewide may have taken the harder hit than the Roughnecks. With Club Worlds right after Pro-Elite and the team still divided between two AUDL teams, Doublewide's exit at WUCC was earlier than the team had hoped for after such an auspicious performance in the 2017 postseason. The Roughnecks went on to make the title game on AUDL Championship weekend, losing 20-16 to Froude's old team, the Radicals.
With open space finally on the calendar after WUCCs and the AUDL season, Froude could turn his attention on a return to the National Championships spotlight. After a harrowing 2018 summer, Doublewide finally got their entire post-WUCC roster to a tournament and beat Denver Johnny Bravo 15-14 for the South Central Regional title.
Now, little stands between Froude and another standout postseason performance. He has switched lines three times already in his Doublewide career—Cespedes has enjoyed the fact that no matter what role he assigns Froude, the Missouri-native takes it without complaint and excels. DeByl enjoyed the same benefits when Froude was honing his skills in Madison.
"He can turn the game on a dime," said the Radicals owner. "Those type of plays energize you and I think sap the energy form the other team because they don't feel like they made a mistake, but they paid for it anyway because somebody made that extra play."
With Club Championships in San Diego just hours away, Froude is focused—now well-accustomed to the pressure of the big games after three straight seasons competing at this tournament.
"The spotlight is very intimidating at first," said Froude. "Once you've done it, though, you revert back to the basics and just play your game."
This weekend, teammates, opponents, and fans will be able to count on Froude to make highlight plays. But it's that calm demeanor and positivity, the deep sense of understanding that his previous efforts will carry him through the pressure-filled moments that explain why Froude has made one of his largest leaps yet, into the elite tier of ultimate players.
---