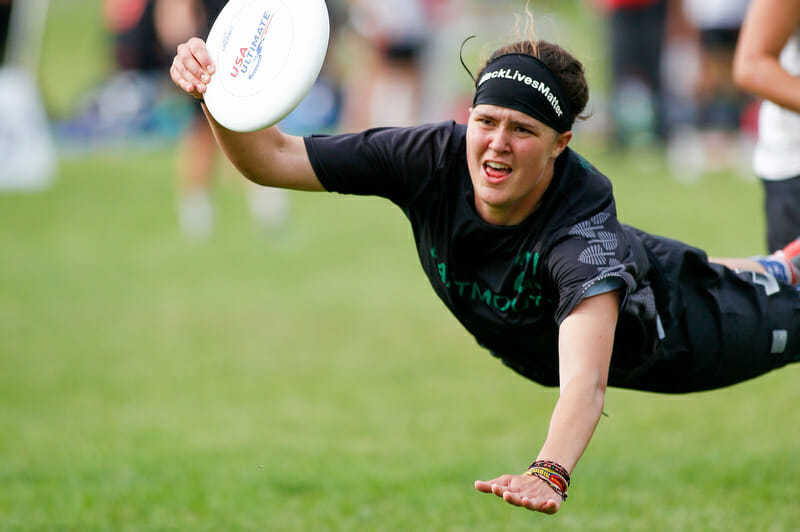 Ultiworld's 12 Days of College Ultimate are presented by Spin Ultimate; all opinions are those of the authors. Please support the brands that make Ultiworld possible and shop at Spin Ultimate!
It's time to unwrap some presents as we introduce the 12 Days of College Ultimate. Through December 21st, we will be releasing one gift per day, though don't count on getting any partridges in pear trees: it's all college ultimate. From highlight videos to player chatter to a giant bracket, we've got a little something for everyone.
Dartmouth: The Big Three
Grab some popcorn, call your bookie, and renew that Ultiworld College subscription. We have one more year to watch Jac Verzuh dominate the college division with Dartmouth Princess Layout. This team has rewritten the college ultimate playbook every season since 2015, and we're poised to watch a memorable series finale of the Verzuh Show. In the last two seasons, Princess Layout has lost only four games1.
Dartmouth is only returning three players this season who registered more than two goals and assists at 2018 College Nationals. But those three players — Verzuh, Caitlyn Lee, and Claire Trop — averaged a combined 37 goals and assists each last season.
These two statistics are enough kindling for 2019 Dartmouth loyalists and naysayers alike. They're a top-heavy team graduating more than half of their starting seven: sell Dartmouth stock! They still have some of the sport's best players on their roster: buy Dartmouth stock!
Dartmouth graduated big players from their backfield, Julianna Werffeli and Lily Eisner, so expect to see their biggest changes happening in the handler core. Verzuh may shift behind the disc more often, joining Caitlyn Lee to manage the team's offense from behind the disc. They'll let rookie newcomers like Caroline Tornquist (HB Woodlawn, DC Scandal), Grace Alston (Bethesda Chevy-Chase), and Jennifer Qian (Chapel Hill Eclipse) run the cutting lanes.
Tornquist already has four YCC trophies, a High School National Invite title, and a gold medal from WJUC before her first sanctioned college tournament. Alston and Qian also bring YCC experience to the Dartmouth rookie class.
Trop will begin her sophomore year with Dartmouth having won U24 Worlds, College Nationals, WUCC, and WJUC in the span of one calendar year. Trop has already played and won on the biggest stages our sport has to offer. She and the talented rookie class below her will shape the future of Dartmouth's program after Verzuh and Lee are gone.
Fancy statistics and a not-so-fancy eye test will tell the same story about how heavily Dartmouth leans on the top crust of their roster. But Princess Layout's discipline runs much deeper. The team transitioned easily from the world of Angela Zhu to the world of Werffeli and Eisner, and they'll adjust again as long as Verzuh leads the team. After Zhu graduated, Verzuh developed a new, detailed strategy for the team. They went on to win their second national title fairly easily.
Dartmouth is bolstered by strong freshman and sophomore classes, and they have one more year under the guidance and skill of Verzuh and Lee. Few teams have the depth, talent, and strategic acumen to challenge them. Watching the best in the division try will be the best series finale we could hope for from the Verzuh Show.
UNC: Dynasty On the Line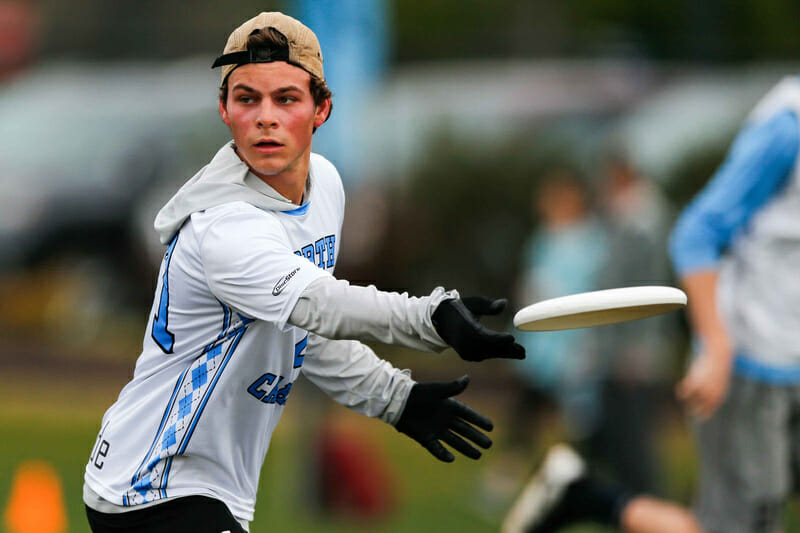 What qualifies as a dynasty in college ultimate?
Is it the number of championships you win? UNC has two. How about the number of semis appearance you have? UNC has five straight. Put aside the numbers for a second, though. UCSB Black Tide is still by far and away the greatest dynasty in men's college ultimate because they were successful for a decade. They were the only team to win three straight titles (twice) between 1988 and 1998, and they still made semis on the tail end of that reign that ushered in Carleton's first championship squad.
UNC's first generation of title winners coincided with their current one, and, unlike the most recent back to back title winner (Pittsburgh), they've bridged the years between those championships with appearances in the semifinals. UNC can almost lay claim to its own era because of just how good they've been at bringing in excellent freshman talent while developing and finding roles for every piece of their roster. The 5'2" Nathan Kwon was their Callahan nominee this past season. How successful do you think he would have been on a different roster that didn't have systems tailor-made to maximize his strengths?
This year is more than a chance to go back to back. Should this year's fifth years, namely 2018 College Men's Player of the Year Matt Gouchoe-Hanas and Walker Matthews, win a title they won't just be repeating, they'll be winning a third championship in the time that they've been playing college ultimate. Unless you played on Santa Barbara in the late 80s or 90s, that's unheard of at the college men's level.
But you never know what could happen. A deeper field than ever and a history of debilitating injuries to key players are possible road blocks. In 2014, UNC lost Ben Snell for the postseason to an ACL tear at Easterns. In 2017, Elijah Long had a nasty fracture and, at times, Walker Matthews looked like he was being held together with duct tape. Luckily, last season, UNC looked healthy top to bottom for practically the entire season, especially when it counted from the Stanford Invite forward. While you could say that the high temperatures at College Nationals last May in Milwaukee were a good precursor (dare I say warm up) for what conditions we'll likely see in Texas next Memorial Day, Nationals is going to be grueling. If UNC's top end can't survive the attrition of the regular season, they could be in a precarious spot at Nationals (as would any team).
And who's to say that last year's semifinalists won't be back in the same spot at the end of May. Oregon, Pittsburgh, and Carleton all return some outstanding talent, though they are all facing a bit more turnover than UNC. But it was obvious that Carleton underperformed last season, and with their junior core of players like Joe White and Stan Birdsong ready to shoulder even more responsibility, they will be a top-tier contender.
But with UNC's best-in-class depth; the return of handler firepower in Gouchoe-Hanas, Kai Marcus, and Elijah Long; brutal speed with players like Anders Juengst and Alex Davis; and former role players like Suraj Madiraju ready to take on more responsibility, the team is the clear frontrunner for a reason.
If UNC falls short, they miss the chance to solidify themselves as a dynasty on par with Black Tide. But unless UNC somehow fails to reach the semifinals, they will still be cement the program as one of the all-time greats.
---
One loss was a Queen City Tune-Up game that ended at half, so take that as you will. They've also lost some early fall season tournaments not counted here ↩