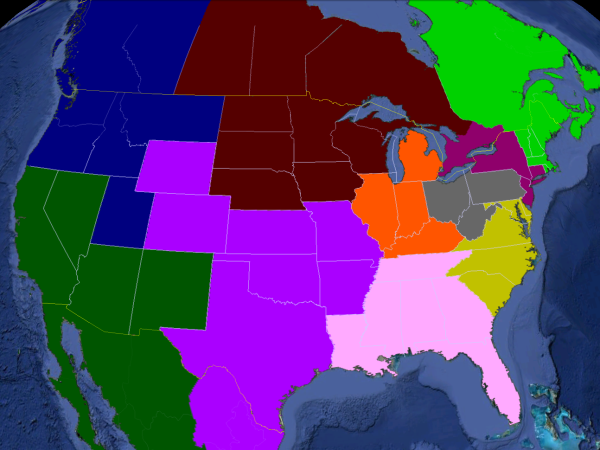 Ultiworld's 12 Days of College Ultimate are presented by Spin Ultimate; all opinions are those of the authors. Please support the brands that make Ultiworld possible and shop at Spin Ultimate!
On Day 10, we will take our best shot at predicting the allocation of Division I strength bids for the season. As a refresher on how the strength bids are allocated, take a look at this article. We've ordered the regions based on our confidence in their strength bid allocation, indicated by the number of ?emojis.
Women's Division
In order to divine our strength bid earners, we need to identify the teams we project to finish as the top ranked team in each region. No easy task, but we're no cowards, so here they are:
Atlantic Coast: North Carolina
Great Lakes: Michigan
Metro East: Anybody's guess, but does it really matter? Fine, Cornell.
New England: Tough call, but I'll take Dartmouth.
North Central: Carleton
Northwest: British Columbia
Ohio Valley: Ohio State
South Central: Texas
Southeast: Georgia
Southwest: UC San Diego
With that out of the way, let's wade into the water of the strength bids:
South Central
Strength bids: 1 (Colorado)
Confidence: ?????
It's been Texas vs. Colorado in the final for three straight seasons. Those games have been decided by a combined four points, so this could easily flip-flop, but expect these two to remain the class of the South Central. They'll likely be the region's two representatives for a third straight season. Both teams lost some key contributors, have some quality up-and-coming talent, and some returning seniors and fifth years to steer the ship.
Metro East
Strength bids: 0
Confidence: ?????
The struggles of the Metro East are well-known, but the lack of national success the region has had is a discouraging outlier. It's the only region to fail to earn a strength bid…ever. The past three Metro East autobid earning teams were ranked 50th, 31st, and 44th overall, the lowest of any region's top ranked team in every instance. Expect the status quo.
Ohio Valley
Strength bids: 1 (Pittsburgh)
Confidence: ?????
Ohio State and Pittsburgh have a history of summiting the Ohio Valley and are close enough together that they might switch positions. Pittsburgh will be deep in 2019, but dealing with the loss of Carolyn Normile, Sarah Russek, and company will take time. Ohio State returns most of their stars. The most likely foil is a Lindsay McKenna-led West Chester team, but repeating last year's success will be a challenge sans Danielle Byers.
Great Lakes
Strength bids: 0
Confidence: ????
The fluctuating strength of the teams around Michigan in the Great Lakes makes it tough to project another top ranked regular season. Northwestern is a very intriguing team, with Sarah Kim leading an improving squad that came within a few points of Nationals last season. Notre Dame is the next team up, but depth is a serious question after a lot of talent and experience has left the club over the past few seasons.
Northwest
Strength bids: 3 (Oregon, Washington, Western Washington)
Confidence: ???
The Northwest projects to continue to greedily hold a large portion of the strength bid, and rightfully so. UBC has semifinal aspirations, Oregon will likely outperform expectations, and Washington and Western Washington will be nationally competitive all year. The number could increase, with Whitman and BYU as teams with the necessary pieces to earn or take a bid.
Southeast
Strength bids: 0
Confidence: ???
It's harder to pick the potential regional winner than it is who will win a strength bid in the Southeast. There isn't a clear favorite here, with Georgia, Georgia Tech, and Florida all similarly competitive. But why a three emoji confidence ranking? Because I think there's a decent shot two of those teams duck their heads just inside the line. Given the region's history, it's overly optimistic, but you have to take a stand somewhere.
Southwest
Strength bids: 4 (Stanford, California, ???)
Confidence: ??
UC San Diego is set for a monster year, just in time for Stanford to take a step back. But with Hallie Dunham, Bridget Connor, and the benefit of an elite program setup, Superfly is still a strong bet to earn a bid. After that? Per usual, there's a bevy of teams in the mix. Cal has the chops to be a frontrunner, but UCLA and Cal Poly SLO are threats, too. SLO might be this year's preseason darling, and UC Santa Barbara, USC, and UC Davis are all worthy of mention. But with they cannibalize each other's bid-earning opportunities?
Atlantic Coast
Strength bids: 0
Confidence: ??
UNC seems miles away from the competition in the region and are a heavy favorite heading into the season. Virginia seems to have veered far from the program's peak run, leaving NC State as the top contender to earn a bid. Can they do it without Ashley Powell? It's definitely possible, they are one of the top teams around the bubble.
New England
Strength bids: 1 (Tufts)
Confidence: ??
Dartmouth is the lock of all locks, but there's a bunch of ways this pick could go wrong. Northeastern has some buzz heading into the spring. Tufts lost their three offensive centerpieces after Megan Wilson and Hannah Crowley graduated and Hannah Wells set to spent the spring abroad. Vermont has been building a solid program. But Tufts returns a deep group led by Margo Urheim and should still be a disciplined team that's tough to overpower.
North Central
Strength bids: 0
Confidence: ?
I went back and forth on the North Central and if they could earn a bid after Carleton comfortably finishes as the region's top ranked team. For years, Wisconsin and Minnesota have looked poised to move forward, with solid returning talent and recruiting, plus good coaching. But each time, they come up short. Carleton has gone to Nationals as the NC's lone rep in four of the past five seasons. Wisconsin's top end of Caitlin Murphy, Brittney Kokinos, Sabrina Hoffmann, and Margaret Walker drag my confidence level to the floor. Minnesota's young talent like Lily Mendoza and Erin McCann only make this pick more precarious.
Men's Division
First up, let's take a look at the teams we expect to earn the autobids:
Atlantic Coast: North Carolina
Great Lakes: Northwestern
Metro East: Cornell
New England: Brown
North Central: Wisconsin
Northwest: Oregon
Ohio Valley: Pittsburgh
South Central: Texas
Southeast: …brutal…I'll go with Auburn
Southwest: Cal Poly SLO
Now, the fun part: strength bids.
North Central 
Strength Bids: 2 (Carleton, Minnesota)
Confidence: ?????
The North Central has been ruled by the three-headed dragon of Wisconsin, Carleton, and Minnesota for a couple of years now. I see no reason to expect that to change. Carleton is the on-paper favorite, but I think Wisconsin may end up having the superior regular season. Regardless of which of these teams finishes highest in the rankings, all three should comfortably land a bid. Minnesota is facing the most challenging turnover, but there is still a ton of talent on the team. Cole Jurek is set for a huge year.
Metro East
Strength Bids: 0
Confidence: ?????
I'm already going out on a limb to say Cornell will finish ahead of UConn in the rankings, but I'm not gonna get crazy and say that there's any way the region gets more than the autobid. I actually think that Regionals itself could be pretty fun, as UConn is worse this year (they graduated a ton of seniors), Cornell is better (Spencer DeRoos gonna ball on 'em), and even some other teams like Syracuse might make things interesting. But from the national perspective? Same old Metro East.
Great Lakes
Strength Bids: 0
Confidence: ????
Don't sleep on Northwestern; they might have a great year. But I don't think that there will be enough punch elsewhere — Michigan, Notre Dame, Illinois — to land any strength bids. Michigan was the most promising team last year, but their ceiling is a bit lower now with the departure of Jake Steslicki.
New England
Strength Bids: 1 (Massachusetts)
Confidence: ????
My confidence in UMass to earn a strength bid is very high (?????), but I do think there's an outside chance that Tufts or Harvard could sneak a third bid this year (?). Not a high likelihood, to be sure, but there's a chance. Tufts was ranked #22 at the end of last season, and Tony Goss and Nikhil Bhatia-Lin are both a year older. Harvard also looks improved from a year ago. Brown will easily earn a bid, to be clear.
Northwest
Strength Bids: 1 (Washington)
Confidence: ????
Similarly to New England, I am very confident that the Northwest will get at least two total bids, with a shot at a third. If BYU was bid eligible, then I would smash the 'three bids' button, but alas. Oregon and Washington's battle for #1 in the region should be a blast this year, and both teams should pretty easily qualify for Nationals. Could Western Washington or UVic make a splash? I think their windows have closed, but maybe!
Southwest
Strength Bids: 0
Confidence: ???
I've got Cal Poly SLO finishing well inside the top 20…and then a bunch of teams just missing the cut in typical Southwestern style. I don't think Stanford is quite good enough to land inside the top 20 this year, and I'm skeptical about how much better Cal and USC will be after they finished #40 and #56, respectively, in last year's final rankings. Regionals will be wild, no doubt, but I think it's gonna be another one bid battle.
Atlantic Coast
Strength Bids: 2 (UNC Wilmington, NC State)
Confidence: ??
The country's deepest region has a chance to again earn a ridiculous number of bids this year. I would not be totally shocked if the AC claimed five bids. The AC had six (!) teams inside the top 25 in the 2018 post-Nationals rankings. Ultimately, though, I'm calling the region to drop a bid after last year's four, mostly due to a few teams taking a step back. Virginia Tech won't be as good this year. Jonny Malks missing the entire William & Mary season means that they won't earn a bid. Christian Boxley is done at Georgetown. But UNC, UNC Wilmington, NC State, and Maryland are all going to be in the hunt. I think Maryland is the kind of team that will just do OK during the season and be dangerous at Regionals. So three bids it is. But there's definitely some variance here, more than in other regions.
Southeast
Strength Bids: 2 (Georgia, Emory)
Confidence: ??
A three bid Southeast? Again? It makes me nervous to say it. But last year, I was one of a few people to call the Southeast to get more than just the autobid, and I think that there are again multiple teams that can clearly earn bids. While Florida will take a step back with the graduation of Billy O'Bryan, Auburn may be better than ever, and they seem poised to finally earn a bid instead of just stealing one at Regionals. Georgia won't be quite as good this year, but they are the deepest team in the Southeast and should comfortably earn a bid if they stay healthy. And Emory's ceiling is even higher this year as they bring back their 'big three' in Anders Olsen, Daniel Sperling, and Michael Bartell.
Ohio Valley
Strength Bids: 1 (Ohio State)
Confidence: ??
Can OSU actually pull off earning a bid? They showed me enough at Classic City Classic to make me believe that they are capable. #1: The team knows just how important it is to actually go out and get a bid if they want to go to Nationals, because trying to get past Pitt at Regionals is not happening. #2: The talent is there. They are clearly the second best team in the region.
They'll probably be a bubble team, but if they are smart about subbing (AKA they play their best guys and don't try to develop too much), they can get that bid. But maybe I should be fading them after they got brutally wrecked by OSU's women's team, Fever:
South Central
Strength Bids: 1 (I mean, who knows?)
Confidence: ?
I can't even keep track of all of the teams in this region. I pine for the olden days of Colorado and Texas. States: easy to remember. Now, this region fields competitive teams from Texas A&M, Texas State, Texas Tech, and Texas-Dallas. And you've got Colorado State still lurking in the hunt.
Seriously, though, all of those teams I just listed might be good enough to go out and get a bid. UT-Dallas is probably the buzziest team right now (we'll be writing more about them soon), and they're headed out to California for the Santa Barbara Invite at the end of January, which should give us a great look at how they could stack up. UTD doesn't really have a bunch of big star power, but they have a ton of depth and lots of players with club experience.
The South Central bid picture feels precarious, because of the tendency of a lot of the teams to play local tournaments where bid points tend to get cannibalized (just ask the Southwest). But at the end of the day, I'm calling for a two-bid region. I will not be shocked if the region gets a third bid, or if all the teams just miss the cutoff and they get only the auto. Either way, it will be extremely fun to follow how the SC shapes up this season.