The final preseason event for the Northwest.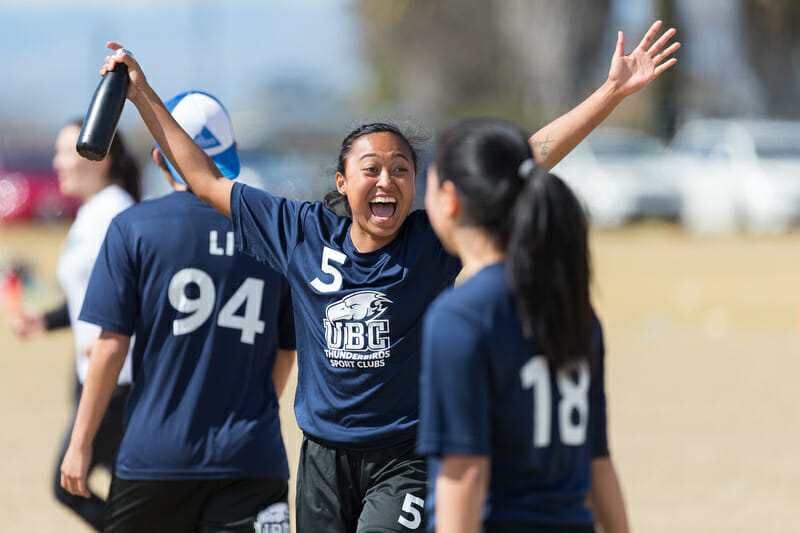 Ultiworld's 2019 college coverage is presented by Spin Ultimate; all opinions are those of the authors. Please support the brands that make Ultiworld possible and shop at Spin Ultimate!
With many schools on a quarter system, and thus not starting up until late September, the Northwest ultimate season tends to get started a little later than in other parts of the country. While many teams are participating in the first round of sanctioned tournaments this weekend, the Bellingham Invite is an unsanctioned warm-up tournament giving one last chance for Northwest teams to figure things out before games start to count. As usual, there are high expectations for a bucket of bids for the Northwest women. This extension of the preseason gives a chance to assess how the region is shaping up.
Tournament Profile
Date: January 20th
Location: Bellingham, WA
Weather: Highs in the mid 40s, rainy
Top 25 teams: 4
Like last year, the women's side of the 2019 Bellingham Invite features five teams in a one-day round robin. The women get Sunday this year, while the men play on Saturday. Along with host Western Washington, UBC, Oregon, and Whitman return from 2018, while Victoria replaces usual participant Washington, who passed due to attending the Santa Barbara Invite next weekend.
The #7 British Columbia Thunderbirds had another strong year in 2018, but fell short of preseason expectations that had them as the top contender to knock off Dartmouth. But their experienced squad has high internal and external expectations in 2019. "Our goals and expectations for this season are the same as every year: to win Nationals," said captain Julia Zhang. To that end, UBC returns perennial POTY-candidate Ellen Au-Yeung, power-thrower Janelle Siwa, and speedy cutter-defender Naomi Morcilla as fifth years, and Zhang looks ready to dominate downfield.
However, they have lost many players they relied on heavily in 2018, including Kaitlyn Harper, Serena Tam, Cindy Li, Judith Yeo, Brianne Wager, Esther Au, and Naomi Johnson. UBC will be counting on younger players from their Vancouver youth pipeline to step up, including three rookies fresh from the Canadian U20 team (Ada Chang, Julie Lee, and Catie Akune), and are feeling, according to Zhang, "more driven and hungry than before."
#6 Oregon Fugue had another successful season in 2018, holding seed with a fifth place finish at Nationals. POTY-candidate and U24 returner Ella Hansen dominated the assist and block categories for Fugue in 2018, and fellow fifth year returner Morgan Caldwell led the team in goals. They lose Hayley Wahlroos, Sarafina Angstadt-Leto, and Gabrielle Aufderheide, but bring back 2017 ROTY (and U24 selectee) Maddy Boyle and 2018 ROTY contender Rachel Hess.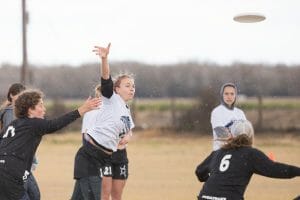 2019 looks like another strong year for always-dangerous #12 Western Washington Chaos. Top cutter and defender Maddie Gilbert missed 2018 Nationals due to injury, but she returns for a fifth year to patrol the midfield and pull down hucks from Riot teammate1 and U24 selection Samiya Ismail. Chaos' strong junior class featuring Riley Taur, Eleanor Joselyn, Ruby Cassidy, and Eleanor Heberlein seem ready to step into the roles vacated by TQ Yen, Alana Hall, and Camille de Guzman, and a large rookie class including Seattle youth players Paige Jeantette-Coca and Sarah Stoev will add to their depth. "Our goal is to build team cohesion and chemistry at Bellingham Invite," said Ismail. "This tournament is all about trying things and figuring out what works and what doesn't."
The #25 Whitman Sweets will miss the Soo twins, Alissa and Linnea, who led the 2018 team in assists and goals, as well as eight other 2018 graduates. However, Whitman brings in an even larger freshman class notably featuring dynamic cutter and defender Mira Anderberg from BUDA, as well as  cutter Ellie Sutphen (Ingraham High School). Expect rookie Kaia Roast to play a major role in the backfield along with co-captains Akane Kleinkopf and Hannah Filley, perhaps allowing hybrids Chloe Carothers-Liske and Livia Amorosi to spend more time downfield alongside senior captain Mackenzie Timbel.
It's a new beginning for the Victoria Vixens, as the last of their players who were on the team for their last Nationals trip in 2015 have graduated. After seven years guided by the Bruleighs, they also have a new coaching team: Trevor Knechtel (UVic and TC U20 and U24) assisted by Vixens alum Alex Harned. The 2019 Vixens are captained by Kathy Hong, Candace Darling, Sarah Grundy, and Juli Ohsadaare and add a bunch of experienced rookies from the Vancouver youth scene. The competition in the lower rungs of the Northwest appears to be fierce, in no small part due to the potential of the new era of Vixens.
---
as a practice player ↩