The top five teams in each college division!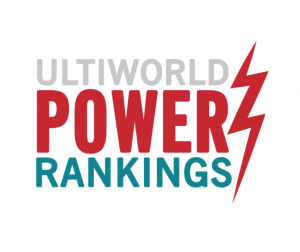 We are excited to present the 2018 preseason College Power Rankings! These rankings are based holistically on a number of factors: last year's performance, roster changes, conversations with coaches and captains, fall results, and assorted other factors.
This is the final post in our preseason rankings release!  See teams #25-21 here, teams #20-16 here, teams #15-11 here, and teams #10-6 here.
Men's Division I
5. Michigan MagnUM (2017 results: 1st in Great Lakes, T-9th at Nationals)
Surprised to see Michigan in the top five? Don't be. MagnUM quietly returned many of their most important contributors from a year ago, added in a potential superstar sophomore in Nathan Shapiro (transferred from Syracuse where he won Metro East Freshman of the Year), and have begun to look settled in head coach Tyler Kinley's schemes. Jake Steslicki was a workhorse at CCC earlier this month, leading the team to an appearance in the final, where they played a competitive game against #2 UNC. The team's biggest weakness is depth, but their top end talent is going to be good enough for them to win a lot of games.
4. Oregon Ego (2017 results: 2nd in Northwest, T-9th at Nationals)
We had high expectations for Oregon a season ago, but we were perhaps a year early on the hype train as a peak year Washington team owned the matchup. Well, all aboard: Oregon's gonna be scary in 2018. With Adam Rees as a top tier POTY candidate and basically the whole band back together, Ego should have their best chance to compete for a Championship since Dylan Freechild's final season. Will Lohre is poised for a huge year, Colton Clark will be an assist machine, and a team stacked with fifth-year talent is ready to make a run.
3. Minnesota Grey Duck (2017 results: 1st in North Central, T-5th at Nationals)
Don't forget: Minnesota was up on Carleton in the quarterfinals at Nationals last year before falling 12-10. What could have been? Although Minnesota loses Ben Jagt and Sam Bumsted, the team is ready to reload for 2018. Wyatt Mekler (U24, Sub Zero) is a possible POTY shortlister, but he might have to fend off his 5th year transfer teammate Codi Wood (Penn State), who's been operating as the center handler for the U24 Men's Team. Tristan van de Moortele (U24, Sub Zero) will take on even more responsibility this year as the team looks to make a run at their second title in three years.
2. North Carolina Darkside (2017 results: 1st in Atlantic Coast, T-3rd at Nationals)
The only team to beat Carleton at Nationals in 2017, UNC Darkside is almost unfairly talented heading into 2018. The team loses almost no major contributors, bringing back Matt Gouchoe-Hanas, Walker Matthews, Elijah Long, Nick Macleod, and many more. The team mopped up the competition in the fall, winning CCC fairly comfortably even while playing without their star handler Gouchoe-Hanas and the country's top recruit, Liam Searles-Bohs. 2017 Rookie of the Year Kai Marcus looked comfortable on the offensive line (at least at CCC) and the team got production from up and down the roster. With an absolutely all-star coaching staff of Jon Nethercutt, Mike DeNardis, and David Allison, UNC won't be happy with anything less than a National title.
1. Carleton CUT (2017 results: 2nd in North Central, National Champions)
You think UNC is unfairly talented? Carleton laughs at your joke. The 2017 National Champion enters 2018 as the odds-on favorite as the team brings back a murderers' row of talent, including Alex Olson (24 assists at '17 Nats), Sol Yanuck, Henry Fisher, Eric Taylor, and an absolutely exceptional sophomore class that will serve as a foundation of success for years to come. One of those sophomores, Joe White, has been described by some close to the U24 Men's team as the best player on the team, and he just had a fantastic season competing with Michigan High Five.
The knock on Carleton last year was that they couldn't seem to put together a complete tournament: they would dominate in pool play and then choke in quarters or semis. Well, they erased that notion with a blistering run from prequarters through the bracket at Nationals. With that confidence and their unmatched talent, they are clearly the team to beat in the new year.
Women's Division I
5. Texas Melee (2017 results: 2nd in South Central, 2nd at Nationals)
A few months after an appearance in the title game, Texas is regrouping with what's left of the top seven they rode to success last season. Laura Gerencser, Marissa Land, and Gabrielle Cuina remain in the fold, and Domenica Sutherland is a star caliber player that will be in line for a huge role. They'll need younger players like Caroline O'Connell to demonstrate growth if they hope to repeat last year's deep run.
4. Colorado Kali (2017 results: 1st in South Central, T-3rd at Nationals)
After breaking through the quarterfinal wall in 2017, Kali is back for more this year. Nhi Nguyen is one of the most explosive players in the country, and handlers Jean Russell and Kelsey Bennett should keep things humming around the disc. Getting Fiona Dragonfly back from injury will help make up for some of their roster's losses. They've benefitted from a consisting coaching presence and well-established culture, which should only be stronger after last year's successes.
3. Stanford Superfly (2017 results: 1st in Southwest, T-5th at Nationals)
It's been a surprising offseason for one of the division's most powerful programs. The team lost hyper-athletic grad student Courtney Gegg but swapped her for another big powerful veteran in Julia Butterfield. Notre Dame heavily featured Butterfield in previous years; she's a dangerous deep threat with sizeable hucks, and her wily handlers–Hallie Dunham, Caitlin Go, and Michelle McGhee–all have elite club experience and will be plenty capable of getting her the disc. Shayla Harris gives Superfly one of the best defenders in the division, and they'll have plenty of other components to mold into a championship contender.
2. British Columbia Thunderbirds (2017 results: 1st in Northwest, T-3rd at Nationals)
Years of great recruiting has helped build UBC into a consistent threat to make deep runs at Nationals. This year, they are the top contender to knock off super-powered Dartmouth, who defeated them in semifinals at Nationals last season. Ellen Au-Yeung is a top POTY candidate, 2017 Breakout Player of the Year runner-up Janelle Siwa has a backhand cannon, and Naomi Morcilla is a springy athlete that can rack up blocks and deep scores. Beyond their impressive top talents, UBC is a deep squad where most players have multiple years of ultimate experience, including their incoming recruits, headlined by Brianne Wager.
1. Dartmouth Princess Layout (2017 results: 1st in New England, National Champions)
It would be all too easy to just post a picture of reigning Player of the Year Jaclyn Verzuh and say case closed. Or you could add second team All-American Julianna Werffeli, a club champion with Brute Squad. And then after that, 2017 Breakout Player of the Year Caitlyn Lee, fresh off her rookie year on Brute. Oh, did you think that was it? They also picked up arguably the top recruit in the division, Claire Trop, and return perennial unsung workhorse Piper Curtis. Lily Eisner blossomed as a handler over the course of last season, and role players Mae Hardebeck and Ella Dzenitis just keep the hits coming. There's an embarrassment of riches on the Dartmouth roster, making them a big favorite to win back to back titles.
Men's Division III
5. Davidson DUFF (2017 results: 2nd in Atlantic Coast, 2nd at Nationals)
Let's get it out of the way: the defending National runner-ups have lost more talent than any other team in the country. 1st Team All-American Chris Johnson graduated, FOTY Andrew Roy has transferred to Carleton (playing for CUT), and five other talented role players also graduated. Most programs would collapse from losing that much talent. However, most programs don't have a coaching staff like 2017 Coaches of the Year Ken Porter and Erec Hillis.
Porter and Hillis deserve a lot of credit for getting the most out of DUFF's roster last year, and they have enough talent this year to do the same. Senior Cullen MacDowell is primed to have a big year handling, and junior Isaac Mervis will be one of the best cutters in the country. DUFF might get off to a slow start, but expect them to end the spring towards the top of the country once again.
4. Richmond Spidermonkeys (2017 results: 1st in Atlantic Coast, 1st at Nationals)
While Davidson may have lost the largest sum of talent, Richmond lost the single most talented player in the division in Henry Babcock. The inaugural Men's Donovan Award winner and Ultiworld Player of the Year will undoubtedly be tough to replace, but the Spidermonkeys were far from a one-man show on their way to the National championship last season, and they bring back a great amount of talent in 2018.
Harris Cannon, Xavier McCormick, and Chris Cassella formed one of the best freshman classes last year and should be even better this year. Justin Keller is one of the most efficient cutters in the country. 2nd Team All-American Chris Selwood led Richmond's O-line at Nationals last year and should resume that role again in 2018. Combine all this talent with Coach of the Year Runner-Up Matt Graves, and the Spidermonkeys have the look of a National semifinalist.
3. Middlebury Pranksters (2017 finish: 5th in New England)
We know, we know, it seems crazy to have a team who finished 5th in their region last year sitting as the third best team in our preseason rankings, but hear us out. Middlebury finished last regular season as the number two team in the rankings, with only one loss to eventual national runner-ups Davidson. They rolled through Conferences, including two wins over Dartmouth. With four deserving teams and only three bids to Nationals from New England Regionals, one team was going to miss out, and the Pranksters happened to be that team1.
That's more of a testament to the New England region than it is an indictment of Middlebury, and they bring back more talent than anyone else in the region. U24 tryout invitee Dylan Salzman is in contention for being the best handler in country. Kai DeLorenzo was one of the best freshman in the country last year and the foundation of their D-line. Guys like Zach Levitt and Connor Hanify are the kind of role players that championship contenders need. The most difficult part of Middlebury's season will once again be getting out of the most competitive region in the country. They should qualify for Nationals this year, and once there, they have the pieces to go all the way.
2. Colorado College Wasabi (2017 finish: 2nd in South Central, 13th at Nationals)
Entering Nationals 2017 as the 7th seed, Wasabi looked like a dark horse contender for a spot in the semifinals.  Unfortunately, conflicts with graduation left them without most of their seniors, and Colorado College were unable to make it out of pool play.  The positive side of this situation is that Wasabi's underclassmen got significant experience on the biggest stage, and it's looking like it paid off already this fall with a strong performance at Missouri Loves Company.  Grant Mitchell is going to be in the POTY conversation; the senior is elite on both sides of the disc, taking the opponent's best player on defense and winning with his legs on offense.  Jason Bair is a solid handler for Wasabi to build their offense around, and Isaac Rubenstein is good for one or two incredible plays every game.  Colorado College have a loaded senior class that will be gunning for a National championship before they graduate; if their underclassmen can develop into the role players they need, then Wasabi just might make that championship a reality.
1. Air Force Academy Afterburn (2017 finish: 1st in South Central, T-11th at Nationals)
The consensus preseason favorite amongst our staff, Air Force is returning a ridiculous amount of talent in 2018. Player of the Year runner-up Alan Villanueva is back for his junior year with his array of creative throws. Breakout POTY Kainoa Chun-Moy returns to terrorize opposing offenses and run his matchup into the ground on a turn. Junior Matthew Moshea tied for the most goals scored at Nationals last year, and 2017 Donovan nominee Trevor Browning is back for his senior season. Despite missing many players due to an Academy conflict, Afterburn missed out on bracket play at Nationals in Lexington by the narrowest of margins, losing out by one point in a three-way tiebreaker. If Air Force has their full complement of players in Rockford this year, they look like the favorites to walk away as National champions.
Women's Division III
5. Bowdoin Chaos Theory (2017 finish: 2nd in New England, 9th at Nationals)
While Bowdoin consistently finishes in the top half of the extremely deep New England region, they have historically struggled to deliver at Nationals, finishing 9th overall last season. Despite the loss of Kate Powers, a leader for Bowdoin both on and off the field, Chaos Theory will rely on the experience and energy of a large group of returning seniors and juniors to maintain their competitive status in 2018.
4. St. Olaf Vortex (2017 finish: 2nd in North Central, T-7th at Nationals)
Nationals went poorly for Vortex, and a good piece of that result can be tied to Tulsa Douglas going into the tournament injured. A summer spent playing for Brute Squad later, Douglas should be targeted more than ever by other teams' strategies, allowing players like Sami Peterson and Aidan Zielske to step up and put on the pressure. It is worth noting, however, that Vortex has already dropped a game to Carleton this fall, possibly spelling trouble for St. Olaf if they don't fully tap into the depth of their entire roster.
3. Carleton Eclipse (2017 finish: 1st in North Central, 1st at Nationals)
Betting against Eclipse is never a smart move, especially as the team comes off a repeat Championship title in 2017; the program has a serious knack for attracting and developing ultimate talent across all parts of the game. While Carleton did graduate players that seriously contributed to the team's production in 2017, Eclipse is returning 2017's FOTY Laura Kiernan and already has a nice win against St. Olaf in the fall, daring the division to count them out for another title run in 2018.
2. Bates Cold Front (2017 finish: 4th in New England, 10th at Nationals)
Bates isn't looking back at their disappointing finish at Nationals in 2017 but rather forward to their spring season, returning almost their entire Nationals roster that's made up in part by a gigantic junior class. Watch for team leaders like Josie Gillette, Erin Hazlett-Norman and Marissa Bale to lead Cold Front far at what will be a competitive New England Regionals and deep into the bracket at Nationals. So far this fall they've already shown they can capitalize on their roster's chemistry and experience–they've already notched a win against Dartmouth, albeit when the team's top players were off at Club Nationals.
1. Williams La WUFA (2017 finish: 1st in New England, T-5th at Nationals)
For the last two years Williams has entered Nationals as the top seed and proceeded to watch Eclipse take the championship home. With the return of 2017 All American Second Team player Haley Lecinsky and the loss of only a few seniors from last year's team, watch La WUFA do everything within their ability to dominate the New England region. The real test will come in Rockford to determine whether this is finally the year they take first place.
You can always see the latest College Power Rankings on the dedicated Rankings page. Additional reporting from Hannah Broos.
---
Bryant didn't reach ten games, so they weren't included in final regular season rankings. If they had, the NE region would have had four teams in the top ten ↩