Don't miss a thing!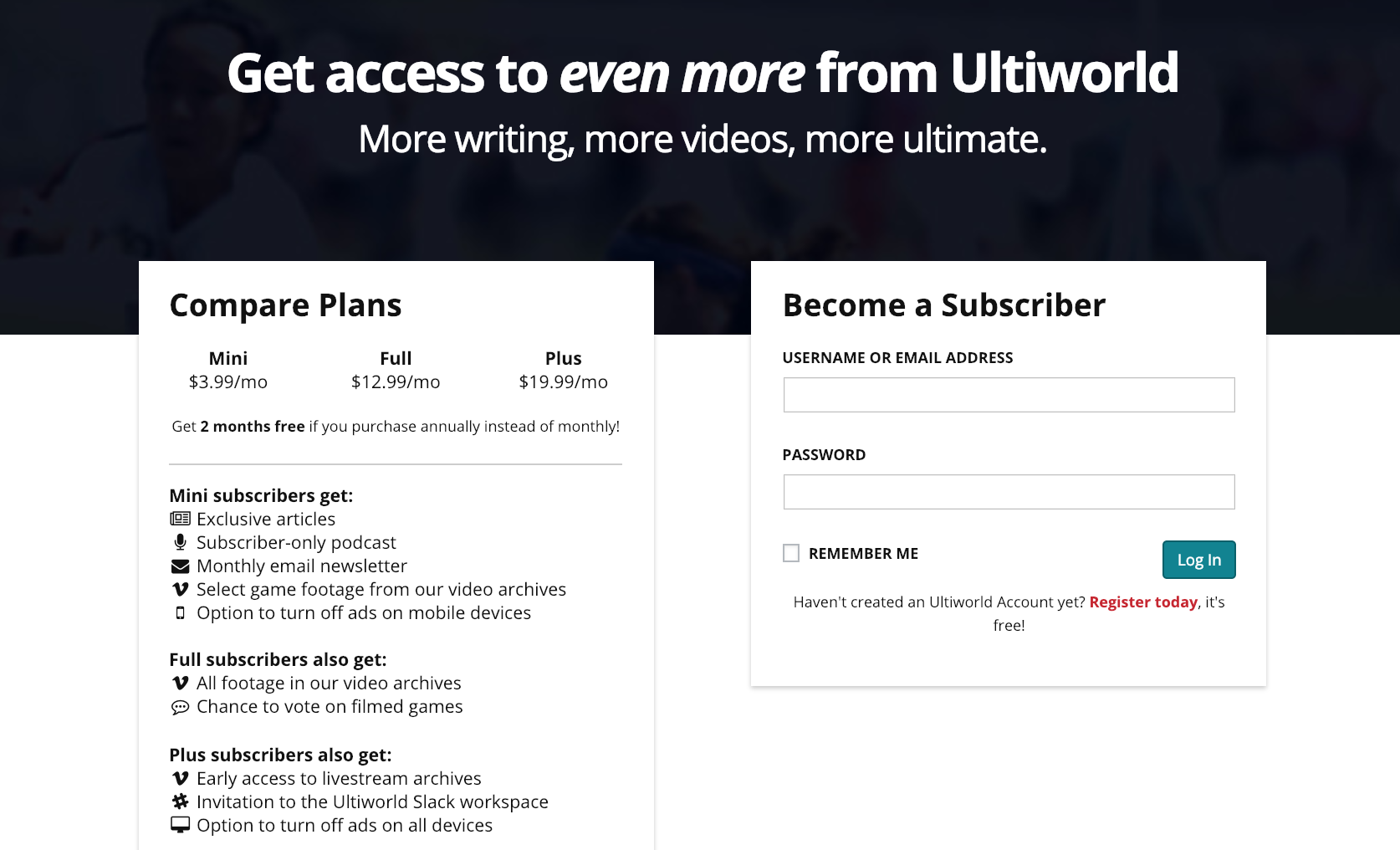 Tuesday Tips is presented by Spin Ultimate; all opinions are those of the author. Please support the brands that make Ultiworld possible and shop at Spin Ultimate! 
Are you an existing Ultiworld subscriber? On the fence about getting a subscription? Regardless of whether you've been a subscriber for years or you've just started reading the website, we want to make sure that if you get a subscription that you get the absolute most out of it.
Every subscription level has great benefits that you can take advantage of and we're always adding new features. It's way more than just access to game footage. Here's a list of ways to make sure you maximize the benefits from your subscription.
1. Read The Subscriber-Only Articles
This is an obvious one, but make sure to check out our features, the weekly mailbag, and many other subscriber-only articles. Starting this week, you'll also start to see some special subscriber-only bonus content on some articles (and podcasts) that lets you dig deeper and become a more informed player or fan.
2. Listen To The Sideline Talk Podcast
Did you know there was an Ultiworld podcast that's exclusively for subscribers?
Sideline Talk is a show about the people and personalities of ultimate, featuring in-depth conversations with the sport's leaders. Past guests include Alex Snyder, Bryan Jones, Claire Chastain, and, most recently, Rowan McDonnell. Follow the instructions in any post to add the show to your favorite podcasting app!
3. Sync Your Ultiworld Account With VHX and Download the App
On your My Settings page, don't forget to sync your account with VHX (now known as Vimeo OTT). This is where Ultiworld posts game footage, video analysis, and other video content for subscribers. By syncing your account, you'll get access to all of the video footage that comes with your subscription.
Make sure you also download the VHX app–available on iOS, Android, Apple TV, Roku, and other platforms–for your phone, tablet, and other devices. You can watch footage anytime, anywhere with the offline sync feature, which lets you download games in the app for viewing without an internet connection. Plane flight cross-country? No problem. Sync a few games and the time will fly by.
4. Check Out The Ultiworld Film Room
Once you've got your account linked with VHX, you can start to explore everything in Ultiworld's video collection. Full and Plus subscribers have access to everything, but even Mini subscribers get access to dozens of classic games and other video content.
One relatively new addition to our video library is the Ultiworld Film Room, where analysts break down game footage to show you how teams won their matchup, how to improve your defense, and how to get open on offense. It's available on every subscription level (Mini subscribers, find Film Room clips in the 'Classic Games Pack!').
If you're a College Team Pack subscriber, you can even request that we analyze certain games or clips — just email us!
5. Look for the New 'In The Zone' Email Newsletter
Last month, I launched a brand new email newsletter called 'In The Zone,' which focuses on off-the-field ultimate news in the realms of business, sport development, people and leaders, and more, with inside knowledge and original reporting. It's not a collection of content aggregated from Ultiworld — it features information you won't find anywhere else. Issue #2 will be out this week!
6. Turn Off Ads
Don't want advertisements disrupting your Ultiworld experience? Subscribers at all levels can turn off advertising on mobile devices via the My Settings page. Plus subscribers can turn off ads everywhere on the website. Enjoy reading in a distraction-free zone.
7. Make Your Voice Heard
Whether you're a Plus subscriber with access to Ultiworld's Slack community or a Mini subscriber, we want to hear from you. How can we increase the value of your subscription? What would you like to see us do better with our game footage?
You can always email me directly, find us on Twitter, or just come up and talk to me or a reporter at a tournament.
8. Consider Getting a Team Pack
If you get a College Team Pack (or a Club Team Pack during the summer), every member of your team will get a Mini subscription included free for the duration of the season! That's on top of full video access for every member of your team and coaching staff.
You also get additional benefits — like full game download access for internal film review or highlight reels and a guaranteed filmed game!
9. Sign Up Today!
Sign up right here to unlock access to all of these benefits! You can find out more information about the Ultiworld subscription on our Subscribe page or the complete FAQ.
If you have questions about the subscription or its benefits, feel free to comment below!