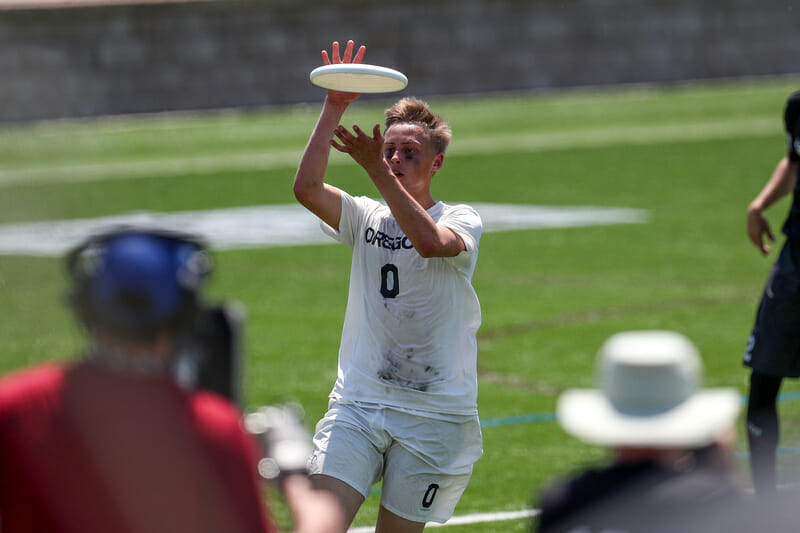 Ultiworld's 2019 college coverage is presented by Spin Ultimate; all opinions are those of the authors. Please support the brands that make Ultiworld possible and shop at Spin Ultimate!
LA JOLLA—Three day tournaments always come with the promise of wild results. In San Diego, the shortened rounds (65 minutes to hard cap) and fewer games only served to compound the chaos. Teams not only had to adjust to the wind and the rain, but also the looming time cap and narrower fields. No pool went entirely to seed, and it led to some intriguing quarterfinal matchups. Here's a recap of all that went down across day one and two of the Presidents' Day Invite.
USC Unlocks Their Full Potential
After a buzzy if inconsistent start to the season at Santa Barbara, USC came into Prez Day ready to show off what they can do. In some ways, we haven't yet fully seen what that is, but they're sitting at 4-0 with a gritty win over Colorado (8-6) in quarters and an absolute beatdown of UBC (13-3) to win their pool.
Sam Cook is back in the fold, but it was his downfield target Wyatt Paul who has been the star through two days. As the deep in a zone that has been extra effective thanks to the tournament's narrow fields, Paul has piled up blocks while turning on the jets to chase down hucks and lay out for huge scores.
USC's offense is electric: Cook is extremely dangerous with the disc in his hands, Hill Balliet never makes mistakes, and Paul is zipping around with endless motor. They've yet to face a team that can match their talent.
That will change tomorrow as they go up against Oregon in the semifinals. How will they handle a top tier defense? Can their zone slow down throwers as good as Oregon features? They'll definitely be an underdog, and this will be their first real test of the season.
Oregon Has Yet To Be Truly Tested
There was never a doubt that Oregon deserved the #1 seed at this tournament, and they showed their opponents the discipline and athleticism that is required to earn that spot. Pool play seemed more like a game of cat and mouse for Oregon than a must-win scenario. At times, the Oregon offense definitely toyed with their opposition, seeing what deep shots or breakside throws they could get away with. Their success rate with these throws was astounding.
It's not even just Oregon's on-field antics that keep them as the favorites. Oregon's sideline is loud, boisterous, and completely business-focused when necessary. No play goes unnoticed, and it helped Oregon's defenders all weekend.
Their stiffest competition was UCLA in pool play, but even then Oregon cracked down as they game wore on. Leandro Marx, Colby Chuck, and Ted Sither all took turns marshalling the offense, allowing Will Lohre to tear up defenders downfield. Not once did it seem as if the UCLA game was out of their control, although they were a little cavalier with the disc at times.
It will be interesting to see how Oregon responds to real pressure, which perhaps they'll see against USC in semis. They clearly have a strong sideline and lots of energy–that just has to translate to their on-field presence, too.
California Grinds Their Way To Semis
Despite an impressive run to semis, it's hard to get a read on this UGMO team. They do not necessarily play efficient ultimate but have been described as frustrating by multiple opponents. If anything, that's because they have a strong defensive presence, especially with their zone.
Colorado was particularly stifled by Cal's zone defense and it ultimately cost them the game. With the rain schedule shortening all the games, Cal's zone forced multiple passes that ate into the clock and eventually gave them quality wins over good teams by winning after cap went off.
UBC scored a paltry four goals in total against Cal in their quarters match. To be clear, Cal only scored seven, but they gained the mental edge in games like these because they seemed content to lets the points wear on and just grind it out as long as they could.
The true test for Cal will be how their offense will handle being down a break or two. By playing so few points in their toughest games, Cal's talented handlers (notably Alex Pan and Ashwin Vaidyanathan) have avoided the pressure that comes from digging themselves into a hole. Against Cal Poly SLO, they might have to find out how they handle this pressure on the fly.
SLO Start For Cal Poly, Accelerating From There
Remember when Floyd Mayweather, one of the great boxers in history, fought Conor McGregor, a UFC brawler who wanted a boxing payday? For a few rounds, it looked like maybe McGregor was in the fight, but Mayweather just knew that he could win the fight at any point. After early disinterest, he dominated in the middle and late rounds and easily won.
SLO isn't really good enough to be compared to Mayweather, but bear with me: when they play teams they know they can beat, they just don't really seem to care much. They phone it in on defense. They take some punches. Then they come out when it counts and put together a string of breaks and close it out.
That's how they almost lost to UC San Diego to open their weekend, and it's how they've looked flat early in a lot of games so far this season. But they're also 11-1 and have a real shot to win Prez Day.
There's not much else to say about their weekend so far. They haven't played a team on their level. Caleb Merriam, Dillon Whited, and Ian Sweeney continue to play great ultimate. Their defense — when they want it to be — is swarming and effective. Let's hope we get to see them go up against a real heavyweight like Oregon tomorrow.
Colorado Goes Down Swinging
After an easy 2-0 start on Saturday, Colorado ran into two straight teams looking to prove themselves — Cal and USC — and lost the pool and then got knocked out of the bracket.
They didn't make it easy for either team — their D-line forced plenty of turnovers and gave them a chance to win both games. However, they just didn't have the juice to get the breaks they needed. Against Cal, they had literally 10+ break chances on one point in the middle of the first half but never scored. On the next point, their offense coughed it up at mid-field and Cal broke with a single possession. Maddening.
Ultimately, Colorado is a fundamentally sound legacy program team with no horses to call upon. They've got a team of very solid players like Jakob Rheins and Daniel Brunker, but they lack a guy that can go out and win the game. They didn't have an Alex Pan like Cal or a Wyatt Paul like USC.
The Monday Bracket