Big weekends in both D-I and D-III!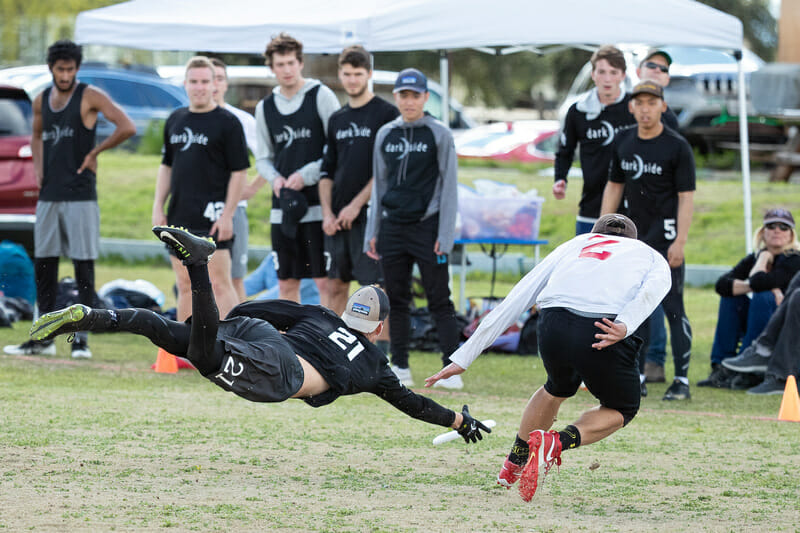 College Update during the 2019 season is presented by Spin Ultimate. Please support the brands that make Ultiworld possible and shop at Spin Ultimate!
During the spring season, we will publish a bite-sized weekly recap of the action across the College Division. This will serve as a supplement to our standard tournament reporting and will offer a high-level look at the latest happenings and the biggest stories of the week.
Want your tournament listed here? Submit a recap of what happened right here.
Women's
UCSD Takes Stanford Invite, Wins Third Straight Event
#1 UC San Diego extended their win streak to 19, sporting a spotless record, in taking down a strong Stanford Invite field. While they played a couple of close games, they reached the finish line at full throttle, pounding both UCLA in semifinals and Carleton in the final. There's been little opponents could do to interrupt the UCSD offense or work around their defense, leading to some lopsided results this year.
Elsewhere at the tournament, the Southwest had a resurgent weekend, putting six teams into quarterfinals and three into semifinals. Cal went undefeated in pool play, Stanford had a bounce back performance, and UCLA reached the semifinals. Meanwhile, the Northwest struggled, with Washington, Oregon, UBC, and Whitman all failing to reach the quarterfinal round.
For more on Stanford Invite, check out our Tournament Recap.
Undefeated Wash U and Truman State "Win" Snow-Shortened Midwest Throwdown
With intense concerns about weather at many tournaments, including MWTD, it's nice to see the midwest teams able to take the field, even if it was only for Saturday. Heavy snow cancelled Sunday play, but some crossover play allow us to declare a de facto winner, with Wash U finishing 4-0 alongside Truman State.
Bonus points for WUWU for a mini-viral tweet showing:
i am a(n):
⚪️man
⚪️woman
?ultimate player

looking for:
⚪️love
⚪️companionship
?just some nice weather in the midwest man it's been a long couple of months

— WUWU (@wuwultimate) March 2, 2019
D-III: Midwest Throwdown, Round Robin play
Another weekend of college ultimate, another tournament schedule marred by bad weather conditions and a slew of cancellations. For those that did go on, teams persevered to put on a top show.
On the East Coast, Allegheny and Franciscan went 2-1 and 1-2, respectively, at the Steel Spirit round robin, with Allegheny taking a decisive 12-6 win over Franciscan. Bates hosted their eponymous First Annual First Big Dance, cruising to a 3-0 weekend over Colby, Bowdoin, and Bates-B. Colby took second after a close 8-5 win over Bowdoin.
The Midwest saw a handful of events host D-III teams: the 2nd Annual 7th Annual Ben's Bar Mitzvah gave Xavier a chance to go 3-3 and take third; Oberlin-B ended the weekend with a win against Miami (Ohio). Midwest Throwdown saw Sunday play cancelled for weather, and a number of team drops that stacked several pools for D-III cross play. Truman State TSUnami dominated Pool C, leaving with a 4-0 record. John Brown also represented the South Central well ending 3-1; at the bottom Air Force and St. Benedict ended 1-3 on the weekend. Pool D saw Missouri S&T end at 2-2, Knox at 2-2, and Tulsa at 0-4.
To round out the country, the Southwest saw action in a round robin at Claremont. For what might be the first time in D-III history, Claremont lost the sanctioned match to Occidental, 9-8. Due to the size of the region, the final season rankings will determine who takes the auto bid to Nationals, with this playing no small part in the possibility for the longest active streak in D-III Women's college to be snapped.
Quick Hits
Dayton ran the table at Ben's Bar Miztvah, conceding just 17 points across six games. The host team faced their toughest challenge in the final, where they beat Cincinnati 9-7.
USC went 3-0 at Claremont Ultimate Classic. That's to be expected of a team that was originally in the Stanford Invite field. Check above for how this affected the small Southwest D-III Region in women's.
At Big Sky Brawl, every single game went to seed except for two wins for no. 5 Boise State, who upset no. 3 Denver and no. 4 Arizona State on Sunday. The top two seeds, Colorado State and Utah, met in the final, and CSU earned the 10-8 victory.
Bates went 3-0 at their First Big Dance, although they were pushed a bit by Colby in a 12-7 win. The highly touted D-III squad will, weather permitting, get in some more games this coming weekend, so consider this a warm-up.
Pittsburgh-B went undefeated in round robin play at the local developmental event, Steel Spirit. After the victory, they were announced in the top 20 of the USAU rankings, the second developmental team in the rankings.
Unreported: UMBC Safari Party
Showcase Series: Rainout (Atlantic Coast)
Cancellations & Postponements: Sky High Invitational, Bring the Huckus (again), The Culture
Men's
UNC Continues Undefeated in Comfortable Stanford Invite Win
The run of #1 North Carolina victories continued, with the reigning champions claiming Stanford Invite for the second straight season. While last year's win included a dramatic semifinal against Oregon, this season's was more decisive, with UNC handling #2 Brown 13-8. Aside from UNC and the bottom end of the tournament, there was a lot of parity: semifinalists Cal Poly SLO and Texas both needed close victories in quarterfinals versus quality teams.
For more on Stanford Invite, check out our Tournament Recap.
D-III: FCS D-III Tune Up, PLU BBQ, Midwest Throwdown
Perhaps the landmark event of the season in the men's division, FCS D-III Tune Up gave us so much to talk about. Not the least of those storylines was #1 Middlebury, who took the throne from then-#1 Air Force with a double game point victory in their showcase showdown. The Pranksters went undefeated, despite playing without Dylan Salzman, a spectacular indicator of this team's title-winning potential.
Along with Middlebury's undefeated run, Richmond also went without a loss in their seven games. They led a strong weekend for the Atlantic Coast, with Mary Washington's 6-1 standing out as another impressive result.
For the full deep dive on FCS D-III Tune Up, check out our Tournament Recap.
Elsewhere, St. Olaf emerged unscathed from Midwest "Snowdown" Throwdown, which was shortened to just Saturday play to dodge some inches of Saturday evening powder. They were the lone undefeated in the field, taking down Marquette and Missouri on their way to 4-0. Meanwhile, St. John's stumbled to 1-3.
At PLU BBQ, Lewis & Clark reigned supreme. They overcame Washington-B in the final 11-9. On their way to an undefeated weekend, they beat Whitworth in semifinals and Pacific Lutheran in two separate meetings. That makes them 12-5 on the season. Whitworth's run to semis was solid, with them compiling a 4-2 record at the event.
Quick Hits
No. 1 seed Utah escaped close matchups with Utah State in pool play and Montana State in the semifinals to go undefeated at Big Sky Brawl. Zion Curtain is now 10-2 and could be a trap team in the Northwest.
There was technically no winner at Mardi Gras, thanks to lightning overtaking the final, but finalists Alabama and Texas Tech did play in pool play. Alabama got the win there, while also beating no. 1 LSU in crossover play. A three-loss weekend for LSU will hurt their stock.
Huckin' in the Hills was cut short by weather. Pittsburgh-B and Dayton finished Saturday 4-0, so they can share the crown.
Truman State and Belmont not only won the two pools at Jaxx Jamboree, but they also marched all the way to the final. TSU took a confident 14-4 win to claim the tournament's title.
The wonderfully topically named G-Dub Fyre Fest was, like it's namesake, cut short by bad weather. The teams got in two rounds of play, at least.
Results for West Point Classic are mostly unreported, but given the weather in New York, the two matchups between Marist and Army might have been the only actual play. Marist took both.
Midwest Throwdown turned into a one-day affair, with no clear victor, though St. Olaf was the only undefeated team. Northern Iowa and Missouri State both went 3-1.
Lewis & Clark took down PLU BBQ, which you read in the above D-III section.
Showcase Series: Rainout (Atlantic Coast)
Cancellations & Postponements: Bring the Huckus (again), The Culture, Sonoma Shindig
Looking Ahead
Teams are getting desperate to get more games in as more events are impacted by weather. May we all get a chance to take the field, particularly in the central and East Coast regions, who have a lot of events on the docket.