While North Carolina continued on a what might be a historic run, the best of the rest battled in the most exciting regular season weekend so far.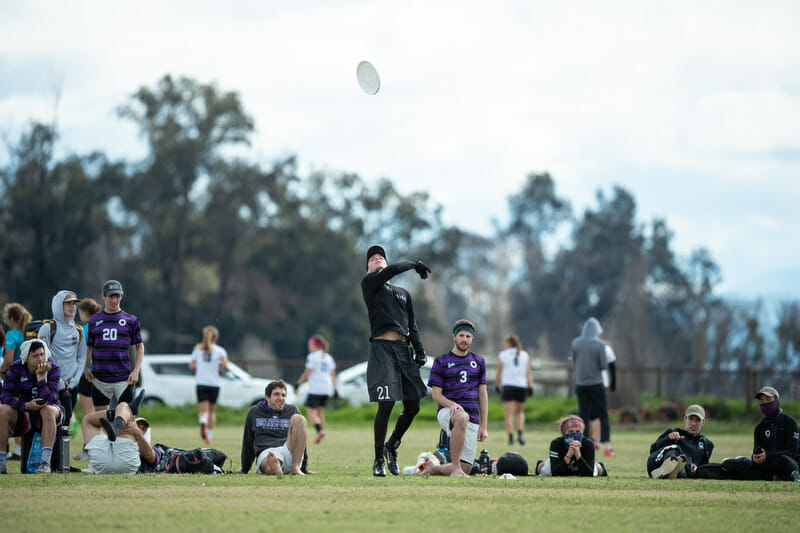 Ultiworld's 2019 college coverage is presented by Spin Ultimate; all opinions are those of the authors. Please support the brands that make Ultiworld possible and shop at Spin Ultimate!
STEVINSON—Few tournaments have the allure of the Stanford Invite. With eight of ten regions represented, it regularly stands as the moment in the college season when the Nationals bid picture starts to really take shape. For many teams, Stanford is the first (or only) chance to play opponents from both coasts, helping them take stock of where they stand on the national stage and the work they'll need to put in during the second half of the season. There were a lot of questions heading into the tournament, and only one concrete answer at the end: North Carolina Darkside is still the team to beat after a 6-0 run in Stevinson, CA.1
UNC's dominance this season remains the dominant narrative, although there were plenty of other notable results across the rest of the field.
UNC Smothers Any Underdog Hopes
As they did at Queen City and Carolina Kickoff, #1 North Carolina justified every bit of the lavish praise they've received thus far. Darkside's offense rarely gave up breaks all weekend and seemed to be on autopilot against many of their opponents.
The team cruised through pool play, winning their games by an average margin of six goals. Victoria came the closest to challenging Darkside, getting double digits against the defending champions in a 12-10 loss. Victoria's offense was particularly impressive, firing off hucks despite UNC's defenders playing their downfield cutters tight. Height was a key part of Victoria's success. Dawson Pasin consistently outdueled his UNC defenders for the deep ball and Michael LeRoss had some filthy grabs of his own; the two of them were largely the reason UNC and Victoria were tied at 9s with time winding down.
That, unfortunately, was when the good times ended for the Canadians. Marcus Rovner, Samuel Lee, and Elijah Long had dogged Victoria's best players all game and wore them out in the final three points. UNC ended up winning 13-10 and, despite the close game, their offense was only broken twice.
"In the UVic game, we just gave up too much on their pull plays and on their first couple of passes," said UNC Captain Matt Gouchoe-Hanas. "They were able to score within the range of five or six passes which showed we weren't really playing long-field defense. It was a big adjustment we made at the end of that game and coming into day two."
UNC's closest game of the weekend came against Carleton in Quarters. CUT smacked Darkside in the mouth on the first few points, jumping out to a 4-1 lead. Harrison Wolff Landau, Benjamin Preiss, and Timothy Schoch put pressure on UNC downfield, stifling Alex Davis and Liam Searles-Bohs whenever they could. On both of Carleton's early breaks, UNC overshot their hucks. "We came into the game feeling a little too good. We were well-rested and had a bye [Sunday] morning with a long warm-up. But they were there ready to play the game… So we made some adjustments and saw some success with that," said Gouchoe-Hanas.
That adjustment appeared to be unleashing Kai Marcus. Frequently place-marked as a Darkside handler, Marcus took advantage of Carleton giving him the deep space by aggressively pressing to the endzone. It led to UNC's first goal, and a few more after that. Marcus made the same play three times in the first half, striking deep after clearing from the handler space.
Once UNC's offense got comfortable again, it allowed their defense to go out hunting for breaks. A block from Anders Juengst bought them their first break and it was coupled soon after with a huge layout block on Birdsong from Rovner. After forcing a turn, UNC's offense was near perfect. Juengst and Long stepped up, using nimble give and go passes to keep Carleton from getting set on defense. Darkside broke to take half, tipping the scales in their favor for the rest of the game.
Carleton's offense remained strong all of the second half, thanks in part to some heroics from Dillon Lanier and Chris Padilla, but the fearless play in the game's first three points had vanished. The game remained tight until cap went off at 12-10, ensuring a UNC victory.
"The addition of Sol [Yanuck] to Carleton's group-mind of their coaching staff has made such a difference. He knows North Carolina ultimate and really just understands ultimate. He knows how to get guys in the right space to make our offense work hard," said UNC coach David Allison. "It was nice to feel that pressure in that game. To be challenged by a team that has a really great scouting report on you."
No other team came close to UNC after that Carleton game. In their semifinal matchup, Texas' lengthy defenders and powerful throwers were stunted by smart defensive positioning and quintessential horizontal offense from UNC. Darkside was most effective with their quick short passes between handlers, moving the disc up in short increments before busting the field wide open with an on-point huck or breakside pass.
Brown faced a similar problem in the final. UNC's defenders were more than a match for Brown's stars, and they were forced to rely on the full extent of their roster against Darkside. For the most part, Brown was up to the challenge. Even after going down a break, Brown's offense looked confident and just feisty enough to keep UNC from getting comfortable.
Unfortunately, Brown didn't have an answer to Anders Juengst. The junior did a bit of everything for his team in the finals. When the team needed a stop, he was there to get it; when they needed someone to marshal the offense, he filled in. The responsibility that he was given on Darkside's defensive unit showed the trust that coach David Allison had in the veteran.
Juengst was not the only player that led UNC to victory. Other defensive standouts helped keep the pressure off the offense and won most of UNC's games in the first half through the breaks they earned. "Mark Rovner was a killer for our D line this weekend," said Gouchoe-Hanas. "He had a great weekend along with Seth Lee, who's not talked about enough. No matter the team we played, he gave some of the best players a hard time."
UNC's tournament victory at Stanford was definitive, and all too predictable. Carleton found a way to break the team three times and still couldn't put away the reigning champions. There is still no roadmap to beat UNC, especially if it requires their offense to cough up more than three breaks.
The Ups And Downs Of Carleton And Brown
UNC's tournament weekend may have gone off without a hitch, but for their closest competitors, the road was rough. After starting pool play by handily dispatching #14 Carleton and #17 Colorado State, #2 Brown faced #18 Washington for a chance at a 3-0 start. By that time, the Sundodgers were already 0-2 and eliminated from the bracket no matter the outcome. That didn't stop them from pushing Brown to their limit.
All throughout 2018 season, Washington had Brown's number. At both Stanford Invite and Nationals, Washington proved to be Brown's kryptonite. In 2019, the trend continued.
"We had a really tough mental block in that game, especially after coming off a hard game against CUT. UW was so ready for us," said Brown coach Sam Lehman.
This may have been the furthest thing from Brown's mind in their final game of pool play, although  the ghosts of their 2018 quarterfinal appeared to be haunting the field late on Saturday. Washington's Porter Johnson put the first scare in with a lay-out block up the line on a throw to Brown's Henry Laseter. Washington didn't convert on their first break opportunity, but then Randolp sent a swing just beyond Hecht's reach. Washington converted the break with ease, putting Brown on the back foot for the first time all weekend.
After that very first point, the teams traded holds for the entirety of the game. It was a remarkably even contest between two offenses that had consolidated at the perfect time. The rare turnover never was enough to turn the tide, as both teams knew the stakes. Henry Laseter, Ken Noh, and Mac Hecht kept Brown from slipping further into a deficit, but couldn't force Washington into enough mistakes to gain back the ground.
Hard cap expired at 10-10, right after John Randolph made one of the biggest plays of the game, rising over his defender to reel in a floating huck from Hecht. Brown dutifully sent out their kill line in hopes of earning back the single break that had placed Washington in the lead. Still they fell short, allowing Washington's Derek Mourad to get open in the handler space at will, setting up an easy goal. It was a curious loss, made more surprising by Brown's intensity in a game that they didn't need to place first in their pool.
Brown cleaned up their act Sunday morning and cruised into the final. At first blush, 4-2 finish with a final appearance sounds like a strong weekend, but Brown also stumbled in their semis match against Cal Poly SLO. After taking a commanding lead in the first half, Brown all but lost the game with time winding down, allowing Cal Poly three straight breaks in crunch time. At 11-10, with cap on, Brown patiently worked it to the endzone and found Randolph for the hold, winning the showdown in dramatic fashion. It's tough to say whether the outcome would have changed with more time on the clock but it wasn't a promising way to end the game.
"We jumped out early in that game thanks to D line conversion… By the end we started giving it away by trying to end it too fast. When we stopped relying on Mac [Hecht] to throw us into a win, that's when it worked for us," said Lehman.
Carleton's weekend was rockier than Brown's. That's not to say they had a bad weekend—in many ways it was a redemptive showing from the talented team that mysteriously missed the bracket at Warm Up. Their 4-3 finish to the weekend saw wins over OSU, Washington, Cal, and Colorado State. Even their losses are excusable. UNC and Brown both made finals, while their loss to Colorado was at the end of a grueling day where the team was short-handed due to injuries.
Don't give CUT a free pass, though. Aside from their blowout win over Cal, too many of their wins were tight games. The team went to double game point three times on the weekend, and their average margin in wins was only 2.5 points, a stat inflated by their game against Cal.
For a team as talented as Carleton, close games against the lowest seeds at a midseason tournament have to be troubling. Colorado State came within one point of upsetting a team whose roster is filled with national champions and U24 members. CUT's loose, fluid style gives the appearance of perfection when it's working. When it's not, it leads to careless turnovers and overthrown hucks.
Their game against OSU was highly emblematic of this dichotomy. After roaring into the game with some supreme offense, including Stan Birdsong running roughshod through OSU's defense, Carleton's concentration began to slip. OSU recovered from losing Neil Taylor and found their footing, enough to put pressure on Carleton's offense to second guess their throws. Dillon Lanier and Harrison Wolff Landau remained stoic at this time, but some teammates began forcing throws and allowing OSU to play their way back into the game.
CUT pulled out the win, although not a confident one, and the back-and-forth of their contest with OSU left them depleted for their game against Colorado.
Carleton has all the pieces for another deep run in 2019 and showed what they can do with the full extent of their roster against UNC. They were unable to dethrone the Darkside this tournament, but if they can stay healthy, keep their focus, and tighten their offense, we could see a repeat viewing of the 2017 CUT squad that went all the way at Nationals.
South Central Success: Texas Shines, Colorado Rises, CSU Surprises
For the three teams that traveled from the South Central, this weekend held major implications for the region's bid picture. Their mixed results on Saturday didn't help clarify much.
#4 Texas won their pool, upsetting #5 Cal Poly SLO in the process, but already stood as the fifth seed so it didn't change much. #13 Colorado bore the brunt of Texas' dominance, losing to their in-region rivals and SLO in tight games. They eked a game out over #25 Minnesota to make the bracket but their position looked shaky. Colorado State fared a little better, beating Washington on double game point to earn a spot in prequarters and almost upsetting Carleton to take second in their pool.
Still, after day one of the tournament, The South Central looked dangerously close to keeping only a single bid in their region. That would all change on Sunday.
Texas And Their Short Sunday
Texas' Sunday was a bit short. Having won their pool on Saturday, they had no prequarter game, and their third-place game against Cal Poly SLO was not played. But Texas did enough on Sunday to ensure that their Saturday, where they did most of their damage, did not go to waste.
They came out on top of a slugfest with Ohio State in quarters, and were then no match for North Carolina in semis, but that game was their only loss of the weekend.
But again, it was Saturday where Texas really shone. They played maybe their best game of the season against Cal Poly SLO, the result that ultimately got them the Pool D win. In that game, Texas used their height and athleticism to create all sorts of discomfort for SLO. Unconventional looks and 50-50 catches defined their play, but this Texas team is built to succeed with that style of ultimate, and they were at their best when they fully embraced playing that way.
"I'd say we definitely have a system we want to run and practice, but the team has a high level of chemistry too," said team standout Noah Chambers. "This allows us to run our system when possible, but when teams force us out of our comfort zone we have a great ability to adapt due to that chemistry. We definitely had an aggressive play style this weekend, and that just kind of came about as we hit our shots. A lot of our team is very comfortable taking those 'higher risk' throws. I wouldn't say that the high-risk shots are our team identity, but it is nice having the athletes and throwers to make 50-50 shots fall our way more often than not."
Nice, indeed. Against UNC on Sunday, though, Texas was a bit too hesitant to go for the aggressive looks, and they weren't able to match Carolina's more traditional efficiency.
The stars for Texas were their versatile facilitators Matt Armour and Chambers, who would both transition in and out of the backfield during points. Their ability to start downfield and hang around in the backfield when needed created scheme challenges for their opponents. They were arguably Texas' two most dangerous throwers on the weekend, while their more traditional handlers Keivaun Waugh, Matt Chambers, and Reese Bowman focused more on cycling through resets and maintaining possession.
It was a system that worked to great success, except for the game against Carolina, as Texas made semis for their second tournament in a row. They have the looks of a National quarterfinalist, with their blend of throwing talent and physicality.
"Coming out of Warm Up we all realized we can play good ultimate and compete with top-level teams, but consistency was the biggest question for us. So proving to ourselves that we can come out against high-level competition and win games under pressure is a real confidence boost," said Noah. "That being said, we still have a mentality that we haven't accomplished anything and that our previous wins don't define us. We want to be a team competing for a championship come May and our game against UNC showed we have a lot to improve on in order to be in that conversation."
Colorado Focused On Growth  
While their Coloradan counterparts entered Sunday with a bye, Mamabird had the misfortune of facing #20 Wisconsin in prequarters. The Hodags had tidily clinched the second seed in Pool A, losing only to UNC. But while Wisconsin had got the job done in their pool, Colorado had graduated from the school of hard knocks in Pool D.
With the poor weather degrading the standard of play in their matchup, Colorado threw Wisconsin out of rhythm, and made players like Nick Vogt and Rami Paust work for every point. Mamabird looked the part of a team playing within their system. While they were lacking in standouts, many of their role players exceed expectations.
"This whole season has been about growth for us. Our expectations for the game was to be better after it than when we started. We really managed to hone in on what each individual player's strengths and weaknesses are. It's helped us all weekend," said head coach Michael Lun.
Colorado took a commanding lead late in the first half. From there, they simply did all the little things right and never allowed Wisconsin to play their way back into the game. They closed it out up 10-7.
This led them to a quarterfinal against a red-hot Brown team, which surpassed Colorado in talent and took them by surprise with their zone. To Colorado's credit, they hung tight with Brown. There was never a point in the game where it didn't seem possible that Colorado could go on a run and put Brown on the ropes. The cards wouldn't fall in their favor, but it was a promising sign nonetheless.
Their loss in quarters could very well have put a cap in Colorado's impressive Sunday, but they weren't done there.
In consolation, Mamabird beat both Oregon and Carleton to establish themselves as a threat to even the best teams in the division. Both Ego and CUT were a little short-handed in their games, but it shouldn't take anything away from Colorado's wins. After a year away from Nationals, the team looks ready for a chance to return to the biggest stage.
Hibida On Track For A Bid 
Colorado State weekend didn't start out as well as the other two teams from their region. After a tough Saturday, which included losses to Brown and Carleton, CSU had to face #15 Ohio State in prequarters.
Colorado State's offense held their own in that game, but had no solution to stop Neil Taylor or Zach Braun on defense. OSU's backfield made their fair share of mistakes, it was just that they outworked CSU to get the disc back after they lost it. The game ended 12-10 in OSU's favor, forcing CSU to fight it out with the other teams that dropped from the bracket early.
This turned out in their favor, as Hibida rolled their competition, going 2-0 in consolation. After dispatching Victoria 13-7, CSU played Cal in a scrappy game that wore each team down to the core. CSU would claw themselves to a 7-4 victory, enough to show that they were serious contenders and ending their weekend 3-3.
Their wins on Sunday were exactly what they needed to hit bid-earning range. The rankings will still be subject to change as the season progresses, but Hibida is in the right spot to carry themselves through with a handful of other strong wins.
Ohio State Proves They're The Real Deal
#15 Ohio State came into the weekend with some skepticism surrounding them. They went 5-2 at Queen City, and played both UNC and NC State to very close games, but their list of wins was not very impressive. They changed that at Stanford.
They knocked off BYU with a gutsy performance, battling back and forth down the stretch before finally winning on double game point. They also topped California and Northwestern in pool play, before dropping another close loss to Oregon. A 12-10 W over Colorado State in prequarters sent them to a quarterfinal matchup with Texas, where they couldn't quite match Texas' toughness in a 12-10 defeat.
But overall, Ohio State proved they're a team that deserves to be in the Nationals picture. It would be a shock to see them fall out of a bid spot, with just Huck Finn remaining on the schedule, and they certainly pass the eye test of a team deserving to go to Nationals.
Sion Agami is the real deal. Capable of beating defenses as a cutter and thrower, he was easily the team's star of the weekend. But he had help from an impressive supporting cast, too. His freshman brother, Axel, brings many of the same tools, though with not quite as much efficiency yet, and Zach Braun is a dangerous hucker and Neil Taylor a seriously potent deep cutter.
At times, they were a little trigger happy, and that's why the BYU game was so close down the stretch after they'd jumped out to a 3-0 lead. But OSU is genuinely dangerous on offense and capable of really challenging other elite offenses defensively. Their close losses at QCTU were not flukes.
Despite the successes of the weekend, though, head coach David Bentrovato felt like there were areas where the team could have done better. "In terms of the BYU game, it felt like even though we won, we left a lot on the table," he said. "For the first game and change, I felt that we were trying to change things up too much. We had adjusted our line calling from O/D to upwind-downwind and it didn't really work great for us in that moment. I think that it gave us some chemistry troubles."
But perhaps more importantly, Ohio State was able to adjust on the fly, and Bentrovato feels the team learned something about themselves over the course of those first couple games.
"We were focusing on some defensive tactics that weren't necessarily comfortable, especially without our standard D-line out there together. I think it was after they broke us to make it 4-5 that we called a timeout and discussed getting back to basics both on offense and defense, but especially on D. It was really about stepping out of the way as coaches and letting the players play confidently, without thinking more than necessary."
Confidence shouldn't be an issue for Ohio State anymore. They've gone toe to toe with the big dogs all season, and at Stanford they finally proved they can turn those efforts into wins.
Cal Poly Falls One Game Short Of a Third Straight Tournament Finals
After winning both their early season tournaments (Santa Barbara and Presidents' Day Invite), the expectations on #5 Cal Poly SLO were set quite high. On the surface, they appeared to match those expectations, placing third in Stevinson amongst five of the top six teams in the nation. Looking deeper into SLO's games is where the cracks start to show.
Whether through nerves, muted energy, or mental lapses, SLOCORE struggled to start their games confidently. They began almost every game by going down a few breaks to their opponents, and frequently needed to dig themselves out of difficult situations.
"A big focus for us coming into this weekend was mental intensity and focus at the beginning of games for our defense," said Coach Cody Mills. "I really felt we did that this weekend… We just were slow to adjust on offense at times."
No game was more emblematic of their struggle than their semifinal loss to Brown. After starting the game with an effortless hold, Cal Poly's handlers changed tack and made the game far more difficult on themselves by forcing high throws into the wind that sailed over their receivers. Every time they appeared to learn their lesson and calm down on offense, they would attempt an upwind hammer or crosswind blade. They dropped into a 7-4 hole at halftime.
For most of the game, they were unable to make up the ground on defense. Justin Ting, Jake Thorne, and Ian Sweeney all put in a respectable effort for the D-line, especially when marking Mac Hecht and John Randolph. This defensive core was even able to bring down a number of turns, they just couldn't quite put it together on offense once they manufactured a stop.
The narrative began to flip late in the second half. Brown could taste victory with time expiring and started to rush on offense where they had once been calm and collected. As Brownian Motion started to lose focus, SLO started to lock in.
At 11-8, Randolph wildly overthrew his target in hopes of closing out the point early. Coach Cody Mills had chosen this point to transfer Calvin Brown over to defense, and it paid off for SLO. Chris Kaspar got free in the deep space and was rewarded with a huck from Cal Poly's star rookie. This was the team's first break of the game, but not their last.
Over the course of the next two points, SLO would take over, breaking on each occasion. The first was a short huck from Calvin Brown to Ian Sweeney, and the second was a quick endzone pass from Brown to Ting. Just like that, Cal Poly got within one point of tying the game.
The hole they had dug for themselves proved to be too great, though. After taking a timeout to hit cap, Brown tidied up their offense and carefully picked apart Cal Poly's defense. Sweeney made Hecht uncomfortable for most of the way downfield, but the rest of Brown's offense was enough to get them to the endzone and it was Randolph that finished the game by slipping past Thorne for the goal.
The result was clearly discouraging for the team, but there was still some positive takeaways for Mills.
"Coming off of day one, we acknowledged that we needed to focus. No let up in defensive intensity, but bringing that level to offense. We really hit on that for most of [Sunday]. Against both Oregon and UVic, our offense was exceptionally clean…We had a little hangover in our game against Brown thanks to the tight game with Oregon. We showed we could play with them but we made some mistakes and you can't give mistakes to a team like that."
Quick Hits
#6 Oregon's results on the field were a little underwhelming on the weekend. But their injury worries might be the biggest takeaway. Will Lohre missed the weekend with a knee injury and there's worry that he might be out the rest of the season. Lukas Ambrose all appeared to seriously injure his ankle in quarters against Cal Poly SLO, and the fear was that he may have broken it. Injuries aside, though, Oregon's three-loss weekend reads much worse than it should, considering those three losses came by a combined three goals. Still, though, the team really struggled to get breaks, particularly in their quarterfinal against SLO. Their offense did look smoother than it did earlier in the season, so perhaps they'll be able to survive the loss of Lohre if he is out for the rest of the season.
Wisconsin did everything they needed to show that they were in the bid picture… while still having puzzling losses along the way. Much like their time at Warm Up, Wisconsin played tight with some of the best teams in the nation, and even earned some blowout wins that speak to the strength of their program. The flip side to this coin is their losses against teams that were in a tier below them heading into the tournament. Even with Ted Schewe, Rami Paust, and Nick Vogt playing some of the best ultimate of their college careers, Wisconsin dropped games to Cal and Colorado. It really comes down to Wisconsin's impatience with the disc. Too often they'd pass up the opportunity to make the easy pass for a chance at glory with a more difficult shot. This meant that the onus was on stellar defenders like Daniel Garlock and Sam Hebert to break them back into a game — a feat they were unable to pull off in games where it mattered. Ending the weekend 3-3 does little to encourage Wisconsin fans that the Hodags are on the cusp of greatness.
#10 BYU took a real step back at Stanford. They defeated Oregon to add to their list of top teams they've taken down, but they also revealed an ability to suffer some surprising losses. They went down 3-0 to Ohio State, and battled back to take the lead in the first half at 5-4. before coughing it up, and then battling back again late in the second half to take the lead 9-8. Both times it seemed like BYU had the juice to win the game from there, but their offense just didn't have the same level of efficiency that it had earlier in the season. This allowed for some closer than expected results, as well as their pair of losses to Ohio State and Cal.
Washington felt the wrath of taking too long to get into their rhythm this weekend. Being placed in a pool with Brown and Carleton did them no favors, but it was their loss to Colorado State that put the nail in their coffin. They ended their weekend with a 4-2 record, including wins over Brown, Minnesota, and Stanford. For a team that has shown every ability to win games over elite talent, missing the bracket must have been frustrating for the team. Jakob Steen, Jeff Zhao, and Derek Mourad were crucial to the team in their wins, and even kept things close in their losses. What is apparent is that they need to work on treasuring the disc after the turn. Their defense whiffed a number of momentum-changing breaks that could have led to a very different weekend for the Sundodgers. They're better than their results show, they just don't have much time left to prove that.
All-Tournament Line
Mac Hecht (Brown)
Joseph Merril (BYU)
Dillon Lanier (Carleton CUT)
Walker Matthews (North Carolina)
Sion Agami (Ohio State)
Xander Cuizon Tice (Oregon)
Matt Armour (Texas)
---
Make that 19-0 on the season, Charlie. ↩