UMass ends undefeated, while Pittsburgh and Wilmington impress.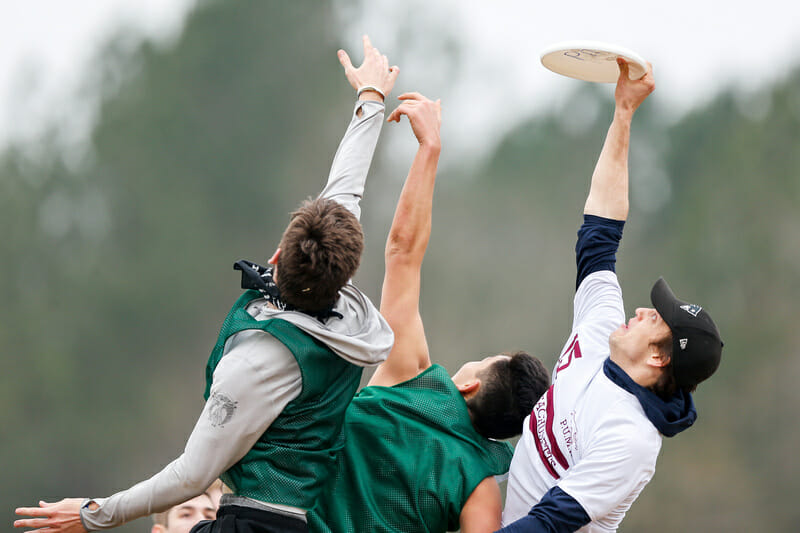 Ultiworld's 2019 college coverage is presented by Spin Ultimate; all opinions are those of the authors. Please support the brands that make Ultiworld possible and shop at Spin Ultimate!
MADISON, GA– Hucks went up early and often in Madison, Georgia at the inaugural Classic City Invite, where a combination of great weather and confident offenses produced a high volume of highlight-worthy plays. An unusual schedule and format, brought about by a hitch very late in planning that reduced available fields from six to three, mostly came off well — shorter rounds on Sunday were an unfortunate consequence, however. Saturday pool play started early and extended late into the evening.
Sunday featured a version of power pools rather than a bracket, which meant that there wasn't a champion in the strict sense of the word. At the same time, each top team played almost every other top team. The de facto 'championship game' took place in the second round of pool play on Saturday, with Massachusetts Zoodisc beating Pittsburgh En Sabah Nur 13-12. UMass finished the weekend a perfect 6-0. Pittsburgh put together a solid weekend after that, winning out in mostly lopsided fashion. A trio of Atlantic Coast teams — UNC Wilmington, NC State, and upstart South Carolina — looked strong, as well.
UMass Undefeated; Pittsburgh Right Behind
No team in action at Classic City Invite put together a more complete performance than #7 Massachusetts. That isn't to say that they didn't face their share of adversity. Half of their six wins this weekend came on double game point, and NC State and Kennesaw State hung with them until almost the end of the game. "Grit is the name of the season at this point," mused coach Tiina Booth once they finished play. Given so many tight games, it's tempting attribute some of their results to luck, but I wouldn't. UMass played tremendous matchup defense, systematically followed deep throws to clean up tipped discs, ran several effective play calls off the pull, executed a polished end zone set, and adapted to a variety of zone looks they faced.
The Zoodisc players looked fast — all the regular players on the O-line busted deep and chased down hucks throughout the tournament. Eddie Scott, Ethan White, Phil Joyce, and Jake Radack (who also looked very comfortable as a big thrower) broke for the end zone constantly. They've been on a conditioning regimen with trainer Tim Morrill, and it shows. The D-line looked even stronger, chasing cutters so doggedly that many of the open under looks only generated a couple of yards. Their fitness really came across once they got a turn. While they weren't always efficient, the mistakes they made appeared to be the result of ambitious looks rather than fatigue. When Eugene L'Heureux wasn't flinging huge hucks for Chris Bartoli, Jared Scheinberg ran the point, tirelessly darting back and forth to grab every second or third look until they punched in a break.
But you can't talk about UMass without mentioning their star, Tannor Johnson.  He is not unguardable — no one is unguardable — but it's equally true that nobody capably guarded him this weekend. He's always a powerful cutter and thrower, but during these six contests, he added a measure of focus and nuance to his game that set him apart. He was the player of the weekend running away. He made a ton of big plays to put away points, both throwing and cutting. If the opposing defense was keyed in on his teammates downfield, he broke the mark and slipped open easily to play a flawless reset game until they could shake free. It was a magnificent performance from one of the division's premier players.
UMass was working with a lot of tools, and they would need them all to get past a hungry #3 Pittsburgh team with quite a few of their own. Facing a largely similar set of opponents, Pittsburgh finished with a significantly better point differential on the weekend.
En Sabah Nur's offense starts with handlers Andrew Lehmberg and Leo Warren, a squirrelly duo always looking for a chance to attack downfield. Coordinated switching from defenses succeeded in containing them for a few throws, but eventually one of them would find a window to rifle a devastating inside flick, send up a huck, or streak deep themselves. The stack gives them a lot of room to operate, usually activating only one cutter per stall count. That not only frees up Warren and Lehmberg to blaze upline or hit space throws when they need a reset, it also ensures that when one of them does get open, it's usually for a big gain, if not a score.
Pitt's cutting core is built around Michael Ing, who, while he doesn't have Johnson's chops as a thrower, might be even better as a receiver. He was open enough to reel in easy catch after easy catch, and when a defender was good enough to hang with him or one of his teammates put up an iffy shot, he nearly always came away with the disc, whether he had position or not. Springy doesn't even begin to describe him.
Ing and one of Lehmberg or Warren would often cross over to the D-line to bolster a fearsome crew of bigs (led by Henry Ing and Will Helenski) and guarantee a break. Pitt's defense is a fluid affair, whether they're running zone or not. Often, they'll jump in front of three looks and force a punt or a mistake out of the offense. They seem to have a psychological edge, too. They thrive on demoralizing teams — their loudest cheers all weekend came during their 13-3 humiliation of hosts Georgia Jojah.
While it lacked the sense of suspense that comes with a real final, the game between UMass and Pittsburgh on Saturday morning was a satisfyingly tight bout, with both sides playing up to the occasion. Zoodisc earned the game's first break to make it 4-2 by picking off a reset pass to a tight window just outside their end zone; a zippy Scheinberg backhand finished the point. They might have had another break two points later when Bartoli got a point-block on Lehmberg and streaked deep. But Warren returned the favor on the next throw attempt and immediately sent a pretty forehand for the hold. UMass pushed to add another break again before half, crossing Johnson over to the D-line to guard Ing, who torched him deep to bring in another Warren huck, and Pitt took advantage of a UMass mistake on the next point to get their break back and tie the game.
Pittsburgh started to slip in the second half. They had been executing a game plan to stay behind Johnson, but he found ways to get free in the deep space as the game wore on. A couple of unforced errors resulted in a UMass break for 12-10. But with their backs to the wall, Pittsburgh found a way to break the stolid UMass offense and tie the game at 12-12. The final point looked like it was going to end quickly with Johnson sending a huck up to Eddie Scott, who had already caught four goals. But Michael Ing chased down the play from behind like vintage LeBron James to knock it away — but Scott felt he had been fouled on the play. It was one of the few times all weekend in which the lack of observers was noticeable. They played it as a contested foul, and Radack found Johnson in the corner with a hammer for the Massachusetts victory.
Pittsburgh is not satisfied with the near-miss. When I suggested to one of their players on Sunday that they had been having a good weekend, he visibly bristled, citing the loss to UMass. The way they romped through the rest of their games, the way they kept team energy up, even during blowout wins, and the way their legs continued to churn through cut after cut after cut without any perceptible sign of fatigue all suggest a group that have their minds dead-set on a championship. Anything less than that, for them, isn't good enough.
Massachusetts, by contrast, seemed less on edge about results, perhaps taking a cue from their coach. Booth explained that they plan their season in terms of peaks. "We try to do a mini-peak at Easterns, and then again at Regionals," she said. "Part of the purpose of [a tournament like this] is for everyone to get better. To do that, and to still go undefeated feels great." Make no mistake, however: Massachusetts is playing for keeps, too. "We're really lucky to be playing at Easterns, because there will be a Nationals-heavy field," Booth said. They'll see Pittsburgh there, and, perhaps, they'll treat us to a rematch.
Good Weekend for the Atlantic Coast
NC State has already found success this year, looking like the second-best team in the AC after North Carolina, and they played well again this weekend. Depending on how you look at it, however, they were only the second- or third-best team from the region in attendance at CCI, as Wilmington emphatically proved they are not ready to fade to mediocrity and South Carolina put everyone on notice that they are not a side to be taken lightly.
For the #16 UNC Wilmington Seamen, CCI was bound to be a statement tournament one way or another. The returns are in: everything seems to be clicking for Brian Casey's squad right now. They've got real talent spread all across the roster and some true stars at the top. Willie Stewart and Rick Hennighausen run the defense with a fire-and-ice dualism that matches their on-field personas. But the biggest playmakers are Connor Russell and Matt Ellis on offense. Russell is lanky, imaginative, and fearless — he can and will put up a huck to any open player anywhere on the field. Or he'll shoot for Matt Ellis whether he's open or not. Ellis was in a tier with Johnson and Ing as a force in the end zone — and I'd wager he caught more goals than either of them.
Hennighausen was pleased with his team's performance. "We played to our potential a lot of the time. We ran the system, and we like to be a little bit aggressive," he said. They won their Saturday pool without much trouble. On Sunday, Wilmington clawed back from an early multi-break deficit to hold off NC State. But they stumbled in the next game against UMass when they couldn't get their deep looks to fall. The game had some long points, but it wasn't particularly close. The Massachusetts defense was the best they faced all weekend, true enough, but it also seemed as though UNCW had some trouble within themselves. It doesn't seem to have bothered them much. "They ran their offense perfectly. They didn't give us many chances. We're feeling very optimistic about a future game against them," Hennighausen said of the loss. If they keep playing like this, the odds are good they'll get the opportunity.
South Carolina, the surprise team of the tournament, gave Massachusetts and Pittsburgh just about all they could handle on Sunday. "I just think that's crazy," commented one of their captains, Aaron Coble. I hate to be contrarian, but it isn't really all that crazy: South Carolina is a good team this season. If their near-miss of the bracket at Florida Warm Up was the warning shot, CCI brought about the fusillade. "We wanted to show that we could compete with Nationals teams," said Corey Branam. Check. They finished 3-3, with a loss to NC State in the first round of pool play and good wins over Georgia and Tufts.
Perhaps more important than their record was the fact that they looked the part. Coble characterized the team as "a bunch of grinders." Maybe so, but there's more to them than that. Coble and Branam, who were the team's best players this weekend, are both accomplished throwers with big, burly frames. Keeping them away from the disc is a challenge, especially Coble, who thrives on buttonhook cuts in small spaces. Time and again one of them would get the disc at midfield and loop a throw around the defense to an isolation look near the end zone. The rest of the team, a determined bunch by any standard, understands the essentials: when to cut and what throw to expect. It's a formula that works, and South Carolina employs it brilliantly.
I asked Coble whether he felt nervy at all heading into what will be a very crowded Atlantic Coast regional tournament. "I feel pretty confident about us," Coble said without hesitation, adding that they can't wait to get a shot at UNC. Time will tell as far as that goes. In the meantime, let it be known that the Gamecocks are for real.
At first glance, #8 NC State Alpha underperformed relative to their other two spring tournaments. They went undefeated in Saturday play without any close games, but took three losses in a row on Sunday to Massachusetts, UNC Wilmington, and Pitt to close out the weekend — and the game against Pitt wasn't close.
How're Alpha taking it? "It was fun to play UMass and Wilmington again," said captain Michael Lee philosophically. "We're right there." And he's right: NC State took early leads in both games and kept them close until the end. Lee and Trevor Lynch had nice weekends for the D-line, and the O-line is chock full of top-notch players. Avery Acierno, Kevin Harrow, and Conor Chickos made plays when called upon, but otherwise did the grunt work of creating space, swinging the disc, and adjusting their cuts to body out matchups. That seems to be the M.O. of this Alpha team: do the right thing all the time, and the results will follow.
Nobody's play embodied that more than workhorse cutter Austin Von Alten. He never takes a break on offensive points, preferring to run his defender into a coma, whether the throwers are targeting him or not.1 With all that constant running, it's almost impossible that he's as good in the air as he is — shouldn't he be too tired to jump? But he made every play he needed to make as a receiver, including a breathtaking sky of two UNC Wilmington defenders, a play so unexpected that one defender assumed the other had been fouled.
NC State was playing without two of their primary offensive handlers this weekend, one of whom is top player Bailey Laberteaux.2 That accounts somewhat for the fatigue that seemed to catch up with them at the end of the weekend. Alpha know that they'll need to be able to win games while missing players — key injuries do not grant you free passes to the next round at Nationals — but they come away rightly pleased with their work so far. The product on the field looks good: the wins will follow.
A Disaster for Georgia
Tournament hosts #11 Georgia Jojah had a very poor time at CCI. While they finished a respectable second in their Saturday pool behind Wilmington, they needed to pull out two clutch wins to get there, beating both Northeastern and Georgia Tech on double game point. The game against Tech, who ultimately went winless as the last seed at the tournament, was illustrative of Georgia's woes. The Jojah offense often sat at a register somewhere between clunky and bad. At the first sign of confusion, the cutters would cease to cut. In the meantime, their handlers played a dangerous game of throwing unnecessary crafty shots back and forth to one another — when they eventually missed, fast breaks were inevitable. The defense fared a little better, but they gave up hucks at an alarming rate, especially considering the size advantage Georgia held over most other teams present. Downfield defenders simply let cutters get a free lane into the end zone, and Georgia's marks stopped the look only infrequently.
The wheels fell off on Sunday, first in a loss to South Carolina, and then in a dismantling at the hands of Pittsburgh, a game that ended 13-3, the most uneven game of the tournament. One gets the sense that the defensive lapses are a workable issue. The results weren't good, but Jojah had been using the weekend partly as a diagnostic to test out their person-to-person coverage. Now they know what to work on. The offense, however, looks more broken than subpar. Georgia will need to fix it through some combination of better execution, more active field vision, simplifying systems, or adjusting personnel. With a little luck and hard work, it may not be too late to turn the season around.
Their showing was bad enough to obscure good performances from Jason Jones and Matt Cook, the latter of whom was a force in the air, as well as a few highlight-worthy hucks by Mack Hodges. No showing, however, could be bad enough to dampen the pleasure of seeing Sebbi Di Francesco, who has not played a spring season game in years due to various injuries, take the field once again.
Other Developments
In a battle of New England hopefuls, the Tufts E-Men outlasted the Northeastern Huskies 10-9 on Sunday. Neither of them quite look capable of hanging a loss on Brown or UMass yet, which they'll likely need to do to get a spot at the National Championships.
Florida State DUF ran hot and cold. They took UMass to DGP on Saturday, but they couldn't get past Northeastern or Tufts. Kellen Gray & co. have the look of a dangerous Regionals team, though (again).
Ditto for Kennesaw State Parliament, who impressed despite taking their lumps.
Carnegie Mellon found themselves on the wrong end of one-point games against Northeastern and Florida State and finished the weekend 2-4. Jasper Tom was as good as advertised, though, dancing all around the backfield to stay open constantly.
All-Tournament Line
Corey Branam (South Carolina)
Matt Ellis (UNC Wilmington)
Michael Ing (Pittsburgh)
Tannor Johnson (Massachusetts)
Andrew Lehmberg (Pittsburgh)
Connor Russell (UNC Wilmington)
Austin Von Alten (NC State)
---
Frequently, they aren't: NC State players with the disc cycle through look progressions more regularly than most other teams, which leads to many ignored open cuts. ↩

The third member of that group, Chickos, went out with an injury early in their final contest against Pittsburgh, which partly explains why the game got out of hand. ↩