St. Olaf's handler play and composure in the wind delivered them a big tournament win.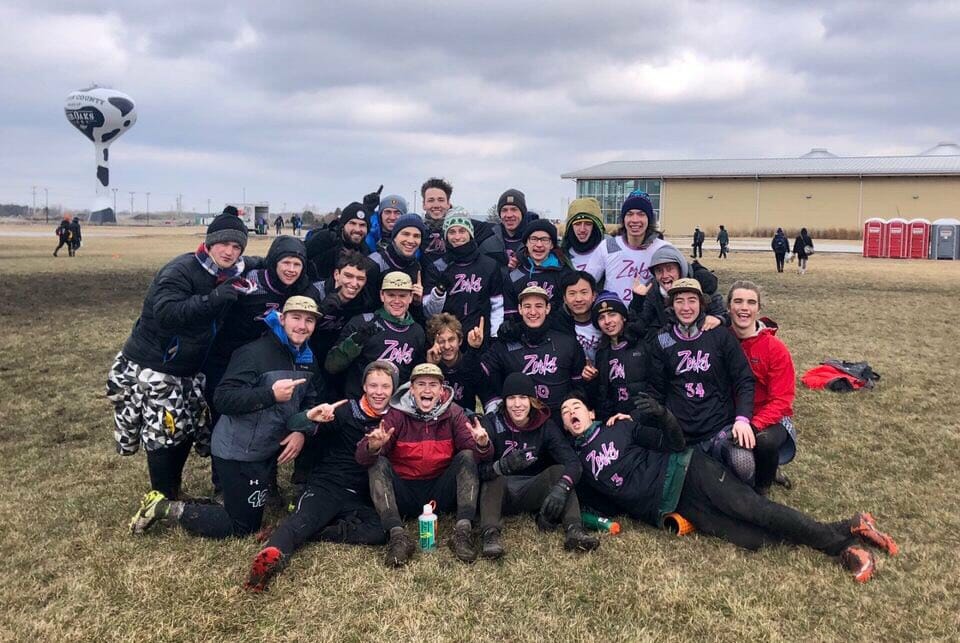 Ultiworld's 2019 college coverage is presented by Spin Ultimate; all opinions are those of the authors. Please support the brands that make Ultiworld possible and shop at Spin Ultimate!
FAIR OAKS, IN — This past weekend, sixteen D-III Men's teams descended on quaint Fair Oak Farms, Indiana. With several teams coming to the tournament with few or no sanctioned games, it felt like every game could be decided by the coin flip. The tournament ended up far from going to seed, and it showed just how competitive the D-III field is this year.
Unfortunately, D-III Midwestern Invite was another tournament marred by bad weather. With winds consistently registering up to 25 miles per hour, temperatures near the low 40s, and a strong storm on Saturday postponing pre-quarters to Sunday, there were plenty of externals for teams to overcome. Players shuffled in and out of the nearby buildings at Fair Oaks Farms — a dairy farm set up as a family attraction to discover the wonders of farms and animals — to stay warm during breaks in play. After lots of rain on Saturday, several fields had standing water, and all fields were in rough condition after the morning round on Sunday. Consolation games were canceled because of diminishing field quality.
With the weather playing such a big role, it was evident which teams were prepared for cup zone, stiff wind, and cold temperatures. It's no surprise that the teams from the north felt the most comfortable throughout the weekend.
St. Olaf Takes Down Portland in the Final
The Portland Uprise vs #16 St. Olaf Berzerkers final first appeared to be much like every other game on the weekend: going downwind huck to anyone, and going upwind work handler motion until you're close. The winds peaked right for the final and forced teams to play even tighter lines centered on players with the strongest throwing fundamentals. There were two dynamic players for each team leading the way. For Portland, CJ Hermosura and Ben Hecko shouldered the load, with Hecko taking responsibility of majority of the hucks and Hermosura using his agility to work upwind with explosive and precise cuts.
For St. Olaf, Andrew Otterlei and Ben Fjetland-Souza anchored the offense. Otterlei continued his hot play from the rest of the weekend with accurate puts in high winds. Fjetland-Souza contributed his own offensive effort with a gorgeous upwind huck that all but won the game after St. Olaf stayed composed and converted the key upwind break. Head coach Caleb Szydlo was pleased with the performance of the Berzerkers' handlers and credited them as having the biggest impact on St. Olaf's weekend.
"We have a really strong handler core that were able to do dishy throws and get resets, especially against some zones that we saw today we were just able to work it up through to open up other throws," Sysdlo said. "We got lucky with a couple deep shots there, in the finals especially. We had that one from Ben that curved back in and able to punch it in. It was definitely our handler movement."
After St. Olaf was able to take advantage of the upwind/downwind break for a 4-2 lead, Portland's efficient offense moved to a riskier huck-happy look, relying on their height to get off clean high release throws. Otterlei and Patric Carlsen from St. Olaf each had several good defensive plays to keep Portland out of the endzone.  St. Olaf was able to take half 7-5 and received out of the half. Hard cap went off at 8-5 and Portland put in one final goal as the game ended.
Despite both teams starting their weekends with a loss, St. Olaf and Portland were both able to right the ship and handle the elements in a way that the rest of the field could not. With both of their respective regions in contention for multiple bids to Nationals, there's a solid chance that we could see a rematch between these two teams in College Station this May.
Michigan Tech is the Real Deal
It was obvious early in the weekend that the key to winning would be composure going upwind, with one upwind score almost guaranteeing an accompanying downwind break. Michigan Tech was the first team to showcase that as they handily put down Portland and Ohio Northern in Friday showcase games.
Brendan McCann led the way, easily cutting through the wind with a variety of precise throws. Unfortunately, during the first game of Saturday pool play with Tech threatening their second upwind break, McCann stumbled on a swing and braced his fall with his forearm, dislocating his shoulder in the process.1 Mitchell DeNooyer took over a lot of the responsibility for the DiscoTech offense and worked through zones with quick lefty low releases. They won both of their first two games 12-4 over Pacific Lutheran and Milwaukee School of Engineering and came back in their third game to win 12-7 over Macalester for the sweep of the pool. Their strong performance and wins confirm Tech isn't just a flash in the pan riding on one elite player. Their team is deep and had little problem replacing one of the best throwers in the division. However, DiscoTech fell to a streaking Missouri S&T in the quarterfinals after letting off a late upwind break, bringing about an early conclusion to their weekend.
When asked about how his team performed after his injury, McCann wasn't surprised to see DiscoTech continue to play well. "Kevin Anthony, Frank Uganski, and Mitch Denooyer can do it all," McCann said. "Now that we are better and our depth has improved, they can help out where needed, and that really showed this weekend."
McCann seemed optimistic when asked about he and his other injured teammates being ready for Regionals. "It is my non-throwing shoulder, so I will definitely be playing for Regionals," McCann said. "Frank Uganski was playing with a broken left arm. Johnny Socks has a broken collarbone. Another captain, Sean Smith, has a knee injury. All will be healthy come Regionals."
Other Standouts
The Puget Sound Postmen were another team able to show composure upwind and won Pool C, despite entering the weekend as the three seed in the pool. Coach Christian Brink attributed it to the fact that they spent the last three weeks focusing on zone defense. That work paid off, as seniors Cameron Waugh and Luke Garrison were unfazed putting the disc where they wanted to both downwind and upwind.  Puget Sound had a strong run to the semifinals, where Portland won in a game that finished on serve with no upwind goals. Unfortunately for the Northwest, both Portland and Puget Sound are currently sitting outside of strength bid positions. With both teams slated to play at Northwest Challenge, there's an outside chance that one will be able to play their way into an additional bid, but at the moment it's looking like an exciting battle for one bid in the Northwest.
The Macalester Blue Monkeys from the North Central had an extremely good showing on the weekend, finishing tied for fifth after starting the weekend as the thirteenth seed. Macalester almost didn't even make it out to Indiana, as their school canceled all their travel plans just two days before the weekend. Macalester scrambled and ended up sharing a gigantic AirBnB with Indiana Wesleyan for the weekend, with the host school graciously stepping up to help an opponent in need. Despite the hiccup, the team was fully prepared to play.
After Saturday's 2-1 success, Macalester captain Max Deckman said, "We were pretty well-prepared for the wind. It's the great equalizer. We just had a good system set out and played really well."
The whole team brought energy and embraced a "Spartan Squad" mentality with only 12 players. "We haven't played outdoors in 4 months, so the wind and the ice are fine," said Deckman. "We're from Minnesota, so we've dealt with it."
Macalester went on to beat Oberlin in the prequarters with stellar handler play from captain Jonah Giese and downfield threat Orion Dick-Neal. Portland ended their run in the quarterfinals in a close 11-9 contest.
#13 Missouri S&T Miner Threat out of the South Central underperformed on Saturday, with a loss to Portland leaving them as the second seed coming out of Pool B. Miner Threat beat both North Park and Michigan Tech on Sunday morning to reach the semifinals. Now that S&T was firing on all cylinders, they took an early lead on eventual champions St. Olaf with an upwind break. However, St. Olaf had the most important upwind hold of the weekend to reverse it and was able to convert their downwind break. S&T went on to lose on double game point 8-7.
Despite a middling performance, S&T left Fair Oaks with a tied-for-third finish and proved that they can win ugly. Though they're far from earning the South Central a strength bid, the region looks like they'll end up with multiple bids to Nationals, and Miner Threat will be more than capable of taking one of those spots.
All-Tournament Team
Andrew Otterlei (St. Olaf)
CJ Hermosura (Portland)
Ben Fjetland-Souza (St. Olaf)
Cameron Waugh (Puget Sound)
Mitchell Denooyer (Michigan Tech)
Jordan Kaufman (Brandeis)
Nate Clancy (Missouri S&T)
---
His parents arrived at the fields just in time to take him to the ER. Rough ↩