We check in with the three teams as they pass the midpoint of their seasons.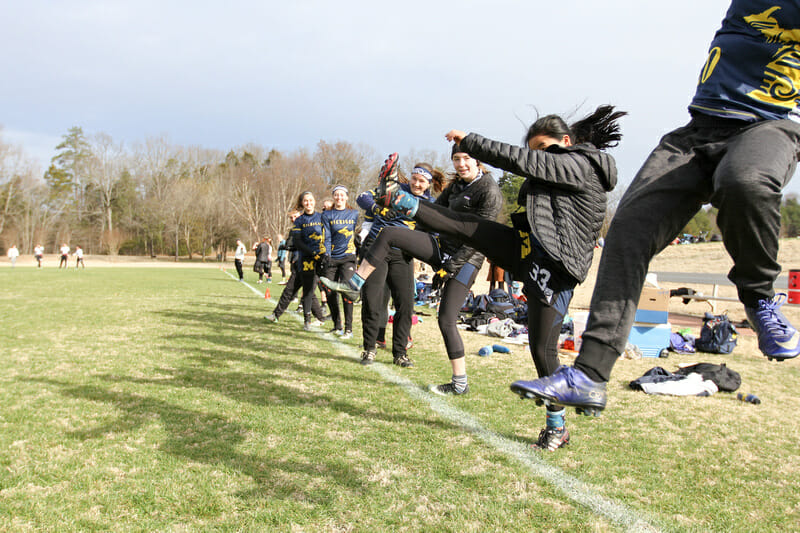 Spin Stories is a special feature series sponsored by Spin Ultimate. Please support the brands that support not only Ultiworld, but the awesome women's teams we cover.
Part of the magic of college ultimate is that each season is unique. Teams are forced to constantly change and adapt, with a very limited window to play together. Virtually no team remains the same from season to season. And yet there's a commonality to the unique journey each team takes.
Spin Stories takes a look at three teams–Florida FUEL, Michigan Flywheel, and UCLA BLU–and follows their seasons as they traverse the challenges of trying to achieve their goals. These teams, each sponsored by Spin Ultimate, will share their own thoughts and experiences, giving you an inside look at being an elite college program in the women's division.
Michigan Flywheel
Flywheel survived the muddy Commonwealth Cup and made it back to Michigan. They finished tied for fifth after a loss in the quarters to UNC. For anyone who needs a reminder, Saturday was 35 degrees with consistent rainfall that led to several inches of standing water on the fields for most of the day.
Commonwealth Cup looks fun. pic.twitter.com/jShOWAjoQe

— SinTheFields (@SinTheFields) February 23, 2019
Tapping Into the Network
One resource Flywheel has is a strong alumnae network. Not only do they have former players to help their online presence look extremely professional (Kari Paine is credited with their stoic headshots on their website), but they also have family of former players, like the one who lodged them when they came to Axton. This helped keep costs down and provided a comfortable touch to get them through the literal and figurative storms of the weekend. The family hosted them, fed them, and critically, provided laundry services.
"Laundry on Saturday was quite the experience…drove to our host's house and dumped all of our clothes into their driveway in piles by car and then went through and rinsed the mud off of all them with a hose," said captain Megan Gordon. "Their whole garage smelled like dirty wet dog, and honestly, probably still does."
Unfazed by Uncontrollables
Even for a team that practices in the snow, the rain, cold, and mud in Axton was tough to deal with. Despite the chilly and challenging conditions, Flywheel's energy was not dampened nor was their output of effort on the field. "People were cold and miserable, obviously, but still cheering, smiling, cowbelling, & being good sports all around. [It] seems like a really important achievement for the team, regardless of score result," captain Lauren Soter recalls with pride. This team, which focuses on depth, improvement, and controlling the controllables were given a great opportunity to exercise these values. "I think it would have been really easy to give in to the miserable conditions and wallow, but people really stuck it out for their teammates and made the best of it."
Hope you guys are more excited than Fat on this GLORIOUS drizzly mornin! #morecowbell pic.twitter.com/UJVkhZsekM

— Flywheel Ultimate (@UMichFlywheel) February 24, 2019
Despite the less than ideal conditions at Commonwealth this year, and some pretty sloppy play across the board, Michigan managed some excitement with a thrilling comeback win on double game point over UPenn in prequarters. "I think it was hugely important for the team to be able to see what we can do when we're playing together, playing efficiently, and playing well," said Soter. "The sideline energy and support was amazing, and the players on the field were being disciplined and fiery, generating D's and converting efficiently and confidently. I think that game will be an important energy boost for us going forward."
Looking Forward
Flywheel has had a few bumps in the road this season. Bad weather, but also some injuries that have left a few players sidelined. The club is looking forward to Centex, their next tournament in Austin, Texas. Currently, the forecast shows scattered thunderstorms, but the temperatures are predicted to be 60 and above, which will be a significant improvement from what Michigan has dealt with so far.
The leadership says that right now, they're not worried about the weather at Centex. At the moment, they're just excited to be done with  indoor practices that end at 1 AM…although they did make some highlights in the indoor arena.
Another 11-1 practice, another layout by Jam pic.twitter.com/3XkoTIEjBG

— Flywheel Ultimate (@UMichFlywheel) March 1, 2019
-Lindsay Soo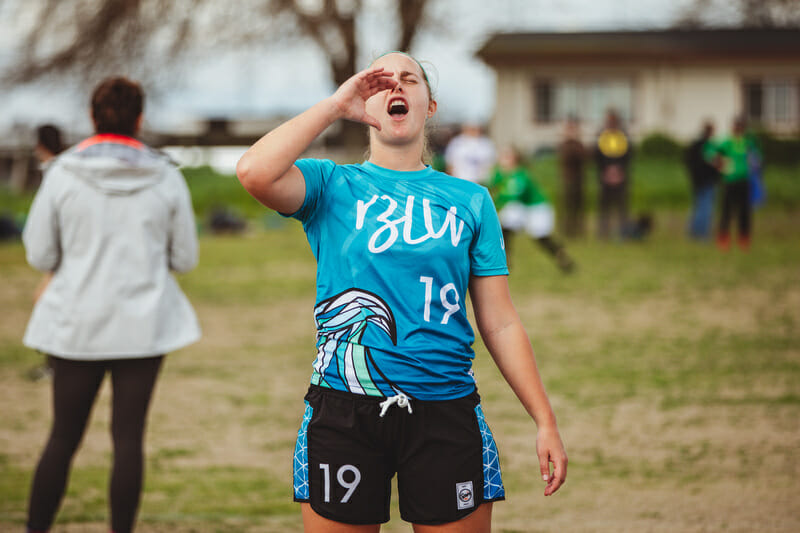 UCLA BLU
In the holy trinity of Southwest college tournaments, the Stanford Invite reigns supreme. Due to the timing and prestige of talent the tournament has drawn in the past, many of the best teams from North America flock to the warmer pastures of Stanford–sorry, make that Stevinson. This year, of the four teams that made it to semis, three had made it that far before. In fact, all three of those teams were ranked as a top five team by USAU. The sole outlier, UCLA, had a very different path to their first tournament semifinal of 2019. After missing power pools and the bracket completely at Presidents' Day, BLU stunned the division by powering their way through the competition in Stevinson. A 4-1 record in their final five games, with their sole loss coming against #1 UCSD, made it their best tournament performance all season, and their best result at Stanford Invite in years. "This is the best BLU has done at the Stanford Invite in a while, since 2015, at least," noted one UCLA alumni.1
It wasn't just happenstance that took UCLA to their third place finish in Stevinson. Every high and every low both on and off the field has shaped this UCLA team, often in ways they weren't expecting.
The Moments That Make a Season
From the start of their season, UCLA was focused on retooling their young squad. The previous year was the first time the team had missed Nationals since 2013, and the team was eager to return. There was an immediate challenge standing in their way. With a strong graduating class, UCLA was set to have a very young roster heading into 2019, and as most Southwest tournaments occur relatively early in season, UCLA didn't have much time to work on chemistry. Bonding became an instant priority.
"One of my favorite memories was our team bonding day at the beginning of the season," said UCLA captain Emily Beck. "It had been raining all week long, but we had lots of outdoor activities planned. Somehow, it cleared up on Saturday and we managed to go on a hike and make it to the beach with only slightly cloudy skies. The rain came down in the middle of the egg toss. But our team is naturally competitive and loves the outdoors, everyone stayed to watch the end of the egg toss and we took pictures together on that rainy beach before racing home."
On the field, UCLA has built-in traditions that help bring the team together, too. For every tournament, they bring an 'O-shirt' and 'D-shorts'2 which have been passed down for some number of years. At the end of a tournament weekend, two people are recognized in a special way for their contributions on offense and defense respectively. They are given the article of clothing and tasked with placing a new, artistic addition to it prior to the next tournament, where they determine the teammate who will receive it next.
These small details and memories have helped UCLA grow together as a unit, which has really been paying off for the team recently. That's not to say it's all been rosy, though. While BLU team chemistry has grown, there have been plenty of pitfalls along the way.
Rolling With the Punches
UCLA currently sits at 12th in USAU's college rankings, and seems to have comfortably earned the Southwest a third bid. The chances of that happening did not look good at the beginning of the season. For both good and bad, UCLA's youth was on full display in their first tournament, the Santa Barbara Invite. The team went 3-4, playing tight with many competitors, but struggling to close out when they needed the win.
Less than three week later, UCLA traveled to San Diego for Presidents' Day. The elements and tournament format thrust them into a difficult pool, preventing them from making the bracket, or even power pools. They ended the weekend 5-2, winning outright in the consolation bracket. Their record noted the promise of the team, but by missing out on playing the best teams at the tournament, it was tough to tell. Even at the Stanford Invite, their best tournament finish to date, UCLA finished the weekend 4-3, going 1-2 in pool play and narrowly squeaking into the bracket.
The UCLA captains don't shy away from the tough losses they've had this season, nor do they dwell on the 'what-ifs'. For them, every result, good or bad, makes them more motivated, a word that they feel really describes their season. "After Prez Day, we worked really hard to be prepared for tough competition," said Beck and fellow captain Malia Smith. "[At Stanford Invite] we had a lot of energy and excitement, even in the losses to UCSD and Carleton. Placing third was just a cherry on top of a spectacular weekend."
To combat the challenges of the season, along with the pressures of an intense academic environment the women on the roster encourage each other throughout the week and energize each other through their love of the game. It also helps that they have an attentive coaching staff that focus on the individuals. Dr. Alex Korb has a saying that he has used to rally players through the season, "The lights are in the future, and you'll have a whole team to dance with, but your greatness lurks inside you now. Let her come out and play."
Looking Forward
The finish line for the regular season is in sight for UCLA. After spring break, the team only has one more tournament scheduled — Centex, on March 23rd and 24th. Their most recent results have been promising, but BLU understands the stakes that come with these later tournaments. Together, they've been ramping up their intensity and feel very equipped to make the final push before the postseason. Most of all, they believe everyone has bought in. It's not just a team effort, it's something that every single player has personally worked towards.
"Despite last season's track record and this season's rocky start, we've maintained focus, worked hard, and given our best," said the captains. "The best part? It's all self-initiated by individuals. Team members have taken initiative to organize track workouts, gym groups, film-watching, throwing, and general team bonding outside of, and in addition to, practice and tournaments, which only motivates us further to keep pushing ourselves and be the best team we can be."
-Graham Gerhart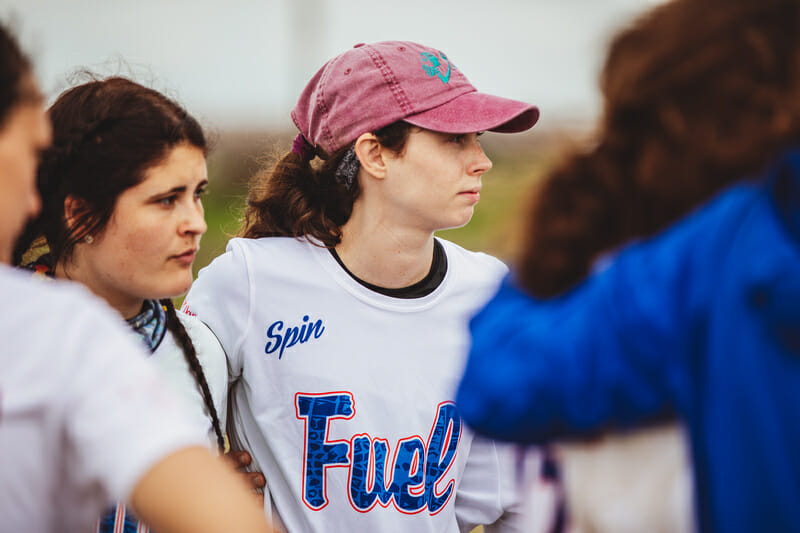 Florida FUEL
Since our last update with Florida FUEL, they've played at Stanford Invite and Tally Classic. Both tournaments had their highs and lows for the back to back Southeast regional champs, but the team has been able to maintain it's focus and optimism through the up and down results.
Midseason Adjustments
At Stanford, FUEL started their weekend 0-4, but ended on a high note with back to back wins over UC Davis and Whitman. FUEL's weekend out west turned out to be a real turning point, as the captains decided to redefine their goals after seeing the team struggle to assess themselves against original goals that were deemed to be too vague.
"We went from intangible things that you could reach if you were able to make tangible things happen, to more step by step tangible goals. Be a better teammate was a goal, and now we're like 'be a great sideline, raise the intensity any chance you get', things like that," said captain Charlotte Talham.
"The goal of Nationals is still the goal, but that's such a vague goal," clarified co-captain Janina Freystaetter. So the captains re-worked that goal into measurable process.
"A lot of people don't know what that means [to make Nationals], we have a lot of new players," explained Talham. "We changed to steps, what does it mean to make Nationals," Freystaetter said.
More Than Frisbee
The team also had a neat bonding experience after Stanford, as they raced from the fields after their last game to get to Yosemite National Park just in time for the sunset. Some of them were able to stay out in California for spring break for some extra bonding time. "You have that big tournament each year, you do it for more than frisbee. That was a good point of that for the gals," said Gabby Krajniak.
"Tournaments like that are where we bond and get to hang out more and get to know each other more and I think it shows on the field in the end," continued Talham, before Krajniak concluded, "That's what makes it college ultimate. Club, you can play and do the same sort of thing, but at the end of the day most people have to go back to work on Monday. I think that's what makes it different, that's what makes it so special. You can have those moments where we're all in the same city doing the same thing."
So with a new outlook on how the team should approach the season, and a new closeness, FUEL came back east and concluded their regular season with Tally Classic. The team made semifinals and ended up finishing fourth, and, more importantly, showed signs of the Stanford Invite meeting paying dividends. "It's just been more focused in. Yes, things went differently than I would have liked this weekend, but I think that overall, we had people step up, people who normally don't get to play a whole lot got to play so much," said Krajniak. "So I think it was a good realization of like, hey, I could get to do this a lot more if I continue to put the work in."
"After our big heart to heart meeting out in California, I think the mindset was changed, and that was seen here," said Freystaetter.
Looking Forward
FUEL's regular season is now over, and they'll turn their focus to the series. The captains all seemed confident of the team's ability to make Nationals, despite the different feel to their season compared to the last two. They saw inexperienced players like Sydney Weiner, Gianna Arcuri, Katie Huettel, and Madelynn Lovelady step up at Tally Classic, and that's obviously a promising sign as they gear up for a run at a third straight regional crown.
It's been a challenging season for an inexperienced FUEL team. But with adjustments from their leadership, and some bonding moments out west, they are in a positive and promising spot.
-Daniel Prentice
---
affectionately titled BLUmni ↩

consisting of an old BLU shirt and bright tie dye pants ↩