Brown closes out a brilliant regular season with another tournament title.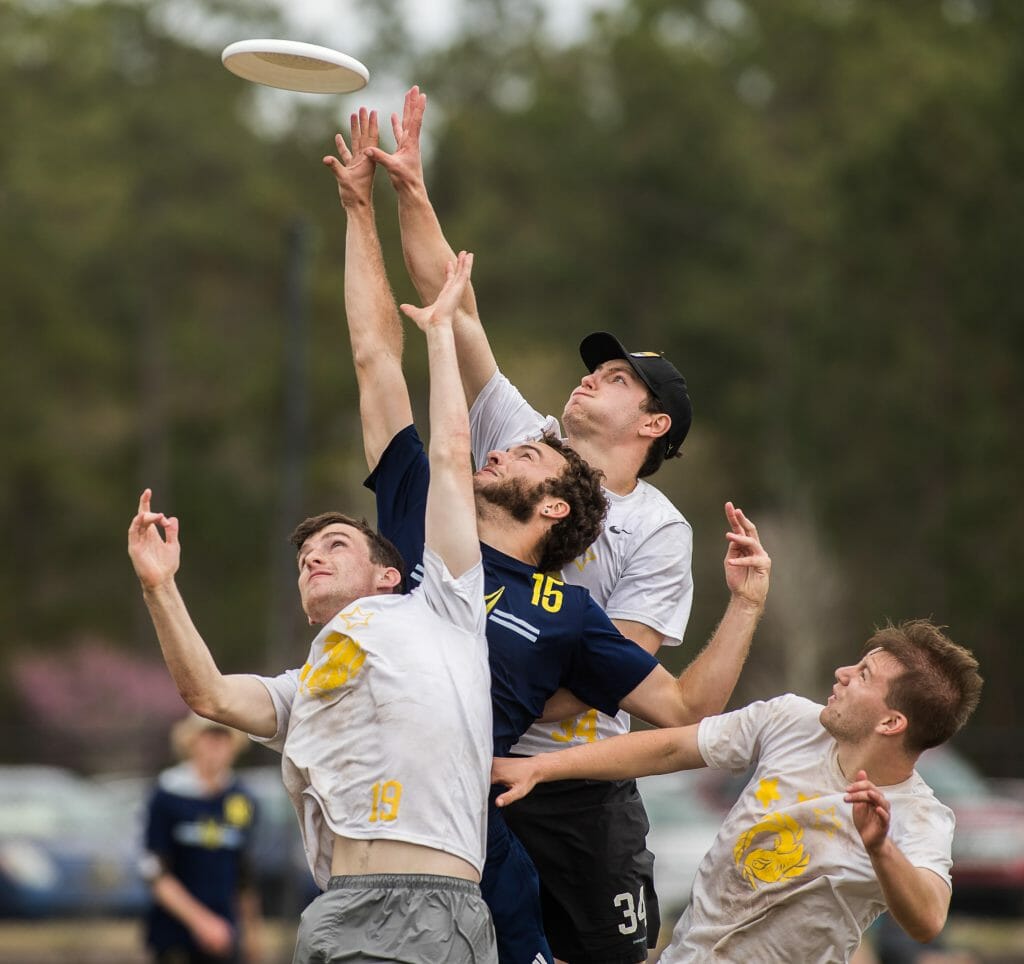 Ultiworld's 2019 college coverage is presented by Spin Ultimate; all opinions are those of the authors. Please support the brands that make Ultiworld possible and shop at Spin Ultimate!
LITTLE RIVER, SC–In a tournament defined by superb individual performances and high-level defense, Brown proved the steadiest of several contenders, beating back challenges from NC State, UNC, Pittsburgh, and Carleton en route to an undefeated weekend and a second 2019 regular season tournament title. The top teams in attendance walked the fine line between flashing their potential and fleshing out their depth. Meanwhile, Minnesota and Tufts (tentatively) played their way into Nationals bids — at the expense of Auburn and UNC Wilmington, who played their way out.
Brown Tops Carleton In Well-Played Final
A paradoxical feature of this year's Easterns final was that, despite windy conditions and a mess of turnovers from both #2 Brown and #15 Carleton, it was a game defined by moments of offensive excellence.
The Brown D-line asserted themselves early, quickly delivering a break on the game's first point. Brown's ability to convert break chances was consistently excellent throughout Easterns. They ran the disc mostly through the hands of Dylan Villeneuve, Sol Rueschemeyer-Bailey, and Ned Dick in a weave set their opponents proved unable to solve. Their short throws going up, down, and across the wind were, in contrast to those of so many teams, unwaveringly crisp and reliable. Those short throws and cuts, combined with an unmatched dedication to advancing the disc on the break side (as opposed to breaking the mark for a loss or even yardage), took some of the the pressure to perform off of Brown's offense, a real luxury.
Dick, a nimble fifth-year, leads the unit: everyone on the field plays better due to his presence. "He's amazing," said coach Sam Lehman. "He's the heart-and-soul of the defensive unit." His performance over the course of the weekend, though not flashy, was an essential ingredient for Brown's success.
Carleton earned back their break in short order and added one more, largely on the play of junior phenom Joe White.
White assisted on the hold, scored the first break, and assisted again on the second. The second one, giving Carleton a 3-1 lead, was one to write home about, a forehand to Luke Webb from the high side that rode the wind without carrying out of reach. Throwers had trouble executing downwind hucks all weekend, but White proved the exception. Not to be outdone, Mac Hecht put up an even prettier, even more difficult throw of his own on the next point, a towering backhand from midfield that curled just around the back edge of the CUT defense to find John Randolph in the back of the end zone.
Play settled into a pattern of holds until 5-5. That's when Brown's defensive pressure started to pay dividends. They forced four turnovers (and benefited from a fifth, unforced) and converted three breaks to take half without giving up another point. Notably, two of the breaks occurred with neither Hecht nor Randolph on the field.
The Brown lead was short-lived. Carleton stormed out of the gates when play resumed and tied the game. Carleton's defense was particularly impressive on the game-tying point: with the stall count rising, Ken Noh tried to sneak a flick inside the mark for Hecht. Chris Padilla point-blocked the throw, but even if he hadn't, Tim Schoch was all over Hecht and would have knocked it down easily. (Schoch, incidentally, frustrated Hecht all game long.) If their previous games were any indication, CUT were about to run away with the game.
But Brown refused to be overwhelmed by Carleton's size and top-end talent. Not only did they hold to reclaim the lead, they built up another two-break lead. Azeez Adeyemi capped off the sequence by smartly sizing up a crossfield look from White, laying out for the block, and scrambling up and into the endzone for Rueschemeyer-Bailey.
That unwise look notwithstanding, White was tremendous during the final. My unofficial count for him stands at three goals, three assists, and a block, and I think that undersells how valuable he was for CUT. He's long enough to sky or handblock anybody in the division, quick enough to win a ten yard footrace against a cutter with a head-start, limber enough to release throws from just above the cut of the grass, and delightfully insouciant. He was instrumental in one more CUT comeback. Down 13-9, they kept their composure and stuck to their game plan: big unders and constant threats to send it long against matchup coverage, extreme patience against a zone. In just a few minutes, Carleton had the disc with a chance to tie the game at 13 in the downwind end zone.
Even after a CUT huck went too far — overthrown hucks to the downwind end zone were the ugly side of the game — it looked as though Brown would not be able to work it all the way back upfield against the stiff wind and fiery defense. Running out of options, Hecht threw a 30-yard hammer straight into the gale. It looked like a sure turnover as soon as it left his hand and sat long enough for Luke Webb to get good position underneath it.
John Randolph, however, elevated above the taller defender for the catch. It was the play that sealed the victory for Brown, who won with a break on the next point.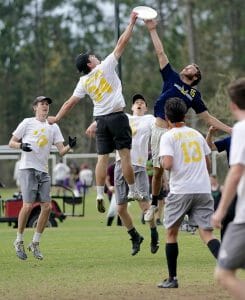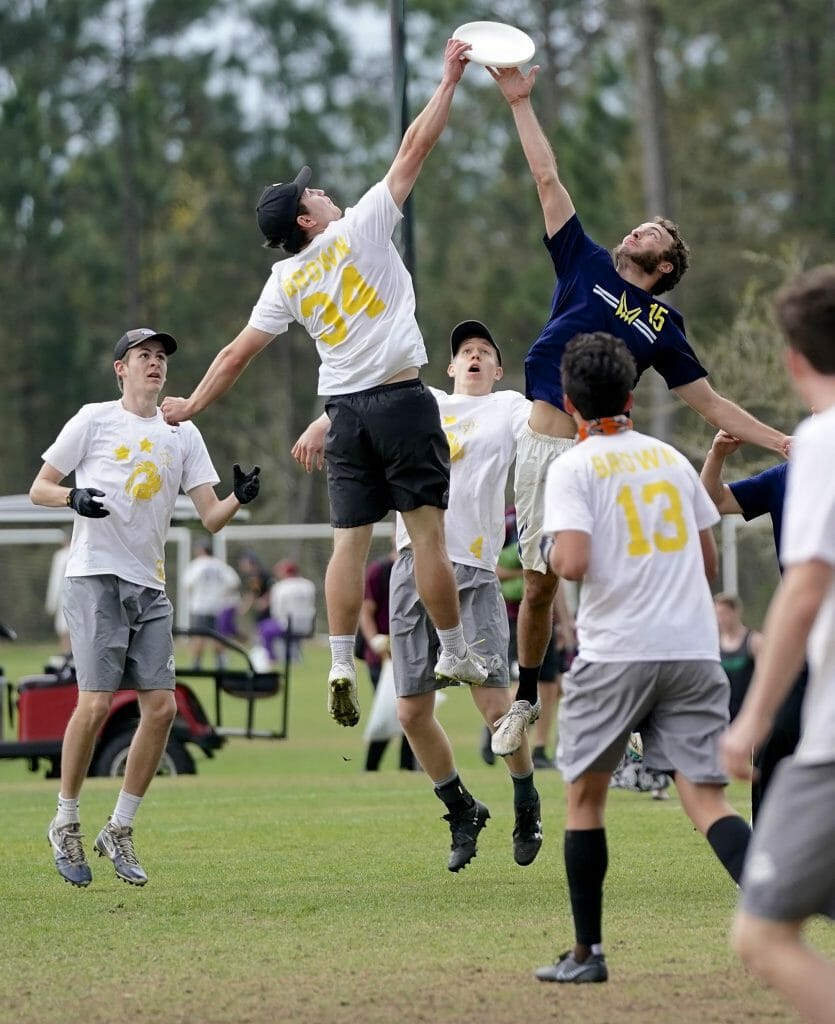 It's hard to come away from Easterns with any impression other than that Brown has established definitively that they are more than capable of winning the 2019 championship. Lehman is justifiably pleased with his team's upward trajectory. "For us to get wins against UNC, Pittsburgh, and CUT solidifies our impression that we are a top team," he said.
Not only were Brownian Motion the most disciplined team at the tournament, but they displayed the raw talent necessary to compete with (and defeat) the more established programs in the postseason. Hecht was brilliant, if a bit inefficient; Randolph was brilliant, full-stop. Rueschemeyer-Bailey and Noh were legitimate threats in the backfield, Adeyemi made a couple of big plays every game, and Dylan Villeneuve is showing signs of budding into a takeover player.
And they may not be done growing. As Lehman noted, "After [the tournament victory at] Warm-Up, I asked the team if they thought they could win another one if they stopped improving. Everybody said, 'No.' We're going to ask ourselves that question again: Can we win Nationals if we remain just as good as we are now? That kind of mentality grounds the team."
It was a banner weekend for Carleton, too, who dispelled the doubt surrounding their underwhelming early season performances. For the first time this year, it looked like the vaunted talent began to cohere into a unit. What changed? "It's always helpful to add two U-24 players," mused assistant coach Sol Yanuck, referring to White and Webb, who made their 2019 debuts this weekend. "There were points where they bent the game to their will, and we're still learning to utilize them. Them being around gave everybody more confidence."
"Learning" is the operative word. The level of talent on Carleton is frightening enough, but the thought that they are still experimenting with their offense should be the real concern for opponents. As the leadership analyzes which permutations work best, CUT players are only beginning to settle into defined roles, lines, and offensive sets. This weekend, for example, saw the emergence of Andrew Roy as a hub handler, Harry Wolff Landau as a major goal-scorer, Tim Schoch logging significant minutes on the O-line, and Chris Padilla primarily operating on defense. The team also cycled through several different offenses. (For my money, they looked best in a standard horizontal stack that created space for big unders, isolation matches in the deep space, and easy break continues when the weak side defenders inevitably try to cheat into the center.)
As good as they are right now — which is very, very good — CUT is still very much in the process of figuring themselves out. And all of a sudden, the team that looked like the biggest bust of the season seems as likely as anybody to win on Memorial Day.
Pittsburgh and Oregon Remain Contenders
Two questions dogged #7 Oregon as they headed into the weekend: Would they be able to muster enough offensive firepower after losing star cutter Will Lohre to a season-ending knee injury? And can they win games against other top teams? Check and check.
While Oregon fell to Carleton in the semifinal, wins over #3 UMass (in pool play) and #4 Pittsburgh (for third place) proved that this year's Ego, like so many iterations in years past, can run with the big dogs.
Let's take out the trash first: Ego's offense did a terrible job in the wind in the first half of their semifinal match. Passes into the wind were buffeted up and out of reach, and deep throwers consistently underestimated the effect of the weather on their downwind hucks. They played their way into a deficit too great to overcome. A performance like that against a team like Carleton is as good as a forfeit, and they cannot repeat it if they are going to realize their potential in Austin.
The good news is that, outside of that one dodgy half, Oregon's offense looks really good. If it isn't quite the machine it had been last season, they seem to have built something comparable. They excel at placing fleet-footed cutters like Leandro Marx and Xander Cuizon Tice in positions where they're a threat to attack multiple spaces at the same time: as soon as the defender shows any hint of commitment, the cutters simply zip free elsewhere. They have replaced their fearsome deep Lohre on the O-line with bantamweight Colby Chuck, which would be hilarious if it didn't work for them so well. Chuck, equally comfortable as a handler and a cutter, plays a much needed flex role for the team. His ability to transition between roles in any given point adds some useful dynamism to a somewhat rigid offense.
Pittsburgh En Sabah Nur, meanwhile, having already proven their capabilities this season, used the weekend to answer questions nobody was asking: Which team brings the most height into the front wall of their zone defense? Can Michael Ing dominate with the disc in his hands? What's the best sideline song to blast after decimating a supposed rival on a live stream? Can Ultiworld reporters and broadcasters actually recognize and distinguish between Pittsburgh cutters by their faces?
For real, though, Pittsburgh came one hard-luck possession away from upsetting Brown in their semifinal. There is no doubt in my mind that they are ready to challenge Brown, UNC, Carleton, or anyone else for a national title. The fact that Pittsburgh showed up strong, prepared, and hungry is no surprise. What's remarkable is that they actively built their depth at Easterns without sacrificing team performance.
They are exactly the team we saw at Warm Up and Classic City Invite, only more so. Hafeez Shams and Michael Ing stepped into more regular handling duty on the offense, so the team didn't have to rely so much on Leo Warren and Andrew Lehmberg to set the table. Kevin Tsui, Dillon Garrett, Noah Robinson, and Max Thompson scored athletic goals in the mode of Ing (who threw plenty of them). With so many members of the anonymous army starting to make names for themselves, Pittsburgh is right on track for a deep run in Texas.
In Which a Reporter Makes Excuses for Triangle Ultimate
At first glance, #1 UNC disappointed. They couldn't get over the hump in a 13-11 loss in the last round of pool play against Carleton, despite coming close to reclaiming the lead a couple of times. If nothing else, it was a reminder that all the pedigree in the world doesn't guarantee wins. And their quarterfinal performance the next morning, a 15-10 loss to Brown, raised eyebrows and concerns alike. In the former contest, they looked like the less talented team; in the latter, they were the less disciplined. The defense wasn't getting enough stops, and polished veterans like Anders Juengst and Elijah Long were turning the disc over at much higher rates than usual. Something weird was going on with Darkside.
It's fair at this point to be skeptical of the season-long hype, but take UNC's struggles at Easterns with a grain of salt. They clearly put development ahead of on-field success this weekend. In that context, it makes sense that Matt Gouchoe-Hanas stayed as far away from the disc as he could on offense or that Suraj Madiraju was called upon time and again to take the toughest assignment on defense. I also suspect that their coaching staff didn't want opponents to get too comfortable with the team's go-to sets.
The upshot is that several UNC players shone in new roles. Thomas Williams and Gouchoe-Hanas looked great as downfield complements to Alex Davis, and John McDonnell is getting more and more confident in Darkside's formidable handler weave. The most encouraging development for UNC, however, was the play of Liam Searles-Bohs. He was the centerpiece of the team's offense at Easterns. As hub handler and late-stall bailout, the sophomore phenom looked totally in his element, keeping his cool despite the increased defensive focus on him. He showed off some of the smoothest break throws I've seen this year. Whether he continues his emergence from the potential for stardom into actual stardom will be a major factor in May.
#12 NC State, on the other hand, played everybody in their normal roles — except that, yet again, they were missing key pieces. Rhys Gretsch and Michael Lee were back this weekend on the D-line, and the team's Callahan nominee, center handler Bailey Leberteaux, returned for the offense. But Leberteaux's partner in the backfield, Conor Chickos, remained on the sidelines, where he was joined early on Saturday by star cutter Austin Von Alten. As a result, it's hard to get a sense of this team's ceiling. Are they an under-the-radar semis contender at Nationals, or should they count themselves fortunate to make it out of pool play? (Of course, they'll have to get through the two-bid Atlantic Coast gauntlet first).
The Alpha D-line looks fantastic, at any rate. They have good size and speed relative to most of the division, and they showcase the fundamentals you'd expect from so many products of the Triangle youth scene. Gretsch is physical and dialed in, and Lee hunts extra blocks the way Andrelton Simmons hunts extra outs. Then there's Trevor Lynch, the (ahem) lynchpin of the whole operation. He's the guy with the physical tools to beat anybody in the air and the footwork to shut down the most determined cutters on the ground. His transition hucks are among the best I've seen this season, and I'm not sure he didn't handle the Easterns wind better than anybody else at the tournament. Alpha's defense kept them close with Brown, put away Auburn before the first half was over, and opened up a 6-2 lead on Carleton in quarters.
That NC State eventually lost that quarterfinal against Carleton by a final score of 13-8 raises questions about the offense, though, even considering Carleton's strong defensive effort. They played less patiently than earlier in the season, with too many deep shots to skinny windows and difficult matchups. Was it a function of the available personnel? Shooting deep is partly understandable when Von Alten is not around to grind out under after under, or when Chickos isn't automatically free for a reset. Or does the team get nervous and lose focus in big moments? If everybody is healthy for Atlantic Coast Regionals, we may finally get an answer.
A Third Bid for the North Central and New England
For a hot minute, it looked like Tufts was going to do more than just play their way into the championship bracket. They were even with Pittsburgh a couple of points into the second half of their pool play game, and playing well. A win was not, as it perhaps had seemed before the game started, unthinkable. The E-Men were playing a classic Boston possession-style offense, and Pittsburgh could not get a hand on the disc. Nikhil Bhatia-Lin, Jac Carreiro, and Eric Chen connected with each other almost preternaturally. And then, as if ruminating on the magnitude of the potential upset, Tufts understandably lost their minds. They started putting up risky shots, which Pitt gobbled up on the way to one of their trademark break runs. So the upset threat passed.
Still, it was a good indication of where Tufts stands when they're playing their game, which is what happened for most of Easterns. They finished second in their pool with wins over two Atlantic Coast outfits in #11 UNC Wilmington and William & Mary, and they put up respectable score lines against Oregon, NC State, and UMass in bracket play. The upshot is a potential (read: unofficial) third bid to Nationals for the New England region, which Tufts will surely cash in if they continue to play this well. We should know later today whether or not they clinched it.
Minnesota, although Oregon ran them off the field in one of the games on the Ultiworld live stream, also appears to have clinched a third bid for their region with a solid Easterns performance. Where so many other teams had moments in which they stumbled, Grey Duck remained focused enough to win the ninth place bracket over three pretty good teams by a margin of 18 goals.
Auburn, UNC Wilmington Struggle
It would be deceptive to say that Tufts and Minnesota pulled themselves into bid-earning territory by their own bootstraps: the truth is that it took a pair of teams playing their way out to clear the way for them. Auburn Aetos, sitting on the last bid heading into the weekend, merely underperformed, losing on double-game point to Northeastern in pool play and UC Santa Barbara in the ninth-place bracket. The offense could be high-octane at times, with players like shooter Rocco Magnelli and deep Sam Smith, but ultimately that unit was too unreliable to rack up crucial holds that would have kept games in hand. Perhaps the 2019 version of Aetos will find some more of the magic that propelled its forebears through a difficult Southeast Region. In any case, they'll have to, as the region will only have a single bid.
I mentioned that Auburn "merely underperformed" — that's in contrast to #11 UNC Wilmington, who collapsed, finishing dead-last in the field of 20 teams. Wilmington's season to date had been constructed on the four pillars of Rick Hennighausen, Willie Stewart, Connor Russell, and Matt Ellis. Hennighausen, as it turned out, suffered a season-ending knee injury at CCI a few weeks ago. Without him on the field this weekend, the entire structure went down. The Seamen were inefficient on offense to the point of recklessness, and Hennighausen's absence from the D-line cost them their ability to generate necessary breaks to counteract the O-line's turnovers. They now face the grim prospect of a two-bid Atlantic Coast region in which they'll have to upset UNC or NC State, as well as stave off challenges from a bevy of other hopefuls in the same situation.
All-Tournament Line
Xander Cuizon Tice (Oregon)
Mac Hecht (Brown)
Michael Ing (Pittsburgh)
Trevor Lynch (NC State)
John Randolph (Brown)
Liam Searles-Bohs (UNC)
Joe White (Carleton)