A chance for rebirth after a disastrous 2018.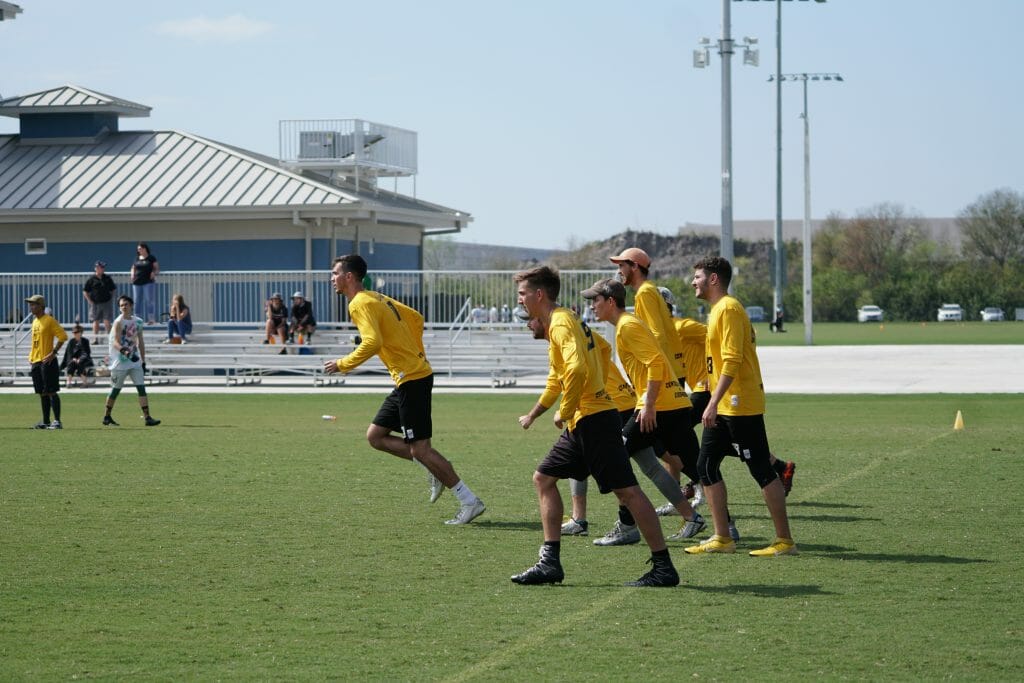 Ultiworld's Men's Division college coverage is presented by Spin Ultimate; all opinions are those of the author. Please support the brands that make Ultiworld possible and shop at Spin Ultimate! 
After storming out of the gates at 2019 Florida Warm Up and later claiming their first major tournament win since 2015 at Tally Classic, the #12 Central Florida Dogs of War have once again established themselves as the top team in the Southeast. With a Florida Conference championship now in their back pocket, UCF is preparing for the assuredly competitive and chaotic one bid Southeast Regionals. The Dogs of War have the talent required to succeed this weekend and deep in May. It would be quite the comeback to return to Nationals after their double game point loss to South Florida in the game to go at last year's Southeast Conferences.
Previous Dogs of War teams have depended on the star power of players like Mischa Freystaetter and Michael Fairley and the coaching of Andrew Roca. While all three have firmly left their mark on the UCF program, the Dogs of War have rebranded with the help of new head coach Mike Taylor. The current era of UCF Ultimate still has a standout player in Adam Vinson, but under the direction of Taylor, the team has prioritized even development across the roster. By electing to play a more team-oriented style, UCF has unlocked the potential of players whose contributions might be otherwise suppressed. When asked if they had any one player who was particularly important in their success this season, Central Florida's leadership was united: "The 27 guys on our roster are all important. Every person on our team has a role."
2019's Central Florida boasts a well-balanced and consistent offense to complement their relentless and physical defense. They are 16-3 so far this season, and two of those losses are to top 10 teams—#1 Brown and #7 Pittsburgh. As the team holds their final practices and prepares for their pilgrimage to the fields of Foley, Alabama, two questions come to mind: how has UCF turned a surprise 2018 disappointment into a 2019 finish inside the top 15 in under 12 months? And more importantly, will last season's failure act as a motivating chip on the program's shoulder as they fight to return to the College Championships, or will they falter once again?
The answers started to take shape back in February, in Tampa Bay, FL.
Heating Up at Home
The storied fields of Florida Warm Up present a unique opportunity for teams to shape the course of their own season. Some programs take the titular designation 'Warm Up' to heart, using the tournament as an opportunity to get their legs underneath them and explore different strategies or player roles that they will come to depend on as the year progresses.
At other times, as was the case for Brown in 2018, Warm Up can be the tournament for teams to assert themselves as a legitimate competitor for the rest of the season. At the same tournament where Mac Hecht, John Randolph, and the rest of Brown Brownian Motion announced their ascension to the upper echelon of college ultimate, Central Florida played like a team lacking identity. In a match up against Carleton CUT last year, the Dogs of War showed little confidence on offense or defense. For much of the 13-1 trouncing they suffered at the hands of the eventual Warm Up Champions, Central Florida struggled to move the disc past half-field. Neither Freystaetter nor Fairley was there to pull down wild, desperate hucks. Instead, those high stall throws fell harmlessly to the ground or deflected off CUT defenders. The cumulative effect of their offensive breakdown was matched by apathy on the defensive end—Carleton quickly worked the disc down the field and pummeled a helpless UCF.
The Dogs walked away with a 4-5 record on the weekend, an on-ramp to what became a season-long struggle to play with consistency. Throughout the remainder of the 2018 season, UCF fell to an astounding 0-14 against opponents who finished the college season in the top 25. Even if you excuse such losses with the understanding that UCF was focused more on development last year, losses to D-III Carleton GOP and South Florida are inexcusable for a team of Central Florida's pedigree.
Less than 12 months later, Central Florida lit up 2019 Florida Warm Up and carved a path to the final. The Dogs of War played with a fire, energy, and unity that was the antithesis of their 2018 campaign. Midday on Saturday, a reborn Central Florida was presented with a chance to atone for last year's failures when they faced off against Carleton once again. This time around, UCF was ready. The backfield duo of Austin Gaines and Andre Bordelon defied Carleton marks, fighting to reset the disc and keep the offensive flow from stalling as it did just one year prior. Even when early season execution errors resulted in turnovers and throwaways, the Central Florida offensive line stood strong on defense and denied Carleton the easy break opportunities they feasted on in 2018. On the defensive end, playmakers Austin Koffarnus, Alex Mejido, and Robert Matthew Hankin frustrated the Carleton offense, earning vital break chances with big layout blocks and coverage sacks.
The revamped Dogs of War were by no means flawless. Their path to the Warm Up final included a shaky quarterfinal victory over UT-Dallas and a tightly contested semifinals against Texas. In the final, Central Florida's resurgence was quelled by a Brown squad well on their way to establishing themselves as the hottest men's team in college. However, a somewhat lopsided score of 15-9 in favor of Brown does not reflect how competitive the game was.
On offense, UCF looked confident. They frequently pushed their handlers downfield only to return to the backfield for large yardage gains, no longer relying on low percentage away throws. Vinson, a team captain, played a large role in UCF's success as well, getting the disc at will despite drawing Brownian Motion's best defenders. Whereas UCF's D-line only got one chance against Carleton in 2018, the Dogs of War offense gave their defense a chance to make plays—and make plays they did. All of Central Florida's defenders were willing to put their body on the line to get blocks. Mejido in particular came away with several big layouts for blocks and subsequent scores. While UCF did fall short against Brown, this year's roster displayed a newfound ability to stay competitive when faced with adversity.
"The guys have been playing very well all off season, throughout practices. They've been playing all cylinders," said Taylor. "I couldn't have envisioned it going better. But this is where I thought we would be. And that's what I tried to instill in the players, this is where we can be if we play how we're supposed to play."
As early as Warm Up, Taylor's confidence was seeping into team culture. After a productive weekend, the team was starting to shake off the shock of 2018. Vinson admitted as much at weekend's end.
"We're putting in the work, we're all bought in. I think it was just a reality check, not making Regionals. When that happened, we were just like, well, we're not getting things handed to us anymore," he said.
Central Florida has always been an emotional team—they thrive in high energy environments but are also liable to get stuck in a slump. This is still true to some extent, but Vinson believes recent leadership changes have helped Central Florida's mental fortitude.
"Roca is the kind of coach who can get you hyped up during any situation, but he can also get frustrated and that can affect the teams mentality during the game. Mike [Taylor] doesn't get frustrated. He keeps his composure and he helps us cool if the O-line is getting broken or if the D-line isn't getting breaks," he said.
The expression that ultimate is a game of runs has become so prevalent in halftime huddles and pregame speeches that it's almost cliché, but that doesn't negate its accuracy. This year's Central Florida team has been able to harness the streaky nature of ultimate so far, summoning energy surges to close out games, but also demonstrating more resilience than they have in the past.
Proving the Doubters Wrong
Florida Warm Up was UCF's coming-out party, but the task of expunging 2018 from the team's collective memory was far from over. The uncomfortably close 12-11 quarterfinal win over UT-Dallas at Warm Up helped keep fears of inconsistency simmering. It seemed that the Dogs of War were presented with a chance to quiet their naysayers at Tally Classic in the middle of March, but a 14-12 pool play upset to Notre Dame opened the door for even more criticism heading into bracket play. 2018's UCF—a team that struggled to overcome adversity and bounce back from being broken, let alone an upset loss—may have folded under the pressure after a loss like that. This year's team, however, displayed the same mental toughness that carried them through Warm Up.
In bracket play at Tally, UCF rolled through three tough Southeast opponents in Alabama, Florida State, and Auburn (a team UCF hasn't beaten in four years). With each break they converted, the Dogs D-line seemed to double their intensity and the O-line, while not perfect, carried them to three consecutive 15-10 victories and a Tally Classic championship.
The victory in Tallahassee was worth far more than the algorithm points. Vinson believed it was the morale boost that UCF needed to carry them into the postseason.
"I think that win against Auburn was more special than just a normal win. It was our first tournament win as a team which is always something nice. For me it felt like a chip was lifted off my shoulders," he said.
The transitory nature of college ultimate, in which entire rosters are warped by graduation, semesters abroad, and incoming classes, does allow for single-year turnarounds like we have seen from the Dogs of War. Such drastic transformations are often the result of fifth-year pickups or strong freshmen classes. But in the case of Central Florida, much of this turnaround has to do with the team's newfound commitment to the development of their depth.
The team's disc skills have improved across the board, allowing the offense to flow more naturally as opposed to depending on the efforts of one or two unstoppable forces. Vinson attributed these changes to Taylor's coaching. "Mike told us we could either make changes like adding a third practice and committing to pod workouts or we could just be mediocre again," he said. "…Last year we only practiced two times a week and that's it. This year we have three practices and a pod workout a week. People are throwing in between classes and going to the gym."
Looking purely at their on-field performance this season, it's clear that all UCF players have invested a great deal of time and effort into the team. Not only does UCF look better on an individual level, the offense has succeeded after committing to a system. Individuals aren't trying to play hero ball, instead demonstrating that they have placed the team's success before their own by showing more patience. This discipline is particularly evident in their offensive spacing during initiation plays and in the red zone. When the UCF offense is clicking, all players are working hard to clear space for their teammates to attack and wait patiently for their own time in the spotlight. In the clip below, we see UCF's stack discipline at work as they shift 20 yards downfield to create space for Andre Bordelon's break-to-open upline cut.
https://gfycat.com/InfamousLeanIrrawaddydolphin
Even with their new focus on balanced play, UCF is cognizant of Vinson's talent. When further prompted about any standout players on their roster, UCF's said only, "Adam Vinson is one of the best players in the country."
He has struck a fine balance between taking over points when necessary and letting his teammates move the disc around him. Particularly against Auburn at Tally Classic, he was brutally effective in the handler space. But he's more than a handler. Defenses are forced to respect him in the deep space, and as a result he frequently is given easy under passes where he is most dangerous. In their game against Brown at Warm Up, Vinson could be found starting in isolation downfield or centering the disc up to Austin Gaines, only to streak deep and initiate offensive motion. Whether the disc finds its way to Vinson or not isn't especially important, as the defensive attention he demands opens up the field for the rest of his teammates.
Righting Last Year's Wrongs
At this year's Florida sectionals, UCF exorcised last year's demons with a 15-14 victory over the University of Florida to win the Conference and claim their bid to Regionals. "Ending the season at sectionals last year was a wake-up call. It's something that we think was needed. It taught us that we have to go out and try to win games. We were playing to not lose instead," they said.
Very rarely do teams on any level maintain the same identity over the years. Players come into and exit the program, as do coaches. At times, the game itself changes, necessitating that teams adapt new strategies and mentalities to stay competitive. In the club division, this can lead to teams folding, as was the case with Boston Ironside after the 2017 season. But in college, programs can't simply pack it up and players have far less agency to pick and choose who they wish to represent on the field. Instead, coaches and leadership must weather the storms of change, constantly adapting to any and all of the aforementioned factors. When teams find themselves in a metamorphosis of sorts, we see them falter as Central Florida did in 2018.
Clearly, the Dogs of War have successfully transitioned into a new team who are better suited to the tools they have at their disposal. Even more obvious in their play and celebrations is the energy and love that Central Florida's players have for the sport, and vitally, each other. To quote a great coach, "Each team only happens once." From this point on, Central Florida will write the conclusion to their own story. Whether that story comes to a close on the fields of Regionals or in the Texan heat, is in their hands. What is certain, however, is that this Central Florida team, these Dogs of War, will only happen once.
An earlier version of this featured misidentified the player in the video clip.