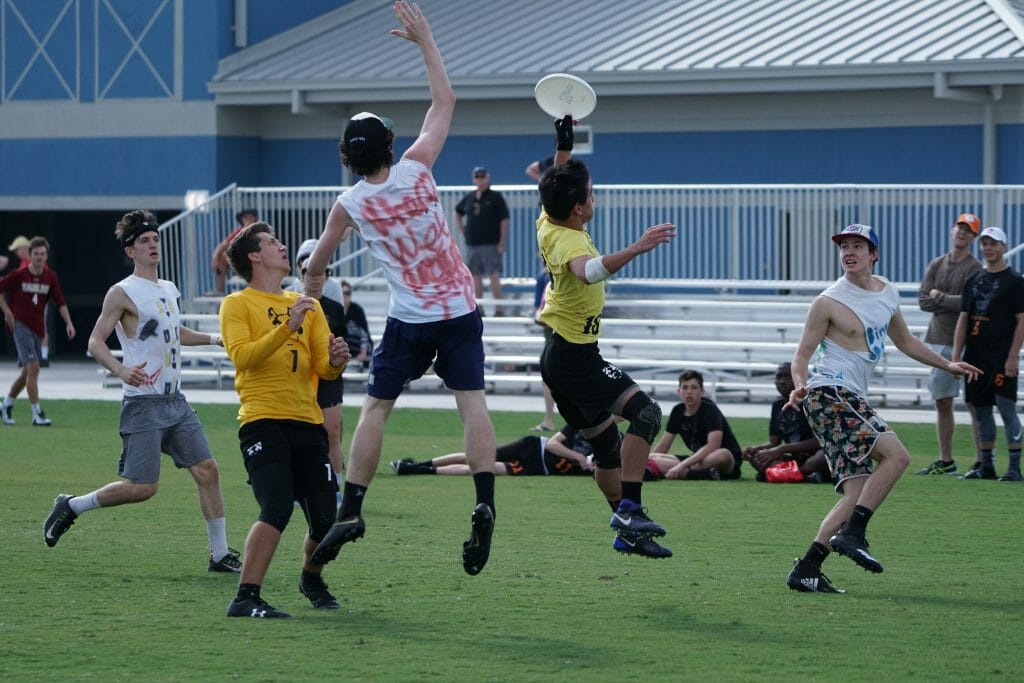 Ultiworld's 2019 college coverage is presented by Spin Ultimate; all opinions are those of the authors. Please support the brands that make Ultiworld possible and shop at Spin Ultimate!
TAMPA–There's always some surprises at Warm Up, but there's not much you can do to prepare yourself for a bad weekend from the #2 ranked team in the country and a team that missed Regionals a year prior reaching the final.
Let's not waste any time: we've got 6,000+ words on the action from the three-day, early season tournament. Let's dig in.
Brown Takes Down UCF For The Title
A year removed from a loss in the Warm Up final to Carleton, Brown came away with their first major regular season tournament title since the Josh Ziperstein era with a 15-9 win over a surprising Central Florida team. The final score is somewhat misleading, as the game was closer than that: UCF's defense caused Brown's offense some real problems, right from the start of the game.
Drops from John Randolph and Mac Hecht were stunning plays from two of the best players at the tournament, and when Randolph turfed a fairly routine forehand and UCF got the break on the game's opening point, it seemed like it maybe it could be UCF's day.
Hecht turned it again on the second point with an errant huck, but impressive switching defense from Brown prevented a second break. With their own defense on the field, Brown was immediately able to put together the game's first run. The UCF offense struggled to find any sort of rhythm, with stagnation in their vert stack, and Brown rattled off three straight breaks to take a 4-1 lead.
UCF got one break back before halftime when they made it 6-5, but then gave it right back when Brown broke to take half 8-5.
Brown began to really pull away in the early stages of the second half. At 9-6, they got two successive breaks to make it 11-6 as UCF continued to struggle to gain momentum offensively.
UCF was always at their best when they had their D-line on the field, and a hold to make it 11-7 nearly started a run that got them back into the game. They broke for 11-8 when Randolph threw behind Henry Laseter on an upline and Alex Mejido made a nice layout clap catch for the score. They then had a glorious opportunity to break for 11-9, but Tyler Carolino suffered a brutal drop in the endzone.
That was UCF's last, best chance to get back in the game. Brown closed it out with a 4-1 run.
UCF's defense gave Brown as much trouble as they had faced all weekend, particularly the duo of Hecht and Randolph, who struggled at times by their own lofty standards. But Brown's skill and depth were ultimately too much for UCF to withstand. Sol Rueschemeyer-Bailey was especially impactful, recording a whopping eight assists, but players like Ken Noh and Benji Toruño helped overpower UCF's defensive effort in the Brown victory.
Brown Flashes Depth In Undefeated Weekend
Fundamentally, this year's Brown team looks a lot like last year's. Mac Hecht and John Randolph are still shredding defenses, Dylan Villeneuve is continuing to provide big play defense and incisive offense after the turn, and the energy is there in every game.
But you can tell that there's a difference with the role players. Even though the team lost a key starter in Eli Motycka, a long-time leader, they looked sharper on both their O- and D-lines. Toruño is a major goal scoring threat. Rueschemeyer-Bailey has long been effective, but he has leveled up this year. Noh, Ned Dick, and Henry Laseter are all contributing at a high level.
"I think there was a pretty big shift that happened within the team before I even got involved [in 2017], where I think they recommitted to being nationally competitive," said head coach Jake Smart. "And it takes a while to build that. Kind of this idea of program momentum. And you look at a team like Pitt, where they've just been successful for so long. They have that momentum where everybody knows that this is how much work goes into it. And, for where the program was three years ago, they really had to relearn it. First, doing the work outside of practice. Then it was getting into the games that show you that you haven't worked hard enough."
They've done that work. They've been in those games. Now, their entire roster (save for the rookies, of course) has been steeped in the big games and learned about the difference between good and great. Toruño had all zeroes on the stat sheet at Nationals last year; he will likely be a starter this year.
"We don't want to be the Kurt [Gibson]-Tim Gehret [Florida] model from '07, '08, because I think that having a full roster really helps you at long tournaments," said Smart.
The question now: how high can the team climb? They didn't really get a true tester game at Warm Up, as they dodged playing Pitt, BYU, Texas, and Carleton. Of course, some of those teams lost to teams that Brown played in the bracket, so it's not like it was a total cakewalk. And winning all your games at Warm Up is no easy feat: it's difficult to maintain the proper energy, focus, and execution across so many different games. Even the most impressive teams laid some eggs.
Brown will be in action next at the Stanford Invite, where we should get to see them face a top five team and figure out where they stand compared to a UNC or an Oregon.
Central Florida Stuns Everyone
Central Florida's run to the final was truly shocking. They smashed Carleton; beat Texas twice, once in a blowout; and grabbed a few other solid wins along the way.
All this from a team that didn't even make Regionals last year. Let me repeat: they didn't even make Regionals last year.
But their weekend was no fluke. Yes, they have flaws, but UCF is the real deal. Their cutters struggled to get open downfield at times, especially when they play in a vert. But their handlers, Austin Gaines and Andre Bordelon, were consistently successful at getting off resets, and when they did turn it, the whole O-line was capable of playing strong defense to get it back. Their O-line zone defense was particularly tough for opposing D-line to move the disc against.
UCF is also truly dangerous downfield on both sides of the disc when they're able to get their huck game going. Alex Mejido scored a ton of break goals with his layouts and skies, Adam Vinson was the team's best all-around player, and Austin Koffarnus and Robert Matthew Hankin won block after block downfield defensively. The 6'8″ Adam Lapikas wasn't all that impactful on the weekend, but his size absorbed a lot of attention and makes things easier for his teammates. He often got free unders. UCF is big, athletic, and unafraid of the grittier, more physical parts of the game.
The Dogs of War proved they can win in a variety of ways, too. They started their weekend with a tight win over a sound Tufts team, and then followed that up by blowing out Texas from the get go. Their win against Carleton to start their Saturday was close in the first half before breaking to go into halftime and then running away with it in the second. Their massive energy advantage was obvious from two fields over. Then they grabbed two double game point wins — a hold against UT-Dallas in quarters and a break against Texas in semis — in the bracket.
UCF isn't a national championship contender, but they are a genuine Nationals-caliber team and, frankly, the best team in the Southeast at the moment. Perhaps most importantly, they positioned themselves incredibly well for earning a bid. Their win over Carleton should only increase in value as the season goes on, and it looks like their pair of wins over Texas will carry a lot of weight, too.
The turn around for UCF, from missing out on Southeast Regionals a year ago, to making the final at Warm Up, isn't one that anyone outside of the program expected. Internally, though, UCF was ready for a big weekend.
"We didn't expect to make it all the way to the final, but we definitely expected to come in here and make some noise," said Vinson. "We're putting in the work, we're all bought in. I think it was just a reality check, not making Regionals. When that happened, we were just like, well, we're not getting things handed to us anymore."
First year head coach Michael Taylor expressed a similar feeling. "The guys have been playing very well all off season, throughout practices. They've been playing all cylinders," he said. "I couldn't have envisioned it going better. But this is where I thought we would be. And that's what I tried to instill in the players, this is where we can be if we play how we're supposed to play."
UCF is now in prime position to earn a bid, which would make qualifying for Nationals far easier, and Taylor said that the number of seniors on the team pushing for Nationals in their last chance is a big reason for the team's turnaround.
But Vinson said that he has a different goal in mind for the team: "Make Regionals."
BYU Would Be A Semifinals Contender At Nationals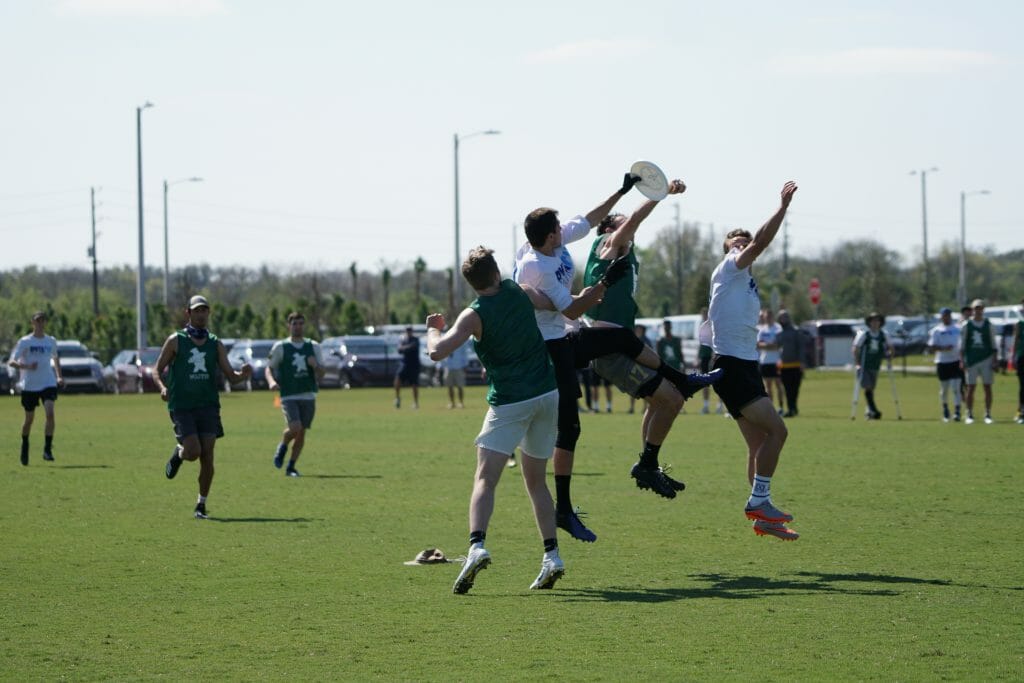 Let's not mince words: BYU was arguably the best team at Warm Up. They are clearly good enough to compete with any team in the country, and it was only a lack of a matchup with Brown that leaves us wondering who the top dog was in Tampa.
BYU went 7-1 across two days of competition, recording wins over Pitt, Texas, and Carleton. Their lone loss came to Wisconsin, 15-14, in a terrible defensive performance, but one that set the stage for their comeback, double game point win over Pittsburgh, one that head coach Bryce Merrill called the best in the program's history.
"We don't have a lot of wins against top 10 teams, let alone Pitt," he said. "Pitt's on a great level right now. And so for us to be able to sneak this one in…that shows some turnaround for these young guys."
"I've been looking up to Nick [Kaczmarek] for seven years, so it's fun to get one on him," he added.
BYU is led by the stellar play of cutter Jordan Kerr, who recorded a team-high 33 assists through eight games. Braden Eberhard, Joe Merrill (unrelated to Bryce), and Devon Terry were also excellent throughout the weekend. With sophisticated sets, including a switching-heavy defensive scheme, they pushed every team they played.
"On an individual talent level, this is easily the most talent we've ever had, way more than our 2016 team that was last top ten," said Bryce. "And that's a credit to the Utah high school scene — these guys are coming in as freshman and rookies and they're all starting on O-line with us."
"There's names on BYU and these guys are legit studs," he continued. "They don't make All-Region, they don't make U24 tryouts, they don't make anything that the system uses to identify great players. Our guys are outside of that system but that doesn't take away from the fact that there are some bona fide stars on this team."
BYU's continued success at the top of the college ultimate scene will renew questions about their exclusion from the playoff system. BYU, owned and operated by the Church of Jesus Christ of Latter Day Saints (also known as the Mormon Church), has a university policy that forbids athletes from competing on Sundays. That has blocked BYU's path to Nationals in ultimate, and USA Ultimate has not made accommodations for the team.
The NCAA has a standing policy to adjust competition to allow BYU to avoid Sunday play. Last year, the BYU men's golf team reached the Championship for the first time in the match play era and the team was able to play the third round — scheduled for Sunday — after Wednesday's practice rounds.
Two years ago, BYU sent a proposal to USA Ultimate asking for rule changes and offering potential solutions for how to restructure postseason events to avoid Sunday competition if necessary. Merrill said he has been in touch with USAU's Will Deaver, but that there has been no progress towards accommodations.
For now, BYU will continue to compete at major regular season events — and probably keep winning a lot of games. They are 13-1 on the season after they went undefeated at Santa Barbara Invite. And guess what? Almost their entire team returns next year.
Carleton's Rude Awakening
Things seemed mostly fine for Carleton after Friday. They had a typically sleepy start with a 14-12 win over Harvard, and an early deficit against Emory that they overcame with relative ease. Their loss to Pitt on Friday night was a great game between two semifinals contenders that Pitt just came out on top of — totally respectable.
But the wheels fell off for Carleton in a bad way on Saturday. Their effort levels were low, their handlers struggled mightily, and even their most experienced and talented players frequently committed simple execution errors. Carleton looked bad.
They were washed away by the energy and defensive intensity of UCF, never had a chance against BYU, and then lost to Tufts in consolation to complete a 1-3 Saturday, with the lone win coming against Illinois State Saturday morning.
They rebounded with better effort on Sunday, playing with more intensity on defense to  get wins over Northeastern and KSU.
It's not unusual to see Carleton underperform at Warm Up. In 2017, they went 4-3 in match play, missing the bracket, and then they went and won the national championship team that year. But they also had wins over Minnesota, Auburn, and Wisconsin that year. There's still a lot of season left to play, but it's doubtful that any of their wins this weekend1 will measure up nearly as well as any of those did.
Carleton has real weaknesses that go beyond a lack of effort and sharpness that can be chalked up to the stage of the season we're in, and even beyond not having Joe White and Luke Webb at their disposal. The losses of Sol Yanuck, Eric Taylor, and Alex Olson have left a serious hole in the Carleton backfield. Chris Padilla, Jared Kannell, and Andrew Roy took up a lot of the backfield touches, with Harry Wolff Landau spending a fair bit of time back there as well, but they didn't look like the elite handler unit you'd expect a CUT team to have.
"It was generally execution, as far as catches and throws go," said head coach Phil Bowen after the UCF loss. "Initially, we were probably just a little late getting into our sets and there was only a couple points there where we really found a good rhythm of our continuation, our continuation cuts, our continuation resets being good. It's easy to chalk it up to early season, early amount of time outdoors, just ran into a team that had a ton of emotion and was playing well."
He admitted that Carleton was unable to match the energy of UCF, but he otherwise wasn't overly bothered by the team's struggles. "It's just part of the learning process," he said. "We don't expect ourselves to be at mid-season level right off the bat, but we understand what mid-season level looks like, so when we're not doing it, of course it can be frustrating a little bit."
It isn't exactly crisis mode yet, and for what it's worth, Bowen didn't seem concerned much at all, but dismissing their weekend as their typical, early season aberration is a mistake. Carleton's Warm Up raised some red flags that they'll need to address if they are to live up to their preseason #2 ranking.
Pitt Looked Great, But Also Not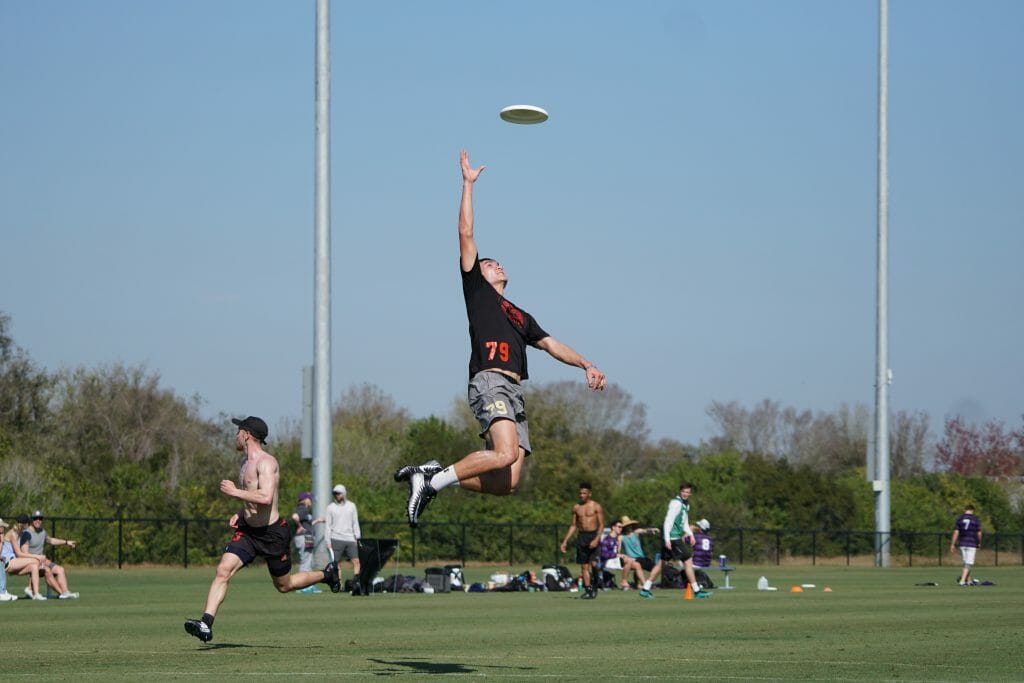 It's difficult to gauge Pitt's weekend. Their win over Carleton on Friday was a great effort and seemed like a fantastic result at the time, but then the rest of Carleton's weekend unfolded and made it look decidedly less impressive. They mostly avoided any bad results, but their best win was their 13-7 shellacking of a UCF team that had just come off their own dramatic blow out over Carleton. Not to say that it wasn't an impressive result for Pitt, but UCF was certainly ripe for an emotional valley after coming down from the peakiest of peaks.2
Still, Pitt was a heavy favorite to make the final based on their performances through match play. But in quarters against Texas, their offense looked out of sync. Michael Ing had some rough turnovers, and other experienced players appeared to rattled by the strong Texas surge, too.
They showed signs of that against BYU, too, when they turned over a handful of break throw attempts that got caught up in the wind far too easily and became turnovers. Those kind of mental and execution mistakes aren't what we expect from Pitt, but it is early in the year, and they do have several players in new, bigger roles, so maybe growing pains should have been expected.
Pitt did show plenty of glimpses of what their potential highs could look like this year. Freshman Henry Ing (Michael's brother) is the real deal and should only get better as the season goes on. He played both ways in big moments for Pitt, and was dangerous downfield and reliable as a thrower. Leo Warren had a mostly solid weekend in the backfield, though he did struggle a bit in the team's two losses. Sophomores Myles Cooper, Will Hoffenkamp, and Kevin Tsui all impressed with Hoffenkamp and Tsui taking on high volume roles, and Cooper as lockdown defender and a dangerous, speedy deep cutter.
They were without a few key pieces, too. Dan Goldstein and Hafeez Shams were out all weekend, and Noah Robinson sat out after after the Carleton game, where he suffered a minor knee injury that he rested the rest of the weekend.
Pitt is still the high ceiling team we thought they were before the season, and some of their younger players are better than expected right now. It's just a shame we didn't get to see them against teams they're more likely to be battling in or for semis at Nationals, like Brown, or Carleton closer to their best.
The win over Carleton, a "deep-seated" rivalry game, in Michael Ing's eyes, still provided plenty of value for Pitt, though. Not only did they get reps in a big moment against a highly talented and experienced opponent, but they earned a result they can build confidence from as well. "It feels good. Really wanted it, obviously," said Ing. "We've been doing our best not to run kill lines, been trying to spread out the depth all tournament and kind of switch some things up, so really good to see us still perform even with some of those different lines."
Head coach Nick Kaczmarek, though, seemed to actually appreciate the loss to Texas more. "I think early in the game, their zone was very frustrating for us. We've been really, really confident in zone, so it was a new one to figure out, and we did. Then they slid back to man defense, and it took us maybe  a point or two to figure out, and the offense did," he said. "To me, I feel like the offense was in a game where they had to figure out another team, seeing them the first time, not knowing what they were gonna bring, and so I'm actually really, really satisfied with our offense in that game because every time they saw something, within two points they figured it out, and I don't think any coach can ask anything more than that at this point in the season."
Kaczmarek treated the weekend as a glorified practice, one that he was very happy with.
"To me, every single point, especially when these lights come on, they feel like practice," he said. "We're not trying to go and kill some team or something, this feels like we're up on the turf at Pitt practicing against a really good team where we don't have to get in fights with each other. Not that we ever get in fights, but we don't have to battle each other. We have to battle other people. We have to stay together; we become more tight knit at a really great practice, that's what's great about Florida. This was an incredible weekend of practice."
Texas Erases Memory Of 2018's Warm Up Disaster
Texas' record at Warm Up 2018: 3-6, zero impressive wins.
Texas' record at Warm Up 2019: 6-3, including a 15-10 beatdown of Pittsburgh and three other wins against top 25 teams.
What a difference a year makes. After being written off last season as a rebuilding team after an ugly Warm Up, Texas went on to go undefeated at Regionals and post a winning record at Nationals. Now, they're a team with aspirations beyond just making the tournament.
"We've been having great practices, so I knew that we had a pretty good ceiling," said head coach Calvin Lin. "The thing that our guys need to learn is how to play with a sustained effort. I think we didn't do that on Friday, but we're getting better. And I think the guys are learning that if they can do that, they can beat anybody."
They absolutely look like a team that can compete with the best. Their 15-10 win over Pitt in quarters was as impressive a game as we saw this weekend, and it was there that the team truly put forth a strong effort from start to finish. On day one, they lost a heartbreaker on double game point to BYU and followed it up with a dreadful effort against UCF, where they lost 13-7. Those kinds of energy lulls are common at Warm Up. They surely must have felt pangs of 2018's slow start.
But they rebounded to win five in a row, culminating in the big win over Pitt. "We were making good choices and played clean O, and that goes a long way in college ultimate," said Lin.
They took a second loss to UCF in the semifinals, this time on double game point. Considering that they played much of the game without D-line lynchpin Noah Chambers, who was nursing a quad injury, it's not a bad result. They'll come away feeling good about where they stand — and how much room they have left to grow.
Notably, Warm Up was the debut of rookie Matt Chambers, Noah's brother, who graduated high school a semester early and joined UT for the spring. He's already a polished offensive player and made big contributions for the team all weekend.
"Matt has been a great pickup," said Lin. He came out to a workout a year ago when he was a junior and I was like, 'Oh yeah, we should get that guy into UT.' But it's pretty hard to get into UT, so we were pretty thrilled when he decided to come out early."
Plenty of other players had strong weekends. Matt Armour was sharp all weekend, Reese Bowman played great defense, and Keivaun Waugh, rocking the classic rainbow spinner hat that whizzed as he sprinted around the backfield, was a steady presence at the handler position.
Like most teams, UT had some highs and lows, but they definitely look like the frontrunner in the South Central and should be a dangerous opponent at Nationals, given their blend of skill players and their typical size and athleticism.
Georgia Meets Expectations, But No More
Georgia may have seen their spot atop the power struggle in the Southeast slip away, but more importantly, they did nothing that would cost the region a strength bid. Georgia earned no wins against the top teams at the tournament, and their only wins against other bracket qualifiers were a comeback win against Texas A&M and their 13-8 win over Michigan quarters.
At the same time, though, two of their three losses were to Brown, and the third came against Texas in the third place game. Georgia did nothing to set the world on fire. Their offense was grindy and they slogged through points, but they're tall and athletic, and they force plenty of turnovers.
Their biggest area of weakness, as it was with many of the teams at Warm Up, was in the backfield. They have yet to find a true replacement for John Langstaff's ability to break the mark or be a dangerous thrower from any spot on the field. As a team, they haven't really found a sufficient way to make up for that, either. Players like John Ross Ingley and Mack Hodges took a lot of those touches but don't yet possess that dynamic ability to forcefully put their influence on a game with their handling ability.
The Georgia leadership didn't seem to be too worried about the state of the handler corps though, as they saw some positives and signs of improvement, particularly in their reset looks. "We're gonna take lumps. All of our handlers are really moving into new roles," said captain Hunter Cutts. "But it's tangible, the progress that's being made. We worked through a lot of different sets over the course of the weekend, and we're just seeing what works and what we can work on."
What Georgia definitely does have is a lot of guys willing to hit the deck or go up in traffic and make plays. But they started a couple games with a low level of intensity, like in the first halves against A&M and Brown. Against A&M, they trailed 7-3 at the half before coming back to win 13-12, and they didn't force a single turnover in the first half against Brown.
"I think our team enjoys being put in the position, and fighting. That needs to be an internal switch," said Cutts on the team's occasional slow starts. "We're getting a lot of external inputs, and turning that into intensity. So the challenge now is to bring that from within every time we go out on the field. We've done that. We've come hot; we know it is there. It'll just be about finding that consistently."
So Georgia has some things to work on, and they might not be the top dog3 in the region, at least at the moment, but they beat all of the teams they should have and made it all the way to semis. It's hard to ask for a whole lot more than that from a Warm Up performance.
Michigan Surges To Undefeated Match Play Performance
Talk about the difference a year makes. Last year, Michigan came into Warm Up as a top 10 team and then left match play with a single win. This year, Michigan came into Warm Up with basically zero external expectations and went 6-0 in match play.
Sure, their schedule was soft, but a 13-6 win over Florida and 12-8 win over Texas A&M were impressive enough, and they ended up shutting out Cornell 13-0, the only figurative bagel at the tournament.
Michigan doesn't have any individuals that will strike fear in opponents hearts, but they do have enough capable playmakers like Jared Schwallie and Jeff Gao to lead their lines if they rest of the team plays sound, fundamental ultimate. That — plus consistent effort — was how they won their seven games over the course of the weekend.
"We've got a lot of young guys who are just stepping right in and contributing. Huge energy," said captain Adam Stautberg. "For me, in my four years at MagnUM, this is the most energy we've had at a tournament."
But when the team falls into a rut of execution errors, like they did in quarterfinals against Georgia, they don't really have a player to turn to to drag them out of it or keep them in games.
Still, the depth of reliability is something Michigan didn't have last year. And it may be enough for Michigan to rise to the level of the new favorite in the Great Lakes with the rough weekend Northwestern just had.
Michigan's impressive weekend surprised even them a little, or at least head coach Parker Howard. "We are a young team," he said. "We lost 13 guys to graduation from last year. Honestly, this is way better than I expected us to look. Young guys have shown up, making plays on defense, really just having a good weekend."
But he thinks the positive results can be a building block for the rest of the season.
"It builds confidence for them," he said. "For young players, that's huge."
Wisconsin and Minnesota Start Slow
Carleton wasn't the only North Central team to struggle at Warm Up. Wisconsin and Minnesota both struggled through match play and failed to make the bracket. Wisconsin knocked off BYU — the only team to do so — but as the weekend played out, that result seemed more and more like an outlier. Other than that BYU win, neither team claimed a win they could really point to a an impressive result.
Minnesota didn't have Cole Jurek or Cole Wallin suited up, so they were without arguably their two best players all weekend. They also had a brutal schedule, playing three of the four semifinalists during match play. But the team looked light on confident throwers. Wystan Duhn and Sam Kaminsky were solid playmakers with the disc in their hands, but without them on the field, Minnesota struggled to score.
"We had some simple execution errors on offense, just missed throws, missed swings, just decision making stuff," said coach Tallis Boyd. "It isn't rocket science, it's just really fundamental. We need to focus on that. It doesn't look to good to have a really cool, complicated play if you can't hit the swing. Some of those are just fundamental stuff we gotta make sure we stay focused on."
Boyd said that this tournament was part of a growing process for his young team, and that was most evident in the the team's backfield. "[There was] a lot of learning," Boyd said of his handler group. "We've got a lot of young guys. A couple veterans, but a lot of young guys, and guys who've never been in a big spot before. There's a lot of learning that comes with that. They'll continue to figure out how they contribute, and how they step up, because they have to step up now."
Wisconsin had a better weekend overall, with the BYU win and finishing the weekend with a 6-3 record after starting 2-3. But the rest of their wins were close ones over Florida and Tufts, and comfortable victories over Illinois State, Alabama-Huntsville, and Emory. The team struggled offensively, and like Minnesota, looked weak in the handler space at times.
Wisconsin has historically taken a very developmental approach to Warm Up, and this year, with 28 players on the roster, was no exception. The Wisconsin coaches, whose flights didn't get in until after the team's surprising 13-12 loss to Virginia Tech on Friday, looked at the weekend as a chance to get the team outside reps, more than anything else. "We're coming from Wisconsin, where we've gotten a couple indoor sessions, and that's very different playing out in the conditions," said coach Becky LeDonne. "We're here to play games and get points. No one wins a championship in February in Florida."
But the coaches were a little disappointed in how some of the team's veterans played. "[I wanted] a little bit more consistency from our offensive line, to be honest, especially from our veterans," said coach Hector Valdivia. "I think our defense has actually done a pretty god job of stepping up and keeping us in games. We've more often than not shot ourselves in the foot in the first half of our games."
If the season ended today, the North Central would have just one Nationals bid. Obviously, there is an awful lot of season left, and that number will almost certainly go up. But there's no denying that the region, with Carleton, Minnesota, and Wisconsin all missing the bracket, had a rough Warm Up.
UT-Dallas and Texas A&M Make The Bracket
A region that managed to do a lot for itself on the weekend was the South Central. Texas, of course, finished third, but UT-Dallas and Texas A&M both impressed as well by making quarterfinals, and finishing sixth and eighth, respectively.
A&M's weekend was particularly surprising, considering they had 16 rookies on the roster. Connor Ughetta did a lot of the heavy lifting in the backfield, but A&M's young defense and young cutter corps impressed. Nicolas Lanas, in particular, looked like he will be a problem for opposing defense to matchup against. His speed made him a threat all weekend, and a favorite for Ughetta to huck it to.
Dozen didn't claim a major upset, and their 4-5 record may raise some skeptical eyebrows, but their ability to hang with teams like Georgia and Pittsburgh late into their games bodes well for such a young and inexperienced team.
A&M teams of the past have relied on a few players to do the majority of the playmaking, but with Ughetta as the only household name on the roster, they're focusing more on developing the whole, young roster this year, and the early signs from Warm Up are that it's paying dividends. "Last year, we pushed hard to play more of our top guys, and come regionals, we needed our depth, it wasn't developed to the point we wanted it," said Ughetta. "So we wanted to change that approach this year, so we could rely on and be confident with our depth come regionals, come late in tournaments, so we can be pushing hard, so we can give our top guys a rest for a point or two, so we can trust our team."
UT-Dallas came into the weekend with a winning record, but no marquee wins, and they leave it in a similar place. Their four losses at Warm Up, though, are maybe more indicative of what this team is or can be. They lost to Brown, UCF, and Pitt by a combined five points, and then lost to Michigan on double game point.
It's not time to predict UT-Dallas to qualify for Nationals, but they are definitely a team others are not going to want to play come Regionals. Victor Mao and Wes Miaw provide elite quickness and playmaking ability, and Jason Hustad is the cannon of the team's reliable handlers.
UT-Dallas didn't look outmatched or out of place in any of the games they played, and that in itself is a statement. "For UTD, for North Texas, for Texas a whole, I just want people to know we've got freaking ballers out there," said head coach Eric Wilkins. "It's not just Texas and A&M, which are in the south part of Texas, but we've got players up in Dallas that are playing at a high level and like playing the game. I just appreciate that so much from this team, and I hope it ripples throughout the rest of the US."
Wilkins was also pleased with the fight his team showed late in games, like in getting a pair of late breaks against UCF to force double game point in quarters. "We know being the newer guys wanting to be on this stage with the other guys, we know that that's gonna cause a little bit of nerves," he said. "But to be able to push that envelope and give a good game to Brown, and give a good game to UCF, I mean we didn't win that game, but we were excited about that, and I just love that our team has that fight and ability to do that."
Quick Hitters
Virginia Tech was without Joe Freund, who was slightly banged up, but also accidentally left off the tournament roster. Without Freund, it was an up and down weekend for Tech, who have a ways to go in developing their depth if they're going to make it out of the gauntlet that is Atlantic Coast regionals.
Northwestern really had a rough weekend. Jeff Holm and Kyle Rutledge played well, but their supporting cast struggled, and that was surprising to see from the pre-season Great Lakes favorites, especially since Northwestern has fared quite well at Warm Up in recent years. It's not time to discount their ability to get back to Nationals just yet, but they looked far away from the #14 team in the country.
Outside of Brown, there was plenty to like from the New England teams. Tufts, Harvard, and Northeastern all finished well inside the top half of the tournament. Tufts was clearly the best of the bunch, getting wins over Carleton and Minnesota, but they also took a bad loss to Kennesaw State.
LSU took a lot of lumps in match play, where they went 1-5, but closing out with three straight wins to take ninth salvaged what could have been a brutal weekend.
It was quietly a solid weekend for 30th seed Alabama-Huntsville, who went 5-4 with nice wins over Harvard and Virginia Tech. They're not ready to compete for a Nationals bid, but for a team that recently had to leave Division III, they are clearly competitive and improving.
UConn still the Metro East favorite? Rutgers and Cornell went a combined 5-13. Rutgers certainly had the better weekend, posting one point losses to Minnesota and Northwestern, but neither team got an impressive win. Both teams did beat Florida!
The fields were immaculate at the newly reopened Tournament SportsPlex of Tampa Bay. The fields were flat and lush, and perfectly maintained. Let's hold a Nationals event here, please.
The format was a talking point in the Ultiworld slack during the tournament, with the bracket being determined by algorithm rankings points, rather than pure win-loss record. Ultimately, the format worked. The teams that made the bracket all felt right based on the eye test, and none of the quarterfinals matchups were a replay of a match play game. A bigger complaint could be made of the imbalanced scheduling across teams, where some teams went through murderers' row type schedules, while others had relative cakewalks. But that's a tough thing to remedy when it's impossible to predict how every team will end up playing over the course of the weekend. Brown's schedule, for example, looked a lot tougher before the weekend started and Northwestern and Wisconsin struggled through their games.
All Tournament Team
Jordan Kerr (BYU)
Mac Hecht (Brown)
Noah Chambers (Texas)
Adam Vinson (UCF)
John Randolph (Brown)
Joe Merrill (BYU)
Victor Mao (UT Dallas)
---
Harvard, Emory, Kansas, Northeastern, and Kennesaw State ↩

A bit of a replay from 2013 College Nationals ↩

pun intended ↩