Who will topple each pool in Bruges this weekend?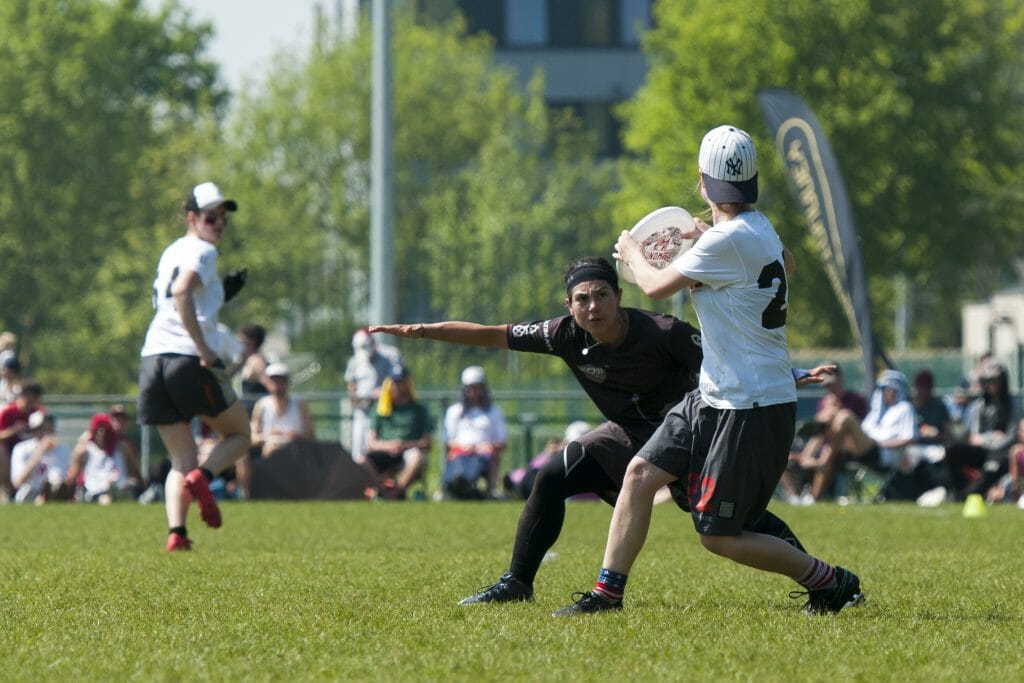 Ultiworld's coverage of Tom's Tourney is presented by VC Lookfly; all opinions are those of the author. Please support the brands that make Ultiworld possible and shop at VC Lookfly!
With a combination of 16 top club and national teams, the women's division at Tom's Tourney brings a lot of elite talent to Belgium. Teams look to get a top two finish in their pool to make it into power pools but even if they finish lower they still have a chance to win their lower pool and play a prequarter to battle their way into the bracket. Here is a look at the four initial pools at the tournament.
Tournament Profile
Date: 3-5 May
Location: Brugge, Belgium
Weather: 9-11 °C, scattered rain and wind ranging from 10 to 37 km/hr
Pool M: CUSB Shout, Germany Masters, Netherlands, Scram
CUSB Shout from Bologna, Italy, are the number one seed at this tournament for good reason. They are the current EUCF champions. Though they won't have some of the French and German pickups that helped them win gold last year, and they will be missing EuroStar Laura Farolfi at this tournament, they still look like the favorites at Tom's. 2018 Defensive Player of the Year Runner-Up Anna Ceschi will have to step up to be one of the main playmakers in Farolfi's absence, but she has great help in the likes of Greta Melega and The Scazzieri sisters. Shout should win this pool with relative ease.
The German Masters team won EUC back in 2015 and may be fairly evenly matched with the Netherlands. The Dutch women are lead by EuroStar Paula Baas and will take GRUT defensive standout Maartje Keulen as well. However, the Dutch are missing a lot of star power, as those who are playing on U24 team are not allowed to compete on the senior national team. This leaves a lot of young female Dutch star power playing for the Amsterdam Ultimate Club in Pool N.
Scram are a new team combining the women from Black Eagles and Glasgow ultimate who are both EUCF level mixed teams from Scotland. Stars like Lulu Boyd and Aisling Barton will likely lead this team to break seed and upset the Germans and the Dutch, while still being a bit weaker than the Italians.
Predicted Rank: 1. CUSB Shout, 2. Scram, 3. Netherlands, 4. Germany Masters
Pool N: Germany U24, GB Masters, Amsterdam Ultimate Club, Frisbeurs Nantaises
The top three teams in this pool are extremely evenly matched. The GB Masters have taken some of the most elite women of the country this year in the likes of Jenna Thompson and Hannah Boddy, among others. They definitely have the most experience in terms of age and pedigree among the three. Going down from over 30 to under 24, the German U24 team are lead by the athletically dominant Levke Walczak. They had a mixed bag of results at Bologna Invite earlier this season but have surely learned a lot from that through expert coaching of Ellen Jakobsen and Matthias Brandt. Finally, the Amsterdam Ultimate Club boasts elite young Dutch talent in Lola Dam and Floor Keulartz.
With Dam and Keulartz as well as Isa Monkau and Janne Jansen, the Amsterdam squad has almost all the elite talent that the Dutch U20 team had last year who shocked everyone by taking down the likes of Iceni, among other WUCC bound senior squads at Tom's Tourney 2018. They will be missing Anne Minnaard, but we have seen what this set of young Dutch women can do when they lead a team and both teams may struggle to contain them.
The Frisbeurs Nantaises from Nantes, France, will find themselves clearly overpowered in this very tough pool and will hope to find themselves with closer competition in the next phase of competition.
Predicted Rank: 1. Germany U24, 2. Amsterdam Ultimate Club, 3. GB Masters, 4. Frisbeurs Nantaises
Pool O: France, Belgium, D.U. Copenhagen, jinX
This pool has two distinct sets of levels with the national teams likely to outshine the club teams. There is very little between the Belgians and the French, but the Belgians did finish higher than the French at the last EUC in 2015. The French side will be without star target Daniela Rodriguez, but they bring a very well tuned offense from coach Yann Toussaint. Anne Le Borgne and Aline Mondiot will be the big playmakers to look out for and they will have one tournament of experience more than the Belgians after their impressive 4th place finish at the Bologna Invite where they took down Switzerland and narrowly lost to Great Britain in the bronze medal match.
The Belgians, on the other hand, will have two incredible handlers in Lisa Celis and Ine Lankriet to match the French throw for throw. They will bring a lot of experience from the Gentle Ladies' run to WUCC last summer. The France vs Belgium match may be one of the most exciting ones in pool play outside of the stacked Pool N.
Copenhagen looks to bring some lesser known entities into the tournament. It has been a while since Denmark has shown greatness in the women's club division and perhaps this club is the beginning of something new for the Danes. jinX will have ex-German U24 star Simona Lieberth and playmaker Franziska Wehner on their team. While these two give jinX an edge over Copenhagen, it will likely not be enough to deal with the deeper national teams above them.
Predicted Rank: 1. France, 2. Belgium, 3. jinX, 4. D.U. Copenhagen
Pool P: Switzerland, Mainzelmädchen, Bristol Women, Deskeagh
Switzerland had a very disappointing performance at Bologna invite where they finished 9th out of 11 teams. These currently reigning EUC silver medalists will be looking to improve on that performance in Bruges this weekend. EuroStar Olivia Hauser is rostered for the team, and she will hopefully be taking the field as she was sidelining for all of the Bologna Invite. With high level talent in Laura Niederhauser and Isabelle Güttinger, it will be very shocking to see this team have another disappointing performance if they managed to learn from their mistakes in Bologna.
Mainzelmädchen will be missing their two biggest stars in Melina Koschnitsky and Kyoko Hosokawa. Carolin Janitschke will have to take the talisman role in their absence and is definitely more than capable of doing so. However, there is a wealth of talent in this pool that may make things difficult for the German champions.
The newly rebranded Bristol Women are the current UK champions, though they had a less than stellar performance at the EUCF last year. They are looking to bounce back from that and show everyone what this new team looks like for 2019. While they are a fairly young team, they will also bring some elite experience in the likes of Ange Wilkinson and Ali Tincknell. This team has played well in rough conditions and the wind and rain that Bruges plans to bring may play in their favor.
Deskeagh bring a lot of elite Irish talent together. EuroStar Sarah Melvin might be the most talented cutter in this pool. The only question about this team is how seriously they are taking the tournament. If they stay laser focused then they can hang with every team in this pool. However, if they are coming just for the Brugse Zot and the party, then their opponents could take an early lead and never look back in the short 50 minute rounds.
Predicted Rank: 1. Switzerland, 2. Bristol Women, 3. Mainzelmädchen, 4. Deskeagh