Chemistry, new coach lay path for success.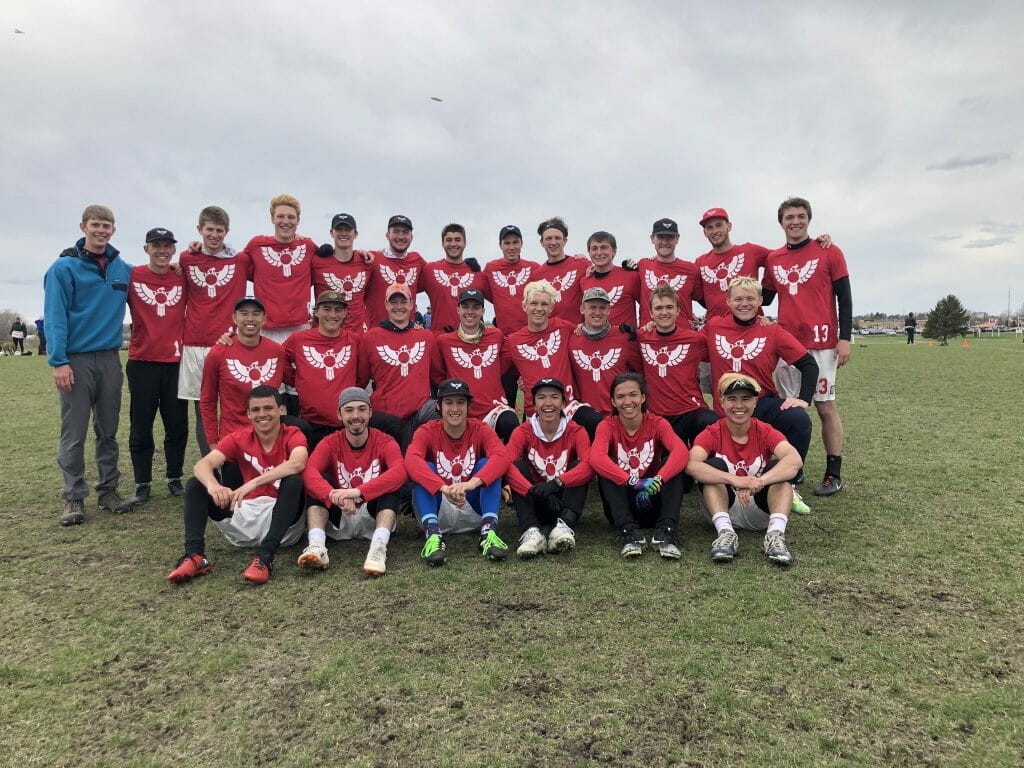 Ultiworld's Men's Division college coverage is presented by Spin Ultimate; all opinions are those of the author. Please support the brands that make Ultiworld possible and shop at Spin Ultimate! 
The last time a North Central team not named Carleton, Wisconsin, or Minnesota qualified for Nationals was back in 2013, in Luther College's final D-I hurrah. The six years since have been dark times for the B-list programs of the region. Entire classes came and went with nary a sniff of Nationals. The Iowas, Wisconsin-Milwaukees, and Minnesota-Duluths of the region attempted to sneak past Fluffy, only for their seasons to be cut short time after time.
Iowa State ISUC was a prominent member of that contingent. Losers of the game-to-go in both 2016 and 2017, this year's ISUC seniors were more than familiar with the seeming impossibility of upsetting one of the big three. The odds were stacked against them, and their leadership knew that any chance to make Nationals was going to depend on peaking at the right time.
"We took a developmental approach to the regular season, hoping that by playing really even minutes our top guys would not get injured, which was a major problem we had dealt with in seasons past," captain John Olson said. "We also hoped the rest of the roster would have an opportunity to grow and prove that they're worth playing in a big time spot."
A strong finish at Centex and a Conference title pointed toward that decision being a successful one. But despite one of their most successful regular seasons in recent memory, ISUC failed to procure a strength bid for the NC, finishing in the 30s and entering Regionals as the four seed.
Everyone knows what happened next. ISUC stunned the country with a thrilling upset over Carleton CUT and a surprise second place finish, earning a bid to Nationals for the first time in program history.
There's any number of factors for ISUC's best season ever, but chief among them are its mega-talented senior class and the team's new head coach, Brian "Strings" Schoenrock.
"For the last four years, much of the current senior class has been playing together all summer on low-level club teams, at pickup, and in Ames' summer league. We've had four full years, rather than just single seasons, to work together, play with each other, and learn how to play winning frisbee together," Olson explained. "It also led us to have a larger leadership group, with all the experienced players on the roster able to help our massive sophomore class and our freshman to feel more comfortable in big moments."
Some veterans, luckily, also benefited from elite club experience. Scott Hearne and Ben Joerger played together on Ames' flagship mixed program CLX, while Chuan Jie "Jack" Loy and Brian Hall developed their game on Iowa's premier open team, Illusion. Loy also gained big-game experience as a member of the Malaysian Mixed team at U24 Worlds in Perth this past year.
While ISUC initially tried to distribute their older, more skilled players evenly across lines, leadership quickly realized they were failing to use one of their seniors' biggest advantages: their chemistry.
"We struggled a little earlier in the season when we spread our seniors out a little more over the O and D lines, but at a certain point realized we'd rather rely on the chemistry we had developed over our entire college careers and moved to an older O group, and that worked wonders," said Olson. "Our offense became a lot more consistent and our D line, while being a little less experienced, was still incredibly athletic and confident when tasked with earning us a big time break."
The intimidating offensive unit ISUC rolled out at Regionals was a calm and collected group of veterans. Seniors Scott Hearne, Bryan Hall, Ben Joerger, and Jon Olson's chemistry caused headaches for opposing defenses. On defense, seniors Jack Loy, Richard Poterack, and Grant Larson locked down opposing cutters while Michael Stevens and Sam Habel plagued the handler space.
With a potent senior class already in place, new coach Brian "Strings" Schoenrock's chief priority was developing ISUC's talented but raw underclassmen, especially their large sophomore class. Strings, a Minneapolis Drag'N Thrust mainstay, has years of elite club experience and success on the biggest stages, exactly what a team looking to break through to the next level needs.
"His line calling and in-game adjustments are so crucial to our success, but his biggest impact was definitely helping the youth of our roster learn to trust themselves. [The seniors] had all kind of been there before, at Regionals playing in games-to-go, but our sophomores are all super talented as well," Olson said. "They just didn't realize it. Giving them opportunities all year to prove to themselves that they could do anything was crucial to our success."
That experience paid dividends in crunch time. When CUT came firing out of half to take a lead in the Regional semi, it was the sophomores that righted the ship and punched back. Becker Mathie, in particular, was a beacon of composure, marshaling the ISUC defense with the smooth, smart handling of a player twice his age.
"[Our developmental approach] worked perfectly for us, and we were able to run a complete two line group with two more subs in the CUT game," said Olson. "Most of those guys probably weren't ready for a moment that size at the start of the year, but by allowing them to play and learn all year we turned from a smaller core of good players into a full complete roster ready to compete with the best."
As for Nationals? Olson says ISUC is taking it just as they would any other tournament: one game at a time, utilizing their depth to wear opponents down and trusting in the system that got them there in the first place: "We want to give each and every opponent we come across a run for their money, without forgetting it was a team effort to get to Nationals and [we want] to continue that at the big dance. Look for everyone on our roster to be making big plays!"