A hectic day, captured in perfect microcosm.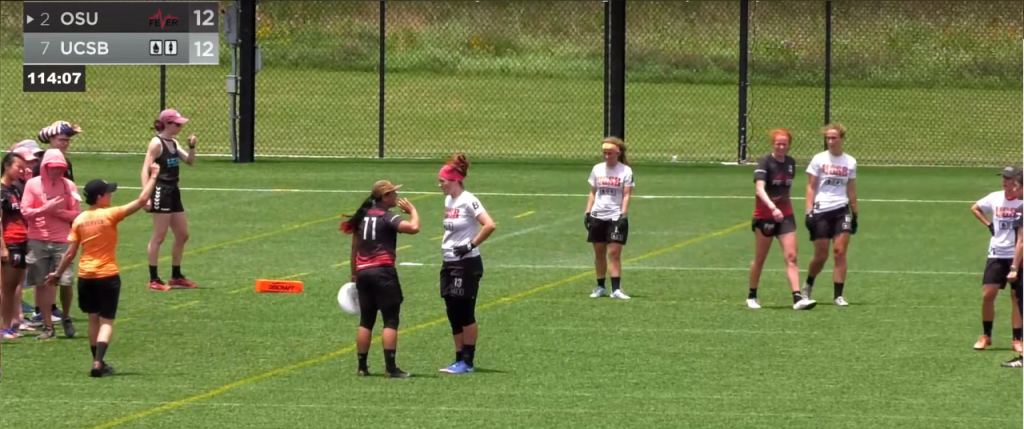 Ultiworld's 2019 coverage of D-I Women's Division is presented in by VC Ultimate, the official gear provider of the Premier Ultimate League. All opinions are those of the author. Please support the brands that make Ultiworld possible and shop at VC Ultimate!
Double game point. Universe. Sudden death. Next point wins. It's the most exciting point in ultimate, particularly when it's at Nationals.
After a ferocious 24-point battle between No. 2 seed Ohio State Fever and No. 7 seed UC Santa Barbara Burning Skirts, the teams still stood deadlocked, with one final point for the game. The winner would take a massive step towards winning Pool B and avoiding the perilous pre-quarters leg on the journey for a national championship. The point, which would last over 10 minutes, would be the defining moment of the day, and a microcosm for Day 1 of Nationals: it was a chaotic mess of excitement, miscues, and stunning plays.
In the second game of the day for both squads, Ohio State took half 8-5, UC Santa Barbara clawed all the way back and charged ahead, only for Fever to break late and retake the lead 12-11. The Burning Skirts held, setting up the game's final showdown. UCSB called timeout right before the point to build the tension, and perhaps to catch their breath. Emily Barrett, Emma Colavincenzo, Madison Fleming, Sadie Jezierski, Stacy Lu, Cara Sieber, and Funing Zhang were sent out to receive for Ohio State and attempt to punch in a victory downwind. Standing across the field were UCSB's Audrey Brown, Jasmine Childress, Julia Kwasnick, Crystal Lee, Mikaela Leslie, Kaitlin Weaver, and Elsa Winslow, tasked with earning yet another second-half break.
Weaver sent the pull into the wind and it came to a rest around midfield. That was when the whole world seemed to dissolve into madness. As star Jezierski set up for a cut downfield guarded closely by fellow POTY shortlister Kwasnick, Ohio State's Zhang dropped Lu's initial centering pass. In a scramble before Fever could find their matchups, the Burning Skirts quickly  worked it into the red zone in a couple unmarked passes. Kwasnick possessed the disc just yards from the Fever goal line and threatening to swiftly punish the mistake. Brown snuck free upline, but Jezierski read the play and blocked Kwasnick's pass at the point of release, only to see Brown make an insane layout catch to save possession for UCSB. A dump-swing later, Weaver dropped a pass right to her chest. A wild two possessions in, the point was just getting started.
There would be eight more exchanges of possession before the point finally came to its close. While the whole field seemed trapped in a state of insanity, Kwasnick and Jezierski were at its epicenter. They went toe-to-toe like two heavyweight boxers, getting blocks on each other, surviving big contact from the other, and doing everything they possibly could to drag their team to a victory as both teams' offensive strategies went by the wayside.
Maybe it was fatigue, maybe it was the pressure of the moment, but the play began to feel like it was barely ultimate anymore. It was a slugfust, and not an especially pretty one at times — each team just wanted to be the last one standing. It didn't matter how.
The fouls and calls piled up as well, and with each stoppage the suspense continued to grow. Jezierski appeared to throw a gorgeous game-winning huck for a goal, only to have it come back on a violation for checking the disc in too soon. Then time seemed to speed up: Jezierski made an unreal reaction layout grab that initially appeared to be a score, but was ruled down just outside the endzone by the observer. Her short attempted assist was swatted away by Weaver. With UCSB picking up on the coffin corner, Jezierski anticipated and intercepted Brown trying to go up the line to Kwasnick. Each pass of the disc seemed to create another stoppage, giving the final point a stilted flow. Jezierski finally squeezed a low backhand to Fleming who made a tumbling grab on the sideline and ended the mania.
Ohio State had survived, and UCSB was left heartbroken. Fever found relief, while the Burning Skirts were left thinking what if?
"That point was one of the most mentally exhausting points ever," said Jezierski. "[There were] crazy grabs from both sides and it was obviously stressful knowing what was at stake, but I think both sides did a great job of upholding spirit of the game and ensuring that while there was a lot at stake we were playing fairly. I think we all were relieved once those observers' hands signaled the goal."
Ohio State claiming the relief brought by the final point, left only exhaustion for Santa Barbara. "Playing through that point was a mental and physical battle," said Brown. "It was hot, the wind was tricky, and a few players had seen the field multiple points in a row. There were amazing plays on both sides of the disc, but on long points like that it always comes down to the fundamentals and who can better execute. With so many calls and momentum swings, I think we ran out of gas going upwind before Ohio State did going downwind. But the fight against a great team was nothing to hang our heads about."
Jezierski and Ohio State felt the weight of the moment, but they did their best to treat it like any other point. "I don't know if you saw us huddle before that point," she said, "but we have really been stressing this 'teamness' concept all year and huddling before that point was no different. We've worked so hard all year and I knew I could count on the six other humans on the line to give it their all so I knew that all I needed to do was my job and trust my teammates."
Despite experiencing a different outcome, Santa Barbara attacked the point from a similar place of togetherness. "The time out before game point was mainly used for a mental and physical reset for our team," Brown said. "There wasn't too much talk about strategy, but mostly just an emphasis on '0-0 game to 1,' as coach Sam [Fontaine] always says. During that point, I was really just focused on being present and leaving everything on the field for my teammates. It's my last nationals and college tournament so I'm focusing on cherishing every moment. I was really just lost in the moment of playing an incredible game with some of my favorite people."
Chaos aside, the final point between Ohio State and UC Santa Barbara featured everything that makes college nationals great: meaning and drama, highlight reel plays, and huge momentum swings. The final point felt like an entire game to itself. And Nationals is just beginning.
Watch the amazing Double Game Point here: