What a game.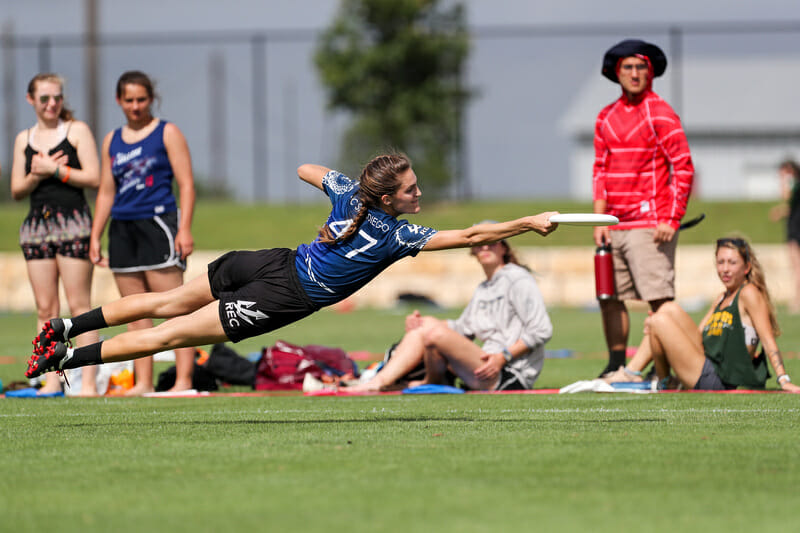 Ultiworld's 2019 coverage of D-I Women's Division is presented in by VC Ultimate, the official gear provider of the Premier Ultimate League. All opinions are those of the author. Please support the brands that make Ultiworld possible and shop at VC Ultimate!
In a stunning comeback, the UC San Diego Psychos beat Carleton 13-12 on a dramatic double game point layout from Dena Elimelech to advance to the semifinal. The game was defined by missed opportunities upwind, big throws for field position, and handler movement. Carleton and UC San Diego each scored a pair of breaks, and each pair was a crucial pivot point in the quarterfinal game. The difference? UC San Diego earned their breaks late in the game through a series of iconic plays from Elimelech.
Breaks were but a dream in the first half, however. The first six points looked clean enough, with only six total turns between the teams. UC San Diego and Carleton each struggled to gain yards going upwind, stymied more by tough defense than by the wind.
Carleton played more aggressive offense up and down wind than they had earlier in the weekend. Carly Campana and Kate Lanier didn't holster big hucks, ready receiver or no. The strategy meant longer points, but it also kept Carleton from making high-risk mistakes close to the upwind endzone.
Myriad turns beget plentiful opportunities for individual defensive brilliance. Carleton's Anika Thomas-Toth, Karen Ehrhardt, and Isabel Olson all made impressive defensive stops in the first half. With Carleton stars Isabel Arevalo and Nariah Sims out with injury, the defensive efforts of the rest of the team were vital to protect Carleton's hold points.
Carleton challenged UCSD's handlers with frequent switches and two junk looks to hamper their give and go movement. Carleton worked intentionally on expanding their defensive repertoire after losing to UCSD at Stanford Invite, and the switches and junk looks pressured Iwamoto, Hanna, and Go to get creative with their break throws and reset cuts.
Dena Elimelech lead the UCSD defense throughout the game with five blocks; the full UCSD team tallied nine in the first half. Ava Hanna stepped up twice in the first half to get UCSD a chance to break, but they couldn't close when it counted. UCSD held to take half, 8-7.
At 8-8, Carleton capitalized on UCSD errors and successfully scored upwind, Lauren Carothers-Liske finding Campana in the endzone for the first break of the game. Their sideline exploded with energy at the break.
"The upwind break was huge," said Carleton captain Maya Powell. "The energy at that moment was so hype and so much Syzygy love, and so team focused."
Carleton converted the next UCSD error into a quick downwind hold as well, with Campana hucking to Ehrhardt for their fifth connection in the game. Ehrhardt was the unquestionable MVP of the game for Carleton, scoring six goals, throwing one assist and getting three blocks.
"She's fairly unassuming until you notice that she's scoring every point," said Carleton coach Courtney Kiesow.
"She's like consistently good rather than quite as flashy," agreed coach Logan Weiss. "She looks so smooth playing that it's hard to register the impact, but it's really high…She's so fundamental, one of our most fundamental cutters."
The next two points brimmed with tension as UCSD pressed to repeat Carleton's pattern. On their break chance after the hold at 10-9, UCSD and Carleton exchanged 14 turns. Carleton's handlers sent shots deep into the endzone early in the stall count, and UCSD punted from the goal line to try to get field position. Ehrhardt ended the offensive agony for Carleton with her sixth goal of the game.
Through a few windy Carleton overthrows and sheer athletic brilliance from Elimelech, UCSD broke upwind to tie the game at 11s. UCSD set their zone on Carleton's handlers as they tried to work upwind, and the pressure worked: UCSD broke again downwind to take the lead.
The specter of a double game point had loomed over the last few points, and at 12-11, it became almost inevitable. Carleton held, and the drama became a reality. Unlike most of the points in this long quarterfinal, the last point ended with clinical efficiency. Elimelech turfed a breakside swing pass. Campana picked up the disc and punted for Carleton, with no receivers to bring the disc down. Carleton defenders set big marks around the UCSD handlers, but when freshman Lauren Hanna saw Elimelech take a few steps deep, she ripped a huge huck anyway.
Five years of deep cuts, long points, and big plays channeled through Elimelech as she tracked the disc. Five years of these big moments also left no doubt about what would happen: Elimelech dove at full extension to grab the goal, advancing UCSD to the semifinals.
Of those final moments and big plays, Elimelech said, "I just really really wanted to win. I didn't want to tighten up, because that's what had happened earlier in the game. So it's either, you have two points left in your college career, or you go balls to the wall."