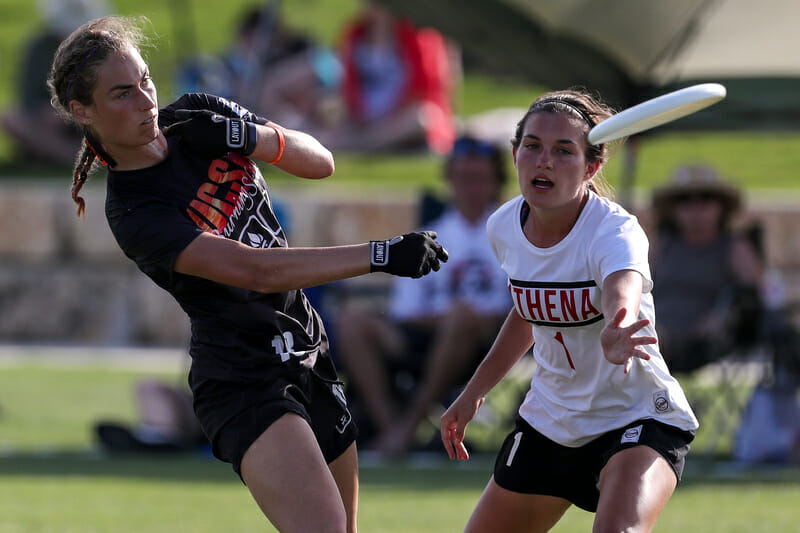 Ultiworld's 2019 coverage of D-I Women's Division is presented in by VC Ultimate, the official gear provider of the Premier Ultimate League. All opinions are those of the author. Please support the brands that make Ultiworld possible and shop at VC Ultimate!
Wind limited the offensive possessions to downwind holds to start the prequarters game between Georgia Athena and UCSB Burning Skirts in the late afternoon on Saturday. While both programs feature big name stars, it was the undersung heroes of the teams that had critical success to spark their respective team's momentum.
Athena pulled upwind to start half, and as both teams were struggling with the wind, it was rare that pulls made it past half field. Early in game play, both teams were looking to execute on shots that were categorically much harder in the stiff upwind-downwind than they had been throughout pool play. Lauren Bedard handblocked an Athena handler to regain possession for the Skirts. Both teams were having difficulty with drops in the early going, even on well executed passes. Georgia's Anna White showed her agility as a handler, making multiple cuts to bail out several high stall counts.
The half continued to devolve into a downwind huck fest, as whichever team was upwind utilized the advantage to pin their opposition to the downwind endzone rather than battle for short field gains. This strategy was unsuccessful for anything beyond field position until Santa Barbara's Audrey Brown had the speed to chase down and reel in a downwind soaring shot from Kaitlyn Weaver.
But Jasmine Childress was not content with simply trading downwind holds. Childress, sparked by a foul, touched every other pass to march Burning Skirts upwind for the first time in the game, throwing the assist that gave the Burning Skirts a 4-2 lead. After converting the subsequent downwinder, UCSB would hold into an 8-5 halftime advantage.
Out of half, Alexandra Fairley saw an opportunity to suffocate on a defensive possession as Athena found themselves with the wind at their back. Not only did Fairley force a high stall, but she caught a Callahan thrown by UCSB's Kwasnick to narrow a three point lead that the Burning Skirts had been carrying for four points. Fairley returned to the line for the following point – chipping away against the wind and a tight UCSB defense only to throw an assist to take the score to 8-7.
Fairley put on a show in the second half, but eventually the onslaught of Burning Skirt's defensive pressure and patient offense limited all Athena progress and UCSB was able once again to extend their lead. The Californians would not be discouraged by the resurgence of Athena. The Skirt's offensive line took the field for a daunting upwind point. The possession changed multiple times, but UCSB — as they had all season — counted on Julia Kwasnick to come through with three separate blocks to regain possession. Kaitlyn Weaver punched the goal into the endzone, and Burning Skirts broke against the wind and gained the wind advantage on defense.
Santa Barbara managed to convert the downwind break chance at this crucial juncture in the game with grit through multiple changes of possession and the wind at their backs, regaining their three-point lead. It was a lead they would maintain in the game's waning moments, only to break again to end the game 12-8 and move on to Sunday play.
The advancement to quarterfinals marked something of a redemption for the Burning Skirts, after losing every game at Nationals last year. Audrey Brown in the post game interview addressed the reshaping of the team mentality from last year's early exit to a strong performance leading into quarters tomorrow. "Being up in first game against a team who ended up making it to the final, and taking half 8-4 but ending up losing, that game sent us on a mental spiral," said captain Brown. "This year we built (our team) on last year's program of staying mentally strong and by making sure that all of our veteran players were on board to create a positive uplifting environment for our freshman. They are all very positive people and have taught us so much how far good leadership can go, and how easy it is to be positive."
On Sunday, they'll find out if that leadership can carry them even further.